Last Updated on December 24, 2015 by Kristi Linauer
Matt made me take yesterday off, so you can blame my lack of productivity on him.  😀  Okay, just joking.  Matt doesn't make me do anything.  But when he very strongly urged me to take a day off for fear that I might get burned out if I keep up at my current pace, or that I might get so worn out that I make myself sick, I thought he had a good point.
Plus, when I'm tired and trying to get projects done, I'm way more prone to making mistakes or injuring myself.  I could do without that added stress.
So I listened.  I took yesterday off.  And I used some of that down time to draw up the current and (possible) future floor plans of our house.
Here's the house as it was when we purchased it.  The only thing that has changed is that I've removed the bigger closet in the hallway.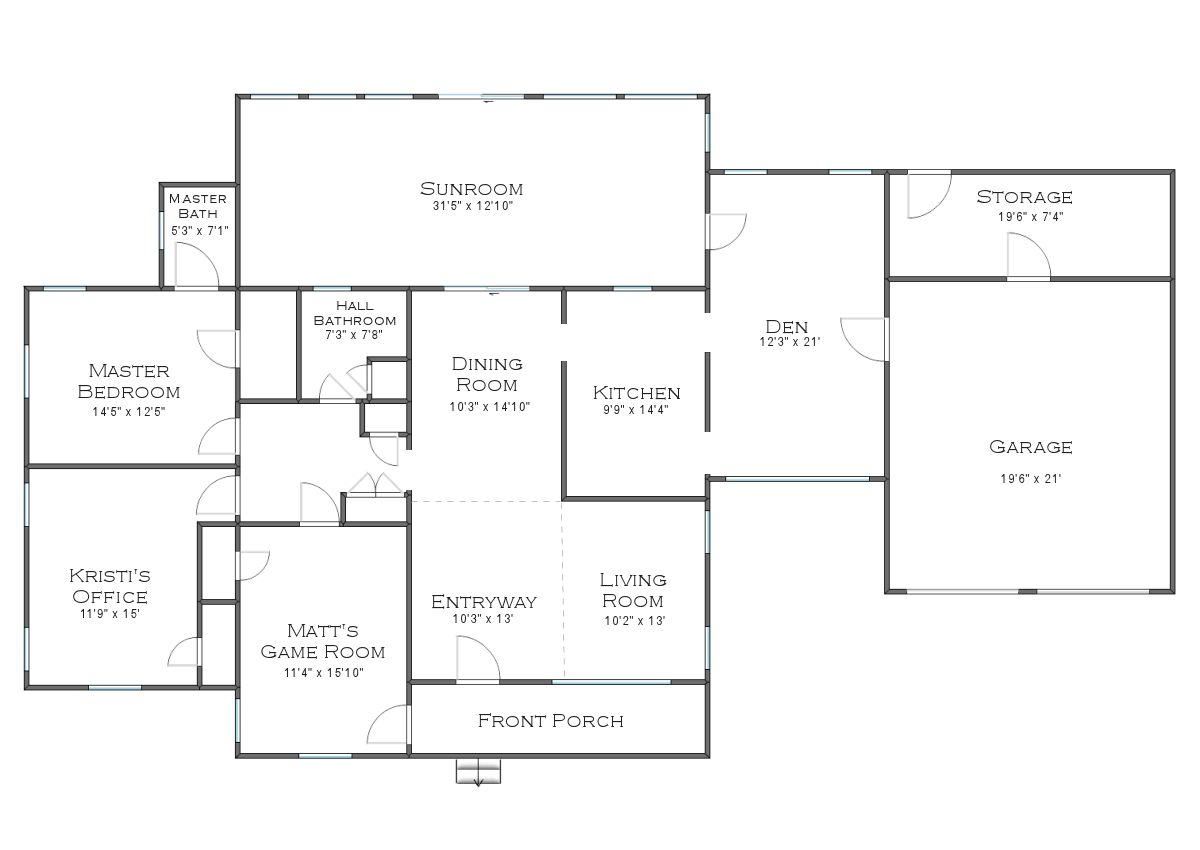 You can click on that picture for a larger view. You can also refer back to the original house tour to help you visualize what each room looks like (or looked like before I got my hands on them). 🙂
And here's what I think I want it to look like…eventually. Edit: This was my original plan. After reading your comments, I've revised it quite a bit.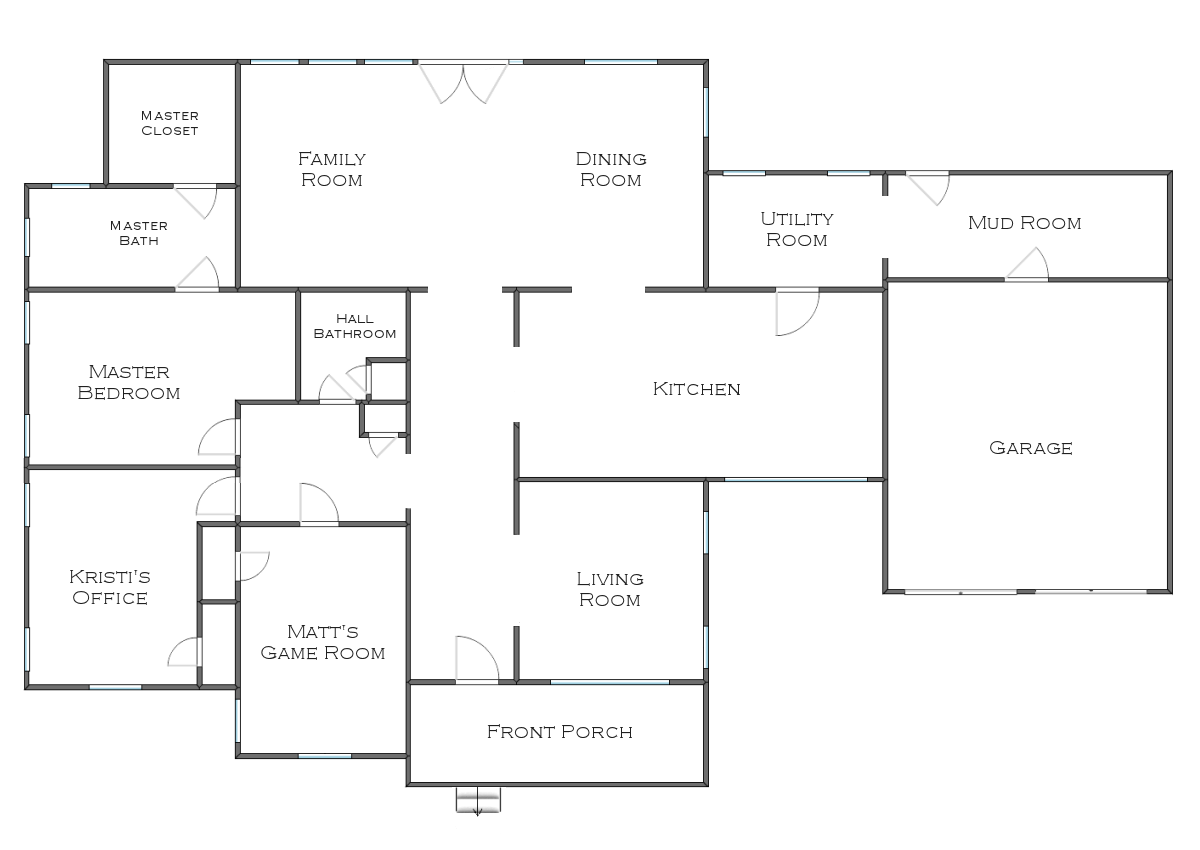 And again, you can click on that picture for a larger view.
Edit: Here's the revised future floor plan based on some of your suggestions: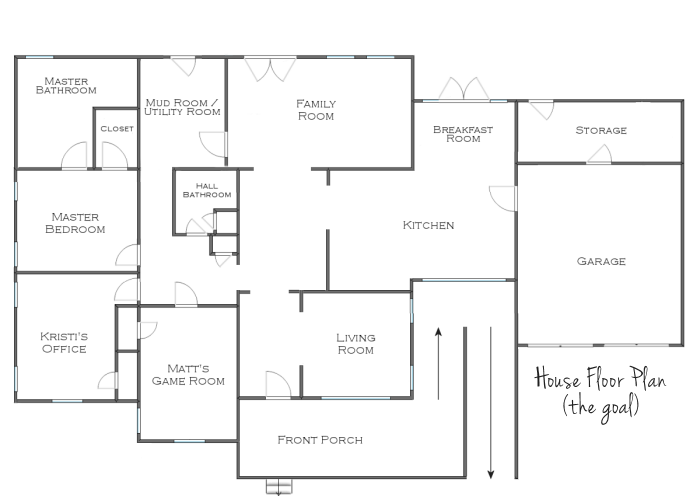 Here's a quick view "before and after" of the two floor plans that will help you get a better idea of the changes I want to make. Just move your mouse pointer on and off of the picture to view the changes.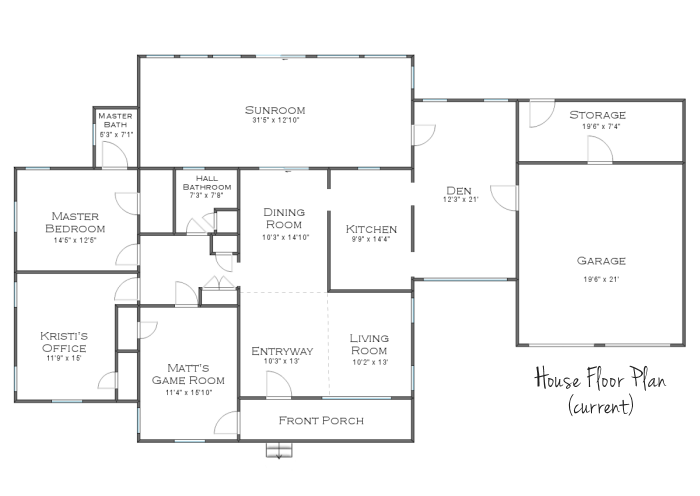 I know at least a couple of you are amazing at space planning, so I'd welcome your input!! I'm definitely open to these plans being changed and tweaked to make the most of the available space.
Here are my main goals:
1. Create an actual entryway.
I've never been a fan of a floor plan where people walk through the front door and right into a main living space of a house. I like an actual entryway. And if a coat closet can be added, then that's even better, but I couldn't find a way to make that work. But here's the wide open space I have to work with. (Of course, the carpet is gone now.)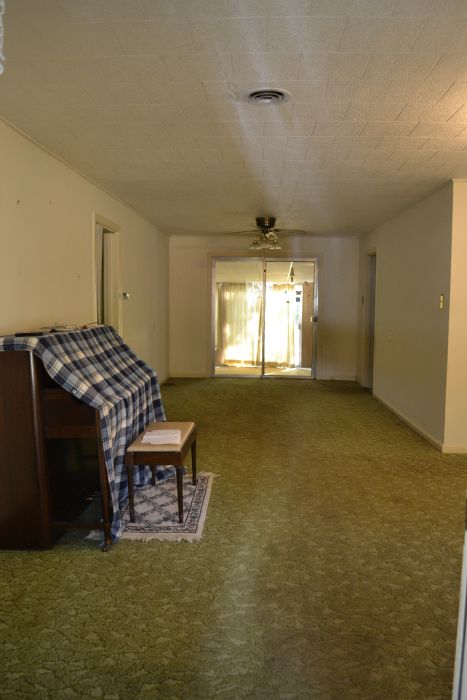 2. A formal living room / library.
I definitely want to keep the current living room as a living room or possibly a small library. I grew up in a house with a formal living room and a family room, and I really like that arrangement. Even if it doesn't get used very much, I like the idea that it's a room where I sit and visit with people who just happen to stop by, and it's a room that I can always make a point of keeping clean for guests (as opposed to a family room that gets used regularly, and where I might have my projects spread out.)
3. Add a real master bathroom and closet.
The current master bathroom is way too small. In fact, it's smaller than the hallway bathroom.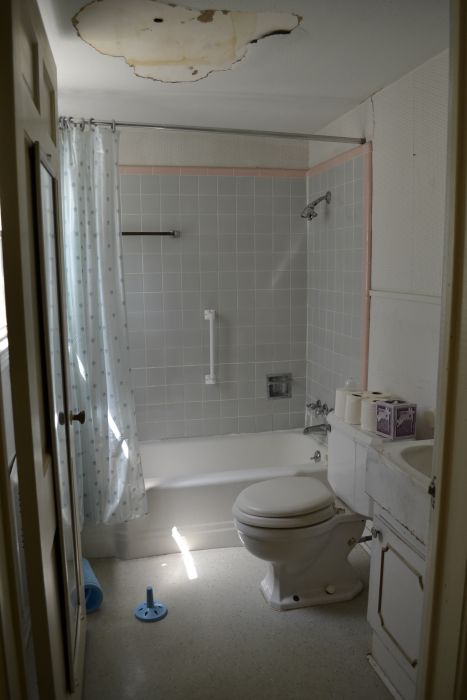 I'd like to add a spacious master bathroom, and a walk-in closet. I also love the idea of a bathroom with a door that leads out to a private deck accessible only via the bathroom. With a fountain. And lots of pretty plants. And a chaise lounge. *Sigh* A girl can dream, right? 🙂
4. Enlarge the kitchen.
I'd love to bump the kitchen out into what's now the den, and take advantage of that big window that looks out towards the front of the house.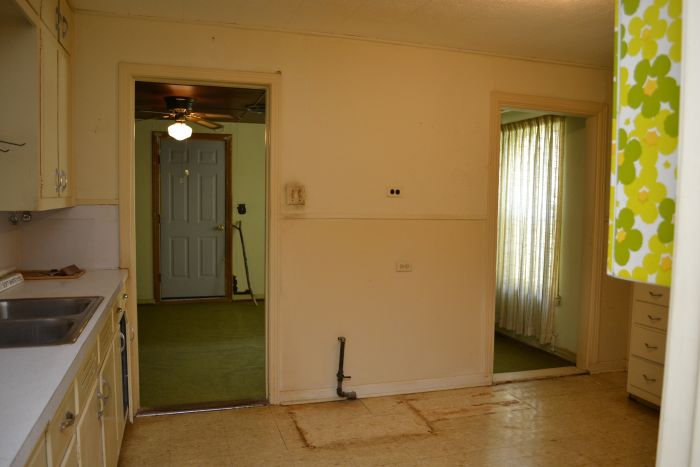 I envision a window that's just as long as the current one, with a wall of lower cabinets underneath it, and the sink right in the middle. Edit: After some of your wonderful suggestions, I love the idea of using the window area as a breakfast room, possibly replacing the window with French doors that lead out to a little porch area that would be extended from the current porch, in sort of a faux "wraparound porch" type of way. I also want an island somewhere. Other than that, I really haven't thought through the particulars of how I want to arrange that space.
5. Create a utility room at the back of the current den.
This is the part that will be done sooner than later because of the plumbing issues I shared with you yesterday. I'll take out the current door that leads from the den to the sunroom on the left, and the put up a wall with a door to create a separate room at the back of the current den. The hot water heater will go in there, along with the washer and dryer. There will also be room for shelves/cabinets for storage.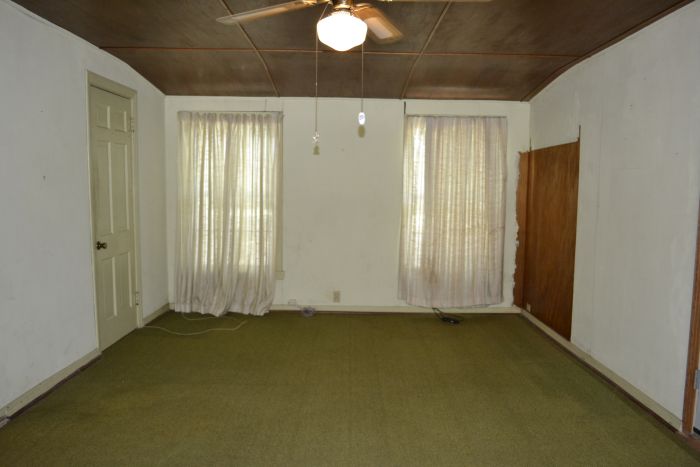 6. Turn the storage room into a mud room.
The current entry from the garage to the house is through a door in the den. But I'm almost certain that that door will be an issue once I start configuring the kitchen. So (I think) I'd like to reroute the entry from the garage from the current location (which is the white door on the left of the photo below) to the room at the back of the garage (currently the storage room with the awesome mid-century green door in the middle of the picture below) and turn that into a mud room that leads to the utility room. That storage room also has a door out to the back yard, so I think it's perfect for use as a mud room.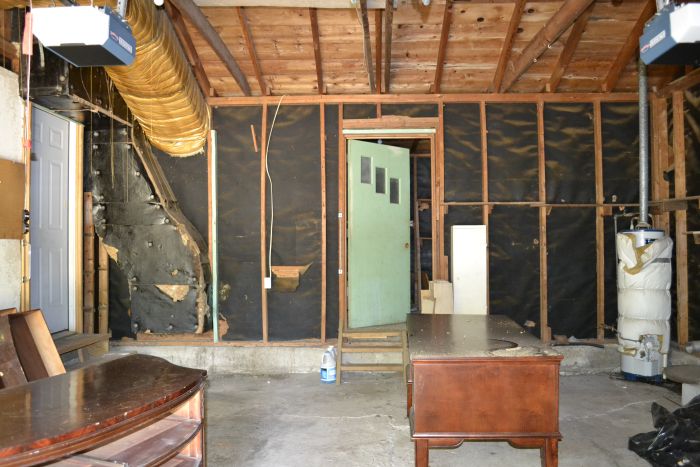 7. Turn the sunroom into a dining room and family room.
I've already shared that this room will be our biggest and most costly project in this entire house. Right now, the sunroom is lower than the rest of the house (it was built right on the original patio), and we'd like to raise up the entire thing so that it's level with the rest of the house, and use that as the dining room on one end, and the family room on the other.
8. Extend the front porch about 12 to 24 inches.
I want to add another gable to the front of the house, right over the front door, and raise the roof over the front porch so that the ceiling over the porch isn't sitting right on top of the door and window.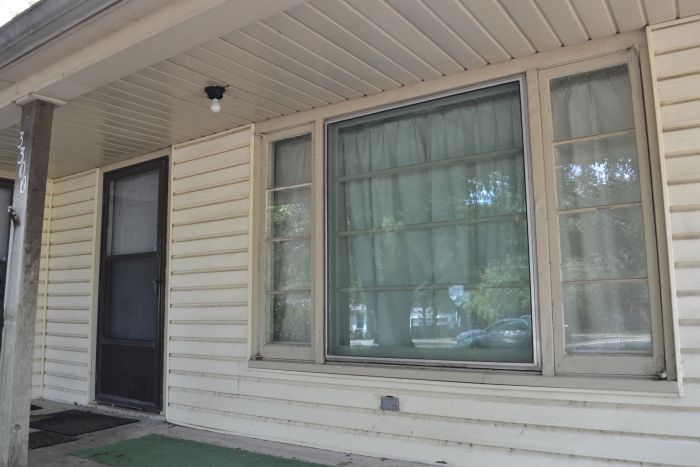 When the time comes for us to do that, I also want to extend the front porch out about 12 to 24 inches just to make it safer for Matt to come out the front door. As it is now, it's right at 64 inches from the front door to the steps. He can get out, but it would just take one slip of a hand on a wheel, and he could easily go tumbling down those steps. I'd feel much better if he had an extra foot or two of space.
And I think that's my whole "wish list" for reconfiguring the rooms and the floor plan. 🙂 Obviously this will take years, but it's fun to dream about it!
The one thing I'm not thrilled about with the new floor plan I drew is the loooooonnnnnngg entry hallway. I think it's something like 28 feet from the front door to the doorway into the family room (currently the sunroom).
I've looked and looked at that floorplan to see if I could come up with something else, and I'm just stumped. So if an obvious solution jumps out at you, please feel free to share it! I seriously welcome any input.
Addicted 2 Decorating is where I share my DIY and decorating journey as I remodel and decorate the 1948 fixer upper that my husband, Matt, and I bought in 2013. Matt has M.S. and is unable to do physical work, so I do the majority of the work on the house by myself. You can learn more about me here.
I hope you'll join me on my DIY and decorating journey! If you want to follow my projects and progress, you can subscribe below and have each new post delivered to your email inbox. That way you'll never miss a thing!