The CORRECT Way To Sand Hardwood Floors
After taking the day off on Monday, reading every single one of your incredibly encouraging comments on my last post and on Facebook, and watching a few YouTube videos on how to sand hardwood floors, I felt rested, encouraged, and ready to tackle the floors again.  So yesterday morning, my brother went to the rental place and picked up the correct floor sander for me.
I don't have a picture of the useless piece of junk I rented the first time, but that one was called a square buff sander.  If you're about to refinish your hardwood floors, and you're wondering what sander to use, just please…please…take my word for this.  You do NOT want to rent the square buff sander.
The correct sander is called a drum sander.  This thing is amazing!  It was really hard work, but I thought it was quite fun to use.
One of the things that makes it so much fun to use (for me) is that it actually does the job.  You can see it cutting right through the finish and revealing bare wood below.
And the results were quite spectacular.  It took me all day to do the living room, entryway, and dining room.  But I didn't even care, because they looked so good!!  (And one reason it took so long was because the plumbers were there, so I was getting in their way, they were getting in my way, and I'm sure we were all slowing each other down.)
But this is how floors should look when they've been sanded.
Am I the only one who gets a little giddy at the sight of freshly sanded, ready-to-be-finished wood?  And what a difference from how it started!
(That picture above was taken just after I took up the 30+ year old carpet, and before I did any sweeping or vacuuming.)
Now you might notice that the edges of the floor aren't sanded all the way around the rooms.
While the new drum sander and I got along swimmingly, the edge sander and I didn't get along so well.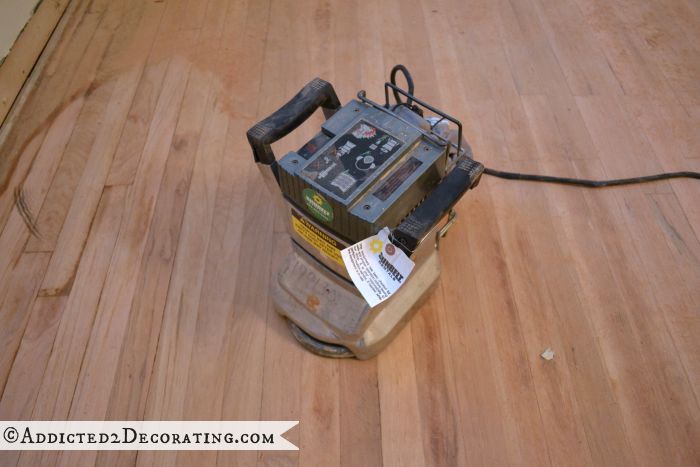 That thing is heavy, very powerful, and has a mind of its own.  And for some reason, I could only sand about four or five feet before the sandpaper disc would rip off.  Talk about frustrating!  And I have no idea why that was happening.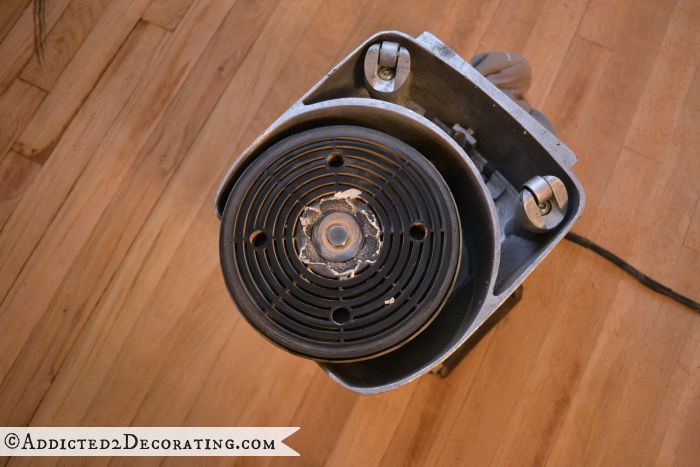 I called the rental place this morning to ask about it, and the guy insists that I'm running into nails.  I'm not running into nails!!  There are no nails.  I've checked and double checked.
And each time the sanding disc rips off, it leaves unsightly black marks on the floor, so those areas have to be re-sanded.
So if any of you have experience using these edge sanders, and know why the sandpaper discs might be ripping off while in use, I'd love your input.  At this rate, it's going to take 10 discs per room, and at $20 per package, it adds up quickly!
While I was sanding, I did uncover a few random nails in the floor.
At first I was irritated by them, and wondering how in the world I was going to get them out without damaging the floor.  But you know what?  The more I thought about it, the more I realized that I actually like them.  They add to the history and character of this house.  So I'm going to embrace the imperfections.
So I have more sanding ahead of me today…and probably tomorrow…and maybe even Friday.  It's exhausting work, but so very rewarding when I know it's actually being done correctly!!
For any of you who may want to tackle this project in your own home, I found this video from Pete's Hardwood Floors to be the most helpful and thorough in explaining how to use a drum sander.  But let me add a few things…
Three tips I learned about using a drum sander on hardwood floors:
1.  If possible, find a drum sander that does not have a lever for raising and lowering the sanding drum.
In the video linked above, it shows a drum sander that uses a lever to raise and lower the drum.  When I went with my brother to rent the sander, I was fully expecting this type of sander, and I was actually disappointed when they brought out one to me that didn't have a lever.
However, after using that sander for an entire day, I can honestly say that I can't imagine having to use a lever to raise and lower the drum.  What a pain that would be because you'll be constantly moving back and forth with the sander, and with each back and forth motion, the lever would have to be utilized.
Instead, the leverless sander that I used just required that I press down on the handles with slight pressure to raise the drum.  It was incredibly convenient, and allowed my hands to remain on the handles at all times.
2.  Don't be afraid to use
very coarse

sandpaper.

In the video, they recommend starting with 36-grit sandpaper.  Well, while I thought my floors were in great condition, it turns out that every single board on my floor had a slight bow to it.  So I needed to start with something that would really tear through those high spots and get the wood all nice and flat.

The 36-grit sandpaper (used on the diagonal for the first pass like it shows in the video) wasn't doing the job, so I went back to the rental place and got 20-grit to start with.  That did the trick.

To most of us DIYers who are used to using hand-held rotary sanders, 80-grit sandpaper is generally thought of as being very coarse.  Using a 20-grit would generally be out of the question.  But trust me, for old solid wood floors, you have to start with either 20-grit or 36-grit, depending on the condition of your floors.  And if your floors are like mine, they may look like they're in excellent condition, but you may not realize just how bowed the boards are until you start sanding.
3.  To get at stubborn areas, walk the machine backwards and lift up on the handle.
I had some boards that just would not give up the varnish.  No matter how many passes I made over the board, that old varnish just held on for dear life.
I finally learned that getting the varnish off of those stubborn areas was much easier if I walked the machine backwards over that area (rather than pushing it forward like a lawn mower), and lifting up on the handle with little to moderate pressure while walking the machine backwards.  That allowed the sandpaper to really cut into the board and get at the stubborn varnish.
I think those are all the tips I learned and wanted to pass on to you.
The main thing is that you just have to be sure that you're continually moving if the drum is on the floor.  And in fact, make sure that you're in motion as you're lowering the drum onto the floor.  If you're standing still while lowering the drum to the floor, you'll leave grooves all in your floor.
Addicted 2 Decorating is where I share my DIY and decorating journey as I remodel and decorate the 1948 fixer upper that my husband, Matt, and I bought in 2013. Matt has M.S. and is unable to do physical work, so I do the majority of the work on the house by myself. You can learn more about me here.