This Really Is Progress…I Promise
Remember how this weekend was supposed to be the big electrical wiring extravaganza at my house, with my brother-in-law Bill and my sister Cathy coming to do my wiring?  Well, after two solid days of very hard work (much more so for Bill than for Cathy and me), there has still not been a single bit of electrical work done.
😀
For those of you who have remodeled old houses, I'm sure you'll understand this completely.  Once you "lift the hood" on that old house, you realize that a job that should be quite easy* is actually not going to be easy at all because of various obstacles that have to be dealt with before the actual work you intended to do can even start.
*Please note that I'm not saying that electrical work should be easy for me.  But it's easy for Bill.  🙂
So here's how this weekend went down.
Bill and Cathy got to the house at about 12:30pm on Saturday (after Bill spent many hours on a plane flying through the night on his return from a business trip in South America), and the first thing Bill did was go through all of the supplies that I had purchased for the electrical wiring job to be sure that I had purchased the right things.  Turns out that because I know absolutely nothing about anything electrical, I had unknowingly purchased the most expensive stuff possible.  Literally, I had spent double, triple, and even quadruple the amount of money necessary on almost every single part I purchased.  So he got on the Home Depot website and looked up everything I needed, part numbers included, so that I could make an exchange and save a bundle of money.
And then quite a bit of time was spent coming up with the actual electrical plan, which required Bill making a diagram/list of circuits and amps and me deciding how I was going to use each outlet, and how much I would use at one time (e.g., would I ever use my blender and food processor at the same time?) so that he could determine what outlet and what switch would go to what circuit, and how many amps were required for that circuit.
Next, we moved everything out of the kitchen (cabinets, fridge, stove, etc.) so that the room would be completely empty.  At that time, I also decided that I wanted to go ahead and remove the old drywall from the fridge/stove wall, so we spent a bit of time removing and cleaning that up.
So finally after about three or so hours, Bill was finally ready to start on the actual electrical work…or so he thought.  He headed up to the attic, made his way over to the kitchen area, and tried to locate all of the old wires that he needed access to.
Well, remember a while back when I conquered my fear and ventured up into the attic to find the wires, and realized that they were hidden by the massive heating ducts?  And then do you remember that I realized that there was one "tunnel" that might allow access, but I was too much of a chicken to try crawling through there?
Turns out that even if I hadn't been a big 'ole chicken, and had ventured through the tunnel, I still wouldn't have been able to get to those wires.  I know this now because Bill is quite fearless, and he'll venture anywhere in the attic, and no matter what he did he still couldn't access those darned wires.
So he came out of the attic and said, "So, Kristi, how about let's expand this project?"  His proposal was to remove the drywall from the kitchen ceiling so that he could do most of the wiring from underneath.
If you'll remember, that drywall was thin and crumbly in places, and I had gone to great lengths to patch it and save it, but it had to come down.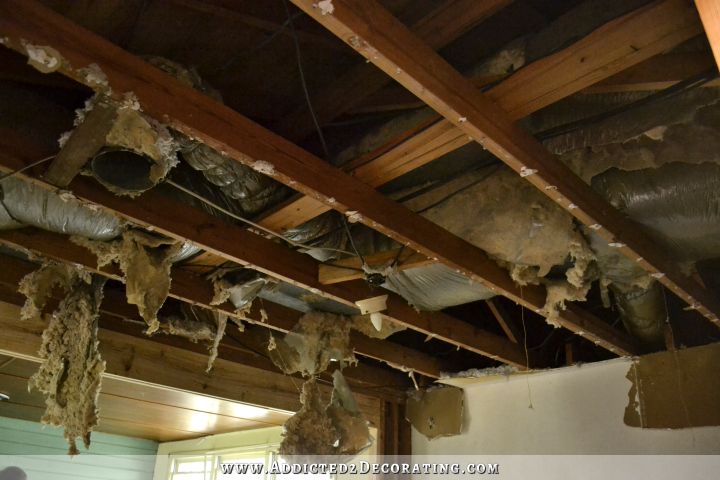 And oh my gosh…the mess!!!  It was just about enough to make me hurl.  And I'm not even talking about the drywall and the insulation (which was completely expected).  No, I'm talking about the abundance of "chocolate sprinkles" that was contained within the insulation.  But I did my best to put it out of my mind while we cleaned up and bagged up the debris.
But then when Bill climbed up on a ladder and into the attic through the kitchen ceiling, and threw a huge dead rat (i.e., the producer of the aforementioned "chocolate sprinkles") through the joists and onto my kitchen floor, that was just about enough to do me in.  And of course, before he threw it down he was kind enough to warn me by saying, "Kristi, just don't look at what I'm about to throw down there, okay?"  That was kind of him, but when someone says, "Don't look!" what's the first thing you do?  You look!
😀
So that's about all we got done on Saturday.
Then yesterday morning, they arrived at about 9:00 with a new plan.  Bill thought that even though the drywall was gone, things would be so much easier if those massive heating ducts were removed also.  (I had already stressed the fact that we would NOT be using that old furnace another year.  The thing scares me too much to use for one more winter.)  I mean, not only did the ducts take up a massive amount of room in my attic, but the outgoing duct and the return duct both met, with one right on top of the other, right over my kitchen.
And they were resting right on the areas where wires needed to be run.  So Bill spend all day yesterday up in my very hot attic cutting up the old galvanized ducts into pieces that would fit through the rafters, and basically cleared out the attic.  No more massive ducts, and no more having to climb over them, around them, or try to work underneath them.
While he was working on that, I installed bracing for my kitchen cabinets.  Since the drywall was off of the walls, this was the perfect opportunity to add some reinforcement inside the walls that the cabinets could easily screw into during installation.  That way, I wouldn't have to try to hit studs, or install some sort of bracing onto the drywall for the cabinets.
I did this by cutting pieces of 2″ x 4″ lumber, and installing the pieces about 2 inches from the bottom of the cabinet, and about 2 inches from the top of the cabinet.  And I screwed them into place by toenailing the screws (i.e., inserting the screws at an angle) into the studs.
When you have to toenail a screw or a nail, it's always easier to start with the screw or nail going straight into the board.  With a nail, you want to drive it in about 1/4-inch.  With a screw, you want to drive it in until you feel the teeth really catch.
The force the screw or nail over at an angle like this, and then you can drive it in at an angle.
Of course, I did one wall with them all going into the front of the lumber as shown above, and then Bill pointed out that if you put the screws into the ends, it not only holds the 2 by 4 in stronger, but it's not as necessary to sink the screw head into the wood.  If it's on the front, like I was originally doing, you have to sink the head so that the drywall can sit flush against the wood.
And of course, throughout the day, Cathy and I were also on trash pickup duty.  As Bill would throw down insulation and pieces of the ducts, we would haul them out to the trash pile.
So even though I still don't have any electricity in my kitchen, it was quite a productive weekend.  I have all of the bracing installed for my upper cabinets.
I have an attic that is free and clear of ancient massive metal duct work.
And I have a huge pile of scrap metal on the side of my house.
The pictures just don't do this pile of duct work justice.  It's about 14 feet by 7 feet by 4.5 feet tall.  And all of that came out of my attic.  Just…wow.  I'm so glad to have it out of there!
So today, the electrical work begins.  For real this time.  🙂
Addicted 2 Decorating is where I share my DIY and decorating journey as I remodel and decorate the 1948 fixer upper that my husband, Matt, and I bought in 2013. Matt has M.S. and is unable to do physical work, so I do the majority of the work on the house by myself. You can learn more about me here.