Tiny Condo Bathroom Makeover – Before and After
It's finished!  My tiny bathroom makeover, that I thought would only take a few days and ended up taking over a month, is finally done.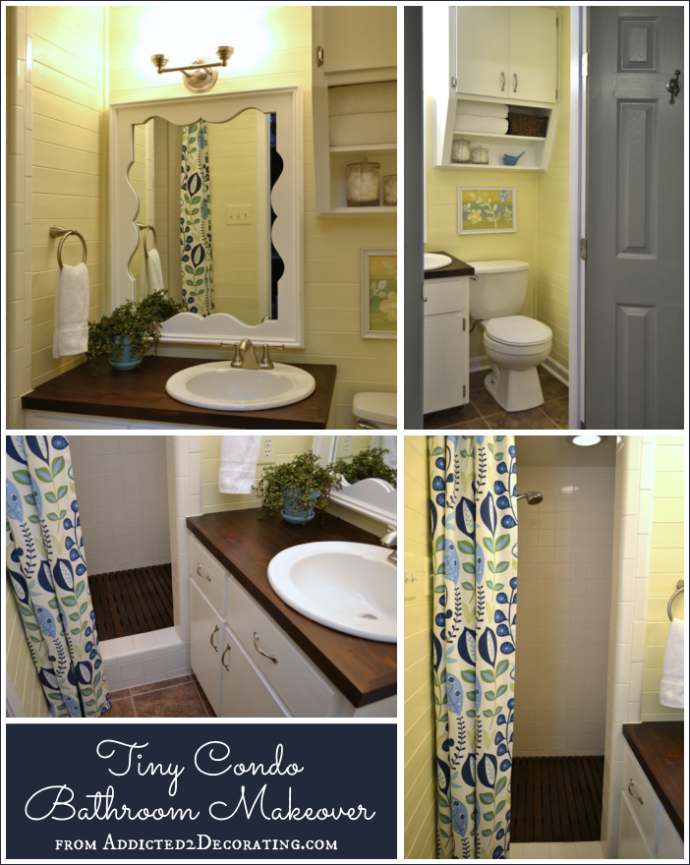 It's definitely not my best makeover ever.  And quite honestly, if we weren't planning on moving in at the end of the month and were planning on staying here, I would have done many things differently, starting with totally replacing the vanity, and perhaps even re-tiling the shower.  But I needed this done on a budget, so I had to work with what I had.  And I'm quite confident that what I have now is a VAST improvement over how this room started out.  😀
(As a side note, let me apologize for my lacking photography skills.  This room has been the hardest to photograph so far, and has shown me that I really need to step it up and learn how to properly use my camera.  That's been on my "to do" list for over a year now, but I'm determined to make it a priority now.)
If you'll remember, this bathroom was just completely disgusting.  The most disturbing part was the flooring, which had curled up all along the edges of the walls and around the toilet, and had become a trap for dirt and grime that was impossible to clean.  And then the walls and old toilet weren't much better.  Then there were the hideous wood cabinets.  The whole thing was just gross…and old…and gross.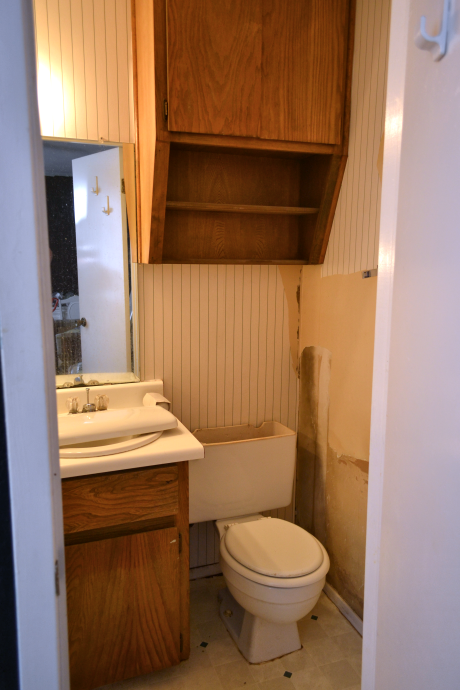 But now, the walls have been clad with tongue and groove wood slats, the flooring has been replaced with groutable vinyl tile, the old toilet has been replaced with a shiny new one, and the cabinets have been given a new coat of white paint.  I also removed the old flat hollow core door and replaced it with a new six panel door (which is painted the same white as the cabinets, but appears blue because of my bad photography. 🙂 ).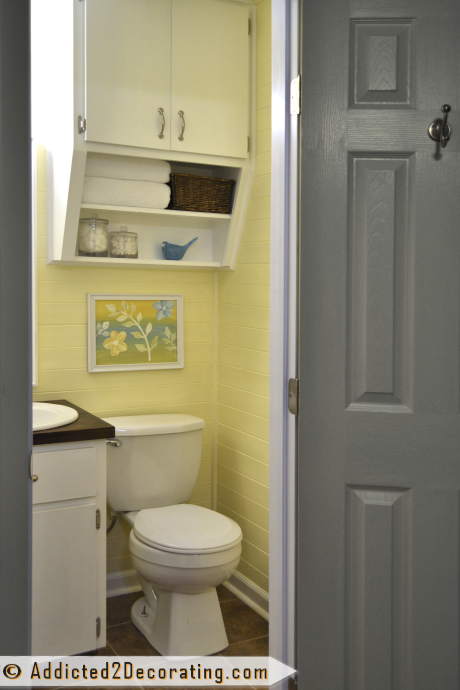 The old vanity was just old and…well…gross.  (Seriously, that's just the main word that comes to mind when I think about how this bathroom used to look.)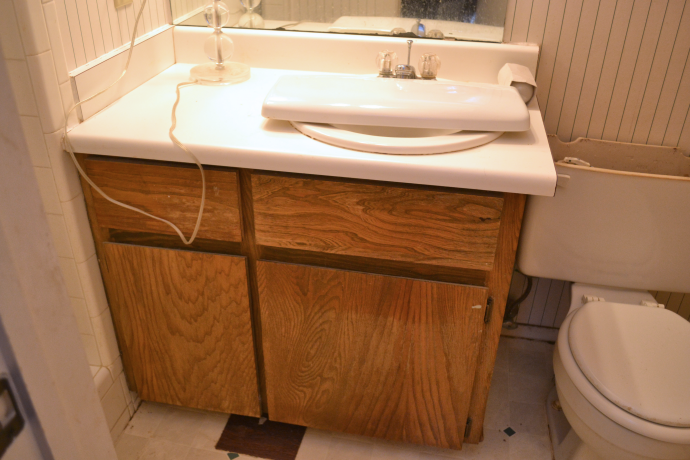 It looks so much better now with it's new white paint, new hardware (even though I used the cheapest I could find! 🙂 ), and new countertop.
As I said before, I do wish I had taken the time to make new cabinet doors.  That's probably the thing I'm the least pleased with in this whole makeover.  But oh well.  I'll leave that project for the new owners.  🙂  Even with the old doors, I do think that a coat of white paint made a world of difference.
And of course, the bathroom originally had one of those plain plate glass builder-grade mirrors that I loathe.  (Actually, I've seen them used beautifully in some high-end designer spaces, but used like this, they just never work for me.)
So I made a frame for the mirror, and then had it cut down to fit into the frame.  I also replaced the light, but I have no idea how to photograph lights.  🙂
The original shower had a really old (and gross, of course) shower door.  The shower is small, but the door made the shower look even tinier.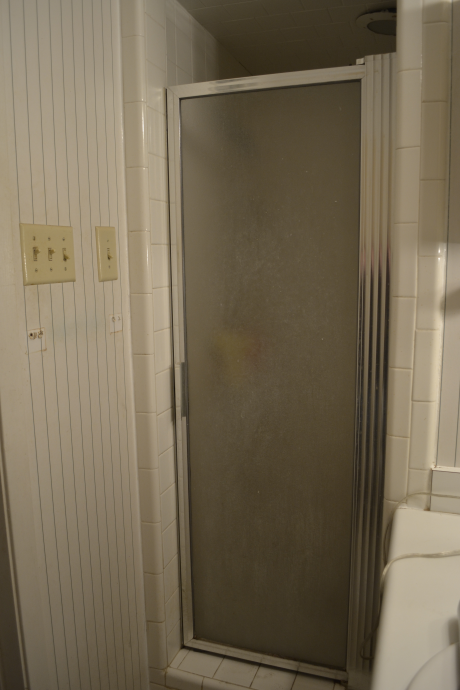 Now the door has been removed, the grout has been cleaned, and cleaned, and clean, and then brightened with Grout Renew.  I also added a cedar shower floor mat and a decorative shower curtain just to add some color and interest.
Of course, the sole purpose for the curtain is just to add some softness and color.  The actual usable shower curtain is hung on the inside in a tension rod, and slides out of view when not in use.
The decorative shower curtain is hung on a simple, inexpensive curtain rod.  I only had room for one of the finials, so the other side attached directly to the wall using a curtain rod extender (one of those screws that has threads on each end that you use to attach two wood curtain rods), with one end screwed into the wall, and the other end screwed into the end of the curtain rod where the finial was supposed to be screwed in.
I think my favorite features of the new bathroom are the countertop and the cedar shower floor mat.  I always love the warmth that wood adds to a room.
Such an improvement over the original! (See how the floor was curled up around the edges? So disgusting. It was just a dirt and grime trap.)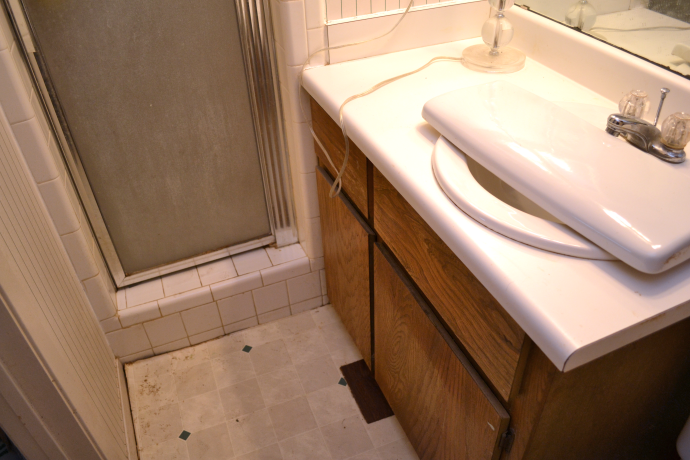 And here are just a few more pictures.  Amazing how many pictures I managed to take of such a tiny space!  😀
And that's it!
In total, I estimate that this makeover cost about $600, including the new toilet, faucet, towel ring, light, six panel door, and towel/robe hook on the door.
The source list is pretty short for this bathroom.  I bought all of the items listed above, plus all of the supplies for the mirror and shower floor mat, plus the paint and other items, from Home Depot.  I even bought the little succulent plant there.  🙂  Only the fabric for the decorative curtain came from another store.  I got it at JoAnn Fabrics.  It's one of their home decorator 45-inch fabrics, regularly priced at $9.99 per yard, but I got it during a 50% off sale.
One of the biggest expenses was the wood for the walls, and quite honestly, I would never use that stuff again.  The tongue and groove panels aren't completely flat, and some of them are noticeably warped.  (They came out of the package like that.)  Also, they have really rough spots all over that have to be sanded, and then there are knot holes all over.
If I ever do planked walls again, I'll stick with the hardboard cut into strips the size I want, like I used in the other bathroom.  It's easier to work with, perfectly smooth, lies perfectly flat against the wall, and costs a fraction of the price.  Plus, there's no caulking necessary since any tiny slivers of space between the wall and the hardboard are easily filled when priming and painting.
So, I'll just chalk this one up to a lesson learned.  I like learning new things, but I just wish those lessons didn't actually cost money.  🙂
I really only had two DIY projects that went into this room.  You can see those by clicking the thumbnails below:
[categorythumbnaillist 544]
Addicted 2 Decorating is where I share my DIY and decorating journey as I remodel and decorate the 1948 fixer upper that my husband, Matt, and I bought in 2013. Matt has M.S. and is unable to do physical work, so I do the majority of the work on the house by myself. You can learn more about me here.