Why I Should Never Be Left Unsupervised With A Sander In Sight
I'm just not housewife material. Oh, sometimes I wish I were. But it seems that I'm simply incapable of doing regular 'ole housework and just leaving it at that. More times than not, my "housework" turns into some sort of home improvement project.  Here's what I'm talking about…
*This post contains affiliate links.
Saturday night around 8:30, I was in the kitchen cleaning, washing dishes, doing regular stuff. That's when I started thinking about those frustrating bleached spots on my countertop. Before I knew it, I had broken out the sander and the shop vac, and a hour later, my countertop looked like this:
Is there anything more beautiful than the sight of freshly sanded, perfectly smooth raw wood just waiting for stain and sealer?! I think not!!
And as you can see, I didn't even get all of my dishes washed! There are still a few stragglers in the sink, quickly forgotten once I had my sander in hand.
What's funny is that just the day before, Matt had asked me which tool was my favorite to use. He assumed it would be my new miter saw, but I surprised him by saying that my favorite was my sander.
I mean, to me, there's just nothing better than a tool that allows me to strip an old piece of furniture down to bare, gorgeous wood.  And I was excited about this little impromptu project, because it gave the just the excuse I needed to go purchase a new tool — a Black & Decker Mouse sander — to be able to sand in the corners and behind the faucet…
I can't believe I've gone this long without purchasing a detail sander!! This little thing is amazing. It even comes with an attachment that sands spindles on chairs. Talk about a time-saver!!
I also took this opportunity to change the stain color on my countertop.  I've just never been really thrilled with the original stain color I chose, which was Minwax English Chestnut.  It was just a little too orangy-red for my liking, and I always felt like the color was a bit too saturated and dark.
So this time, I used Minwax Dark Walnut, and rather than staining the countertop, waiting 72 hours, and then applying the Waterlox Original finish, I opted instead to mix two tablespoons of stain with 1/4 cup of Waterlox and use that as my first coat (per the instructions I found on the Waterlox website).  I figured that this method would give me the lighter color countertop that I wanted. 
They still need a couple more coats of plain Waterlox (i.e., no stain added), but here's the new color.
And how do you like that empty frame that's been hanging there for months now? 😀 Pathetic, I know.
I tried my best to get a picture of the new color compared to the original color. You can see the original stain color on the opposite side of the kitchen, to the left of the stove. See how orange it looks? That's always bothered me.
I really do like the new, softer, less orange color. It seems to be a truer brown, which I really like, and with less color saturation, I think it looks more natural.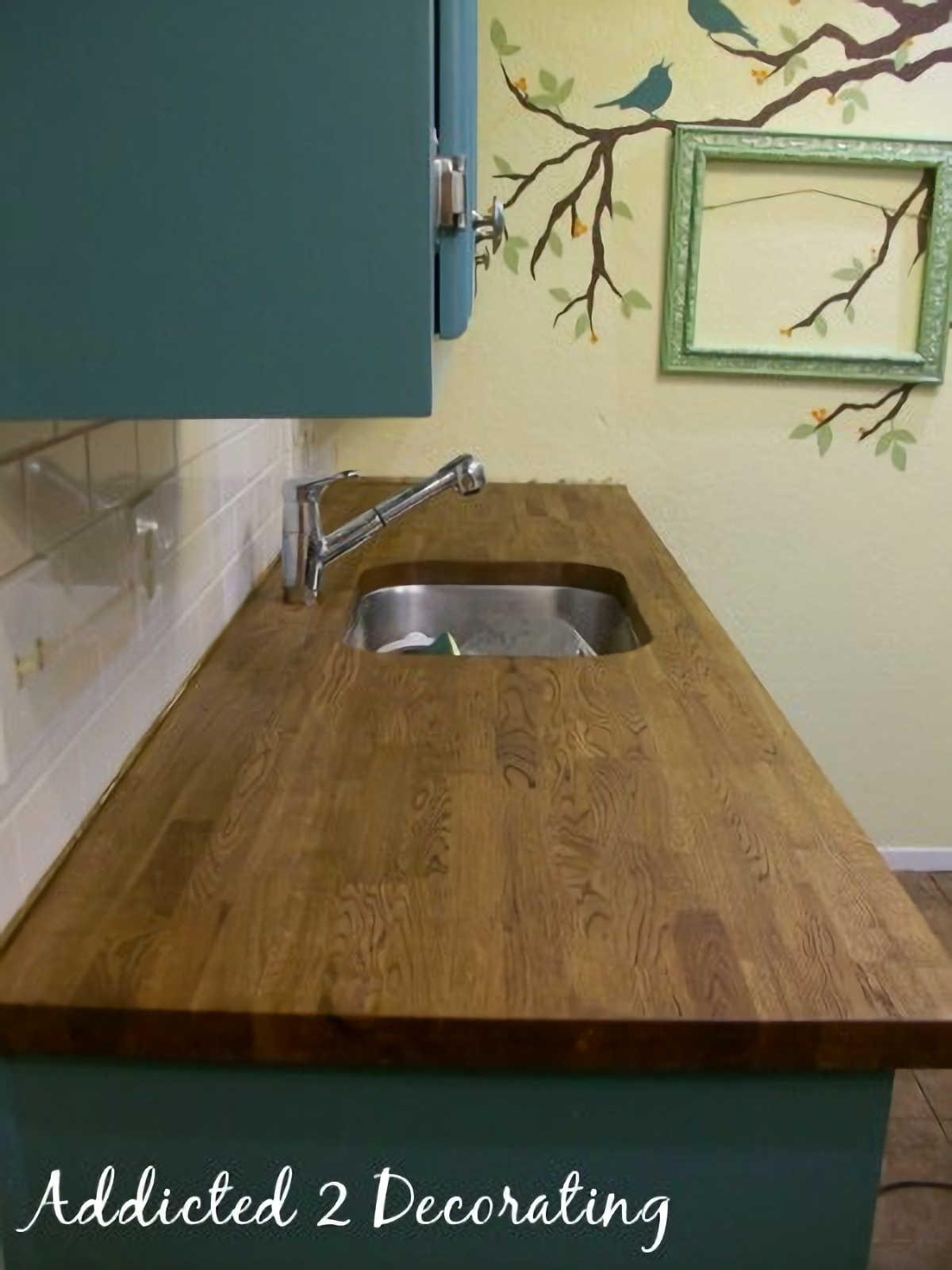 So that's how I do "housework". I know I can't be the only one with this little problem. Do you get sidetracked with home improvement projects as well?
UPDATE:
Below you'll find more updates on my butcher block countertops:
Addicted 2 Decorating is where I share my DIY and decorating journey as I remodel and decorate the 1948 fixer upper that my husband, Matt, and I bought in 2013. Matt has M.S. and is unable to do physical work, so I do the majority of the work on the house by myself. You can learn more about me here.