Last Updated on December 24, 2015 by Kristi Linauer
As you've probably noticed, I'm starting to wind things down on the blog for the year. I always love this time of year, but since Matt and I don't celebrate Christmas (you can find out why in this post), it has nothing to do with a holiday. I love this time of year because it's a time of reflection on the past year, and planning for the new year. The beginning of a new year always makes me giddy with excitement. I love new beginnings and fresh starts. I love new goals and renewed vision. This time of year for me always feels so….cleansing. That probably sounds silly, but that's the word that comes to mind.
Anyway, all of that to say that I won't be posting much between now and the beginning of next year. At the very least, I do hope to have one more music room post showing all of the basics finished, including my black walls. But since I still haven't finished the wainscoting or painted the walls, that might be next week. But I definitely will not be posting after December 23rd, and I'll be back on January 4th. Since it's not a holiday for us, it'll be a low key working blog break for me. I hope to get ahead on some house projects, and I'm also working on a blog redesign which I'm hoping will speed up my blog and make it less glitchy. I hope.
But for now, let's talk about sconces, painting methods, and dropcloths! 🙂
I still don't have light bulbs for my sconces, but I did want to show you how the sconce looks with the hole from the optional pull chain covered. Evidently, I did a poor job at explaining in last week's post how the hole is covered.
Since the pull chain is optional, the sconces actually come with a little plastic plug that fits right into the hole. It's silver, to match the original sconce color, so I just needed to paint it, clear coat it, and then pop it right into the hole.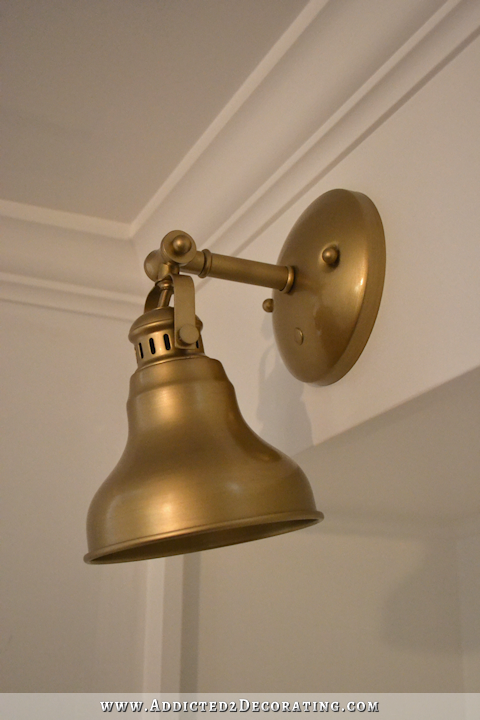 Easy, and done!
I had several people ask me why I didn't use my sprayer on the bookcases, and how I got such a smooth finish.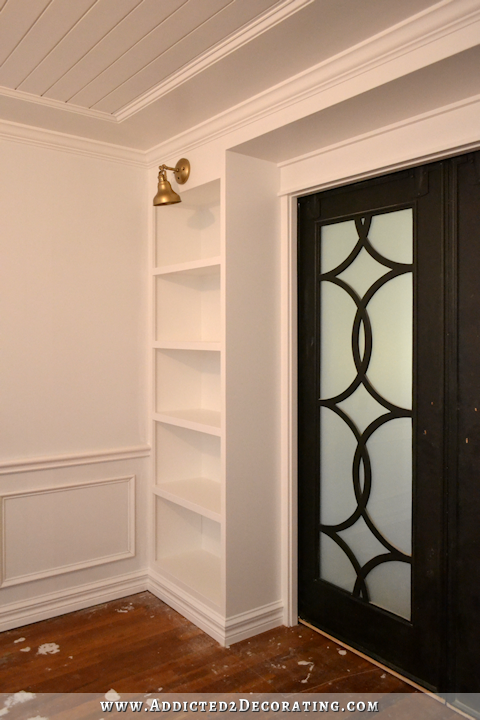 To paint the bookcases, I used a brush to do all of the corners (i.e., "cutting in," just like you have to do on a wall), and I painted all of the flat surfaces with a 6-inch paint roller for smooth surfaces. The key with this method is that you have to do one section at a time. In other words, you can't do ALL of the cutting in and then go back with the roller, because then all of the brushed-on paint will be dry and will have brush marks. Instead, you have to paint all of the corners with a brush just in one section (i.e., one shelf), and while that paint is still wet, finish up the flat areas with the roller. You have to get the roller as close to the corners as possible, and roll until it blends away the brush marks. Another key is to use microfiber roller covers instead of foam, and make sure it's labeled for smooth surfaces. I'm always very pleased with the results that I get from this method.
So why not spray? The short answer is that I hate using a sprayer inside. All of the covering and taping and draping that has to be done before you can spray inside is such a hassle, and takes so much time. Plus, any time I drape this room (which I did one time while working on the drywall) and cut off the air flow, it puts a strain on our HVAC system since the intake is just right there in the hallway. And I know some of y'all will think I'm crazy, but I just really enjoy painting with a brush and/or a roller. The only reason I ended up using a sprayer inside on my kitchen cabinets is because I was having an awful time getting the sheen to be consistent with anything I brushed on. I really had no other choice but to spray in that situation. But when I paint with white paint in a satin finish, I never have problems with consistent sheen when using a brush and/or roller.
And now the biggie…
Why don't I use drop cloths?
When I show pictures like this, I always get comments about my floor.
I totally understand the concern. I do regularly vacuum my floors with my Shop Vac so that the loose dust is taken care of, but yeah…my floors are a mess. Most of the white is drywall mud, but there's also some paint and primer spots mixed in as well. And yes, most of that could have been avoided if I had only used dropcloths.
So why don't I use them? Drop cloths and I just don't get along, and in fact, the plastic ones are just flat out dangerous for me. I slip on them, my feet get tangled in them, and they are such a hassle to get unrolled/unfolded. I can't even tell you how many times I've almost slipped and fallen because of plastic drop cloths, and on two occasions, I actually did fall. I'm continually getting my feet tangled in them, or getting them stuck to the bottom of my shoe. Dragging tools around on a plastic drop cloth is impossible, as any power cord or air hose that drags behind will catch the drop cloth and pull it. Trying to move a ladder across a plastic drop cloth is equally as infuriating for me.
I really can't express how much I hate plastic drop cloths. Canvas ones are much better for me, but I'm still a danger around them, and they're much more expensive. For me, the best option is the paper that you tape the floor, but even that poses some issues for me. The bottom line is that I'm a danger to myself when working on dropcloths, so I don't use them unless I absolutely have to. And since it's my house, and my rules, I don't use them in my house. 🙂
Obviously that creates more work for me where my floors are concerned, but since I've been anti-dropcloth for many years now, I knew this about myself way before we moved into our house, and way before I removed all of the green carpet and refinished the floors. My opposition to using drop cloths is one of the main reasons I decided to seal my hardwood floors with Waterlox instead of polyurethane. Waterlox can be recoated at any time without the need for sanding, and you can also repair spots without having to do the entire floor. So my plan all along has been to finish the basics on each room (ceiling, walls, trim), clean the floors, do any spot sanding needed, and then add one or two additional coats of Waterlox to freshen up the look of the floors.
Of course, that plan wouldn't work for everyone. If you have carpet, or engineered flooring/laminate that can't be refinished, or hardwood floors coated with polyurethane, you obviously need to use drop cloths. But with my flooring situation (real hardwood floors that aren't stained, and that can be easily sanded and topcoated with another coat of Waterlox), and given my issues with dropcloths, my method works for me. 🙂 I am anxious to get these floors cleaned up and recoated with Waterlox, but I still have quite a bit of work to do in these rooms before that can be done. But as soon as I get my music room walls painted, I'll at least clean all of the drywall mud off of the floor. That will make a big difference in there.
Addicted 2 Decorating is where I share my DIY and decorating journey as I remodel and decorate the 1948 fixer upper that my husband, Matt, and I bought in 2013. Matt has M.S. and is unable to do physical work, so I do the majority of the work on the house by myself. You can learn more about me here.
I hope you'll join me on my DIY and decorating journey! If you want to follow my projects and progress, you can subscribe below and have each new post delivered to your email inbox. That way you'll never miss a thing!