Looking Back, Planning Forward
Well, hey there, strangers. 🙂 I've missed y'all! Happy New Year to you!
I had such a good blogging break, but I'm so glad to be back, and I'm so excited about this new year. I have such plans! 🙂 I had originally planned to use my blogging break to get ahead on some projects around the house. Ha! That didn't quite work out. From my last post mid-December until today, I spent all of one day working on the house. 🙂 But it was a great break, and I feel so energized and ready to hit the ground running on house projects today.
Of course, I do have to take care of one item on my "to do" list before I can get started on the house. You see, 2016 started off with a bang for me…or rather, the aftermath of a bang. I woke up bright and early on January 1st, went to my car to head to the grocery store, and saw that someone's fireworks had blown a 2-inch-diameter hole with a trailing 1-foot-long crack in the back glass of my car.
And then as I drove, the whole thing began to crumble into little pieces like tempered glass does. You can see from the inside that the entire back glass is shattered into tiny pieces, and literally the only thing holding it together at this point is the window tint film on the window.
If I make it to the glass place today without that entire thing caving in, it'll be a miracle. 😀 So let this be a cautionary tale. Don't do fireworks in a residential area!! Can you imagine if that had landed on the roof of our house? It's against the law to do fireworks in the city here in Waco, but unfortunately that doesn't stop people. And since there were people all over our neighborhood shooting off fireworks, and I was inside the whole time, I have no idea who's responsible for this damage.
So as soon as I take care of that today, I'll hit the ground running on my house. And I'm really looking forward to making a ton of progress this year. In hindsight, last year felt like a year of me spinning my wheels and not really getting anywhere, but I think a lot of that had to do with the fact that my attention was divided for so much of the year. I spent several weeks working on the condo and getting it ready to sell, and then another two weeks working on my niece's bedroom (which isn't finished 🙂 ). And then my father-in-law was here for a total of five weeks. Even though we're always very busy when he's here, and we make great progress on the house, it's more general work that we do (i.e., insulation and such), so it never feels like progress is being made in one specific area or room. And for some reason, I always lose momentum after he leaves and it takes me a couple of weeks to get back into the groove of things.
So in the entire year of 2015, the only room in my entire house that I actually finished was my hallway bathroom.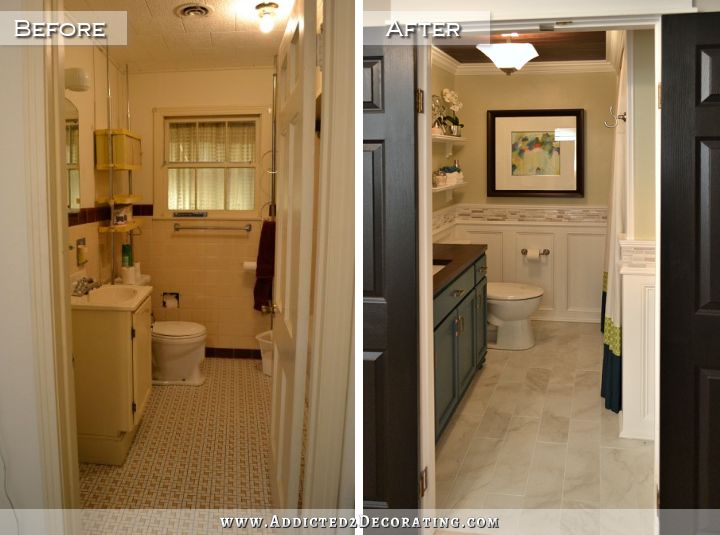 It was quite a big accomplishment considering that it was more that just a quick little makeover…
When I look back at pictures of the bathroom during that time, I'm amazed that I stayed calm through all of that. And I'm very proud of the fact that I took on such an extensive remodel by myself. But I still can't help but feel that last year kind of slipped through my hands. Time totally got away from me.
So this year, I'm hoping things will be much different. I don't plan on taking on any outside projects (I'm going to let my mom and niece finish up her room, and I'll just be more of a DIY coach to help them along when needed), so my attention won't be divided this year. I'll be focused only on my own house, and getting it as close to finished as I possibly can. These are the areas that I hope to have finished by the end of this year.
I'll start by finishing up the basics on the music room. I'm so close to being finished!! And then I'll finish up the basics on the entryway and dining room. Once the basics are done, I can get started on the decorating. I have draperies to make, chairs to reupholster, artwork to make, pendant lights to make, a dining table to build, and so much more!
After that, I'll move to the hallway. That's where I want to build the hall tree, so that will be a fun project. That's the only major project in the hallway, so it shouldn't take long at all (compared to the kitchen and hall bathroom, that is).
The bathroom and kitchen are finished, although there is one project that I'd like to do this year in the kitchen. Remember how I have white concrete countertops? (You can read about that project here.)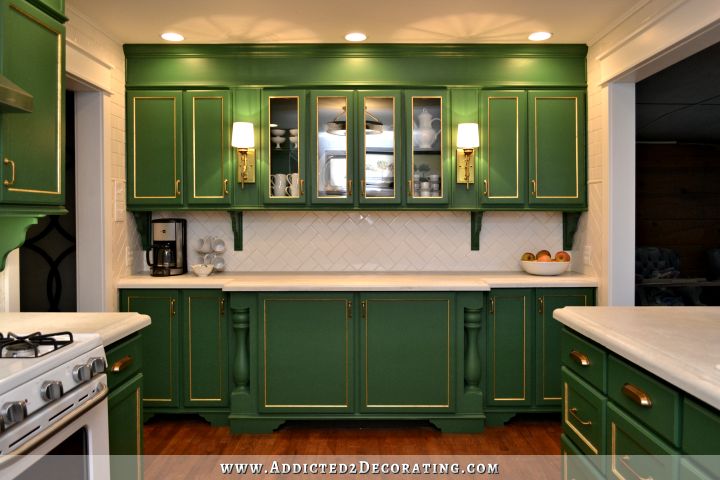 Well, they're not exactly white, and I really wanted white countertops. And now a year-and-a-half later, the sealer I used didn't really hold up, so I have stains on my countertops. I could remove the stains and reseal them, but then I'm back to having off white/very light taupe countertops when I really wanted white.
So I'm going to stain my countertops. Black. This isn't a high priority on my list this year, but I do want it done. I think the black will tie in beautifully with all of the other black I'm putting in my house, and the dark color will hide stains. Plus, I'm been researching sealers for months now, and I believe I've found the best. So for those of you keeping record, this isn't a project do-over. It's a project continuation. 🙂 I already have the concrete, so I just need to strip the remaining sealer, stain, re-seal, and done.
But again, that's not top priority. What is important for me this year is working on our bedroom, so I'll do that after the hallway. This bedroom will kinda, sorta be temporary until we do our big addition on the back of the house, although that could be three or more years away. But even though we have those big plans, I'll still be doing quite a bit of work on the bedroom. Remember the closets I built on either side of the bed in the condo bedroom? (More info on that closet project here.)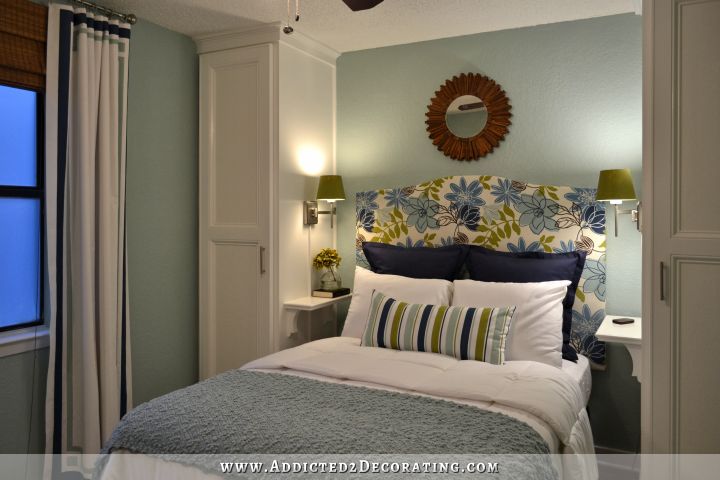 Well, I'll be building something like that in our current bedroom. And quite honestly, it has less to do with needing storage (although that's always a bonus), and more to do with making things easier for Matt. (Matt is my husband who has M.S. and is in a wheelchair, for those of you who might be new around here. 🙂 ) A closet on his side of the bed would definitely be easier for him to access than the current (original) closet, but it will also serve another very important purpose. Because of his muscle weakness, Matt has a very hard time rolling over in bed unless he has something to grab onto. And since he hasn't had anything on the left side of the bed to grab onto since we moved into this house, he hasn't been able to roll onto this left side, which means he's stuck sleeping on his back or his right side, which can feel somewhat confining for him.
In trying to figure out a solution, he reminded me that the bedside closet in the condo really helped him with this, and he suggested that I do the same thing here at the house. I actually love that design, and I like the idea of doing it here as well, so that's the direction I'll be heading with the bedroom.
But there's one obstacle with our current bedroom. There's a side window in the way.
(That's an old picture, and I have made some progress in there since then, but it's still pretty bare bones.)
So that window has to come out. That's no big deal since it would have to come out anyway when we do our bit addition on the back, unless we want a window from our bathroom into our new bedroom. And we don't. 🙂
But with that window gone, and our headboard up against the big, main window, that creates a problem. If there were ever a fire, I don't see myself being able to drag the bed away from the wall, get Matt out of bed, and get us both through the window in a timely manner.
So I'm going to put in a door. It's just a much safer design all around, and will give me such peace of mind knowing that in the event of a fire, I could easily get Matt out of the bedroom and into the back yard through the door. This is something I've wanted to do for a while now, so I really want to stop putting that off and get it done this year. In fact, I believe Matt's dad will be coming in April, and I think I want that to be our main project.
And then after all of that is done, and if there's time left, I'll work on the breakfast room and pantry. That will be the last thing on my list, and if it has to get bumped to 2017, I'll be perfectly fine with that.
Phew! Lots to do! It should be a fun year. 🙂
Addicted 2 Decorating is where I share my DIY and decorating journey as I remodel and decorate the 1948 fixer upper that my husband, Matt, and I bought in 2013. Matt has M.S. and is unable to do physical work, so I do the majority of the work on the house by myself. You can learn more about me here.