Last Updated on January 14, 2019 by Kristi Linauer
I was looking at my list of 2017 home goals (which you can see here) to see just how much progress I've made so far this year, and just how much more I have to do if I want to stay on task. I came to the realization that I probably won't get all the way through my list this year.
There's just too much left, and too many big projects still on the list: make seven more drapery panels, reupholster the sofa, reupholster four chairs, build hallway cabinets, build the pantry cabinets, refinish the piano, etc. Those big, time-consuming projects, mixed with about 30 smaller projects left on the list, would require more than three-and-a-half months to finish. I'm quite certain of that.
I'm okay with that. The purpose of my list was just to give me clarity and focus for the year, and it has definitely done that. I've felt more focus this year than I have in a very long time. But the purpose of the list wasn't to serve as a set-in-stone list that absolutely had to get done or I'd beat myself up over it.
And even though some of that list will be carried over to next year, it doesn't overwhelm me or make me anxious. Everything on that list is completely doable. I just recognize that I'll need more time.
But now, in addition to my original list, I've added so much more work for myself with the studio. Progress on the studio, mudroom, and half bathroom has come to a complete stop, and it still looks just like it did when the crew packed up their tools and left…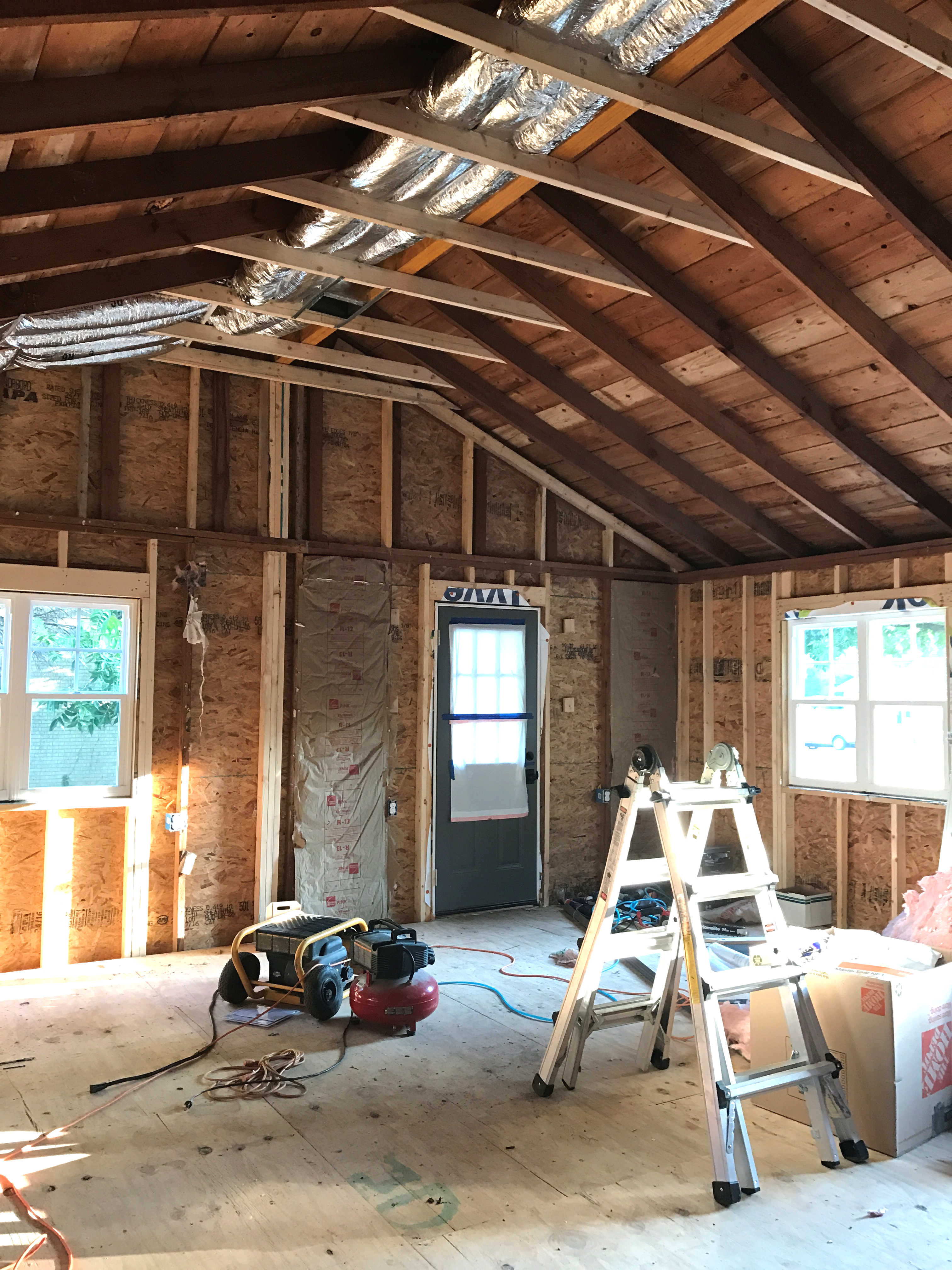 That room needs electrical wiring, insulation, drywall, trim and flooring installed before I can even think of getting to the fun/decorative projects.
The thing about all of these projects is that there's not a single one of them that I absolutely need to hire out because I'm incapable of doing it myself. I've done my own electrical wiring in the pantry, breakfast room, hallway bathroom, and hallway. I've done drywall by myself in the hallway bathroom, and then with help in some other rooms. I've installed hardwood flooring in the kitchen, pantry, and breakfast room, and I've installed tile in the bathroom. I've installed every bit of trim (with the exception of the crown moulding in the breakfast room) in this house all myself. And installing batt insulation is incredibly easy. (Spray foam is probably best left to the pros, though.)
And then there's the exterior, which has brand new siding, but still hasn't been caulked or painted. While I've never painted the exterior of a house before, I can't imagine that it's particularly difficult.
So of all the things listed above — my original 2017 to do list, the studio projects, and the exterior — the only one I know for sure that I'll hire out is the drywall. I am completely capable of installing drywall and doing the taping and mudding myself. Heck, I even bought a drywall lift a couple of years ago, so I'm even capable of doing ceilings all by myself.
But I got over my guilt of hiring out drywall over a year ago. I decided that I've paid my dues when it comes to installing drywall, and any drywall from here on out will be hired out, even if I am fully capable and equipped to do it myself. I hired out the drywall in the breakfast room and pantry…
…and they had it installed, taped, mudded and sanded in two or three days. It would have taken me about a month to do that by myself.
But other than drywall, there's not anything else on the list that I had planned to hire out. And I'm still okay with that, but the scope of the studio project has started to make me feel just a bit overwhelmed lately. I think that's probably because I'm putting unnecessary pressure on myself to get it done ASAP just because I'd like to start using it. I know I could get it all done myself if I just put my blinders on, and focus on one project at a time. Or I could think about hiring out some of these things to get it done faster.
I always feel guilty hiring out projects that I'm capable of doing myself. It seems like such a waste of money, and any extra money that I put towards these projects will only delay other projects I want to get done (like our big master bedroom/family room/laundry room addition). Plus, I write a DIY blog, so shouldn't I actually be DIYing this stuff myself?
In addition to the wasted money issue, there's also the control issue. I'm a control freak. There, I said. 🙂 I don't like handing over control of things to other people. Plus, I just really enjoy DIYing, and there's nothing like the feeling of accomplishment that I get when a job is finished and I can look back on it and say, "I did that! I sewed that! I built that from scratch! I painted that! I installed that myself! I refinished that!" I now we're all motivated by different things, but that sense of accomplishment is an incredibly powerful motivator for me, and makes me want to hoard allllllll of the projects for myself.
But I've come to the realization that it might be time for me to turn some of these things over to some trusted pros. Then the challenge is deciding which one(s).
Painting? I just can't wrap my head around hiring someone to do something so basic as painting, even if it is a house exterior, and especially since I live in a one-story house. If I lived in a two-story house, I would probably feel differently.
Installing hardwood flooring? It's just so easy (and actually pretty fun and relaxing) that I can't imagine not doing it myself.
Electrical? Electricians are so dang expensive that I can't even bear the thought of hiring that out (and spending all of that extra money) on something I'm fully capable of doing myself.
The one thing on the list I could easily hand over with zero guilt is insulation. No problem. Done.
So if you're a DIYer, whether by necessity because of finances, or by choice because you love it, or a combination of both, how do you go about deciding what projects you're going to do yourself, and which ones you're going to hire out? Do you base it strictly on ability? Do you do anything and everything you're capable of doing, and hire out the rest? Do you base it on what you enjoy doing, and only hire out those things you absolutely dread? Do you base it on a time limit, and take on only what you can get done by a deadline and hire out the rest?
Give me some insight into your process!
Addicted 2 Decorating is where I share my DIY and decorating journey as I remodel and decorate the 1948 fixer upper that my husband, Matt, and I bought in 2013. Matt has M.S. and is unable to do physical work, so I do the majority of the work on the house by myself. You can learn more about me here.
I hope you'll join me on my DIY and decorating journey! If you want to follow my projects and progress, you can subscribe below and have each new post delivered to your email inbox. That way you'll never miss a thing!