Easy and Inexpensive DIY Modern Frames For Artwork
I took a break from cabinet building yesterday to finish my entryway artwork. Specifically, my artwork needed frames so that I could finally hang them on the wall.
I wanted something bold and colorful in the entryway, so about three weeks ago, I did a triptych of fluid acrylic abstract paintings. You can read more about that project here.
But they've been sitting there just like that, unframed and unfinished, for three weeks because I had no idea how to frame them. They are a custom size (18″ x 42″), and three large custom size frames would be expensive. The cheapest I found for a simple, modern white frame in this size was around $80 each, so framing three of them would run about $240. That seemed excessive, especially considering that I might decide in a year that I want different artwork altogether, and then that money would be wasted.
So after looking at basic white frames online, I finally decided I could just make my own using my table saw to cut the rabbet. I used 1″ x 2″ pre-primed fingerjoint lumber from Home Depot. (FYI, 1″ x 2″ lumber is actually 3/4″ x 1.5″) And here's how my frames turned out…
All three frames cost me just over $25 (5 boards at $3.82 each + a can of spray paint + tax). That's not too shabby, right? 🙂
Making these just took two passes on the table saw for each piece. Now I know that a table saw isn't a tool that all DIYers have. Heck, the entire time we lived in the condo (and I was remodeling it), I never owned a table saw. It wasn't until we moved to the house that I got one, and I got a small Ryobi from Home Depot that cost $199. They have two models that are $129. The point is that you don't have to spend a ton of money on one of those huge, nice table saws in order to get a useful table saw. I hope to get one of those one day, but for now, my little one works just fine. And now that I have a table saw, I wonder how in the world I DIYed for so many years without one!
Anyway… 🙂
For the first pass, I set my blade to make a cut 3/4″ deep, and I set the fence 3/8″ from the blade. Then I ran the piece of lumber through standing on its edge like this…
And then to make the next pass, I basically flipped those measurements, setting the blade to cut 3/8″ deep, and the fence 3/4″ from the blade. I ran the board through with the cut edge against the fence.
This gave me a nice rabbet on the back that the artwork could rest against.
Then I used my miter saw to cut the pieces to fit my artwork, with the corners mitered at 45-degree angles. I assembled the frame using wood glue and 3/4″ 18-gauge nails.
I waited a couple of hours for the glue to dry, and then used wood filler on the corner joints…
And then sanded them smooth by hand using 150-grit sandpaper.
And then they were ready to paint. I used white Rust-Oleum spray paint to make things quick (took about 20 minutes to paint all three). I gave them about two hours to dry, and then went back and painted the inside edges of each frame using a pink sample paint that I had on hand called Pink Damask from Behr.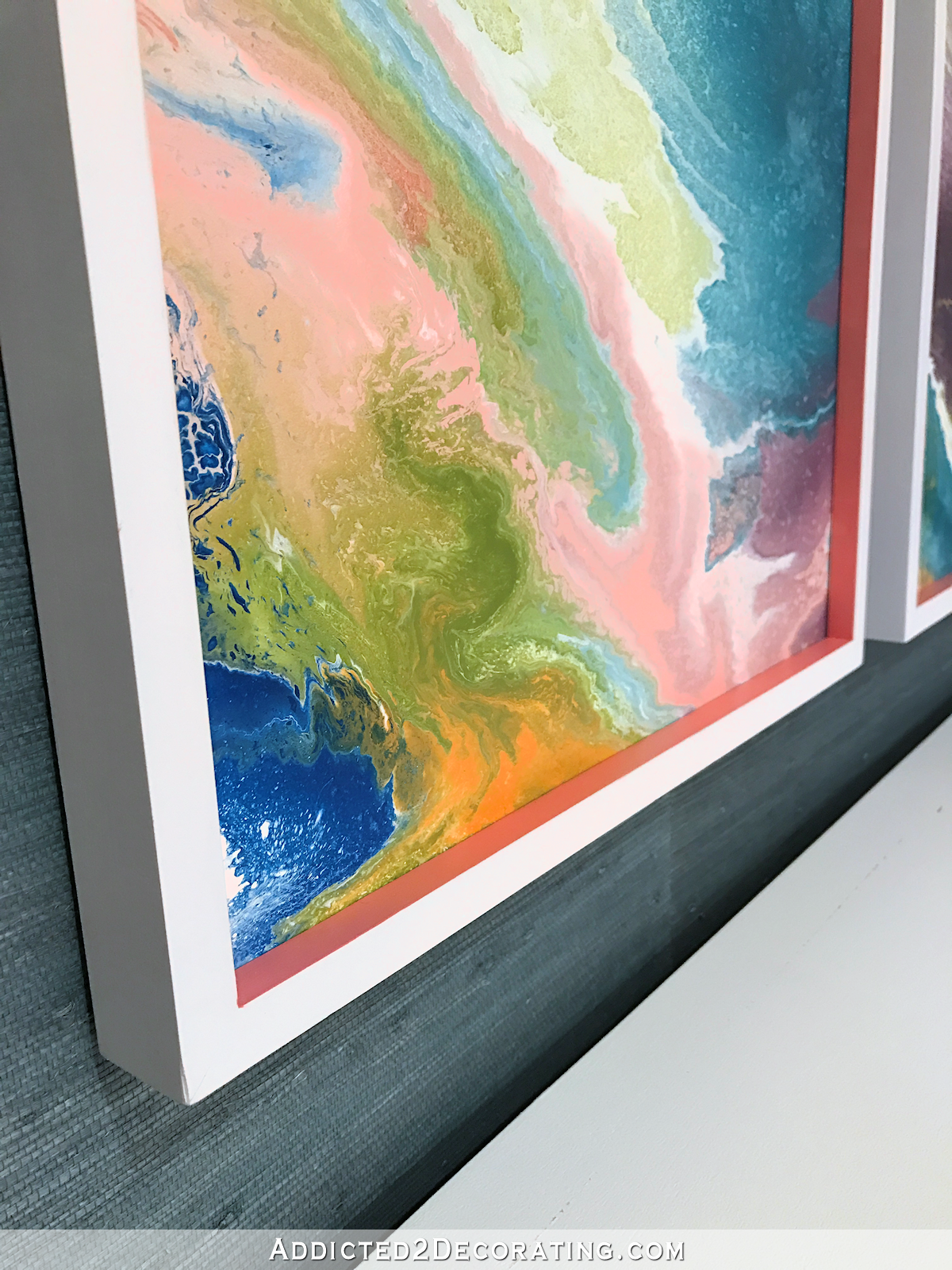 You can't see the pink when you view the artwork straight on.
But if you see it from any angle at all (which is most of the time, since this is an entryway in a house, and not a museum), you can see those happy little ribbons of pink framing each painting.
I painted the pink with a small craft brush, and then after it was completely dry, I used an isopropyl alcohol wipe (I always keep these on hand and find them in the pharmacy section of my local grocery store), wrapped it tightly around my finger, and wiped it over the white face of the frame to remove any pink that accidentally crept over the edge. This gave me a really clean, crisp edge between the white and the pink. Isopropyl alcohol will only remove the latex paint, but won't affect the spray paint as long as you work quickly and don't scrub back and forth over the spray paint surface. If you just do quick passes, it'll only remove the latex paint.
I think $25 for three big, custom size frames is a pretty good deal! And of course, the possibilities are endless. You can paint them any color you want, accent the front edge of the frame with a metallic wax like Rub 'N Buff, gold or silver leaf the inside edge, or just whatever your heart desires.
I used the shortest 18-gauge brad nails I had on hand (I think they were 5/8″) to nail the artwork into the frame, but if you want to be able to remove your artwork, you can just use framer's points to hold the artwork inside the frame.
And that's one more item I can check off of my 2017 home projects to do list. I've now finished 31 of the 54 items on my list. But now it's back to the hallway cabinets. I'll be working on the doors and drawer front today, and I've decided to do a very simple design that doesn't require any kind of special cabinet door-making tools. I'll show y'all on Monday if my plan worked out.
Addicted 2 Decorating is where I share my DIY and decorating journey as I remodel and decorate the 1948 fixer upper that my husband, Matt, and I bought in 2013. Matt has M.S. and is unable to do physical work, so I do the majority of the work on the house by myself. You can learn more about me here.