The Main Benefit Of Building Your Own Dining Chairs (and Tackling Other Decorative DIY Projects)
I'm still not quite finished with my chair. This one is going a bit slower because I'm having to figure things out as I go. The next one will be faster. And thank goodness I'm only making two! Of course, then I have six more side chairs to upholster. 😀
But quite honestly, I'm really enjoying this change of pace. I've done quite a bit of upholstery over the years, but upholstering 10 chairs (two of which I built from scratch) in just a few weeks is a new challenge for me.
A few people mention to me that they would never tackle such a project as building their own wingback chairs. That's totally understandable. It is quite an involved project! 🙂 Although on the difficulty scale from easy to difficult, I'd rate it somewhere around "moderate." If you have any building/tool experience, you should be able to tackle it with no problem.
And then a few people asked if it really is cheaper to build my own rather than just buying some ready-made chairs.
I had to stop and think about that, because while I'm always looking to save money by doing my own projects, building my own chairs (or doing any DIY, for that matter) isn't always strictly about cost and getting things on the cheap. Cost is almost always my initial motivation for DIYing something, but there are other factors that are important to me as well.
I don't actually know how much my wingback chairs will cost me in the end. I'll tally all of my costs and share those on my final wingback dining chair post. But for now, I'm going to guesstimate that they cost somewhere between $200 and $250 each. So I went in search of what I could purchase ready-made in that price range.
This Mason dining chair from Pier 1 would cost me $270.57.
Mason dining chair from Pier 1 
That's a perfectly nice chair. But if you know me at all, I think you can see right off why that chair wouldn't work for me. They did have others with patterned/colorful fabrics, but none of them appealed to me at all. And $270 per chair is a lot to pay for something that isn't my style at all and wouldn't look right in my house.
This chair from World Market is much more my style, with the colorful floral fabric on it, but that fabric would clash horribly with my kitchen. These would cost me $346.38 for a pair, which isn't bad just from a cost perspective. But when it's not the right style or fabric, and doesn't fit my vision at all, it's wasted money.
Monrovia Floral Lydia dining chair from World Market
Anyway, my point is that making my own chairs (or DIYing other projects around my house) isn't necessarily about getting them as cheap as possible, although saving money is generally my original motivation, and it's almost always the outcome.
But the biggest satisfaction I get out of DIYing things like wingback dining chairs is that I get a completely custom look at a fraction of the cost that I would pay to have that custom item made/done for me. Custom is the key for me. I don't want to go to all of this effort just to end up with a generic-looking house.
Or maybe "generic" is the wrong word. Let's see if I can explain better. Have you ever walked into someone's house and said to yourself, "This room looks like a page from the Pottery Barn catalog!" Yeah. That. That's the exact thing that I don't want. I don't want people walking into my house and saying, "Oh, I saw those chairs at Pier 1 the other day," or "I have that same (insert item name here)."
Frankly, I take great pride in the fact that there's virtually nothing in my house that a person can see, like, and then rush out and buy. You know how some bloggers have those "shop our house" pages where they fill a page with affiliate links to the items that they've used to decorate their homes? Yeah…I'd never be able to have a page like that on my blog, and quite honestly, I love that fact.
I want my house to end up looking like it was specifically customized to fit my personality, and no one else's. Just me. Alllll for me. 😀 (Matt doesn't care what our house looks like, and he hates when I ask for his input. He just wants me to be happy. Lucky me!) 🙂
My mural in the entryway is a good example of that.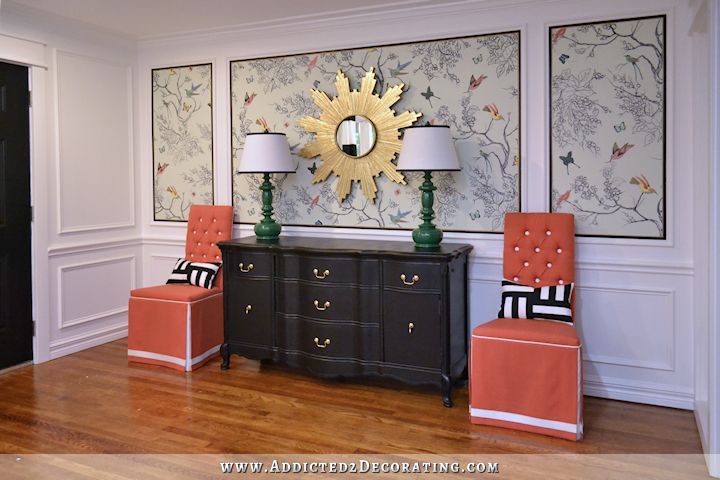 That whole idea came about because I fell in love with Schumacher's Birds & Butterflies wallpaper and wanted to use that design somewhere in my house. But that wallpaper costs about $154 per single roll, and is sold in double rolls. In order to cover those panels, and have the patterns match perfectly (which is where you lose money and waste wallpaper with patterned wallpaper), it would have cost me over $600, and I would have had almost one and a half rolls left over, completely wasted.
So my initial DIY motivation was to save money. No doubt about that. But in turning this into a DIY project, it also gave me to opportunity to customize it specifically for my personal taste.
My mom helped me by taking my wants and wishes (I wanted a less "scribbled" and harsh look to the limbs and leaves, and I wanted an overall softer design) and coming up with a totally new branch and leaves pattern just for me, while keeping the birds and butterflies from the wallpaper. And then with my new customized design in hand, I got to work. It took me many hours to finish, but cost me less than $50 for a totally customized design that's all mine.
If you want a highly customized house, the only two options are (1) to do it yourself, which will save you a ton of money but cost you a ton of time, or (2) to hire out the work. I don't know how much it would have cost to hire a local artist to do the walls in my entryway, but I'd guess it would have cost several hundred dollars at a minimum.
And as far as having custom chairs made? Well, I do know a bit more about that. Just having the frame made to my specifications (e.g., I want the back arched like this, and I want the wings to look like this, and I want the arms rounded like this) would be a minimum of $300 to $500. And then having it upholstered to my specifications (e.g., this floral fabric on back, this textured fabric on front, this fabric used for the trim, add a skirt, add this trim to the bottom of the skirt) would have been a minimum of $400 per chair. And that doesn't include the cost of the fabric.
So yes, saving money is always my initial motivation for DIYing things like dining chairs, wall murals, kitchen cabinets, etc. But ending up with a completely customized item that no one else has, and getting it at a fraction of the cost that it would take to hire someone else to do/make/create that customized thing…
That's where this whole DIY thing goes from just being practical, to being incredibly satisfying and exciting for me. 🙂
Addicted 2 Decorating is where I share my DIY and decorating journey as I remodel and decorate the 1948 fixer upper that my husband, Matt, and I bought in 2013. Matt has M.S. and is unable to do physical work, so I do the majority of the work on the house by myself. You can learn more about me here.