Last Updated on December 24, 2015 by Kristi Linauer
Yesterday as I was working on my second drapery panel (which I'm still not finished with…*sigh*), I was thinking back on some of the big projects I've accomplished both here at the house and at the condo.  And I was also thinking ahead to some of the big projects that lie before me in this house.  There are so many, and many of the projects here are so much bigger than anything I ever did at the condo.
It could be easily overwhelming if I allow myself to dwell on too many of them at once.  And that overwhelmed feeling can often lead to me start to doubt my abilities and whether or not I'm even capable of completing some of the tasks that need to be done.  And if I continue on that mental path, it's just downhill from there.
So in the middle of my slow mental spiral downward towards feeling overwhelmed and insecure in my abilities, I stopped myself and I thought back to a conversation that I had with Matt last year.
We were still in the condo at the time, and I had just finished building the 12-foot built-in bookcase wall in the living room…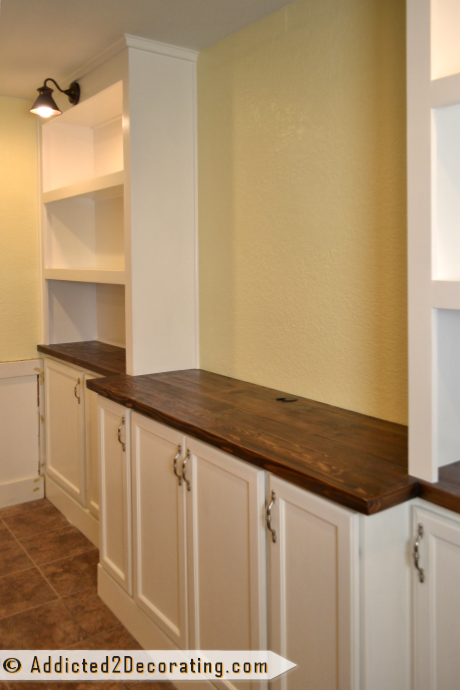 He sat there looking at the finished bookcase in complete amazement.  (I love that I can amaze him even after 11 years of marriage.)  🙂
And then he asked me, "How did you even know you could build something like that?  I mean, you've never built anything like that before, so how did you know you were even capable of doing that?"
My answer was, "I didn't!  But I knew I wanted to try."
The fact is that most often, when I start on a big project, I have no idea whether or not I'm capable, or whether or not my vision will actually turn out in real life.  A perfect example of that would be my fireplace…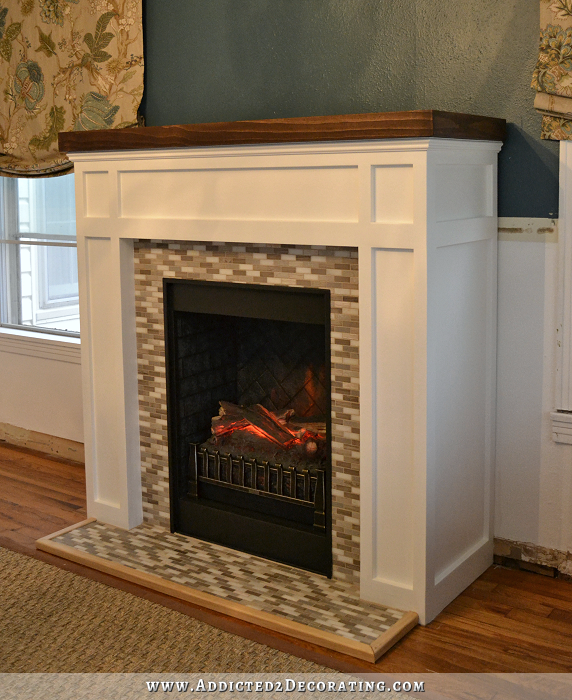 I knew I had a vision for it, and it took me about two hours just to come up with my plan for building it, but I honestly had no idea whether or not my plan would actually work.  And I'll be honest…in those beginning stages, I was really having some doubts that I'd be able to pull it of.  But I knew I wanted to try, and I knew I wanted to see the project through to the end, even if the outcome was a miserable failure.
So that brings me to you, and my challenge for you.
I think by now, if you've read my blog for a while, you know why I blog.  It's not to dazzle you with my gorgeous rooms, because let's face it, we all have our own style and our own personal taste.  And what's beautiful to me might be downright ugly to you.  And that's fine…really.
But my main purpose for blogging is just to encourage people that you can do these things and to get your creative juices flowing.  You might hate the way my fireplace looks, and that's perfectly fine.  But hopefully in seeing me build it, and seeing the steps I took to go from concept to completion, it helped you think through some of the projects you've wanted to do for your home, and realize that they are something that you can do.
So often, I'll post a project here on the blog or on my Facebook page, and I'll get so many comments like, "Oh wow, I wish I had the talent to do something like that."
And I always want to respond with, "How do you know you don't have the talent?  Have you tried?"  🙂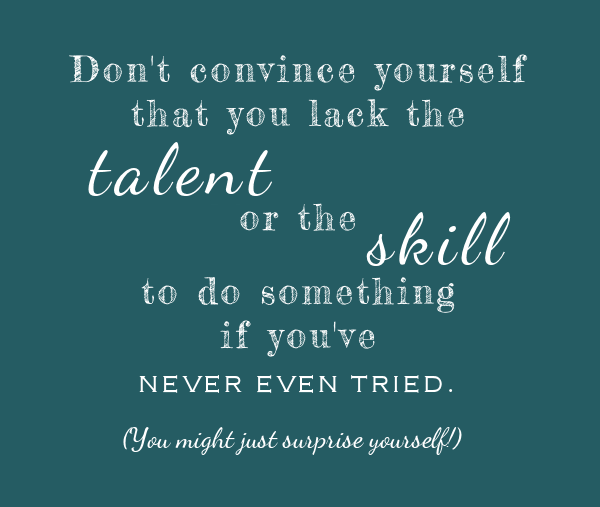 Last night on my Facebook page, I posted this:
Fill in the blank: I wish I had the courage/talent/skill to ______.
I loved reading all of the answers.  They ranged from using power tools, to sewing, to building furniture, to welding, to tearing down walls, and so much more.
So today, I issue my challenge to you…
Stop wishing and start doing.
I challenge you to try something new.  If your wish is that you could use power tools, find a friend with power tools, put on safety goggles, plug in a saw, and give it a try.  You don't have to build anything, but just get used to the feel of using power tools.  That's the first hurdle.
If you've always wanted to do watercolor painting, just go get a beginner set of watercolors, brushes, and some paper, and get some color on that paper.  Just get a feel for the paint and how it flows on the paper.  The learning process starts with that first step.
In other words, just take that first step!  You can't start down that path from wishing to doing without taking that first step.
And because I've challenged y'all, I'm also going to accept this challenge myself.  The one big project that has been the most overwhelming to me lately is building my own kitchen cabinets.  So I'm telling you right now that when the time comes, I will be building my own kitchen cabinets.  From scratch.  Start to finish.  By myself.  All of them.  It may be a terrible flop, or it may be a huge success.  But regardless, I'm going to push through this self doubt and I'm going to give it my best try.  And even if it's a flop, I'm sure I'll learn so much along the way.
So tell me, will you accept my challenge?  And what is the first step you will take towards turning your wish into action?
Addicted 2 Decorating is where I share my DIY and decorating journey as I remodel and decorate the 1948 fixer upper that my husband, Matt, and I bought in 2013. Matt has M.S. and is unable to do physical work, so I do the majority of the work on the house by myself. You can learn more about me here.
I hope you'll join me on my DIY and decorating journey! If you want to follow my projects and progress, you can subscribe below and have each new post delivered to your email inbox. That way you'll never miss a thing!