My Living Room — All Of The Big Projects Finished! (Full Room View)
It feels like it's taken me forever to get to this point, but as of last night when I hung that second drapery panel, I finally have all of the big projects finished for this "Phase 1" of decorating my living room.  Of course, there are plenty of big projects left for the final phase of this room (more on that in a bit for those of you who are new around here).  But for now, my goal was simply to get this room looking presentable, pretty, and cozy.  So for this stage of the process, all I have left to do is a bit of trim work (no, I still haven't replaced the trim on the fireplace wall) and some accessorizing.
Here's how the room looks as of this morning…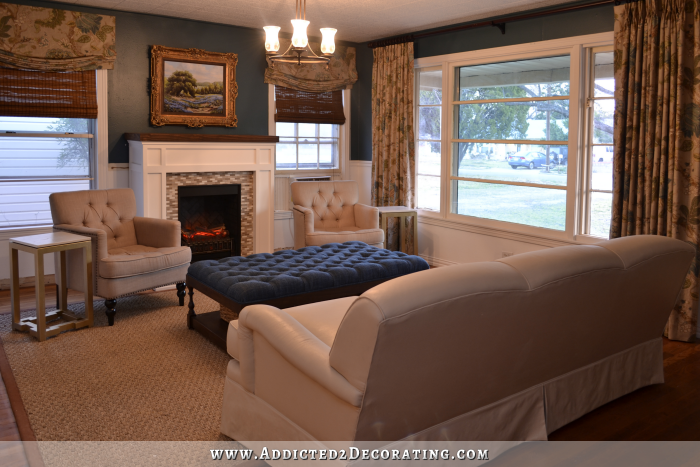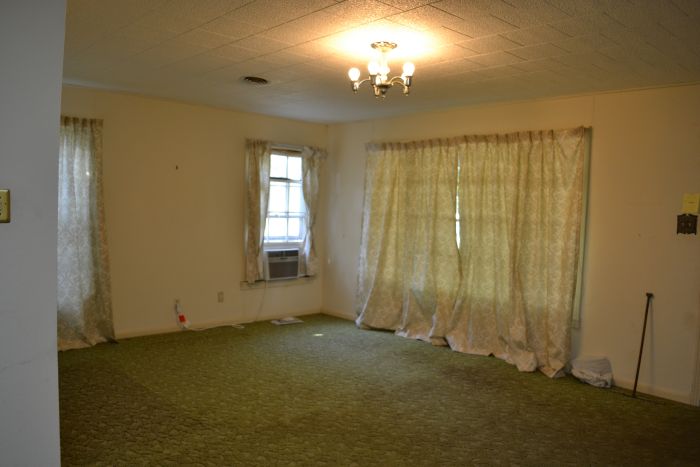 This room reminds me why I love to make things and do things myself.  There's such a sense of pride in looking around in a room and being able to say, "I made that!  And that!  And I painted that!  And I built that from scratch!  And I sewed those!"  I wouldn't exchange that for anything.
Here's how to room looks from the front door…
And here's a look at how it started out from this view…
It's come a long way!  😀
The big projects I've tackled in here are
I still need to add some trim to the fireplace wall, work on my window air conditioner camouflage plan, and then it's on to accessories — pillows, throws, a tray for the ottoman, etc.
The final phase of this room will be dealing more with the structure (the bones) of the room:
removing the polystyrene ceiling tiles and repairing/replacing the drywall on the ceiling,
adding wainscoting to the walls (where it's just painted white right now),
building an overmantel for the fireplace,
adding crown moulding,
building a separator wall/large open doorway between the living room/entryway and the original dining room area,
repairing, reglazing, stripping, and repainting the wood windows,
replacing the one aluminum window with a wood window to match the originals,
moving existing lighting and adding recessed lighting.
Also, before the end of the year, we hope to get a central HVAC system so that they window units can be gone completely.  The plan is to have that in place before next winter so that we don't have to use the old furnace for another winter.  That thing still scares me, and I'd like to retire it ASAP.
That's the list that I find a bit overwhelming.  🙂  But it'll be a fun challenge, and I'm definitely planning on having help with the big things.
But I don't have to think about those right now.  Those things can wait.
So I'll leave you with one more "before" and "now" view of the room.  Just hover your mouse pointer over the picture to see it change.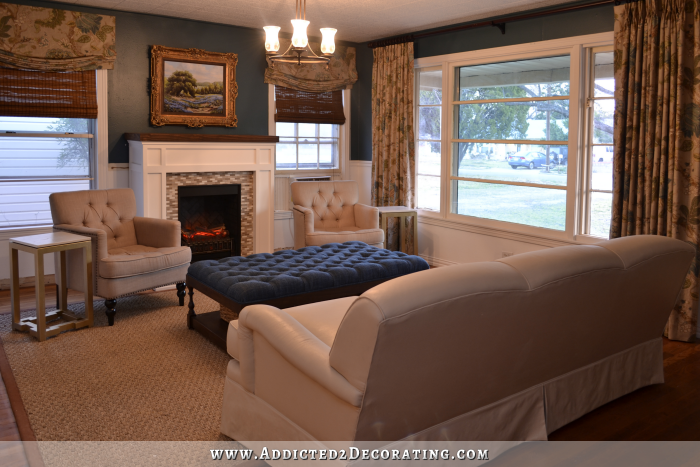 Addicted 2 Decorating is where I share my DIY and decorating journey as I remodel and decorate the 1948 fixer upper that my husband, Matt, and I bought in 2013. Matt has M.S. and is unable to do physical work, so I do the majority of the work on the house by myself. You can learn more about me here.