May Progress & June Goals
May has come and gone, and I feel really good about my house progress last month. I had originally planned to get both my breakfast room and kitchen completely finished, and then get started on the pantry. And then about midday on May 1st, just a few hours after posting my April Progress & May Goals post, I changed my mind. I decided to hold off a bit on the pantry and just focus completely on getting the breakfast room and kitchen finished, and then finalize my plan for the pantry while I got started on cleaning out the garage and storage room in preparation for the garage-to-studio conversion.
So how did I do?
Well, the good news is that my breakfast room is completely finished. You can click here to see the whole before and after post.
And to that end, I spent time during the month of May making a frame for the TV (click here for that project)…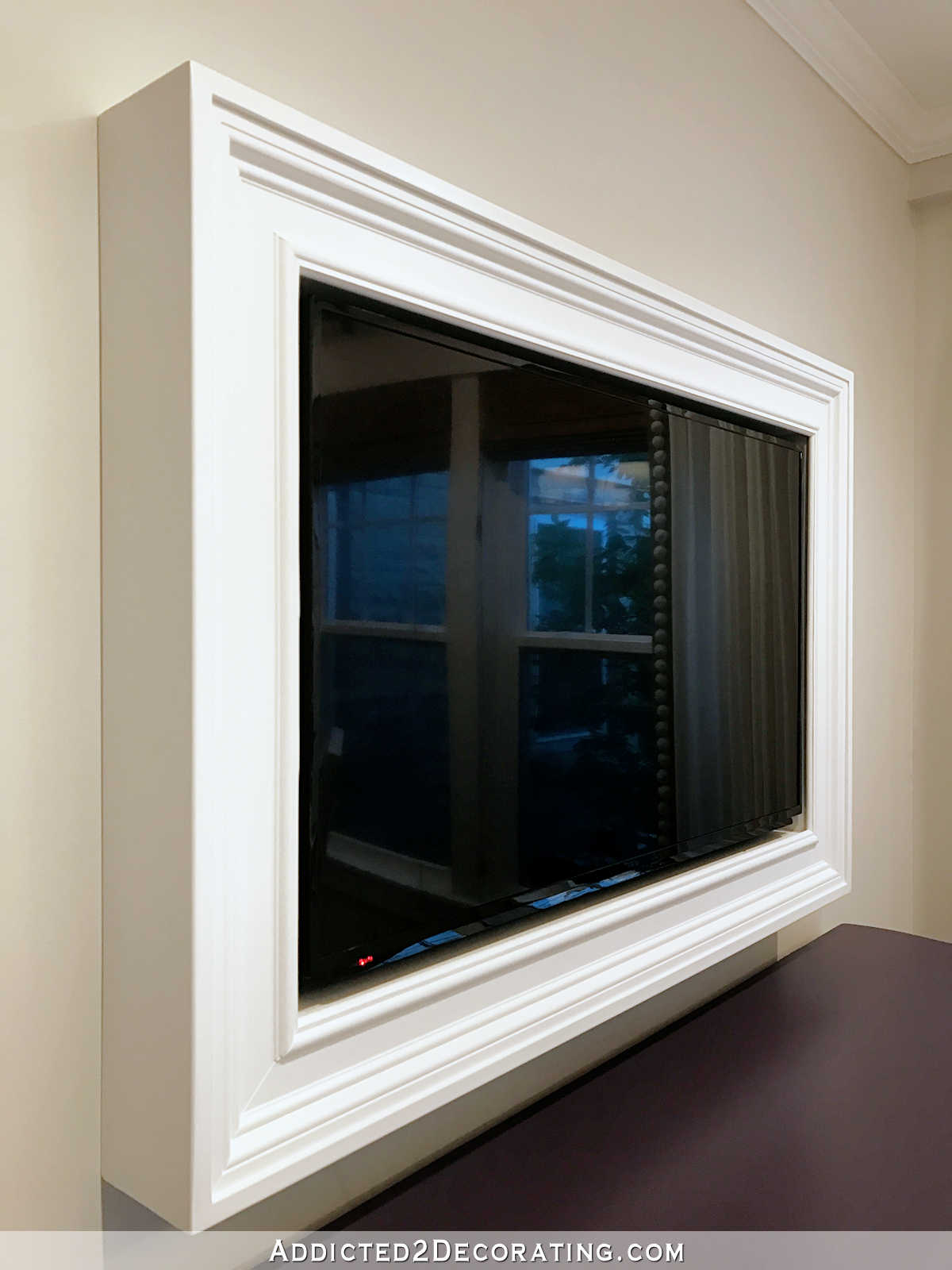 I made some easy painted Greek key pillows (click here for that project)…
I built and upholstered two benches (click here for that project)…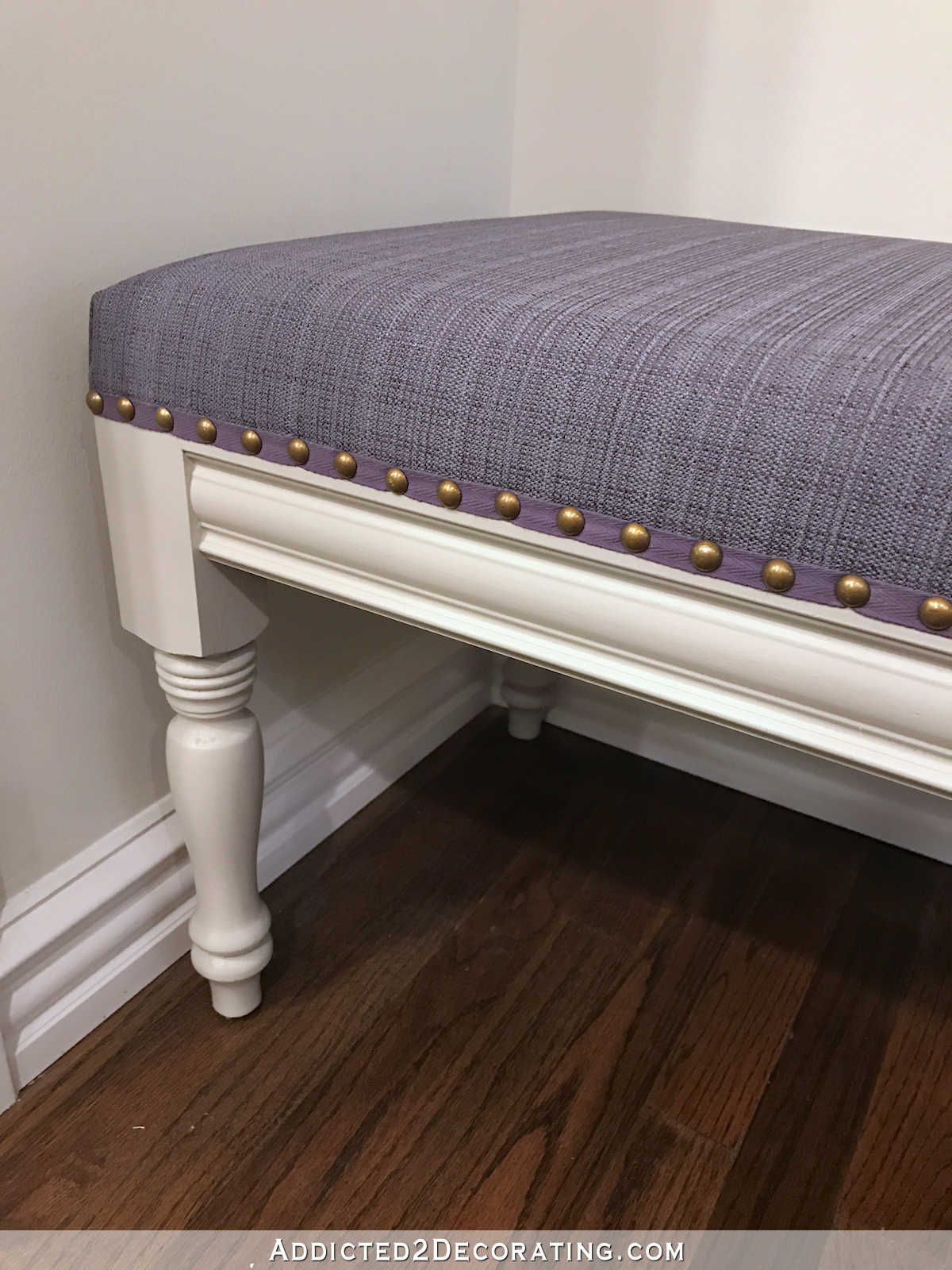 And I painted some canvases and DIYed some very easy framing on them (click here for that project)…
And over in the kitchen, I finished up the range hood cover that I built to cover the stainless steel range hood (click here to see that project)…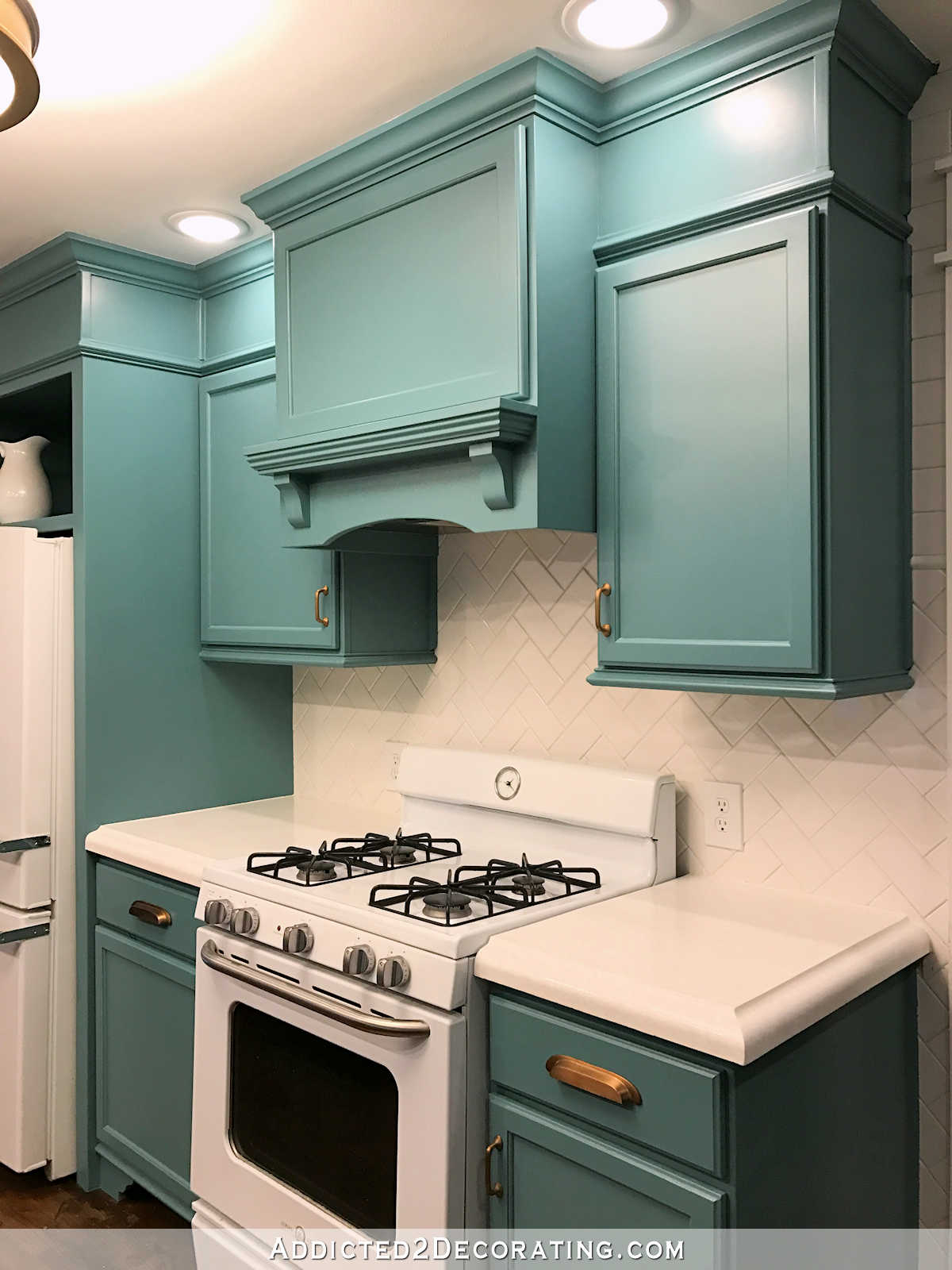 And along with those big projects also came a ton of little finishing projects, like installing sconces, changing the grout color in the kitchen from bone to white, touching up paint where needed, adding switch and outlet plates, switching out the recessed lights to LED lights in the kitchen, etc.
And while the kitchen still isn't completely finished, it will be by the end of this week, and I'll have before and after pictures at the beginning of next week (hopefully Monday). There are just a few minor things left to be done. For example, all of my cabinet doors are 1″ overlay doors, so naturally I had the new doors that I ordered made with a 1-inch overlay to match the others. But unfortunately, 1-inch overlay hinges are nowhere to be found in my city. I could find 1/2-inch overlay and 1.25-inch overlay hinges, but no 1-inch overlay. I even had a heck of a time finding them online, but finally found what I was looking for at the very hefty price of $7.77 each (i.e., not per pair, but per hinge, and that's not even for the soft close kind!!) on Amazon. And of course, they weren't an Amazon Prime product, so I've been waiting and waiting for them to get here. They'll be here on Friday. (Amazon Prime has me so spoiled with their free 1- or 2-day shipping.)
I had two extra 1-inch overlay hinges for the range hood cover, but I don't have hinges for the new doors on the wall of cabinets, so the kitchen won't be completely finished until this weekend. But for the most part, it's done.
So those are the items from my May list that I actually finished. What didn't get done?
Finalizing the plan for my pantry and cleaning out the garage.
So what's in store for June?
Well, I think the first one is pretty obvious. The garage and storage room absolutely must be completely cleared out by the end of this month, which also means that the sunroom has to be cleaned out since everything I'm keeping from the garage will need to be organized in the sunroom. I've procrastinated up to this point because the task seems overwhelming. But I finally signed the contract with the general contractor, and I'm officially on their calendar with a start date, so I can procrastinate no more.
I've decided that I'm going to carve out some time, perhaps two hours a day, or maybe three, to work on these areas. Surely if I do that every single day, I can have it finished by the end of the month. I can dedicate a few additional hours on the weekends if necessary. But the idea of tackling it two or three hours at a time doesn't feel quite so overwhelming to me. It sounds manageable.
And while I know many (if not most) of you are hoping that the other project I tackle in June will be my pantry, I've decided to put it off one more month. And I promise I have a good reason for that decision.
The work on the garage-to-studio conversion will begin on or around July 5th, and part of that conversion will be adding a half bath at the back of the studio in what is now a storage room at the back of the garage. About two weeks before the project start day (so around June 21, which happens to be my birthday 😀 ), the project manager is going to meet with me to discuss all of the details of the project, finalize decisions, and make a list of items that need to be ordered and on the job site before the start date.
Well, I've decided that during that meeting, I'm also going to talk to him about running water lines to the pantry so that I can have a sink in there. His answer might be that it's not possible, or that it's too cost prohibitive since that room sits on a slab foundation. But in my mind, since they're adding a half bath just on the other side of the pantry wall, the cost should be pretty minimal to run water lines just a few extra feet. So we'll see what he has to say, and then I'll make my final plans for the pantry after that meeting and then plan to start the pantry at some time during July. If they can run water lines into the pantry, then I'll obviously have to wait until that's done to begin. If I can't have water lines in there, the I'll just plan to start the pantry at the beginning of July. But either way, the pantry won't be a June project.
Instead, I want to focus on some more fun and creative projects this month — projects that feel relaxing and feed my creativity in those hours when I'm not having to clean out the sunroom or garage. And I think I want to focus on walls.
I got the Phillip Jeffries Juicy Jute Tantalizing Teal grasscloth wallpaper that I ordered. It looks like this…
…and I've decided to use it in the entryway as an accent. So I'd love to get that installed this month. And to answer that question that many of you had, no, the obvious seams in grasscloth wallpaper don't bother me one bit. 🙂 In fact, I think that's part of the beauty of grasscloth. We had grasscloth in our bedroom at the condo for many years, and I loved it, seams and all.
I'd also like to make a final decision on what to do with the music room walls and get that done this month so that I can stop looking at black walls.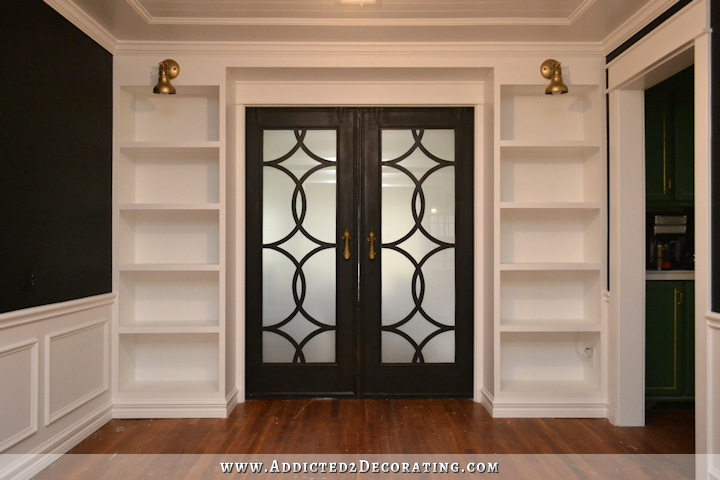 The black seemed like a good choice when I was planning on using all of those bright, warm colors — pinks, yellows, oranges, etc. But now that I'm sticking more with blues, teals, and greens, the black walls just seem to suck the life out of the room, and I don't like how it looks next to my kitchen at all. I'd love to do some sort of pattern on the wall, but after looking at hundreds of stencils and wallpapers for inspiration, I still haven't decided.
And finally, I'd love to make a decision on my hallway walls and get those finished as well. It's still just unprimed drywall, so I'd love to get some paint and color in there.
So those are my goals for June, but to be quite honest, I'm going to hold those goals loosely this month and really try to cut myself some slack. As long as progress is being made in the sunroom, garage, and storage room, then I'm really not going to hold myself too strictly to any other list of goals. I'm going to need fun stuff to make this month's "absolute must" chores bearable, so if I look at that list of other goals and none of those appeal to me, and I decide I'd rather sew instead, then that's what I'm going to do. Or if I suddenly get inspired to build come cabinets in my hallway, then I'll do that.
So I guess my goals for the month boil down to these:
clean out the sunroom to make room for tools and lumber
clear out the garage and storage room completely
do any projects in the living room, entryway, music room, or hallway that I feel inspired to do from day to day, just as long as things are getting finished and there's forward momentum.
Addicted 2 Decorating is where I share my DIY and decorating journey as I remodel and decorate the 1948 fixer upper that my husband, Matt, and I bought in 2013. Matt has M.S. and is unable to do physical work, so I do the majority of the work on the house by myself. You can learn more about me here.