My Backsplash Experiment – DIY Marbled Resin Subway Tiles
A couple of weeks ago, I showed y'all these marbled resin tiles made by an artist I follow on Instagram.
At the time, I had this idea that I'd love to use those on the walls of the back entry in the studio and/or the front wall (i.e., the wall with the two windows) in the studio.
But before making my final decision, I needed to try this out to see if it was even doable. Well, it just so happens that I found an almost-full box of inexpensive subway tiles (the ones that Home Depot carries in stock) that I had left over from my hallway bathroom remodel where I used them on the tub surround. (You can click here to see that bathroom remodel if you missed it.) These are also the same tiles that I used on the walls in my kitchen. (You can click here to see the original kitchen remodel, and click here to see what it looks like now.)
I'm so glad I did this little test before trying to do these for an actual project, because I learned so many valuable lessons! And I'll share everything I learned with you as I describe the process. But here's how my first experiment with marbled resin subway tiles turned out…
Before I got started, I used four scraps of 2 x 4's, all cut to the same length, and placed them in a square on my work table. Then I used a contractor trash bag, cut open so that it was one layer of plastic, and put it over the boards, creating an area where any resin runoff would be caught on the table and not run off of the plastic.
Next, I arranged the tiles on 3-ounce plastic Solo cups in the pattern that I wanted to use them. I knew I wanted to use them in a half running bond pattern, so I tried to replicate that. It wasn't terribly precise, but close enough.
So two things I learned here: (1) Thin plastic cups aren't strong enough to hold up the tiles, because later in the process as the heat gun is being used, they melt and crumple under the weight of the tile. That makes for a very frustrating and messy process. And (2) there's really no need to place them in the pattern they'll be on the wall. That was one of my biggest questions before I started. Would the pattern continue from one tile to the next? And would they need to be installed so that the pattern flows from one tile to the next? Those answers are no, and no. And I'm so glad to learn that, because it'll make creating and installing these tiles so much easier.
As usual, I used ArtResin, and I mixed up more than I thought I'd need just because I wasn't sure what to expect. Then I separated the mixed clear resin into four different containers and tinted them with latex paint. This is a perfectly acceptable way to tint resin, but you just have to be sure to read the instructions for your particular resin so that you don't use more latex paint or any other kind of tint/additive than suggested. If you use too much, it will affect the ability of the resin to cure properly.
I mixed my resin in turquoise, green, purple and white.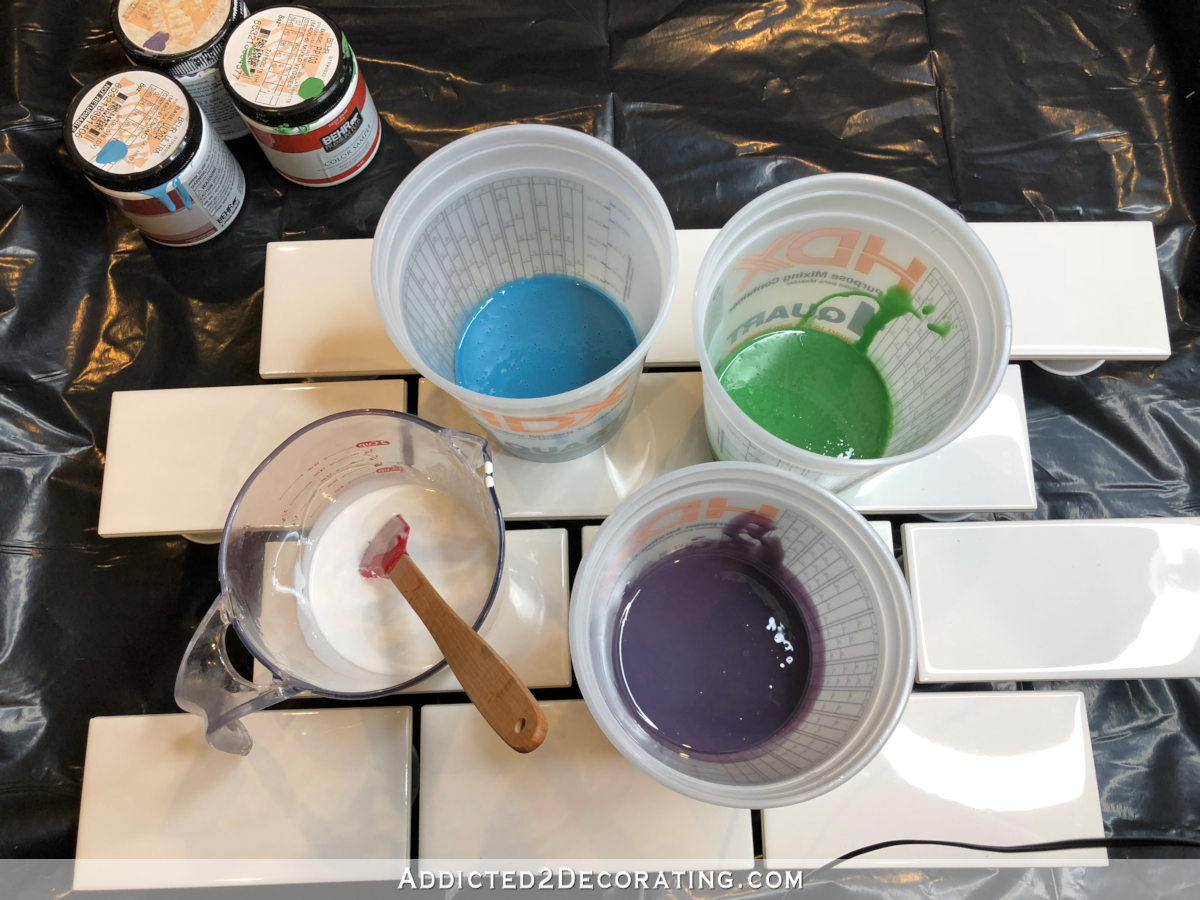 Then I poured the colors on, one by one, in random swirling patterns. Here's the first color…
And here's how it looked after all four colors were poured…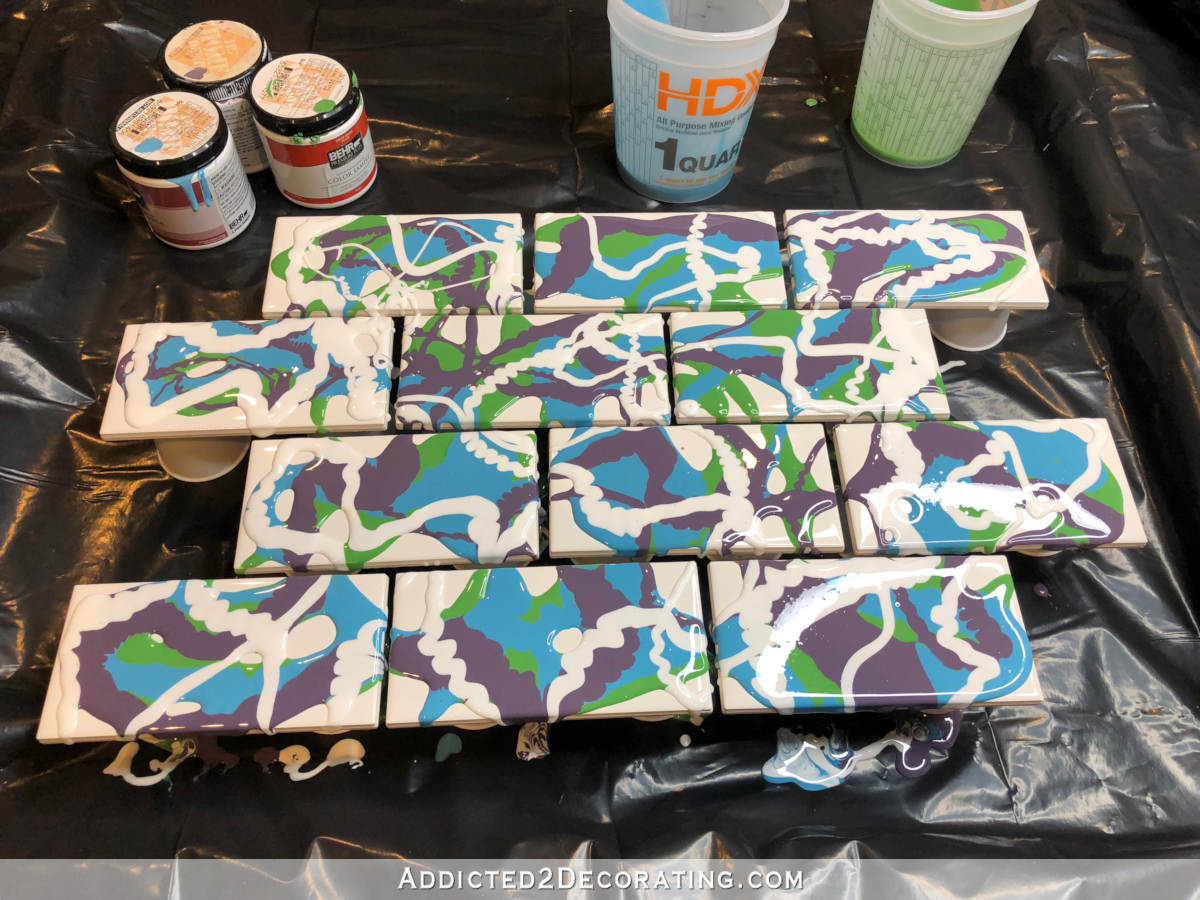 Next, I used my heat gun (click here to see the one I have) to heat the resin and make the colors mingle and marble together. And as I mentioned above, this made some of my little cups melt and crumple, which was a huge hassle. When I do the actual tiles that I'm going to use, I'll have to find something much sturdier (preferably metal) to place them on.
Here's how they looked after I used the heat gun on all of the tiles. I had some resin left over, so I made a little piece of artwork, which you can see in the back. 🙂 I hate to waste resin.
I was very pleased with how the tiles looked, but these on the back row were my favorites.
And here's how they looked this morning after drying overnight…
The purple I used turned out looking really muddy. I'd much prefer a more vibrant purple. But other than that, I really like how my first experiment turned out. I think I can improve upon it, but this was a good start.
And here's how the little art piece turned out…
Another lesson I learned is that the backs of the tiles need to be covered with something that can later be peeled off to remove the drips.
I've seen some people use packing tape. Others use contact paper. I'm going to have to try out some options, because right now, I can't imagine how either of those would stand up to the extreme heat of the heat gun that melted and crumpled the Solo cups. But either I have to cover the backs of the tiles before the resin is poured, or I have to cut the drips off of each of the tiles after the resin is poured. Either way, it's going to be a huge pain, but leaving the drips isn't an option.
I'd also like to try again with using two colors plus white instead of three colors plus white. But I'd like to use two or three variations of each color. I think that would give them more interest without them being quite so busy.
So I'm pretty excited about this. But after this test, I've realized that I probably don't want to take on a resined tile project as large as the back studio entry walls or the front wall of the studio. And I don't want them stuck in a tiny half bathroom, either. So as of right now, I'm planning on using them in the pantry instead. I think they'll look so pretty through the glass of the French doors on the pantry!
One thing to keep in mind, if you decide to try this, is that you need to give these tiles plenty of time to fully cure before installing them (72 hours should be enough with this brand of resin, but I'd still suggest a week), ad be sure to use unsanded grout when grouting the tiles. Sanded grout might leave fine scratches in the finish, which would be terribly discouraging after going to the trouble of making the tiles.
So I'll do a little more experimenting before finalizing my decisions on colors and technique. But look for some colorful marbled resin tiles in my pantry very soon. This should be fun. 🙂
---
---
Update:
My pantry is finished! Want to see the entire project from start to finish? You can find every single post about the pantry build right here…
Or you can skip to the end and see how it turned out. Here's a peek of the finished pantry…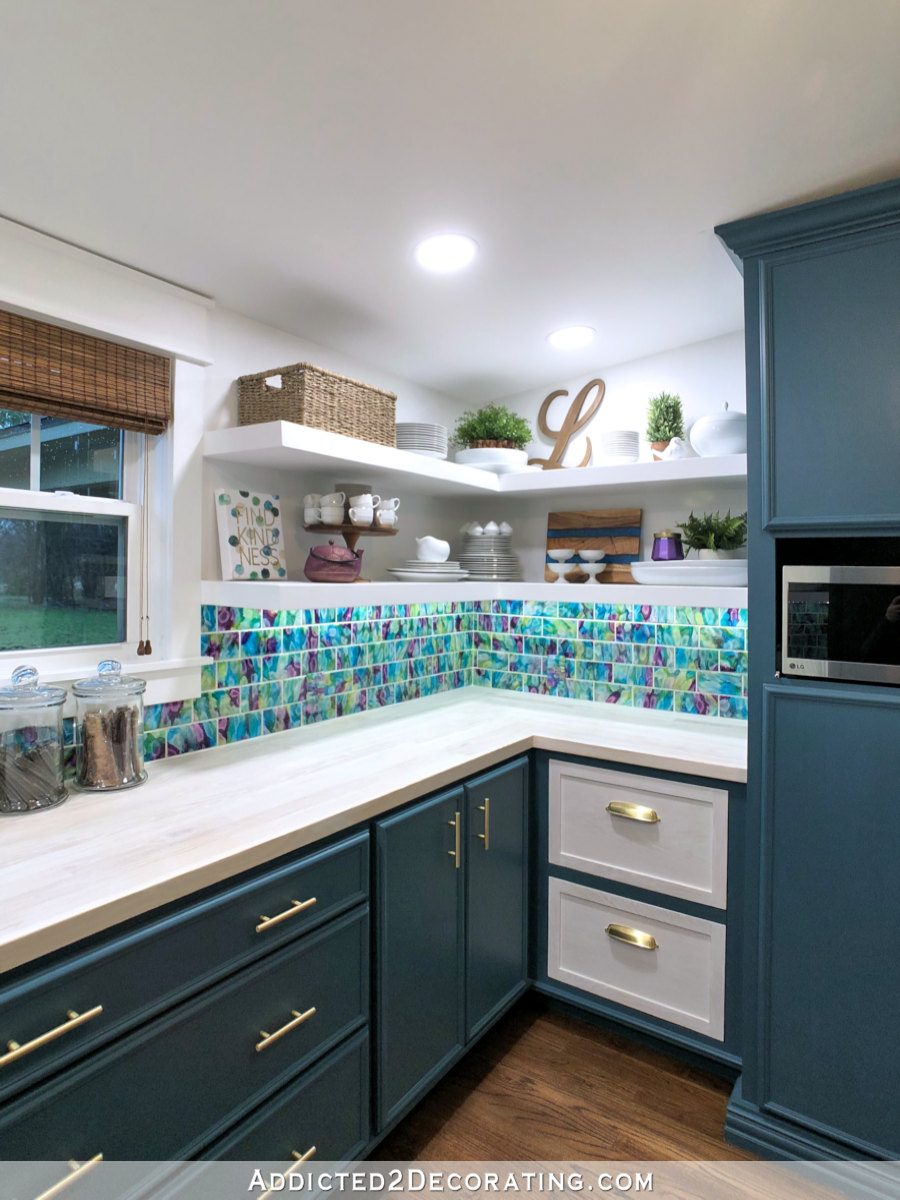 You can see more pictures on the before and after post right here…
Addicted 2 Decorating is where I share my DIY and decorating journey as I remodel and decorate the 1948 fixer upper that my husband, Matt, and I bought in 2013. Matt has M.S. and is unable to do physical work, so I do the majority of the work on the house by myself. You can learn more about me here.