Last Updated on December 24, 2015 by Kristi Linauer
Everything is starting to fall into place with my kitchen, and after two months without a kitchen sink, I couldn't be more excited about this forward momentum!
I finally got all of the old flooring moved out of the kitchen (rusty nails removed and wood stacked in my garage waiting for my hallway ceiling project). The new flooring is ready and waiting to be installed (it's been acclimating since Sunday night), and FedEx delivered my new flooring nail gun yesterday. I have my mind made up about my flooring design, and I'm excited about my decision. The supplies for my concrete countertops are being delivered this afternoon. And my brother-in-law Bill is coming over on Sunday morning to show me how to finish up my electrical stuff. (I'll just be installing switches and outlets. He's already done all of the hard parts.)
Yep, everything is falling into place.
The only design decision I'm still wavering on is the design of the countertop/breakfast bar area on the sink side of the room.
As a reminder, here's where the sink will go…
My plan all along was to extend the countertop about 12 inches towards the breakfast room to create a larger countertop that has the feel of a larger island with an area for barstools on the other side, kind of like these kitchens…
Traditional Kitchen by Raleigh Interior Designers & Decorators Driggs Designs
Traditional Kitchen by Ashland Cabinets & Cabinetry Wellborn Cabinet, Inc.
But of course mine won't be an island since it'll be connected to the side wall of the kitchen, so it would look more like these…
Traditional Kitchen by Lafayette Interior Designers & Decorators Home Systems , Wendi Zampino
Contemporary Kitchen by Chicago Architects & Designers Nicholas Moriarty Interiors
Now I'm second guessing that decision. The reason? Well, it's because of that header that I had to install when I removed the wall, which will be right over this countertop.
My concern is that the header being right above this countertop area will kind of visually separate the kitchen side of the countertop from the breakfast bar side of the countertop. And if the countertop is all one solid piece, with no delineation between the "kitchen countertop" and the "breakfast bar," and I'm wondering if that will look funny. As in, it might look forced, or like an afterthought, or like an obvious remodel where I removed a wall and weirdly extended a countertop into the adjoining room. Or maybe I'm way overthinking it. (But y'all are used to that by now, right?) 🙂
So I'm thinking that something like this would actually be better…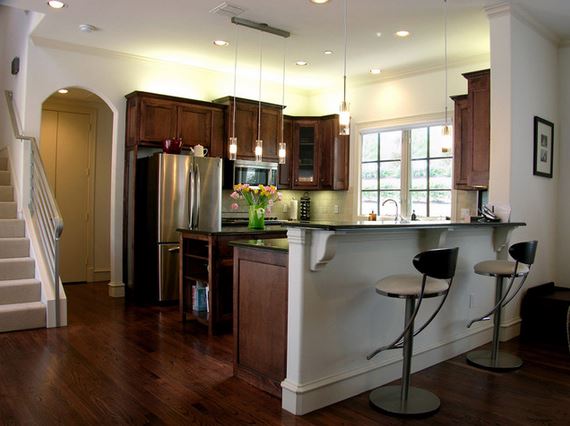 Traditional Kitchen by Plano Architects & Designers John Lively & Associates
I generally prefer the solid, single level countertop, but after giving it some thought, I think I might actually prefer the design in the picture above for my particular situation. It would make the header and the half wall under the breakfast bar all look very intentional, rather than possibly looking like an afterthought where the kitchen was clearly remodeled with a wall knocked out and the countertop extended into the next room.
The problem with making that design change so late in the game is that (1) I ordered four turned wood columns, planning on using two of them on the bumped out section on the wall 'o cabinets and two of them on the breakfast bar, and I wouldn't need the two for the breakfast bar with the new design, and (2) I ordered my concrete countertop supplies based on the original plan with the single countertop, so I have no idea if I'll have enough of the edge profiles for the new design since it will require more.
So am I way overthinking this? Or do you agree that the original plan might look strange, and that the one with the half wall might be better for my kitchen? I need to get this figured out ASAP because either way, I need to build a half wall there before Sunday morning, and the design will determine not only the height I need to build, but also where I put the boxes for the electrical outlets.
It's gonna be a busy but very exciting weekend!! 🙂
Addicted 2 Decorating is where I share my DIY and decorating journey as I remodel and decorate the 1948 fixer upper that my husband, Matt, and I bought in 2013. Matt has M.S. and is unable to do physical work, so I do the majority of the work on the house by myself. You can learn more about me here.
I hope you'll join me on my DIY and decorating journey! If you want to follow my projects and progress, you can subscribe below and have each new post delivered to your email inbox. That way you'll never miss a thing!