I've Hit The Dreaded "90% Finished" Point In The Pantry
"I only need one more week to finish my pantry, " she said confidently last Thursday.
Ha! Hahahaha! Haha!
I should know by now to never say things like that. The "one more week" mark has come and gone, and I still have a punch list as long as my arm (which, thankfully, is a short arm, as we've already established 😀 ) of things that still need to be done before I can call this pantry finished.
I do still have a few big things to do, most of which involve finishing out the inside of cabinets with shelves and other storage organization. But aside from that, it's all about the small, tedious finishing details. Have I ever mentioned just how much I hate those small, tedious finishing details? Only a few hundred times, right? 😀
It's about this time in every project — that time when I estimate that it's about 90% finished — that I start getting antsy with all of the tedious finishing projects, bored at looking at the same thing day after day, and ready to walk away and start on something fresh and new.
But don't worry. I won't let myself abandon this project at the 90% stage. I'm going to see it through to the end if it's the last thing I do all year. And at this rate, it just may be.
And it really is sooooo close! Just yesterday, I finally figured out how I wanted to finish the fronts of the side drawers. I had originally made cabinet doors for these side cabinets, painted to match the rest of the cabinet doors and drawers. But after I did the first coat of paint, I installed all of them just to check for fit and get all of the hinges installed before doing the final coat of paint, and I just didn't like how it all blended together. As much as I love teal, it was just a sea of dark teal with nothing to break it up visually.
So I started looking for other ideas, and that's when I came across pictures like this one and this one and this one, where stained wood bins or drawers are used in painted cabinets. So I made my drawer fronts out of red oak, which is what I used on my countertops, and I'll be bleaching and finishing the drawer fronts to match the countertops.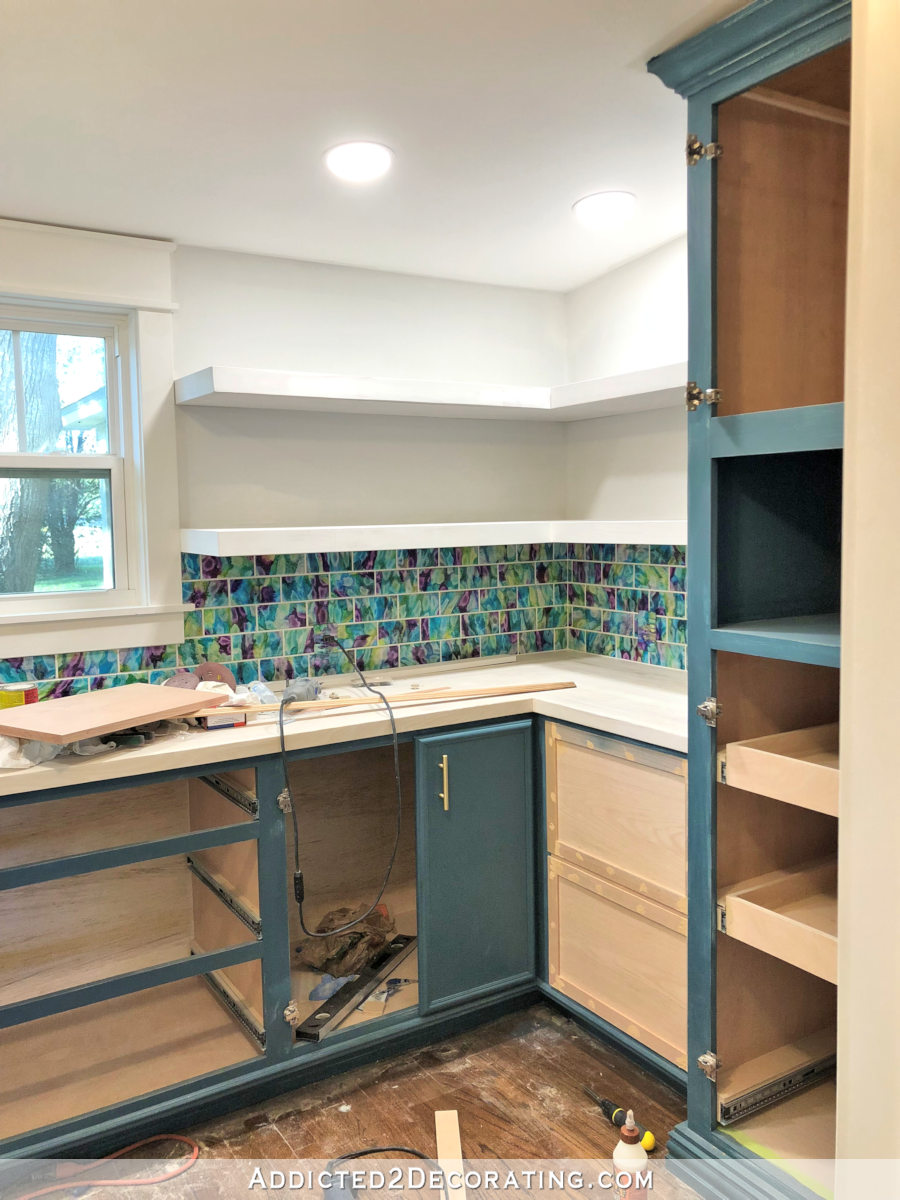 And as you can see I also got all of my upper shelves built, primed, and sanded. I still need to do some caulking, and then I'll be ready to paint. The window casing, walls and shelves will all be white — Behr Polar Bear, to be precise. That's the color that's already on the window casing, so you can see that it'll still be nice and bright, but it's not quite as stark and sterile-looking as the primer color.
A couple of you noticed that my outlets are now disguised with coordinating resin and alcohol ink full overlay outlet covers.
I was pretty proud of how those turned out, and was even more thrilled when one person asked me why I had removed the outlets. 😀 I'd say that's an effective camouflage!
If you'll remember from last week, I was having trouble with my ceiling light. It would work just fine as long as it was dangling from the wires. But as soon as I actually installed the canopy up on the ceiling, it would stop working. I finally figured out the problem, and it was a simple and ridiculous problem. I was using the wrong size wire nuts, and since they were too big for the size of wires I was working with, they weren't holding the wires tightly together.
So I got the right size and re-installed the light, but I couldn't get the canopy to go on. It had the kind that holds on with the two little decorative nuts that go on two screws on opposite sides of the canopy. No matter how much I tried, I couldn't get the second nut to go on, so I ended up just switching out the canopy altogether with the kind that has the one center ring that screws onto a threaded nipple. But of course since I was using a new canopy on a light I had painted, I had to paint the canopy first. And after all of that, now the canopy doesn't fit tightly against the ceiling, so it will need to be taken down AGAIN, adjusted, and reinstalled AGAIN before I can put the glass balls back on.
All of that to say that it's THIS kind of tedious finishing projects that make me want to pull my hair out, or just throw in the towel altogether, close the doors on this pantry, and begin work on some other fun project. It's THIS kind of thing that eats up hours of time, and before you know it, another week has passed and the room still isn't finished.
But it's part of every project, so you'd think I'd be used to it by now. And yet, somehow, it always shocks me how much time the finishing details and setbacks take.
But it's getting there. It's sooo close to being finished. Maybe by Thanksgiving? I know, I know. I shouldn't say that out loud.
And I've said it before, but I'll say it again. If you're not taking "before" and "during" pictures of your projects, you're missing out. It's so encouraging to look back and see just how far I've come. When I hit this 90% mark and want to walk away, that's when pictures like this are the most motivating…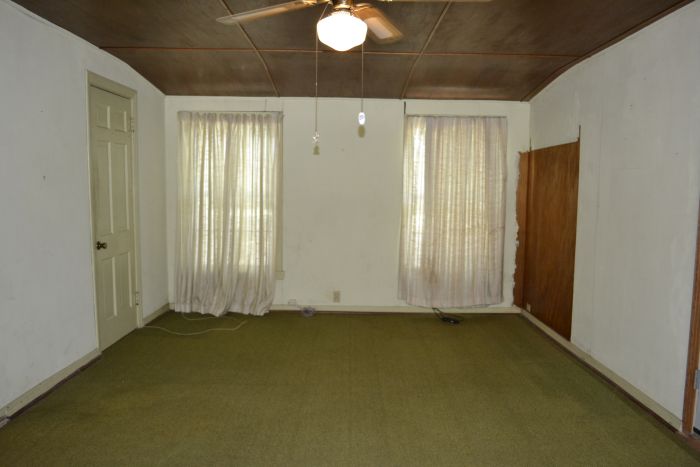 It's hard to believe that what is now my pantry used to look like that. And then it got much worse before it starting getting better. The excitement of seeing a completed "after" photo next to that "before" photo makes me want to keep going.
---
---
Update:
My pantry is finished! Want to see the entire project from start to finish? You can find every single post about the pantry build right here…
Or you can skip to the end and see how it turned out. Here's a peek of the finished pantry…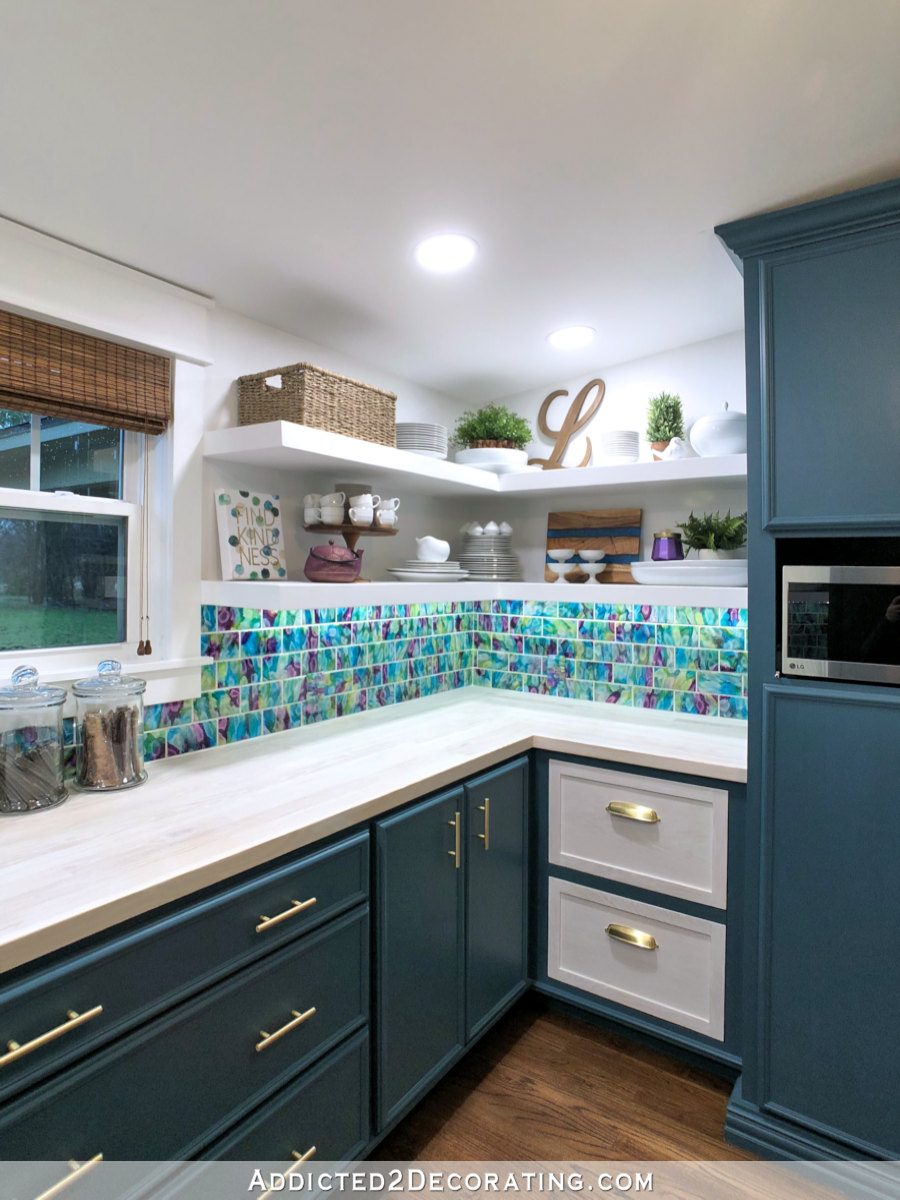 You can see more pictures on the before and after post right here…
Addicted 2 Decorating is where I share my DIY and decorating journey as I remodel and decorate the 1948 fixer upper that my husband, Matt, and I bought in 2013. Matt has M.S. and is unable to do physical work, so I do the majority of the work on the house by myself. You can learn more about me here.