Last Updated on December 24, 2015 by Kristi Linauer
As you might expect, now that I'm settled on a plan for my pantry, breakfast room, and dining room, the wheels in my mind won't stop turning. I've been thinking non-stop about colors, fabrics, furniture arrangements, lighting options, window treatment designs, and so much more.
But one thing I'm really certain about is that I want some sort of banquette seating in the breakfast room, and preferably the built-in kind. I had a built-in banquette seat in the breakfast room at the condo, and I absolutely loved it.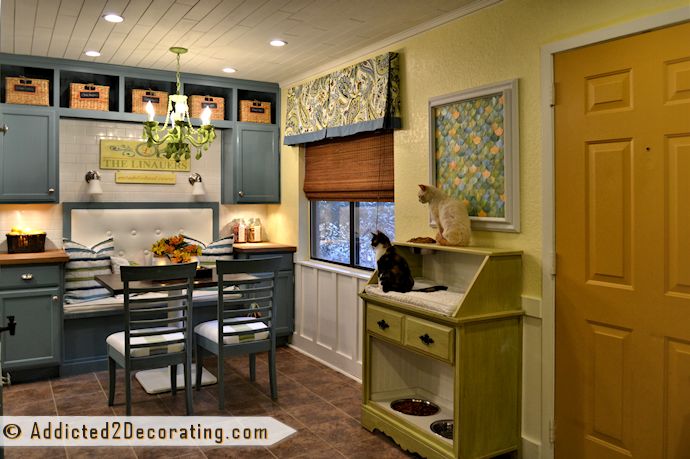 Not only did I think it looked pretty, but it was the most used seat in the house.  I sat there every single day to eat meals, to work on my computer, to work on projects.  It was perfect.
Well, actually it wasn't perfect.  I said many times that my condo was my practice round before getting a house, and I learned quite a bit about what works and what doesn't work about banquettes.  Those cabinets that I had on either side, while great for added storage, and of course, amazing for my symmetry-loving personality, really made it challenging to enter and exit the banquette, and it was impossible to do so without moving the table every single time.  A round table would have made it easier, but then the banquette would have only been seating for one rather than two, and I would have had less work space as I sat there to work on things.  So a banquette with nothing at the sides for easy entry and exit is a must in my book, whether it's built-in or a separate piece of furniture.
via Midwest Living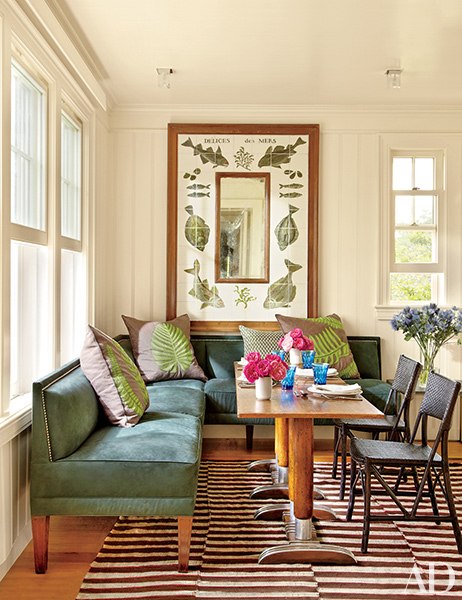 via Architectural Digest
And also, while U-shaped banquettes are very pretty to look at, and make beautiful magazine pictures, I can't imagine ever having one and finding it easy and convenient to use.
via BHG
It seems to me that in order to be able to scoot in and turn the corner easily, the table would have to be so far away from the side seats that the people seated in those areas would have to sit on the edge of the seat during a meal.  Or if it's close enough so that they don't have to sit at the edge of the seat to eat, then it's really too close to make maneuverability around the corner easy.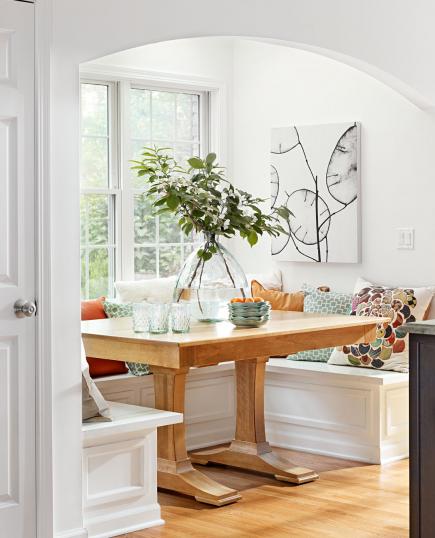 via Midwest Living
So while I love the look of a U-shaped banquette, and it feeds my need for symmetry, I just don't think I'd want one.  After living for several years with a banquette with obstacles impeding easy entry and exit, this time I want one with absolutely no obstacles at all.
My initial idea was to do a built-in banquette under the front windows, but my windows are so low that I would not be able to have an upholstered back on the banquette.  At most, it would be more like a window seat with pillows along the back against the windows, similar to this.
Traditional Dining Room by Charlotte Interior Designers & Decorators Jennifer Harvey Interiors
I think that's very pretty, but if I'm going to use this banquette as much as I did the one at the condo (and I imagine that I will, and probably more), I'd like for it to have an upholstered back on it.
Then I thought maybe I could use a banquette that's a separate piece of furniture, rather than built in. I found this beautiful Oyster Harper Banquette at World Market, and the price is amazing.
via Cost Plus World Market
I really can imagine beautiful draperies framing my windows, with that banquette seat centered in front of the windows.  I think it would be beautiful.  And quite honestly, if it were in stock online or at our local store, I probably would have already snatched it up.  But it's sold out online, and our local store doesn't seem to carry it (or maybe it's sold out there as well).  Since I couldn't impulsively purchase this banquette, I've had a little more time to consider it.
If I just consider aesthetics, I think that banquette, and that arrangement (centered in front of the front wall of windows, with beautiful draperies framing the windows) would look stunning.  From a practical point of view, I think it's probably the worst option.  The whole reason I want a really comfy banquette in there is because I foresee myself getting quite a bit of use out of that room, and not just for meals.  I love that room because of the big wall of windows, and all of the natural sunlight, but the last thing I want is for my back to be against the windows all the time.  I want to actually be able to look outside while I'm sitting in there.  Plus, if I'm in there working at my laptop, the glare from the sunlight pouring through the windows would be very annoying.
So that has led me to what I think my be my absolute favorite idea of all — incorporating a built-in banquette along the back side of the peninsula.  I've seen similar ideas all over Houzz and Pinterest, and I love the look.  I really think it might be perfect for my room.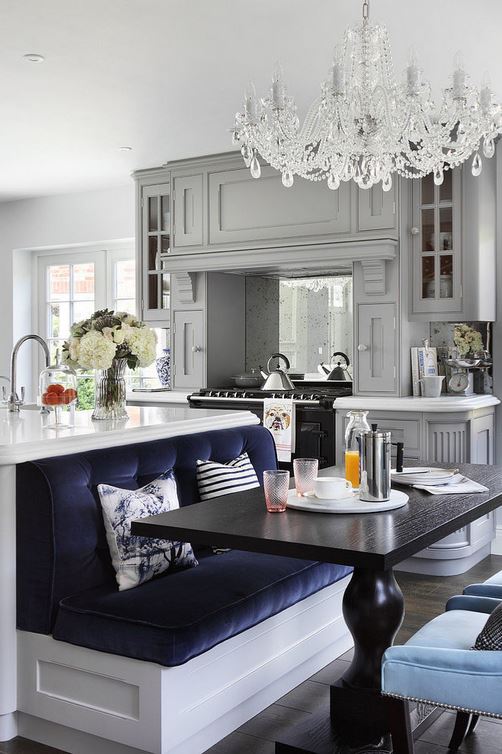 designed by Oliver Burns, via Home Adore
 That would mean that as I sit on the banquette, the wall of windows would be on my right side, and the TV I want to mount on the wall would be straight ahead.  I'd be able to comfortably watch TV as I'm working at my computer or on a project in there.  I could easily see out the windows as I'm sitting on the banquette.  And I wouldn't have to contend with glare on my computer screen like I would if my back is to the windows.
via Tobi Fairley
At the moment, this idea is my favorite, but there are two things holding me back.
I'd lose all of the storage on the back of the peninsula.  The breakfast room side of the peninsula has three 3o-inch cabinets (12 inches deep) that are perfect for storing things like canned goods.  So if I do a built-in banquette along the backside of the peninsula, I'd lose all of that storage.  However, now that I've decided to turn the back end of the breakfast room into a huge walk-in pantry (about 12′ x 8′) that will probably provide me with all of the storage I'd ever need…plus some…I don't think it would be a big deal at all to lose that storage on the peninsula.
I would probably have to custom make a table to be the exact size I need so that the chandelier above the table can still be centered on the wall of windows.  If I use the round table I bought a couple of months ago, any light hung above the table would be about six to ten inches off center on the windows, and that would drive me absolutely crazy.
So those are some ideas I'm tossing around in my head right now.  And naturally, my preference would be to build something rather than buy it. Hopefully I can get it figured out, because I already have my heart set on it!  I can easily see that becoming my favorite spot in the whole house.  🙂
Addicted 2 Decorating is where I share my DIY and decorating journey as I remodel and decorate the 1948 fixer upper that my husband, Matt, and I bought in 2013. Matt has M.S. and is unable to do physical work, so I do the majority of the work on the house by myself. You can learn more about me here.
I hope you'll join me on my DIY and decorating journey! If you want to follow my projects and progress, you can subscribe below and have each new post delivered to your email inbox. That way you'll never miss a thing!