My DIY recessed panel wainscoting (also called judges paneling) is finished, and I LOVE how it turned out!  (But now I'm doubting my wall color decision.  *Sigh*)  UPDATE:  I changed the wall color.  You can see the new wall color here.
The tile accent is my favorite thing (it's so shiny!), and the way it wraps around the vanity to make a backsplash turned out just like I had envisioned in my mind.  I love it when things turn out like they're supposed to!
If you missed the first part of this project where I explained what I used to make the wainscoting, you can click here for those details.
So the last time I showed you the wainscoting, it looked like this…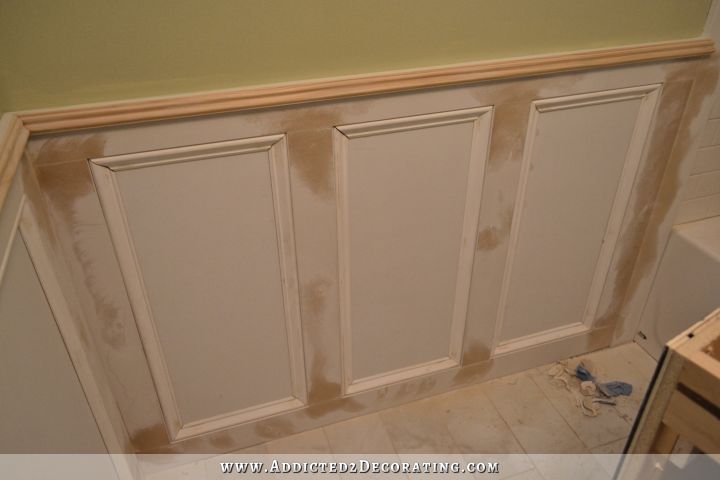 …and I had added a strip of 1/2-inch drywall and more trim around the top…
And now that it's all primed, painted, and tiled, it looks like this.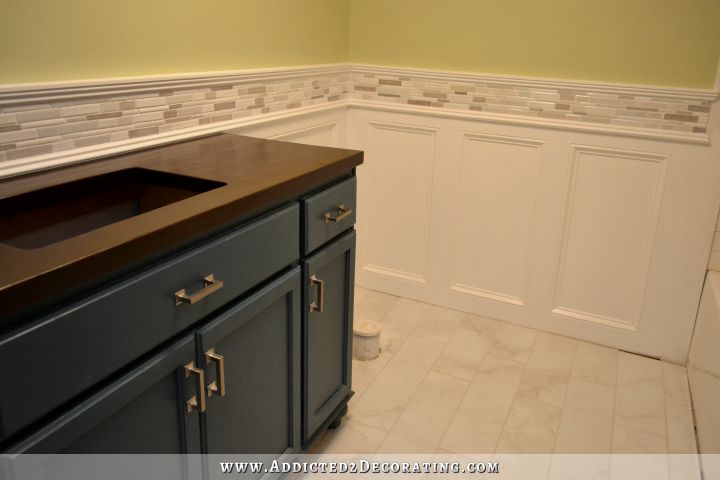 The only thing I'm missing is the trim piece along the floor on the far wall, but I can't add that until I build the bathtub skirt since it'll wrap around and needs to be mitered in the corners.  But you can see the bottom trim piece on this section behind where the toilet will sit.
So the only things I added since my last post, besides the primer, paint, and tile, are the trim along the floor, and then the trim along the very top, which forms a little ledge where the wainscoting meets the painted wall above.
For that, I used a 1 x 2 piece of lumber, but I didn't want it that thick, so I used my table saw to rip it down to 3/8-inch thick.  It looked more like a really thick piece of lattice after that.
The mosaic tile is this Elida Ceramica Crackled Linear Silk Glazed Porcelain Mosaic from Lowe's.  It's a mix of glazed tile and stone tile, and the glazed tiles are so shiny!  I love it!
I will still have a little bit of wainscoting to do on the walls by the built-in linen storage, but it won't be anywhere near as involved as the part I've already done.  I'm not gonna lie.  Trying to get everything exactly right so that the tile would wrap around at just the perfect height to be a backsplash around the vanity was a bit of a challenge.  I've placed and removed that countertop about 20 times, and moved the vanity out and back at least 10 times, during this whole process!
Now that it's finished, I think I can finally screw the vanity to the wall and be done with it.  The countertop will need to be removed one more time so that I can install the undermount sink, but hopefully that will be the last time.
And here's one more attempt on my part to get a good picture of the countertop.  It still doesn't show how pretty it is in person, but at least you can see that even though it's really dark, you can see wood grain, and it does actually look like wood rather than a solid dark brown mass.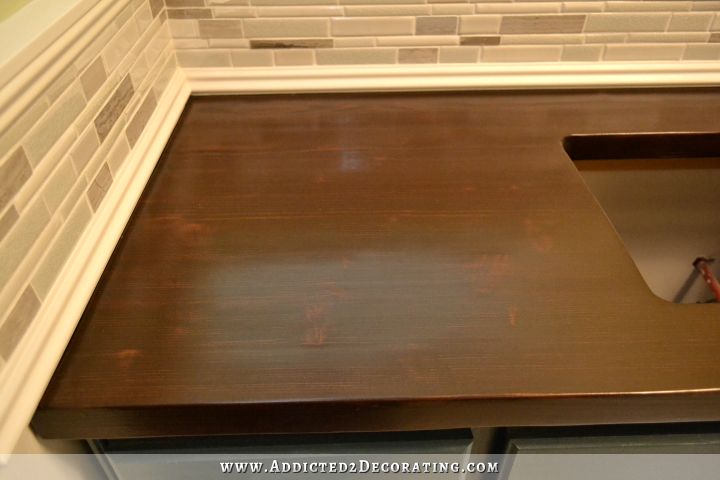 Oh well.  Maybe when I get the sconces and mirror installed, and it's much brighter in here, it'll show up better.
I love how this bathroom is coming together!  It's so fun to be working on all of the pretty stuff now, after spending so long working on the hard, boring (but necessary) "bones" of the room.
Addicted 2 Decorating is where I share my DIY and decorating journey as I remodel and decorate the 1948 fixer upper that my husband, Matt, and I bought in 2013. Matt has M.S. and is unable to do physical work, so I do the majority of the work on the house by myself. You can learn more about me here.
I hope you'll join me on my DIY and decorating journey! If you want to follow my projects and progress, you can subscribe below and have each new post delivered to your email inbox. That way you'll never miss a thing!