Last Updated on December 24, 2015 by Kristi Linauer
I'm afraid that I don't have a terribly exciting update for you today, and this post will be mostly about a bathtub.  Yep, almost an entire post about a bathtub.  😀
I knew that my plumber was going to try to fit me into his schedule yesterday, but what I didn't realize was how early he planned to come.  For some reason, I was expecting him in the late afternoon because that's what time he generally shows up when he says he'll try to fit me in.  But just after I hit "publish" on yesterday's post (around 8:30am or so), my phone rang, and it was him saying that he was headed to purchase some supplies and would be right over!!  I panicked a bit because I wasn't quite ready.
I rushed into the bathroom to finish up a few things before he arrived.  Thankfully I already had the subfloor installed where the tub needed to go, but I still had to cut the stringers for the bathtub (those are the 2 x 4's that are attached horizontally along the studs to support the tub on the wall side), and I also wanted to cut and install a sheet of concrete board to go under the tub.
I was in such a hurry that I didn't get any pictures, but installing concrete board over subfloor requires troweling thinset mortar onto the plywood subfloor.  Then the concrete board is placed on top of the mortar, and screwed down every eight inches to secure it to the plywood.  I used this installation guide to learn the details.
Long story short, I got the stringers cut, and the one sheet of concrete board cut and installed just in time.  Just as I finished up and walked into the living room, I saw them pull up in the driveway.  And about two hours later, I had a new tub, and all of the old pipes, including the vent pipe, had been removed and replaced with all new materials.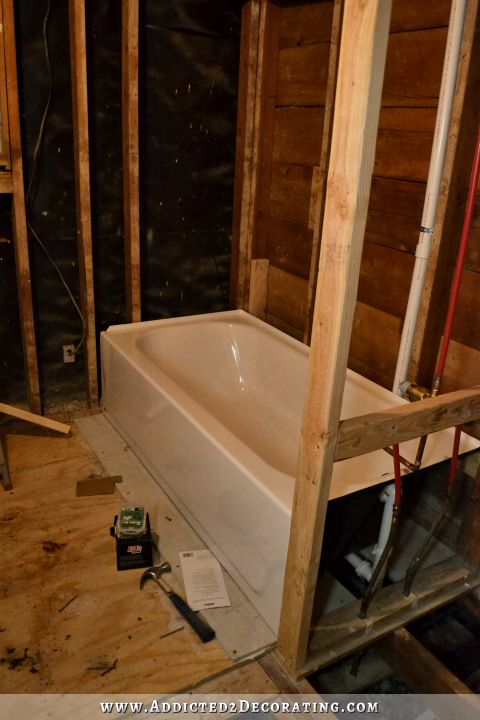 The tub I selected is this one from Home Depot.  It's nothing special, by any means, but it's good enough for a guest bathroom.
Just a note about concrete board — it's not necessary to put it underneath a bathtub.  In fact, you'd probably be hard pressed to find a contractor that would put it underneath a tub.  Generally the bathtub sits directly on the plywood subfloor, and then the concrete board is installed right up next to the tub.  But you can do it either way, and I chose to do mine this way just for added peace of mind.  The plywood with the concrete board adhered and screwed to it forms a VERY thick, substantial, and sturdy subfloor.  I like the idea of a much thicker, stronger subfloor being underneath a tub, which can get very heavy when filled with water.  But again, it's not necessary, and most people don't do it that way.
So I'm excited that the plumbing is done.  Unfortunately, because they came way earlier than I had expected, I wasn't able to get my two sheets of drywall installed on the ceiling before they arrived.
Now that the bathtub is installed, that job will be much  more challenging in such a small space.  But I'll figure it out.  🙂
(Side note: All of that old wiring is being gradually replaced.  I'm aware that exposed junctions aren't up to code.  Unfortunately, I had an entire house full of not-up-to-code wiring, but it's all being replaced one room at a time as I can get to it.  Hopefully it'll all be updated within the next few months.)
Anyway, back to the bathtub…
I had a handful of people ask me why I was replacing the old cast iron tub with a new tub, and a couple of you said you were facing the same decision and couldn't decide which direction to go.  I don't know if my decision, and the reasons for it, will be of any help to you, but I'll happily share why I replaced my old tub.  For me, it came down to four reasons.
1.  The finish on the old tub
That cast iron tub was over 65 years old, so naturally the finish on it wasn't exactly pristine anymore.  I considered having it resurfaced, but that's just a fancy way of saying "painted".  I had a painted bathtub at the condo and I was fine with it.  But this is my house — my forever home — and the idea of having a brand new bathroom remodel with all new finishes…and an old painted bathtub…just didn't sit well with me.
I know people have their tubs and sinks resurfaced every day, and while a good deal of those people are thrilled with the results and find it very durable and easy to clean, there are also those whose resurfacing jobs didn't hold up so well.  I just wasn't really excited about the idea of taking a chance on a long, stinky, expensive process that may or may not hold up over time.
2.  The weight of the tub
This is another one of those "peace of mind" things for me.  I know it's probably ridiculous, since my house is 66 years old now, and that heavy tub has been in here the whole time with no issues.  But when it came down to it, I didn't like the idea of my poor aging floor joists having to carry the weight of that 500 pound tub.
Actually, I have no idea how much that tub actually weighed.  I do know that my cast iron kitchen sink weighs 120 pounds, according to the Kohler website.  So I think it's reasonable to assume that the tub weighed at least 500 pounds.  My neighbor, who removed it for me (along with two other men) said he thinks it weighed 700 pounds.  I don't know for sure, but I do know that it weighed several hundreds of pounds, and that's with no water in it.  Fill the thing with 30 gallons of water, and you've just added another 240+ pounds.  And that's not even including the body that will sit in that heavy tub filled with heavy water.
I just thought it was time to give my floor joists a break.  They've held up well under that massive amount of weight for 66 years, and now they can rest a bit.  I exchanged a 500+ pound tub for one that weighs 74 pounds.
3.  The mess underneath
I showed y'all the other day the mess that I found under that cast iron tub.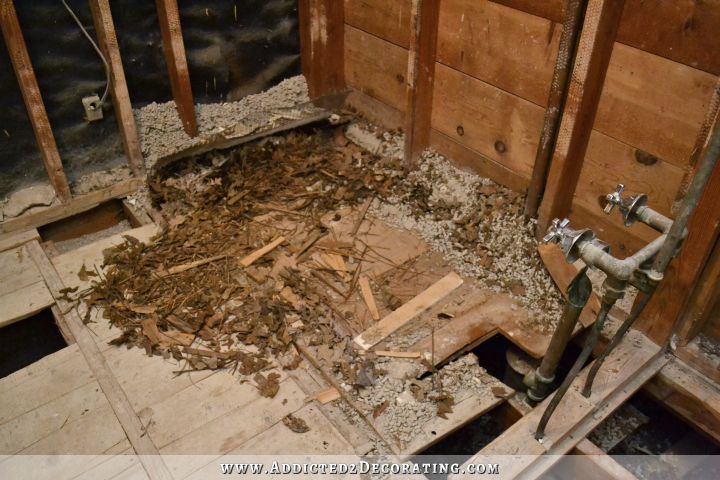 That's from six decades of having that area around the drain open to the crawl space below, and critters crawling through that hole to make their nests under the tub.  That's disturbing to me.
What I didn't tell you is that the mess shown above is a fraction of what was originally under there.  Before I decided to replace the tub, I spent about an hour using the handle end of my broom, as well as my gloved hands, to dig out as much as I could from underneath the tub.  What I was able to remove completely filled up one of those black contractor trash bags.
Not only was it filled with leaves and straw from critters' nests, but it had also filled up with the small pieces of mortar (almost like pea gravel) that fell behind the wire mesh as I was breaking out the tile.  The cavities around the tub were filled up completely, and I did my best to get as much out as possible, but there was just no way to get all of it out, as evidenced by the photo above.
That was just another thing that didn't sit well with me.  I didn't want a shiny new bathroom filled with new fixtures…and an old tub with cavities filled with 60+ years of critters' nests and old mortar.  I wanted it out completely so that I could get everything cleaned up, sealed up, and start fresh.
And finally…
4.  I want a decorative tub skirt
This last reason is probably not one that would sway anyone else.  My old cast iron tub had very curvy sides.  Curvy sides on a bathtub are generally fine, but I decided that I want to add a tub skirt to my bathtub to continue the wainscoting look around the room, similar to one that you would see on a drop-in bathtub.  Diane at In My Own Style did something similar to what I have in mind.  She added beadboard to her fiberglass tub to dress it up and make it cohesive with the rest of the room.
I won't be using beadboard, but I do want to do something similar.  That's almost impossible to do on a tub with really curvy sides.  My new tub has pretty straight sides, so adding a tub skirt will be much easier.
So those were my reasons for replacing the old cast iron tub with a new tub.  (By the way, for those of you wondering why I didn't remove the tub completely and put in a shower, I explained that here.  Since there's really no way to make an accessible shower for Matt in such a small room, and since I do actually enjoy an occasional bath, I stuck with a tub.)
I'm definitely not suggesting that all old cast iron tubs need to be replaced.  There are definitely pros and cons to replacing them.  Just keep in mind that if you do replace, you can give/sell your old tub to someone who loves and wants an old cast iron tub, or you can actually take the tub to a scrap metal recycle center.  You won't get rich, but they'll actually pay you (generally a certain dollar amount per 100 pounds) for the scrap metal.  For one of those old tubs, you might get $50 or $60 or so.  But the point is that you can recycle it in one way or another, so for those of us who do want to replace, there's no need to fill up landfills with our old cast off cast iron tubs.
Now that the room is level, and the plumbing is finished, I feel like I'm freed up to really start moving on this bathroom remodel.  I had left crawl space exposed where the old linen closet was so that they could have easy access to the plumbing beneath the tub.  Now I can finish up the subfloor, and get busy on the drywall and concrete board around the tub.  Heck, I may even get some tiling done this weekend!
Addicted 2 Decorating is where I share my DIY and decorating journey as I remodel and decorate the 1948 fixer upper that my husband, Matt, and I bought in 2013. Matt has M.S. and is unable to do physical work, so I do the majority of the work on the house by myself. You can learn more about me here.
I hope you'll join me on my DIY and decorating journey! If you want to follow my projects and progress, you can subscribe below and have each new post delivered to your email inbox. That way you'll never miss a thing!