My New Full Lite Front Door (Plus Three Ideas For Privacy With A Glass Front Door)
My new front door was installed yesterday! Let's just say I'm so glad I didn't try to DIY this project. They got here yesterday about 4:00, and I think it took them until 6:30 to get it installed and everything working right. First, there was an issue with the threshold, then there was an issue with the deadbolt not wanting to lock all the way. But they finally got all the issues worked out, and my entryway now has some natural light in it!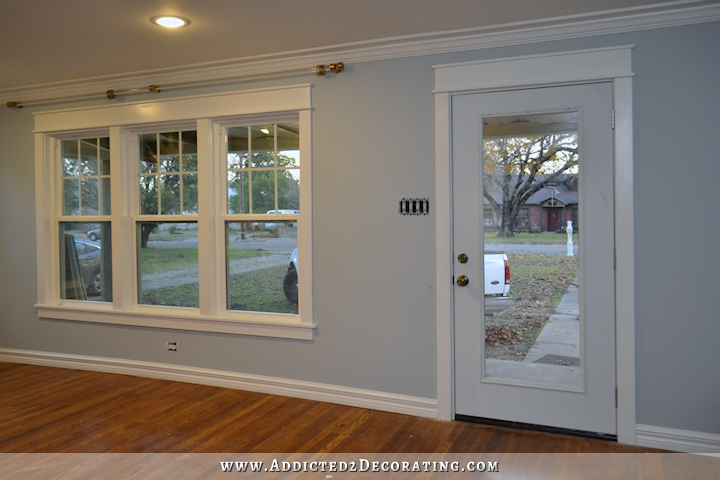 And yes, that's my truck still (or rather, again) sitting in my front yard. 😀 Now before you judge me too harshly, let me explain that it's there quite by design. My new 9-light half glass door for the breakfast room is in the back of that truck since I forgot to ask the guys to move it before they left, and it's WAY too heavy for me to move on my own. So I wanted it placed strategically in front of my Ring camera doorbell so that it would catch any movement during the night and notify my phone if someone tried to steal it. I promise that parking in my front yard really isn't a habit of mine. 😀 And they'll be back today to install that door in the breakfast room, so I can return my truck to its normal parking space in the driveway.
Anyway, I love this door. I'm going to love the amount of light it lets in to that previously dark corner of the room.
I was surprised at how many of you said that a full lite door looks too modern or industrial. I just don't see that. I think it goes great with a traditional style home.
Anyway, I wanted this door for the natural light without the busyness of lots of added rectangles that a 9-lite or 15-lite door would add. But I've now lived with it for one night, and I do want to come up with a solution to add some privacy. I'm tossing around three different ideas in my mind. Two would add privacy just at night, while the third would add privacy all the time. Quite honestly, I'm not sure which one I want just yet, because I really do enjoy the view out the door. Of course, I've had it less than 24 hours, so I want to live with it for a few more days before decicing.
The first option is to add a curtain, which would add privacy just at night, while keeping the view through the door clear during the day. I found this one example with the door and window arranged very similar mine, and with two curtain panels on the window like I will have, but just one on the door. While it looks like this curtain panel isn't actually used (I can't imagine pulling it back with a tassel tie back every day), I really do like the look. I don't really think a double-width curtain panel is needed for the door, though. If I go with this option, I'll just stick with a single-width curtain panel.
I tried to do a little mock up of what mine might look like. I did a pretty rough editing job here, but I think we can get an idea.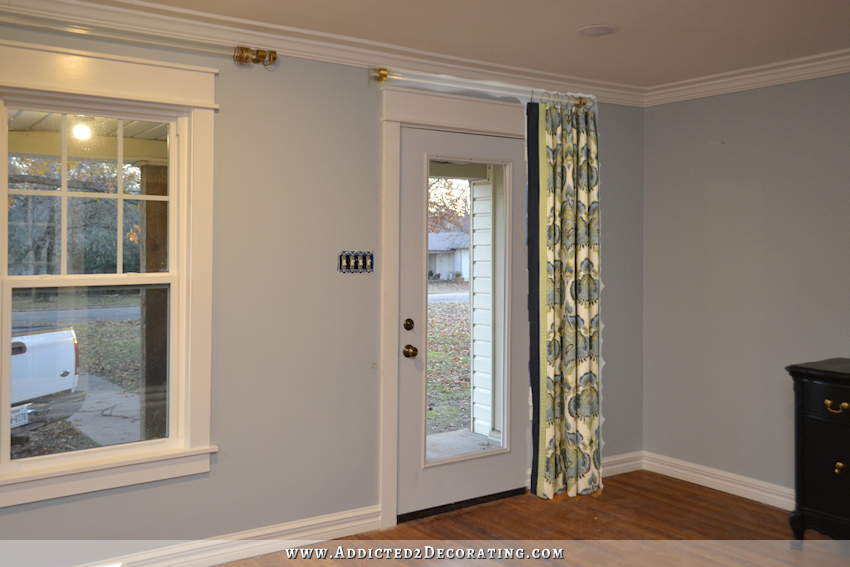 I wasn't sure I would like that option, but I think it might be my favorite. And if I go this route, I'd probably paint the front door the same color as the trim so that the look of the curtained door coordinates with the look of the curtained windows.
The second option for a clear view during the day and privacy at night is to make a movable decorative screen, maybe something on casters for easy moving, that can be kept in that corner of the room during the day and just look decorative, like the one in this room…
Although that one is way too big for my smaller room, and I actually prefer upholstered folding screens. They're a great way to add pattern and texture to a room.
But again, I'd need one much smaller, and I might only need two panels rather than three or more. And rather than the panels being on hinges, I could attach them in a fixed angle. Two much smaller panels with casters attached with hardware on a fixed angle would be quite easy to move each night, I believe. Especially if they're made of something lightweight, like narrow hollow core closet doors.
And the third option that I've come across that I really like would give privacy both during the day and at night. While I love this idea, I'm still not sure that I want to obscure the view through the door during the day. I need to live with it for a bit longer before I decide. But if I decide that I'm okay with an obscured view, I love this idea of frosting most of the glass, but leaving just a bit of the glass clear with a design like house numbers.
Someone standing just outside the door would still be able to see in, but there wouldn't be a clear view into my house from the street. That would not be a DIY project. Something like house numbers would require precision work, so I'd have a local sign shop do that for me.
So those are the three options I'm considering right now. Each of them has pros and cons, so I just need to live with my new door a couple more days before deciding which option will work best for me.
EDIT: Well, I've lived with my new door for about 17 hours now, and only a few of those have been daylight hours. After that short amount of time, I can already tell you that frosted glass is not an option. I ABSOLUTELY LOVE being able to see out of my front door with no obstructed view. So while I really love the look, I'm ruling out Option #3.