Rolling Door Glass Pane Design Options
I'm generally not one to shy away from a new DIY challenge, but I have to admit…I'm a bit nervous about cutting the top portion out of my doors for glass. I'm going to do it, but I couldn't quite work up the nerve to do it yesterday. Perhaps today I'll be braver.
I did have some people ask me yesterday why I was even going to add glass if the (new) purpose of the doors is to close them at night for privacy. Really, the only answer I have is "because I have my heart set on glass." All along, I've had this idea of adding French doors to those doorways. Obviously that's not going to happen, but I don't want to completely give up the vision of having doors with glass. But just to see what solid black doors would look like there, I photoshopped a mock up of solid black doors.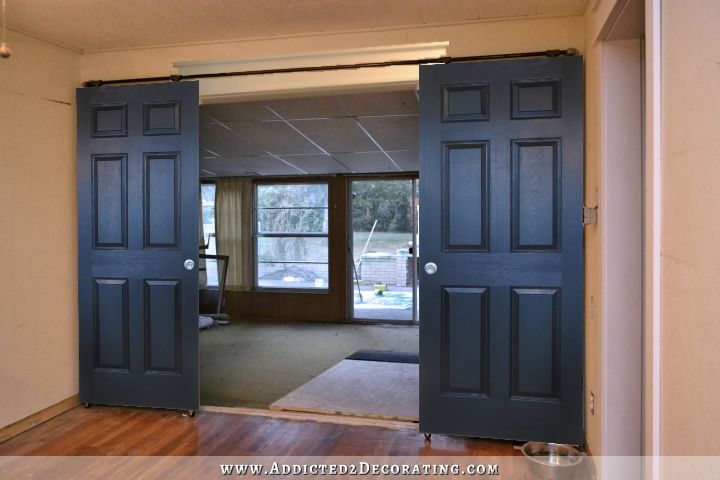 Again, note that these are not my actual doors. I just found a photo of a black six-panel door and copied and pasted it onto my photo. I won't have door knobs like that on my doors. I'll have large pulls instead, if I can find any that are reasonably priced. And my doors don't have raised panels like this door has. I also copied and pasted the trim on top. I haven't actually framed and trimmed out my doorway yet.
Anyway, I think I just fear that solid black doors on these doorways will look pretty heavy and overwhelming. I can handle a single black door surrounded by white trim. In fact, I love that look. But two solid black doors on one doorway just seems a bit much to me. I really love the lighter look that glass gives. I can still have black doors, but with the glass, they don't look so heavy and overbearing.
So I'm considering three options for the glass on top. The first is a single large pane of glass.
I love that that option looks so clean and simple. There's nothing fussy about it. But then I wonder if the look is too commercial/institutional.
The second option would be six panes of glass that are equal in size.
This option is definitely the closest to my original vision of putting French doors on these doorways. I think it's really pretty, but does it kind of give off a "country" vibe? Because that's the last thing I want, especially right there next to my kitchen.
The third option is nine panes of glass of unequal size.
Lately I've been watching Upstairs Downstairs, probably in an attempt to find anything remotely Downton Abbey-esque since we still have a long wait for new episodes here in the U.S. It's an okay show (definitely not even close to being as good as Downton Abbey), but I love looking at the set designs. I saw a door like this on the episode I watched last night (it even had the two panels at the bottom like my door has), so I thought I'd try it out. I like it! It's different — not as predictable.
So those are the three options I'm considering right now. If you have any other glass pane design options I should consider, let me know! And what do you think of these three options? I think of these three, the first one is probably my favorite…for my house…for being right next to my kitchen. But then again, I could change my mind in an hour. I've been known to do that a time or two. 🙂
EDIT: A few people have mentioned that these doors would be nice in a different color other than black since they'll be so different from the other interior doors. I actually agree, but the problem is that I just can't think of a color that will work. They're right next to my kitchen, with very green cabinets, and I want these doors to be the same color as the doors that will go on the doorway between the entryway and music room (when I get that wall/doorway built). So the color also needs to go with dark teal.
I know I generally don't like the whole "shabby" look, but for some reason, on these doors, I wouldn't mind the look at all. Kind of like I happened to find four old matching salvaged doors. But these doors have new wood around the edges, and I'll also have door knob holes to patch. So those are also considerations in deciding how to paint them.
If you have any color suggestions, I'm all ears! (Or…all eyes. Whatever.) 😀
Update:
My rolling barn door-style doors are finished! Here's a peek at how they turned out…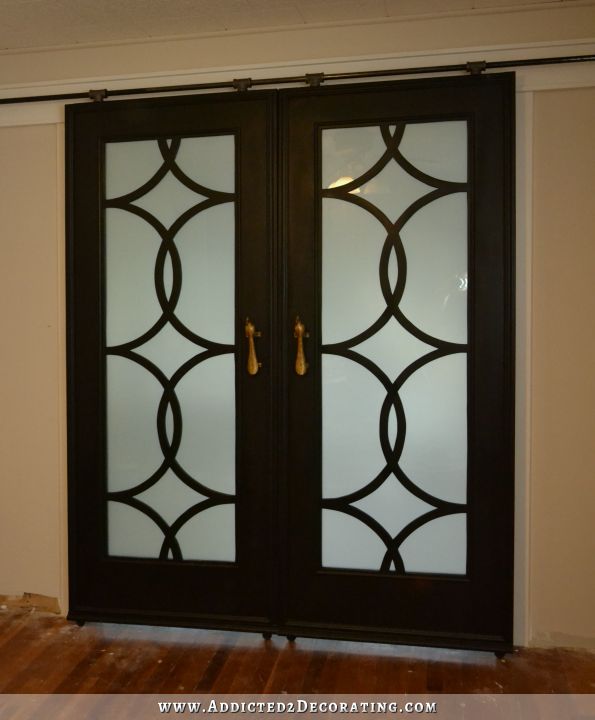 You can see more pictures of the finished doors right here…
Addicted 2 Decorating is where I share my DIY and decorating journey as I remodel and decorate the 1948 fixer upper that my husband, Matt, and I bought in 2013. Matt has M.S. and is unable to do physical work, so I do the majority of the work on the house by myself. You can learn more about me here.