The Perfect Dining Table For My Dining Room (And My Plans To Build It)
Remember a while back when I talked about dining table options, and I was leaning towards a modern style table from Restoration Hardware? Well, that plan has been scrapped. I know you're shocked. 🙂
Here has been my problem with dining table decisions. My dining room is small, so I need a table that's about six feet long. But when my family comes over (and my sister has already determined that when I get my dining room finished, we're going to start having family game night here), I'll need a much bigger table. So I need a table that can extend and can accept at least two leaves.
Also, I've been thinking about and looking at just about every style of leg option out there, and it seems like so many styles have legs that just get in the way — either someone has to straddle a table leg while seated, or the person at the end has to prop their feet up on a support bar, or something like that. Trestle tables are the perfect example of this…
Toscana Table from Pottery Barn
I think trestle tables are really pretty, and there are so many great DIY options out there that can save you hundreds or possibly over a thousand dollars. But look at the chairs on the end. It looks like the people sitting there would have their legs jammed up against the table legs. Of course, if you build your own, the legs can be moved in more towards the center of the table to give more leg room to the end chairs, but the more they're moved in, the less room you'll have for chairs on the sides unless you make someone straddle the table leg.
It just seems like there are so many tables and styles of tables that look so pretty, but seem so impractical.
So I finally decided that the most practical, as far as seating goes, are pedestal tables and farmhouse tables. I don't want a pedestal table, so I've been looking at farmhouse style tables for several weeks now. I've looked at DIY options, as well as ready made, and finally yesterday I came across the perfect table for my dining room! It's the Harvest Dining Table from Williams Sonoma.

Harvest Dining Table from Williams Sonoma
I love the light, natural finish on the pine table, and it's the perfect length. Without the leaves, it's 72 inches long. But with the leaves, it extends to 116 inches long and can seat 10 people comfortably. It's perfect! But the price…not so much. With shipping and everything, it comes to about $2500. I'm just not going to pay that for a dining table.
So I'm going to build my own. I started searching around and found that Osborne Wood has really good prices on table legs. I finally decided on this leg called the Old English Country Dining Table Leg…
And the best part? I wanted pine, just like the Williams Sonoma table, and the pine legs were only $28.96 each! That's an amazing price for turned table legs! They're not going to be as chunky as the Williams Sonoma table legs, but I'm okay with thinner legs.
And I also got a pair of these table slides.
via Osborne Wood Products
Those slides accept four 12-inch leaves, so that will extend my 72-inch table to a total of 12o inches.
I feel like this is going to be a building project on a whole new level for me, which is good. I like to challenge myself to continue learning and reaching for the next level in my building skills, so I'll definitely be learning new things with this project.
I'm also thinking that I might take this opportunity to buy a tool that I've wanted for a very long time — a planer. If you have a planer and have any recommendations, I'd love to hear your input! It's a big purchase for me (I usually don't spend that much money on tools), and right now I'm leaning towards this Dewalt that runs about $600.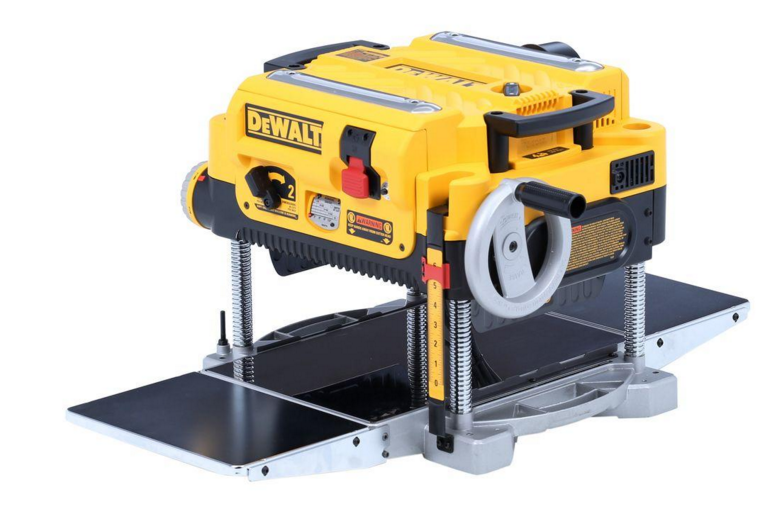 via Home Depot
It has a high rating and great reviews. But again, if you have any suggestions regarding tabletop planers, I'd love to hear them! I really don't want to spend much more than about $600 on a planer, and if I can find a good, reliable one for less, then that's even better!
Addicted 2 Decorating is where I share my DIY and decorating journey as I remodel and decorate the 1948 fixer upper that my husband, Matt, and I bought in 2013. Matt has M.S. and is unable to do physical work, so I do the majority of the work on the house by myself. You can learn more about me here.