Console Table – A Design Change Plus Five Finish Options
Last night, I made a little design change to my scalloped console table.  The "legs" were just looking a bit too bulky and imposing for my taste, so I reworked my pattern, traced the new pattern onto all four legs, and cut it down.  So now it looks like this.
I like that lighter look much better than the heavy, imposing look of the legs from yesterday…
Now I just have to decide how I want to paint/finish the table, and I have tons of ideas swarming around in my head.  Here are a few of my top contenders.
I could cover it with either fabric or leather (vinyl, really, as leather is way out of my price range), and then add nail head trim, like this fabric-covered table with nail head trim from Drexel Heritage.
Or this Jonathan Adler linen upholstered side table from Zinc Door…
I could just paint it a solid color.  If I paint it, I'm leaning either towards a bright but soft yellow, like this sofa table from The Painted Piano…
Or a blue like the blue on this dresser from Miss Mustard Seed (without all of the heavy distressing, of course)…
Basically, if I paint, I'd like to pull out some of the lighter colors in my drapery fabric, and then use a brighter version of that color on the console table.
Another idea I'm toying with is doing a geometric painted design, like this diamond night stand from Syndey Barton…
I could even tweak that design just a bit and turn it into argyle, which y'all know I love.
And then, of course, there's my beloved stripes, like this striped credenza from Joss & Main.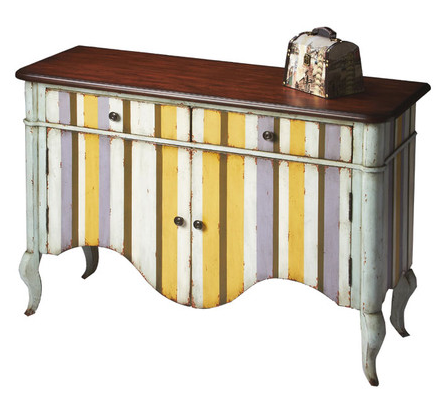 And finally, a few of you suggested painting it and then giving it a lacquer finish.  I couldn't find a good example of that, but of course, a lacquer finish is just a very super shiny finish.
Of course, with any of these ideas, I'll actually use colors that are in my living room (i.e., colors pulled from my main fabric).  I won't just be sticking random colors onto my console table.  😉
So as of now, those are the ideas I'm considering.  The main consideration is whether I want the table itself to be the "artwork" in the entryway, in which case I could use a bold design and then use something more subtle above it, like a nice framed mirror.  Or if I want the table to be more of a backdrop to ground whatever fabulous (and colorful, of course!) artwork I put above it.  In that case, the finish will need to be more subtle, like a simple painted finish in a solid color.
What would you do with a table like this?  Go really, really bold with the painted design?  Or tame down the already-bold design of the table with a simple painted finish?  Or somewhere in between, with a fabric and nail head trim treatment?
EDIT:
I made yet another change to the table today.  This is it.  The jigsaw and I need a break from one another now.  🙂
Addicted 2 Decorating is where I share my DIY and decorating journey as I remodel and decorate the 1948 fixer upper that my husband, Matt, and I bought in 2013. Matt has M.S. and is unable to do physical work, so I do the majority of the work on the house by myself. You can learn more about me here.