DIY Antiqued Gold Leaf Sunburst Mirror
I decided to go with a sunburst mirror above my buffet, and after spending a couple of days looking at just about every sunburst mirror I could find online, and not finding one that would work (a design I liked + the right size + the right price), I decided to go way back into my blog archives to a project that I did in March 2011, a bring it back…with a twist. The project I'm talking about is my wood shim sunburst mirror.
Remember that one? I've seen it all over Pinterest and on other blogs, but I'm pretty sure that's an A2D original. 🙂 That one was made with the small wood shims (about 6 inches long) from Home Depot, and if I remember correctly, it ended up being about 18 to 20 inches in diameter. I ended up staining it darker and using that sunburst mirror in the bedroom at the condo.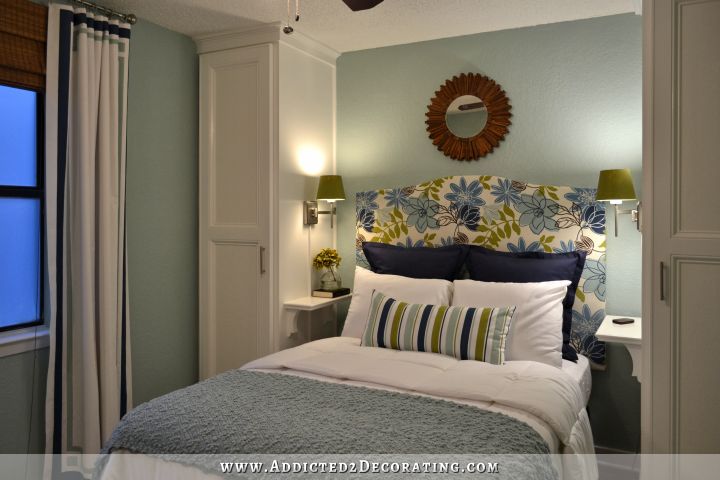 So I brought back that project, but this time I used a combo of the larger shims (about 15 inches long) and the short shims so that I could end up with a sunburst mirror that was large enough for the space. I needed something that was at least 36 inches in diameter, and this one turned out 37.5 inches in diameter. And then, since I wanted a gold sunburst mirror for that wall, I added gold leaf. Of course. 🙂
I really love how it turned out. I wish I could get an accurate picture of the color, because it's really beautiful. And it has this amazing variation of color throughout, so it's not all one solid color gold. You can see it better in this close up picture.
But it person, it's much more noticeable, and that beautiful variation of color that gives it an antiqued look is my favorite part about this mirror.
For this mirror, I used 6 packages of the large shims, and 9 packages of the small ones. I also used almost an entire package of the large glue sticks (from Home Depot), which I already had on hand. I already had the mirror on hand as well, but I think I bought it either at Hobby Lobby or Michael's many years ago. (See my edit below about the mirror.) It's one of the thick, sturdy ones with the beveled edge. And then I used almost one package of gold leaf, which I bought at Michael's (always with a 40% off coupon!).
This project is so easy, but it's kind of time consuming with all of the gluing. So it's the perfect Netflix/Amazon Prime project. Just put on your favorite binge watch show, heat up your hot glue gun, and settle in for about three hours. 😀
I glued my wood shims together so that the nicer edge on each shim was facing down, and the uglier side was facing up. And as I glued them together, I pushed them down so that they were all flat against my work surface. This made it look pretty awful on the side that I was looking at as I worked…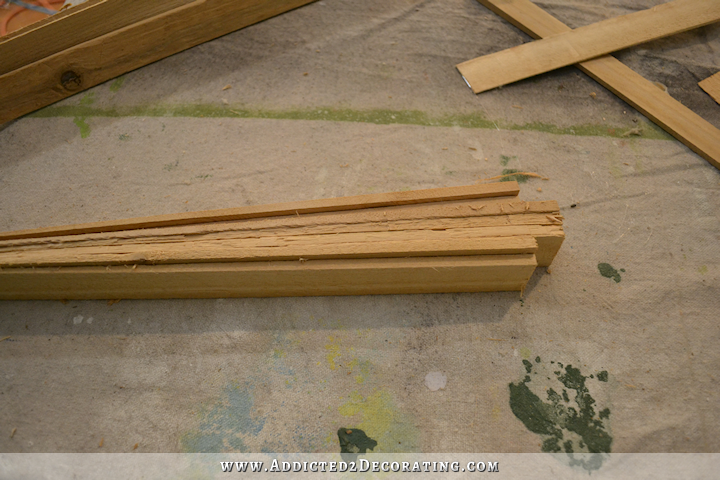 But when I flipped them over, the other side looked much nicer.
For the long sections, I glued 15 shims of the long shims together in groups of three…
And for the short sections, I glued 9 of the short shims together, also in groups of three.
And once I had 12 long sections and 12 short sections, I glued them together in a circle.
I didn't actually attach the mirror yet. I just placed it on there to see how it would look.
And here's a hint…it didn't go together perfectly and effortlessly in a perfect circle. There were some small gaps, so one of the short sections actually has four shims on one side (10 shims total). Another short section has two additional shims added going the opposite direction (with the fat end towards the center of the circle, and the thin end towards the outside of the sunburst) in order to fill in some gaps so that the circle would close. But no one would ever notice those things unless I pointed them out. And even with those additions to fill in gaps, I still had to really put some muscle into making it all come together into a perfect circle, and I had to add more glue here and there as the stress of pulling one section would pull apart another section. But once I got everything glued and held in it place for about 15 seconds until it dried thoroughly, it looked pretty close to perfect.
Once all of the sections were all glued together, I carefully turned it over, and then glued a 15-inch circle of MDF to the back to make everything strong and secure. I cut the circle out of a scrap piece of 1/2-inch MDF because I just wanted to use what I had on hand. In hindsight, I think it would have been better to use something much thinner, like 1/4-inch plywood. so that the finished sunburst mirror wouldn't stand out from the wall so much. But hindsight is 20/20. 🙂
Then I sanded. And sanded. And sanded some more. I used my electric sander with 150-grit sanding discs on the top, and then sanded all of the edges and ends of the shims by hand with 150-grit sandpaper. Then I primed and painted it with Rust-Oleum spray primer and gold metallic spray paint.
I let the paint dry for about an hour, and then I gold leafed the entire top. I didn't gold leaf the edges or ends, though. Just the top. And finally, I sanded the top VERY lightly with 150-grit sandpaper, following the lines of the shims, just to add an aged, antiqued look and to dull down some of the shine on some of the shims. Again, this was very light, very quick sanding, and I did NOT make an effort to hit all of the shims, because I wanted some of them to stay shiny, and wanted to dull down only some of them.
And then, of course, I glued the mirror to the front. I hung the mirror on the wall using a 5-inch Ook Hangman French cleat from Home Depot. I tried to get it centered vertically, but I think I miscalculated and hung it a bit too high. I'll have to move it down just a touch.
EDIT: That particular mirror is really a placeholder. I want to eventually remove the beveled-edge mirror and replace it with a round mirror that has a simple but pretty frame on it. I just wanted to get the sunburst portion made and hung to be sure that I was even going to like it for that wall before spending more money for a framed round mirror. So I just used what I had on hand for the mirror. Now that I see that I really do like it, I'll be keeping an eye out for a framed round mirror to go in the center.
I just love this variation of color. I wish y'all could see it in person. This is the picture I took last night…
And this one is from this morning…
So that's all I'm going to hang on that wall. I wanted my mural to be a backdrop, and not artwork in itself. But I also don't want to cover up too much of it. I think one mirror is enough. And I'm still contemplating these lamps, with different shades, of course.
I know the silver is distracting, but I've taken apart, repaired, put together, and made so many lamps in my life that I don't think it would be difficult at all to take it apart, paint all of the metal, and put it back together. And now that I have my acrylic curtain rods (which were delivered on Friday…yay!!), I love how they complement each other.
So that was my fun, crafty weekend project. Now it's time to get serious and tackle those draperies. Sewing is my least favorite thing of everything I do. But when I end up with beautiful lined, workroom-quality draperies, it's also one of the most rewarding. I'm trying to stay focused on the reward to get myself motivated. 😀
UPDATE: I found the perfect mirror for the center of my sunburst at Hobby Lobby. It was the right size, had an understated frame around it, and it was already the perfect color. And best of all, it was on sale for 50% off, so I paid about $9 for it.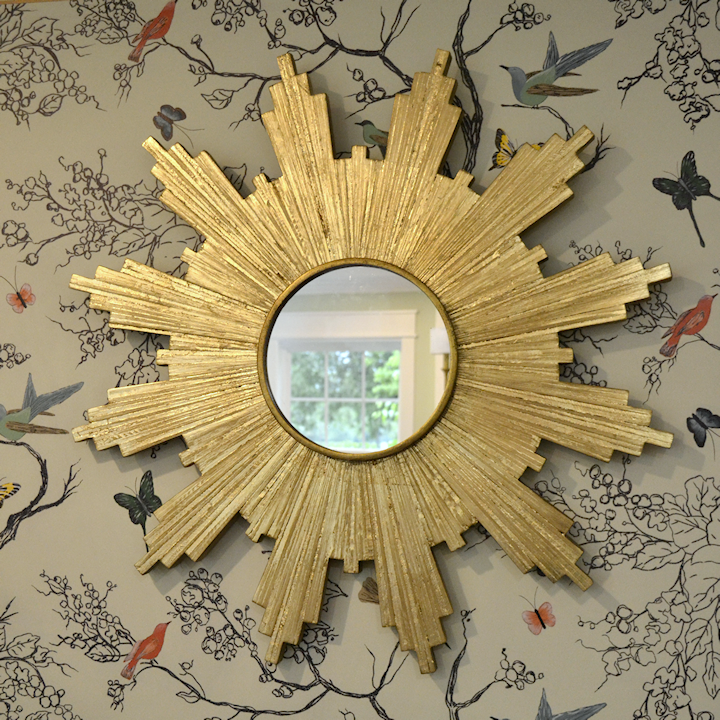 Addicted 2 Decorating is where I share my DIY and decorating journey as I remodel and decorate the 1948 fixer upper that my husband, Matt, and I bought in 2013. Matt has M.S. and is unable to do physical work, so I do the majority of the work on the house by myself. You can learn more about me here.