I am in full-blown organization mode right now, and after solidifying my organization plan for my kitchen (you can click here to check out my process and my plan if you missed it), I didn't let any time go to waste before I jumped in and started implementing my plan by turning a plain box of a cabinet that housed my pots and pans into two customized pull-out organizers for my four most-used pots and pans, their lids, handles, and a steamer insert. And then I had a little room left over and used it in a unique way for a special customized-just-for-me storage shelf for measuring cups and spoons.
This is embarrassing, but let me show you how this cabinet started out…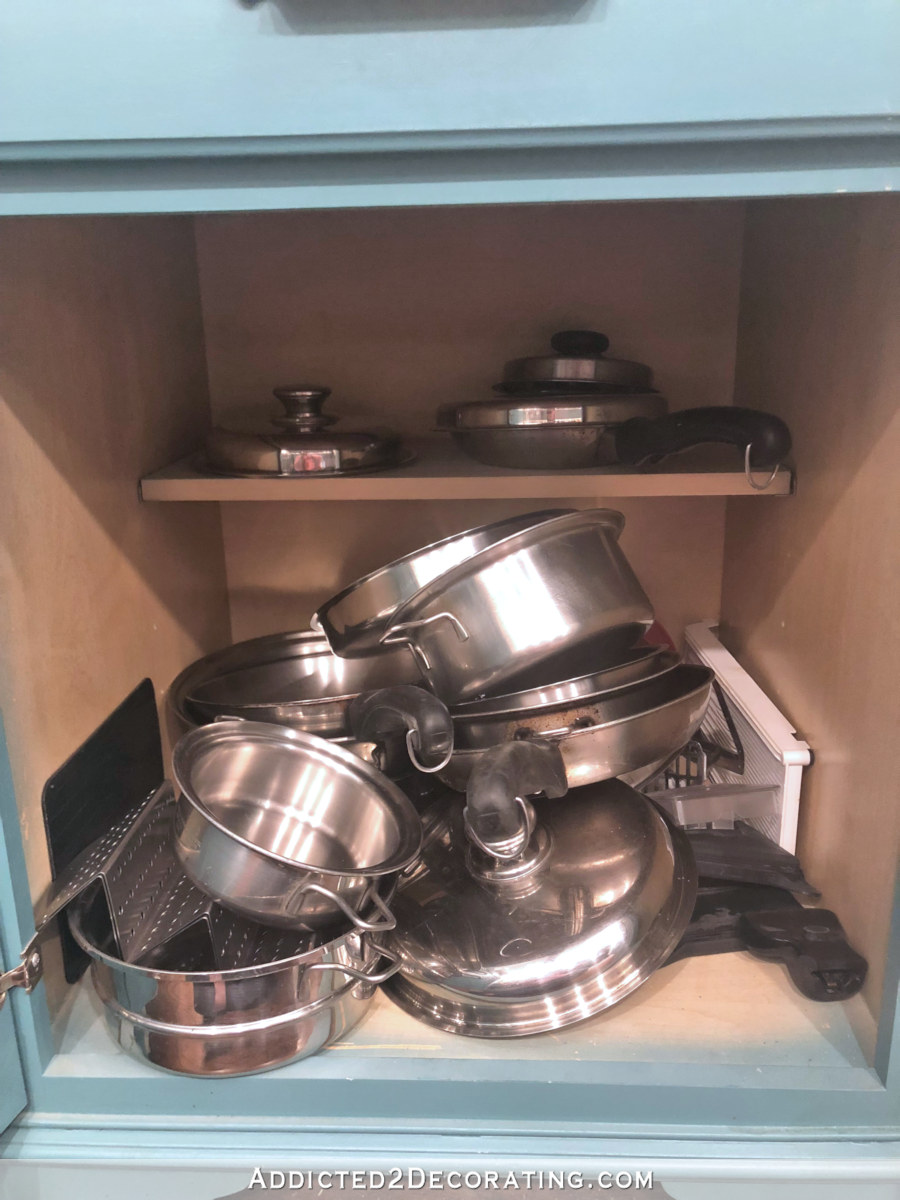 I've said it before, and I'll say it again. Organization just isn't my thing, and if it isn't incredibly easy to get and keep something organized, then I probably won't do it at all. That's why my cookware cabinet always ended up looking like that. I could straighten up the stacks, and a week later it would look just like that again, so why bother?
Well, enough was enough. After removing the door, creating a couple of customized pull-out shelves, and attaching the door to the front of the lower pull-out shelf, I now have a completely organized cookware cabinet.
Here's the lower shelf, which now houses my four most-used pots and pans (i.e., the ones I use pretty much every single day)…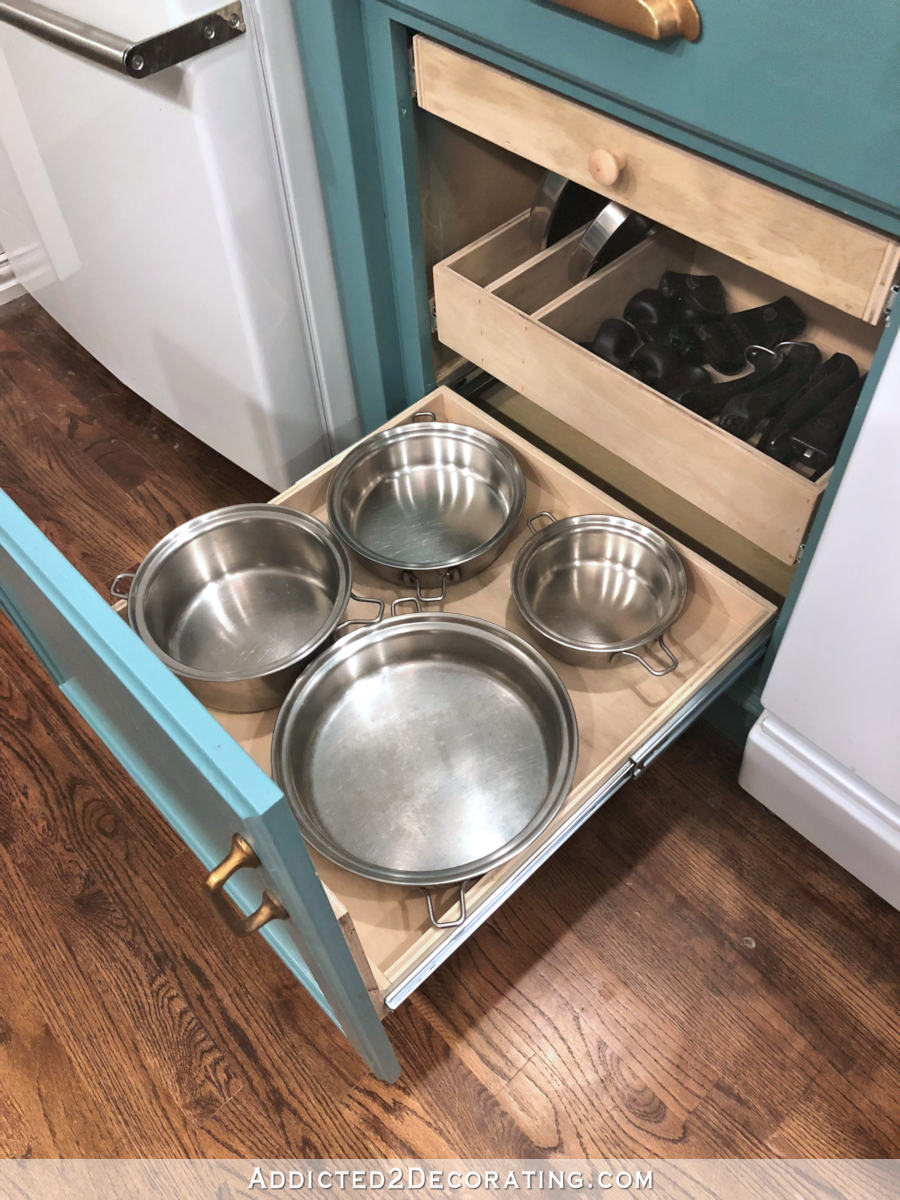 And on the middle shelf, I created custom-sized slots to hold the four lids that specifically fit those four pieces of cookware. Then I created a section for the handles. (I use Saladmaster cookware, which has removable and interchangeable handles.) And then I had enough room on that shelf to create a section for the steamer insert.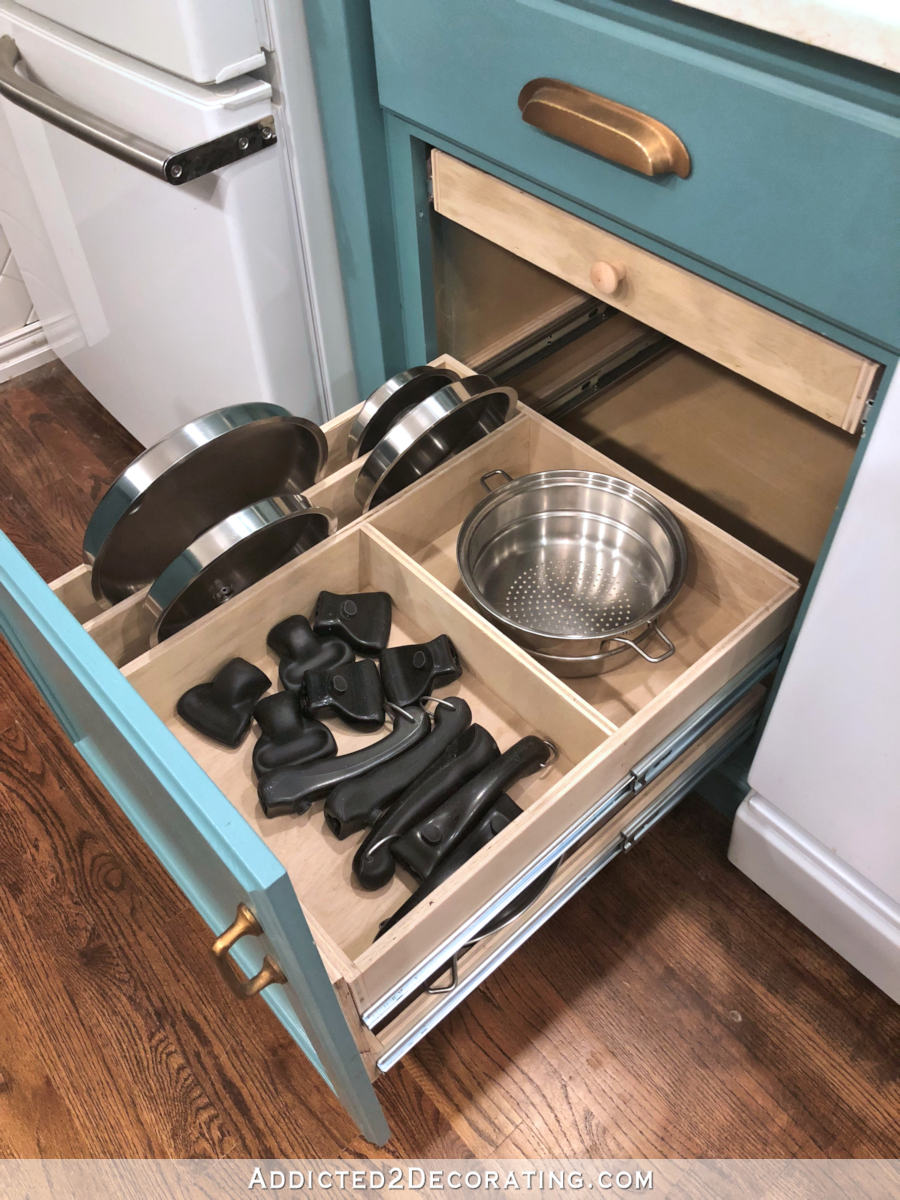 And after I had everything in that cabinet that I absolutely needed and wanted in there, I had a little room left at the top, so I created one more pull-out that is customized specifically to hold my measuring cups and spoons.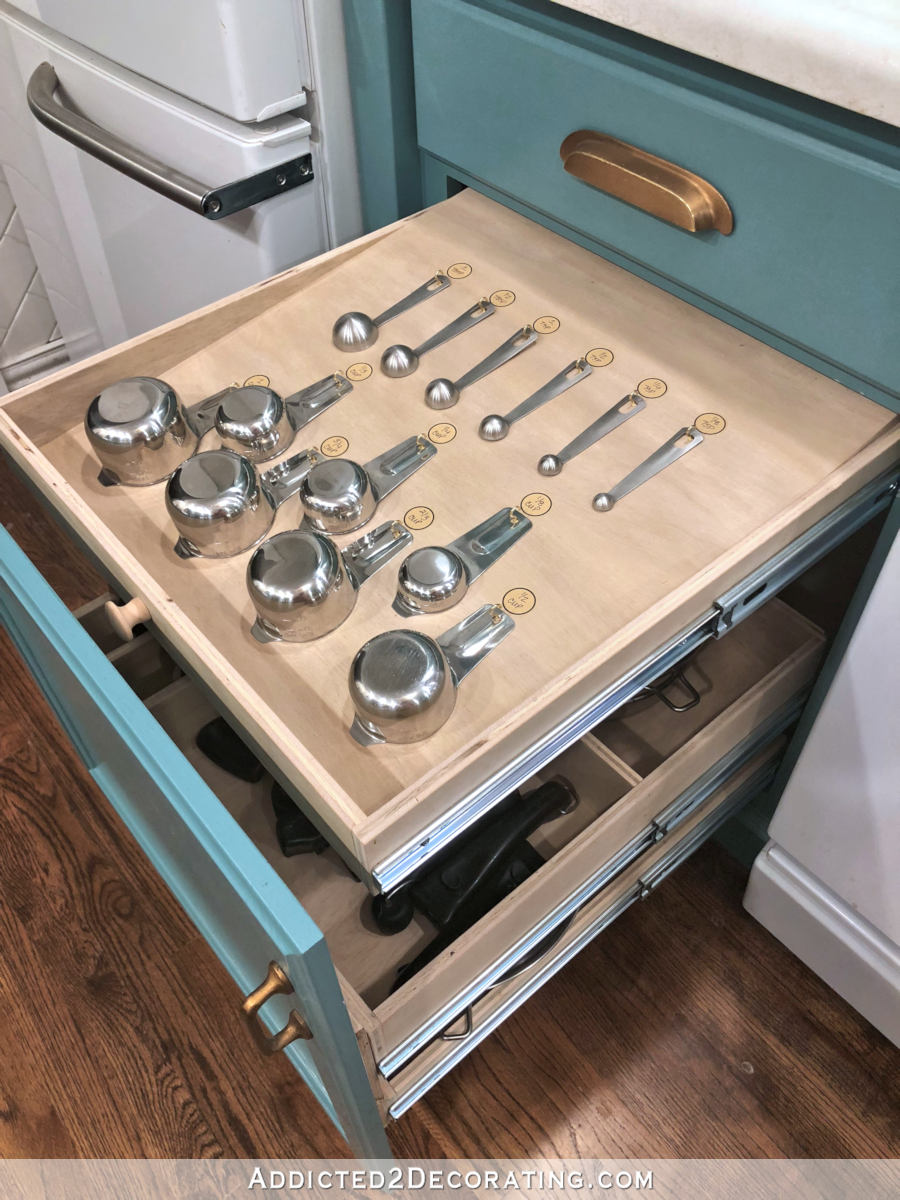 I know that probably seems ridiculous to some, but it's perfect for me. I've said before that I really dislike cooking, and anything I can do to make the process easier is a bonus. And one thing that seems to frustrate me just about every single time I cook is digging through stacks of measuring cups and spoons to find the one I need. This way, they're all there, they're NOT stacked on each other, they're easy to grab, and I can easily see if one is missing (and probably sitting dirty in the sink).
And that, to me, is the best thing about starting out with plain, open cabinets and customizing the pull-outs yourself. You can customize them to fit your specific cookware and your specific likes, dislikes, needs, processes, etc. I'm having so much fun thinking through exactly how I use my kitchen, exactly where I want to store and access various things, and what problems I can solve with very customized-to-me pull-outs.
So now let me show you the process…
I've mentioned several times that when I build drawers or pull-out shelves, I always install the drawer slides first. Then I pull them out slightly and measure the distance between them to get the finished drawer width. Installing the drawer slides before I even begin building the drawer takes all of the guesswork out of the process.
So after installing the bottom drawer slides and taking the measurements I needed for the bottom shelf, I cut the a piece of 1/2-inch plywood for the shelf bottom. Then I placed my four pieces of cookware on the plywood to see how I would arrange them…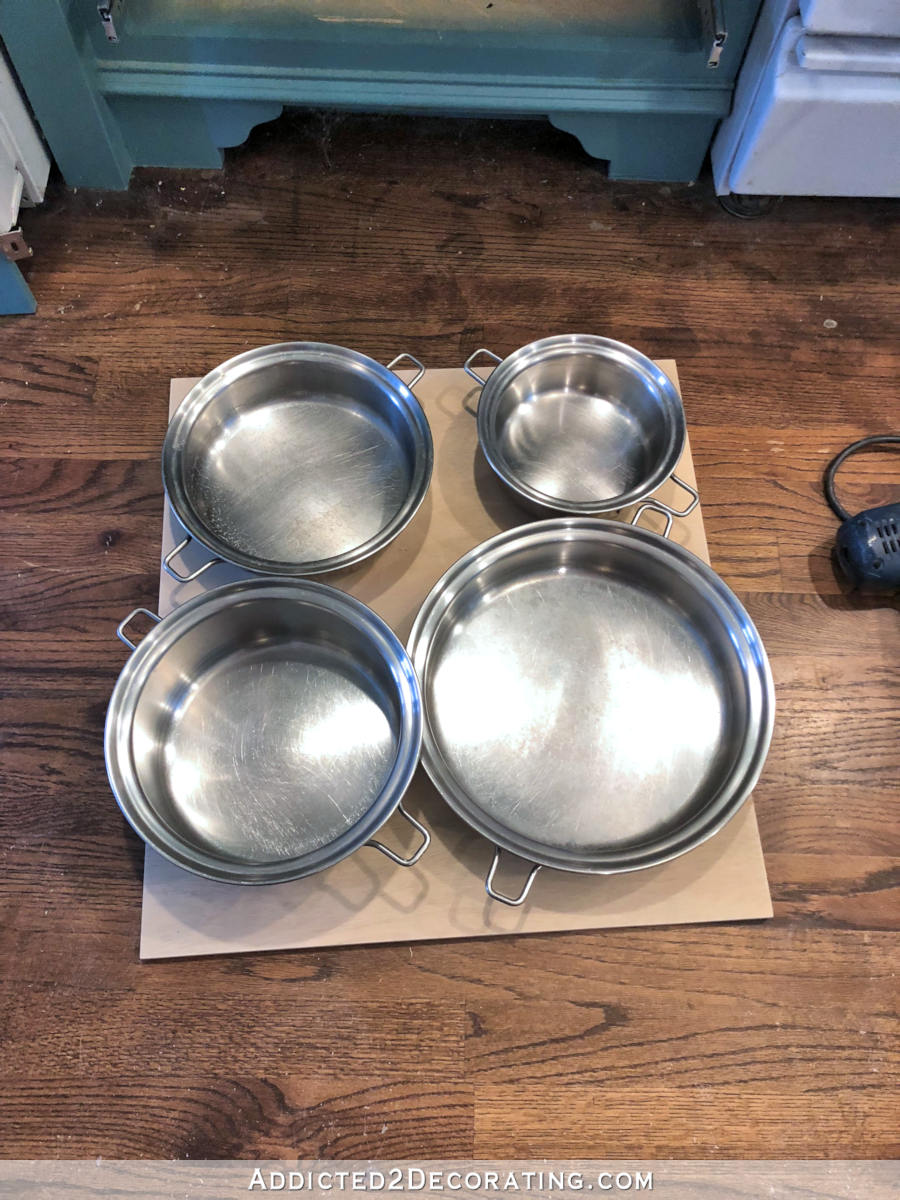 And then I measured how high the shelf sides needed to be to allow enough clearance for all four pieces to fit on the shelf. The three small pieces fit inside the footprint of the drawer just fine, but the top lip on the biggest piece went over the edge just a bit, so I knew that the drawer sides had to be lower than the lip on that biggest piece.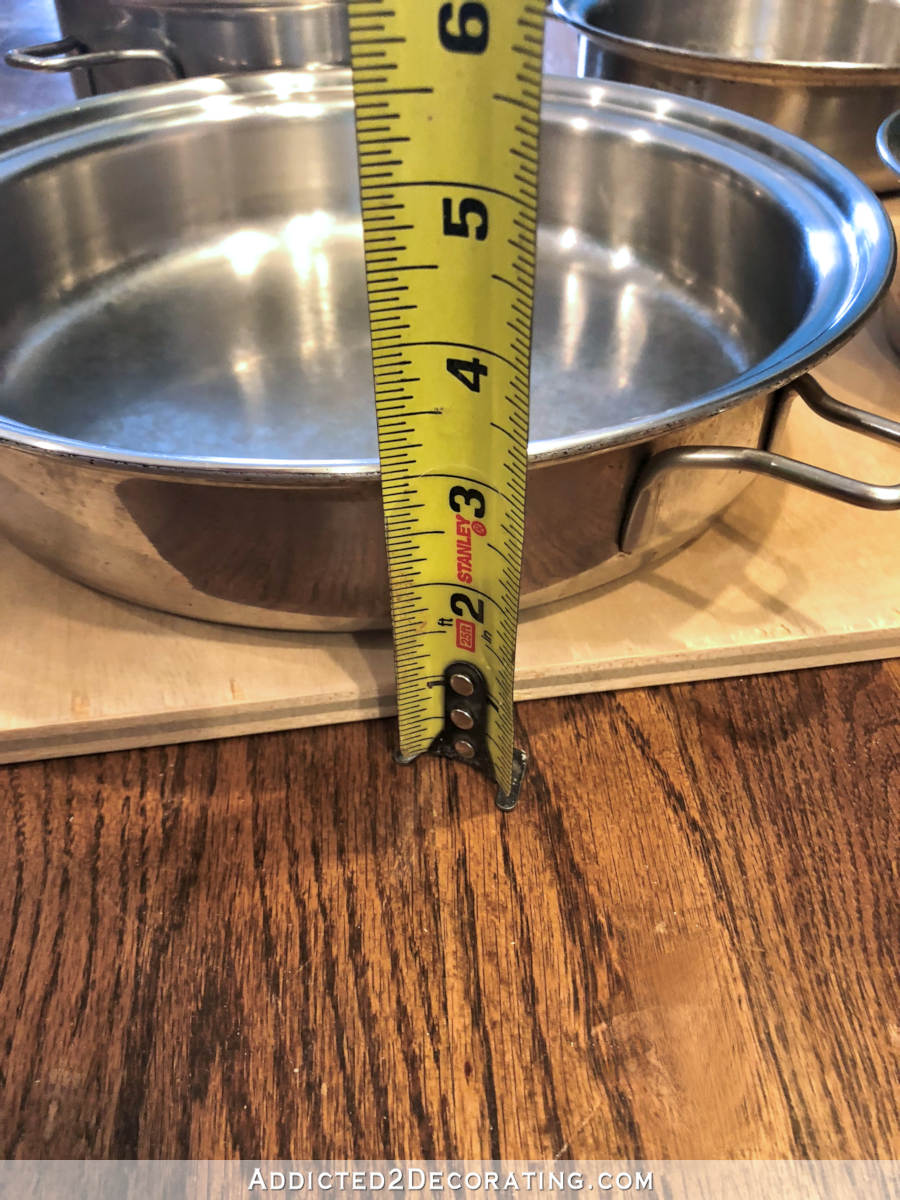 I settled on 2.5 inches for the height of the sides, and build a very basic box. I didn't take pictures of this process since I've done this (and shown y'all) so much lately, but you just cut your bottom piece, and then attach the side pieces to the edge of the bottom piece (and to each other) using 3/4-inch narrow crown staples and wood glue. I don't use fancy joints where the side pieces meet. Those are just butt joints glued and stapled to each other. It's really so easy.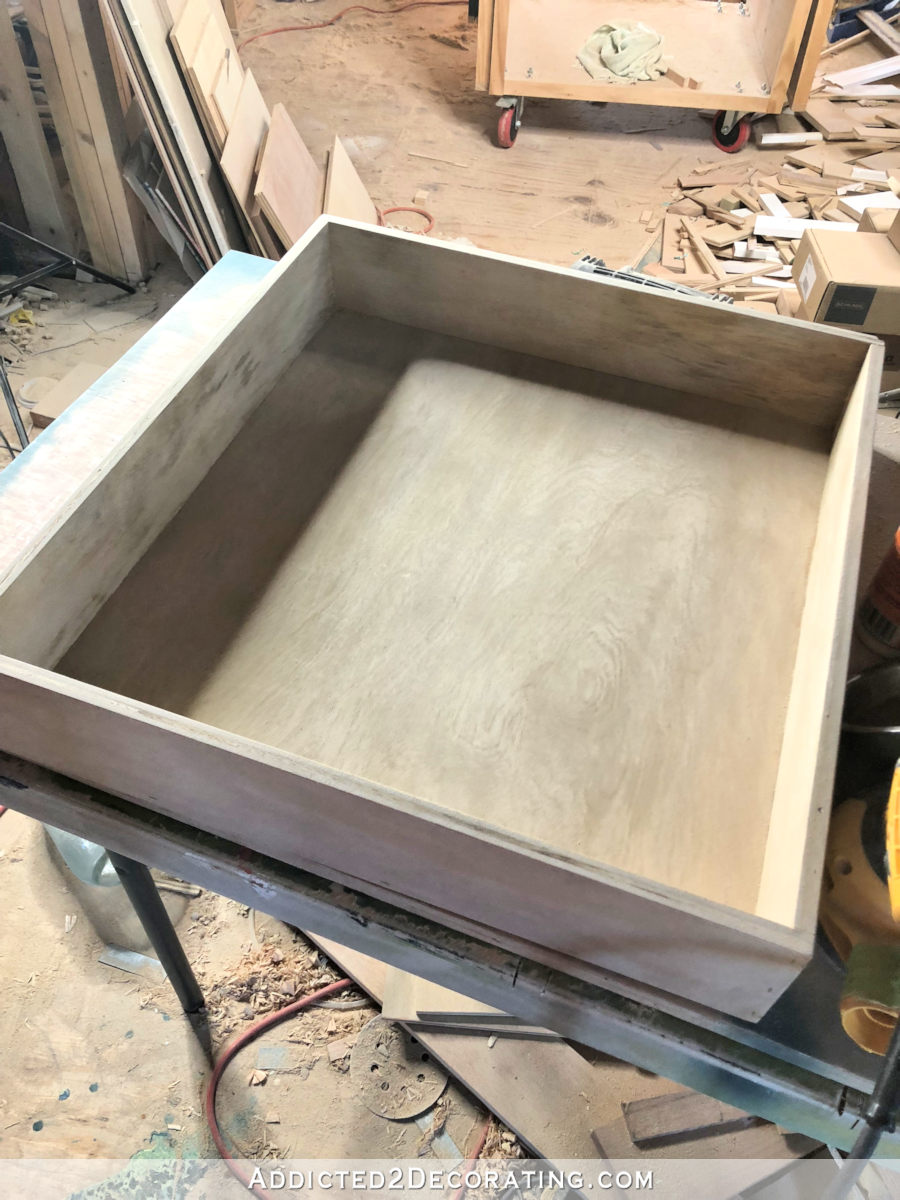 This bottom drawer required a bit of extra work since I wanted to convert the cabinet door from a door to what is basically a drawer front. First, I had to use a piece of 1/4-inch plywood to make the recessed panel area flush with the outside frame. I don't know of any nails or staples that would have worked for this without going through the face of the cabinet door, so I just used wood glue for this.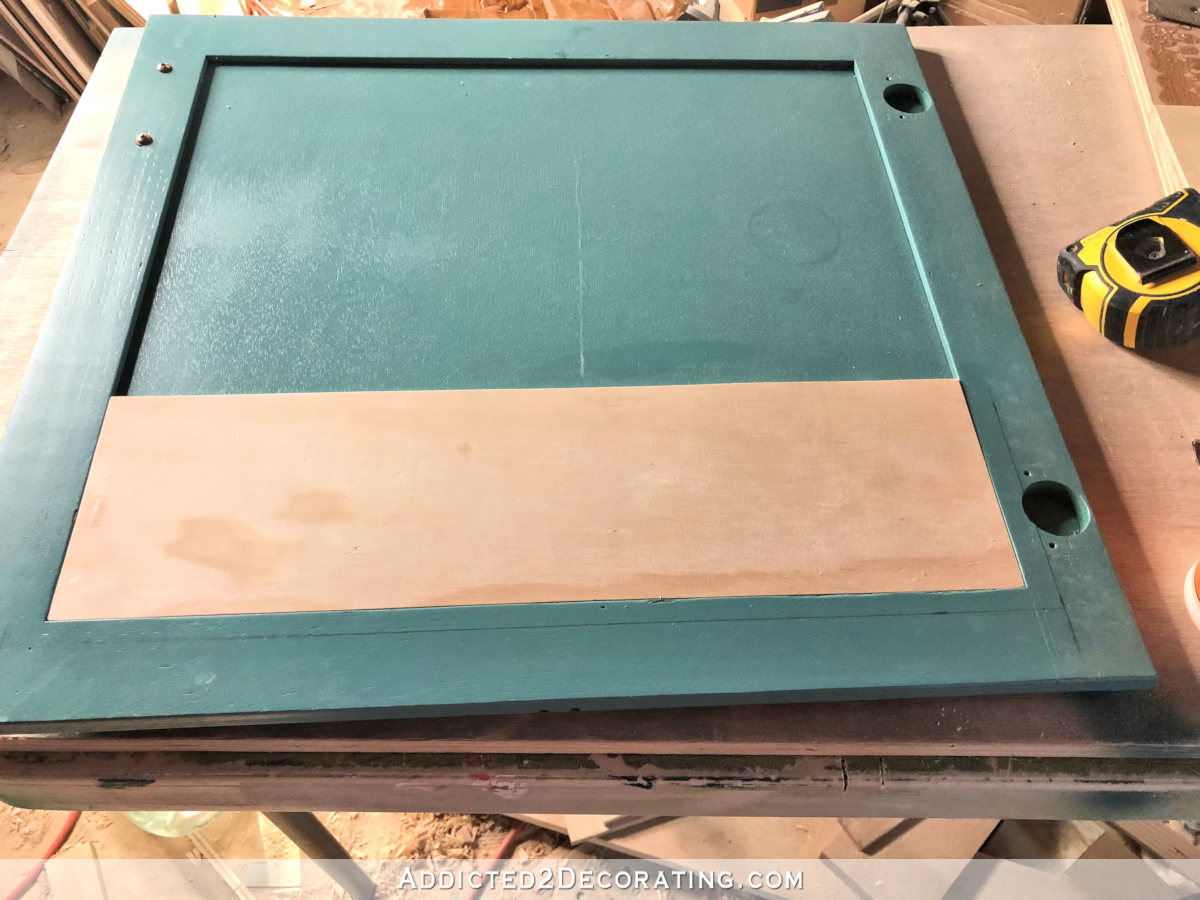 And I forgot to get a picture of this, but next I cut a piece of 3/4-inch plywood to fit the width of the pull-out drawer, but I made it eight inches high to cover all of the area that I had covered on the door with the 1/4-inch plywood. I didn't get a picture of the 3/4-inch plywood piece, but you can see the black lines on the picture below indicating the area that the 3/4-inch plywood covered.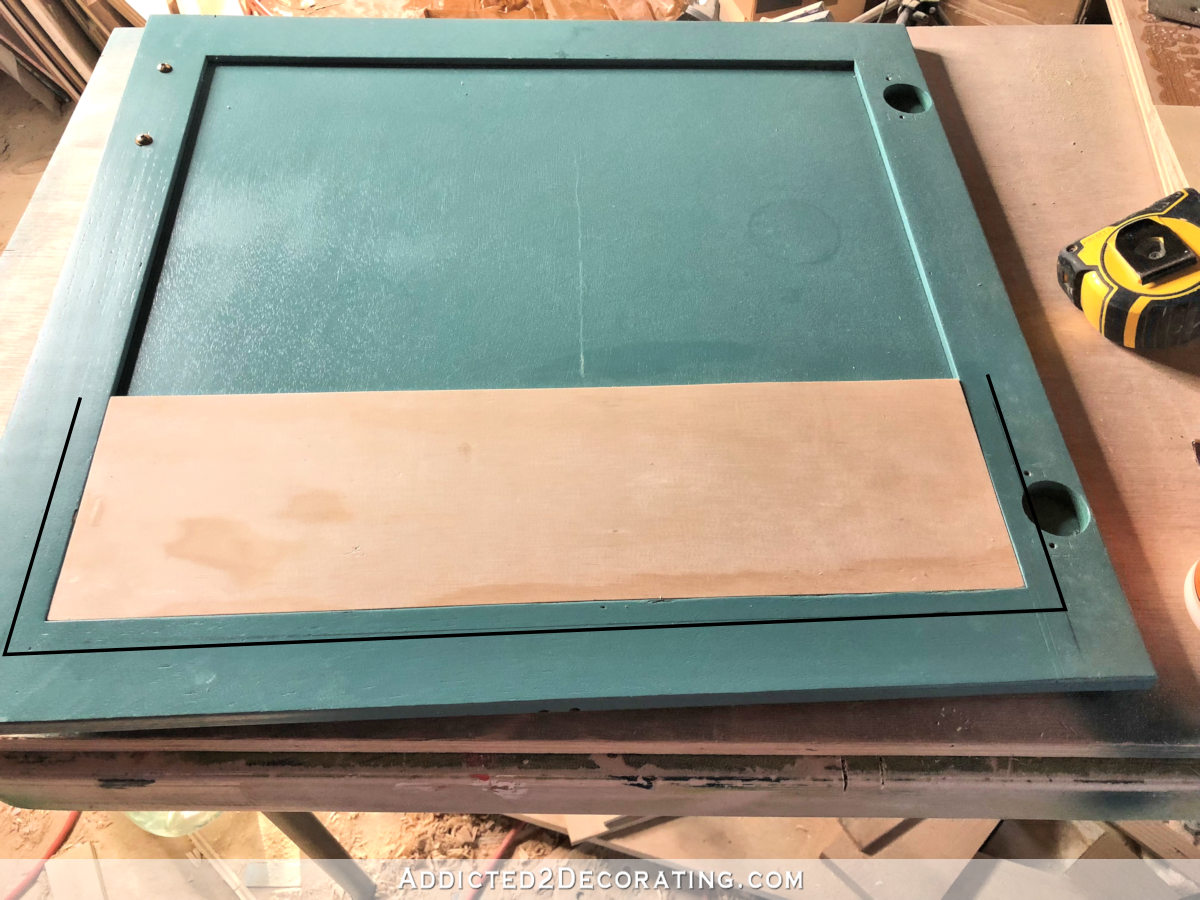 I attached that piece of 3/4-inch plywood to the front of the pull-out shelf first, using nails and wood glue. After giving it about 30 minutes for the glue to start drying, I then put wood glue on the area within the guidelines I had drawn on the back of the cabinet door, and then placed the pull-out shelf onto the back of the cabinet door, lined up the plywood with the guide lines I had drawn, and secured them together using 1.25-inch 16-gauge nails around the side edges. Note that I only put nails where they would go through the plywood and into the frame of the door, making sure that I didn't put any nails through the thin recessed panel on the door.
And after setting it aside for about an hour and letting the glue dry enough to hold (a few hours would have been preferable, but I'm impatient 😀 ), I put that bottom shelf in and added the pots and pans to test out how it worked.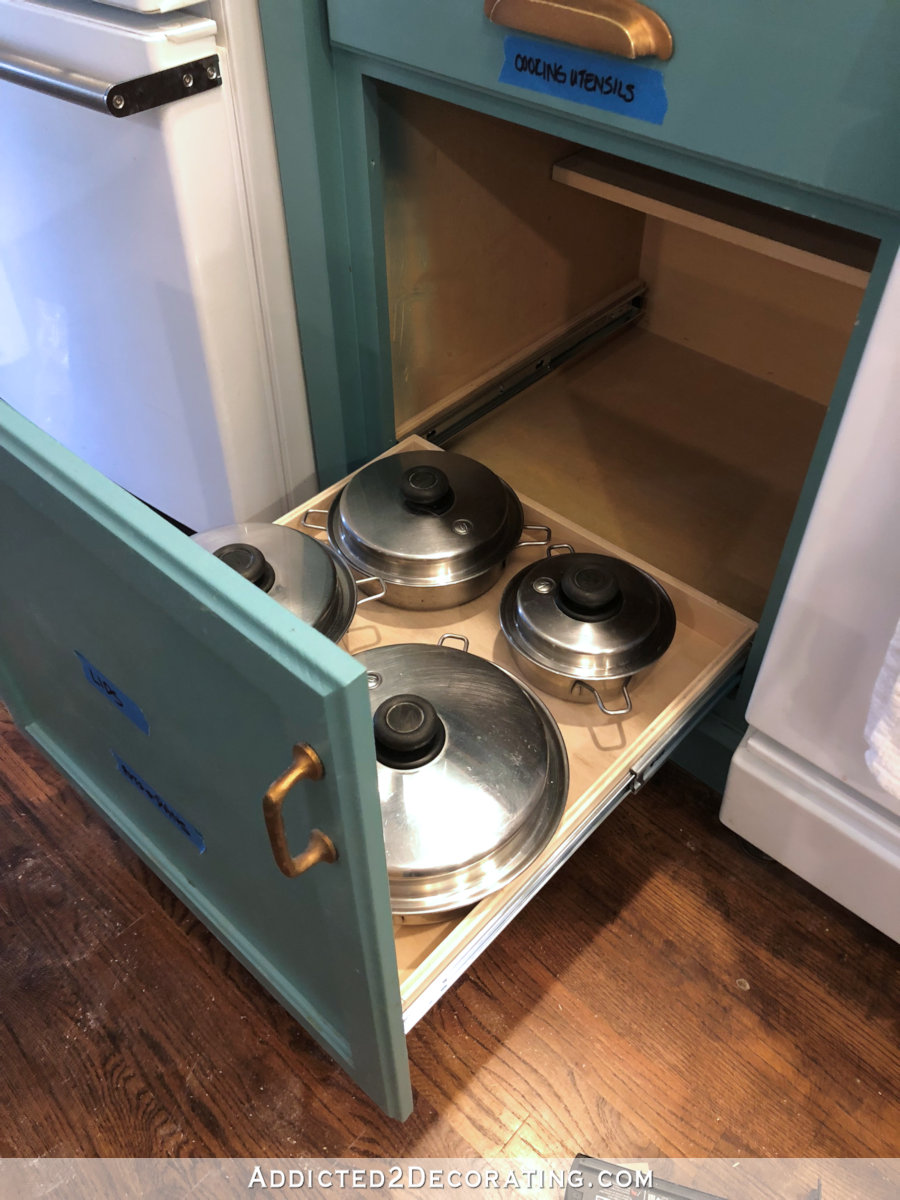 It worked perfectly! And with that in place, I could then measure for placement of the next (middle) shelf.
For the middle shelf, I installed the drawer slides, measured for the finished drawer width (yes, I measure again, even though it's the same cabinet), and made the second basic drawer box in the same way.
But for this drawer, I wanted to customize it a bit to hold the lids. So after the basic drawer box was built, I cut two pieces of plywood to serve as dividers, and then placed the lids in the drawer and determined the placement of the first divider.
With the placement determined, I measured how wide that space needed to be and cut two pieces of plywood to use as spacers…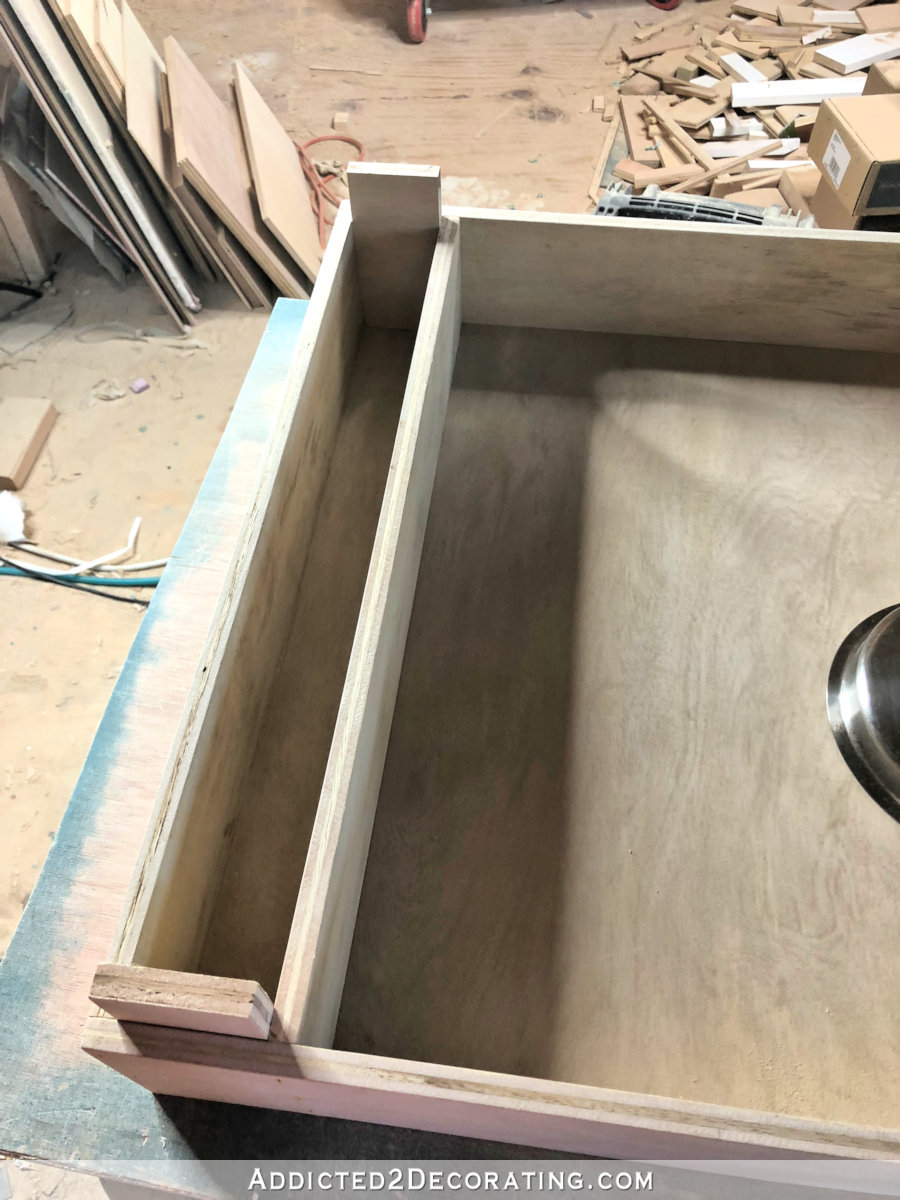 And then I stapled that divider into place, stapling straight through the front and back sides of the drawer box and into the edges of the divider. I repeated that process with the second divider. It wasn't until I thought the drawer box was finished and I had attached the drawer slides to the sides, inserted it into the cabinet, and loaded it with the lids and handles, that I decided I didn't really need such a big section for just for handles. So I decided to add one more divider and use the extra space to store my steamer insert. It was a bit more challenging to add that divider at that point, but I managed.
So here's how that second drawer turned out…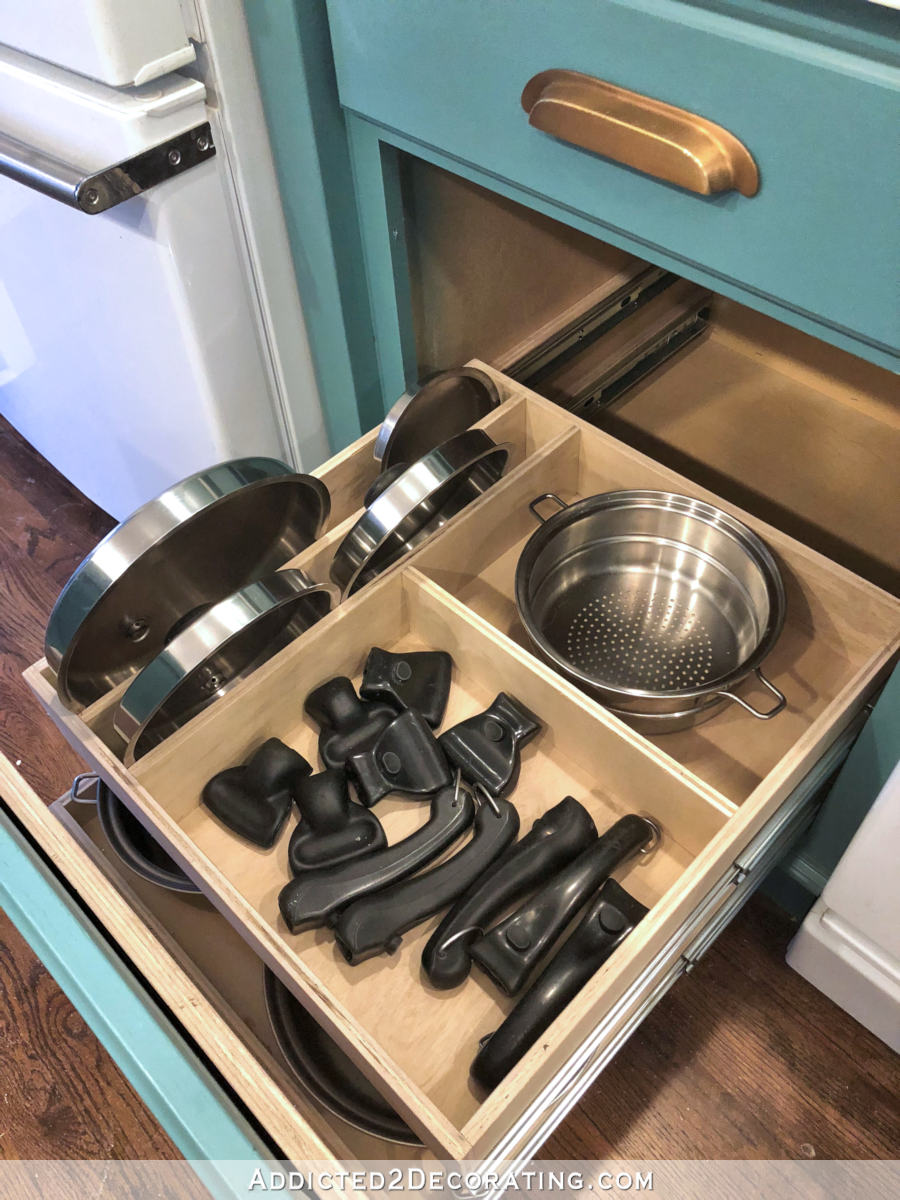 That's really all that I had planned for that cabinet, but I had just a little bit of space left at the top that I hated to waste. At first I thought about just making a shallow drawer for odds and ends, but then I remembered a comment from someone who used to have their measuring cups and spoons hanging on the inside of an upper cabinet door (which was part of my original plan), and she said that she liked having them stored that way, but the clanging and banging noises would scare her if she opened the door too fast. I hadn't even thought of that, and the idea of hearing those noises every time I open a cabinet door didn't really appeal to me.
So I decided to utilize that top shallow space in a similar way with each cup and spoon on its own cup hook and neatly labeled, but I'd only be pulling this out when I specifically needed a measuring cup or spoon. And bonus…no clanging noise!
I installed the drawer slides and measured for the drawer width just like I always do. But instead of starting this drawer box by cutting the bottom and then attaching the sides to the edges of the bottom piece, instead I cut the sides and stapled those together. Then I cut the piece for the bottom, but I cut it so that it was a bit too long and would sit at an angle…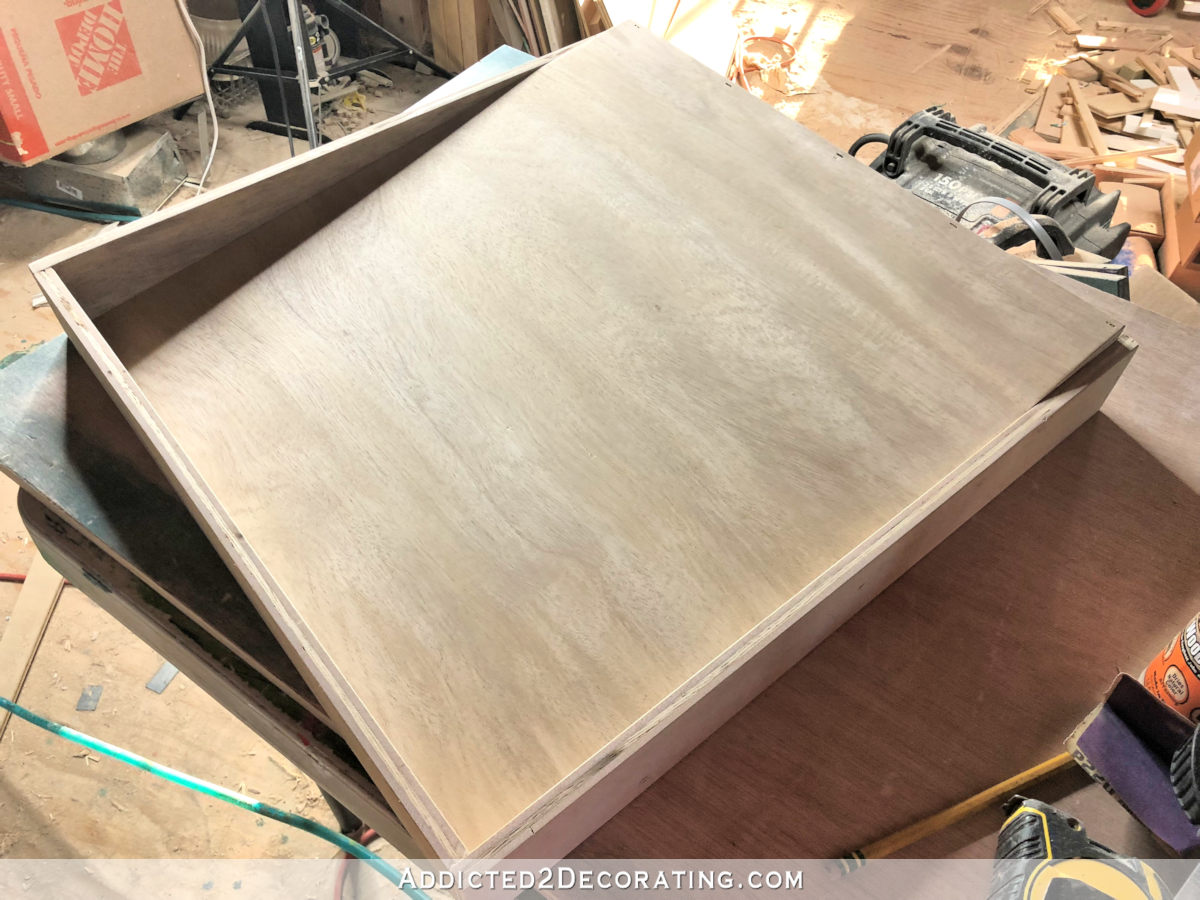 I had originally intended to cut the back edge at an angle and at just the right size so that it would fit perfectly inside and be flush with the edge of the back piece, but that would have also reduced the angle of the surface. I decided I much preferred a steeper angle on the surface than to have it fitting perfectly inside the sides of the drawer, so I just left it a bit too long and let it sit on top of the back piece. I stapled it into place just like that.
Then I added small cup hooks and labels so that each cup and spoon has an assigned spot. And because this pull-out is so close to the top of the cabinet frame, I also added a small wood knob on the front to make it easier to pull out.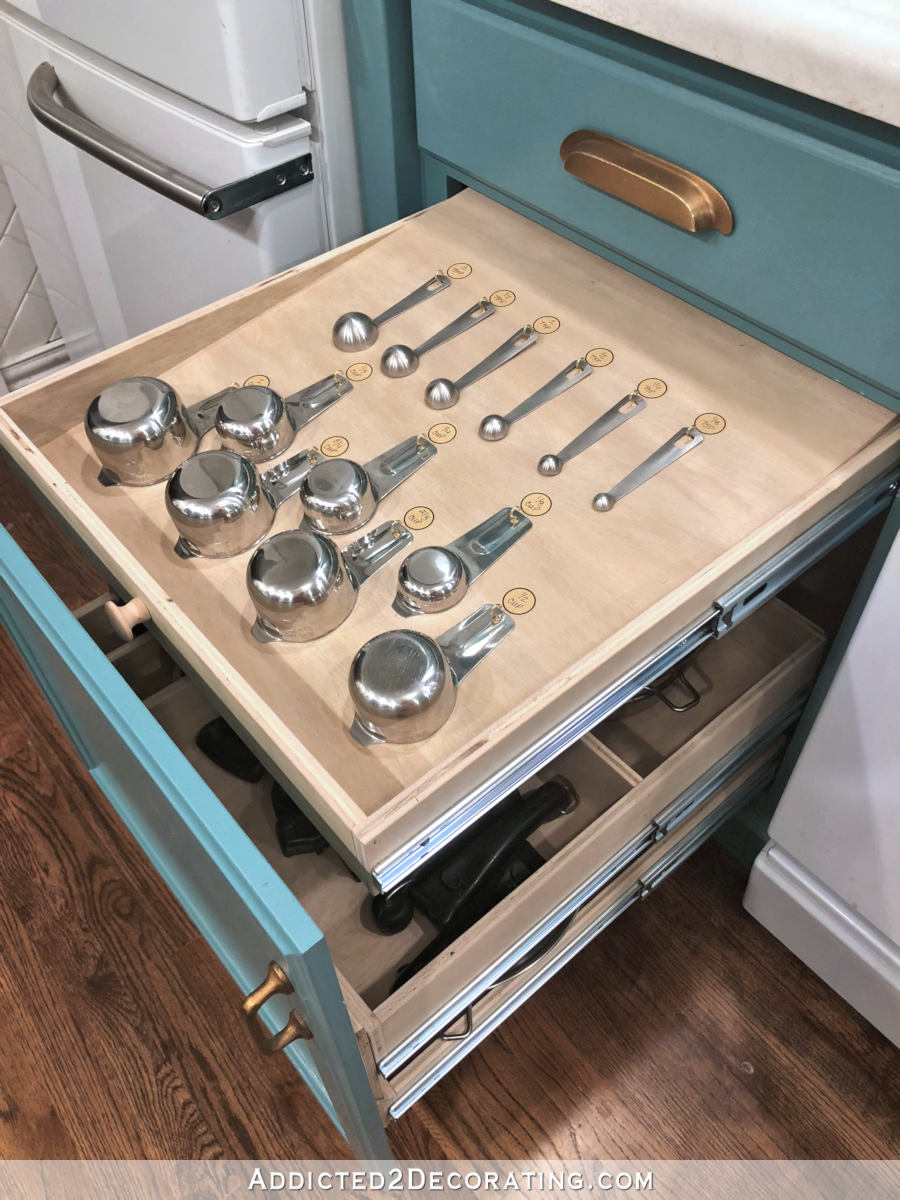 I'm so excited to finally have an organized cookware cabinet! Here's a final look at how it turned out.
The lower pull-out (attached to the drawer front that easily opens with the pull of the cabinet handle) with my four most-used pieces of cookware…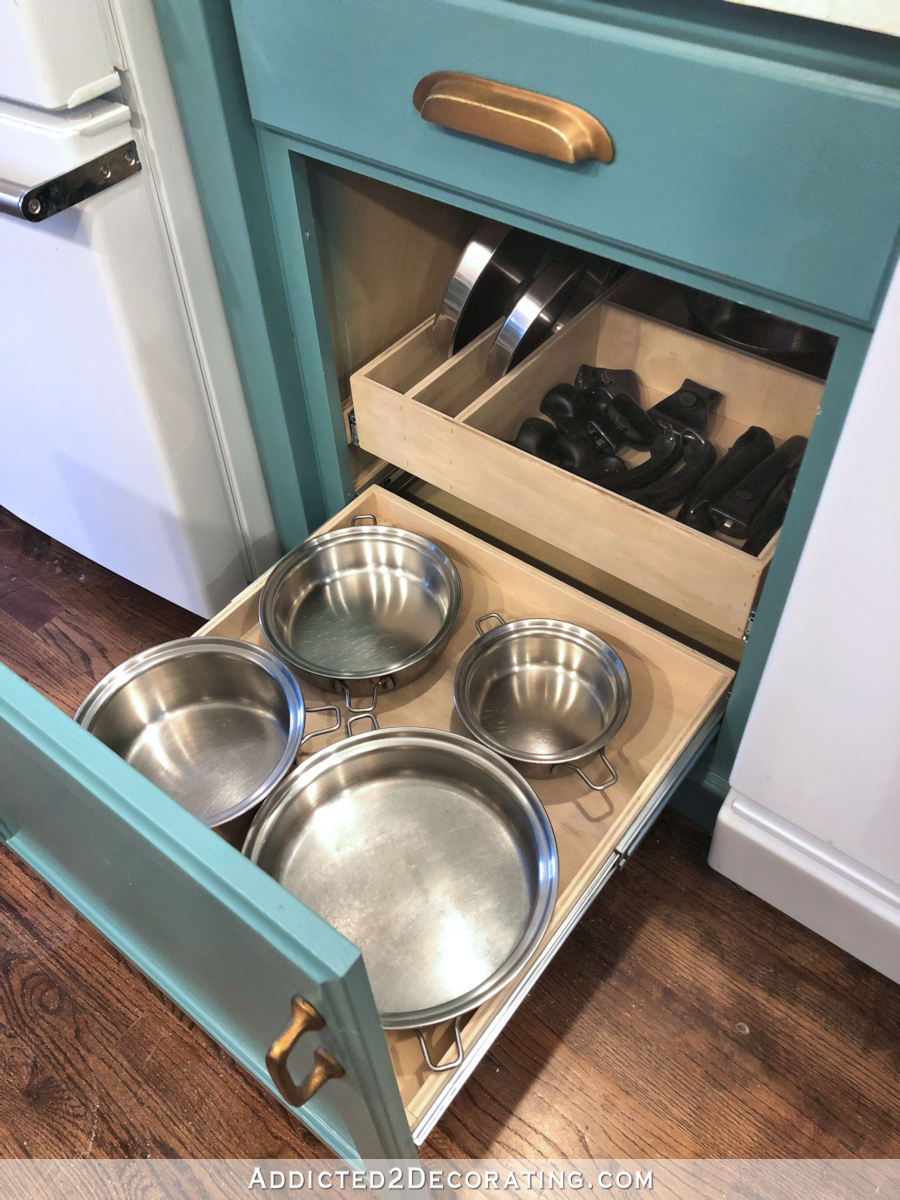 The middle shelf with the lids, handles, and steamer insert…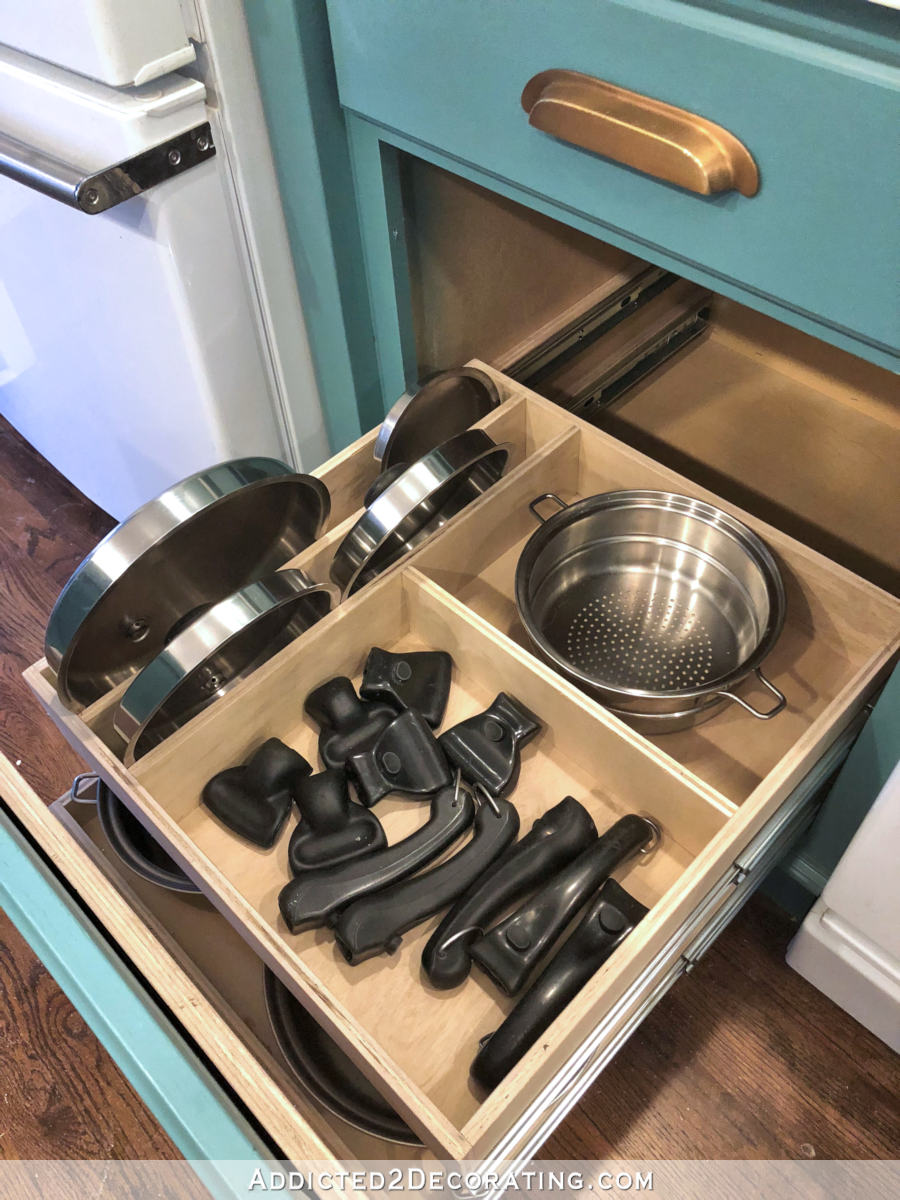 And a pull-out customized just for my own sanity with a labeled spot for each of my measuring cups and spoons…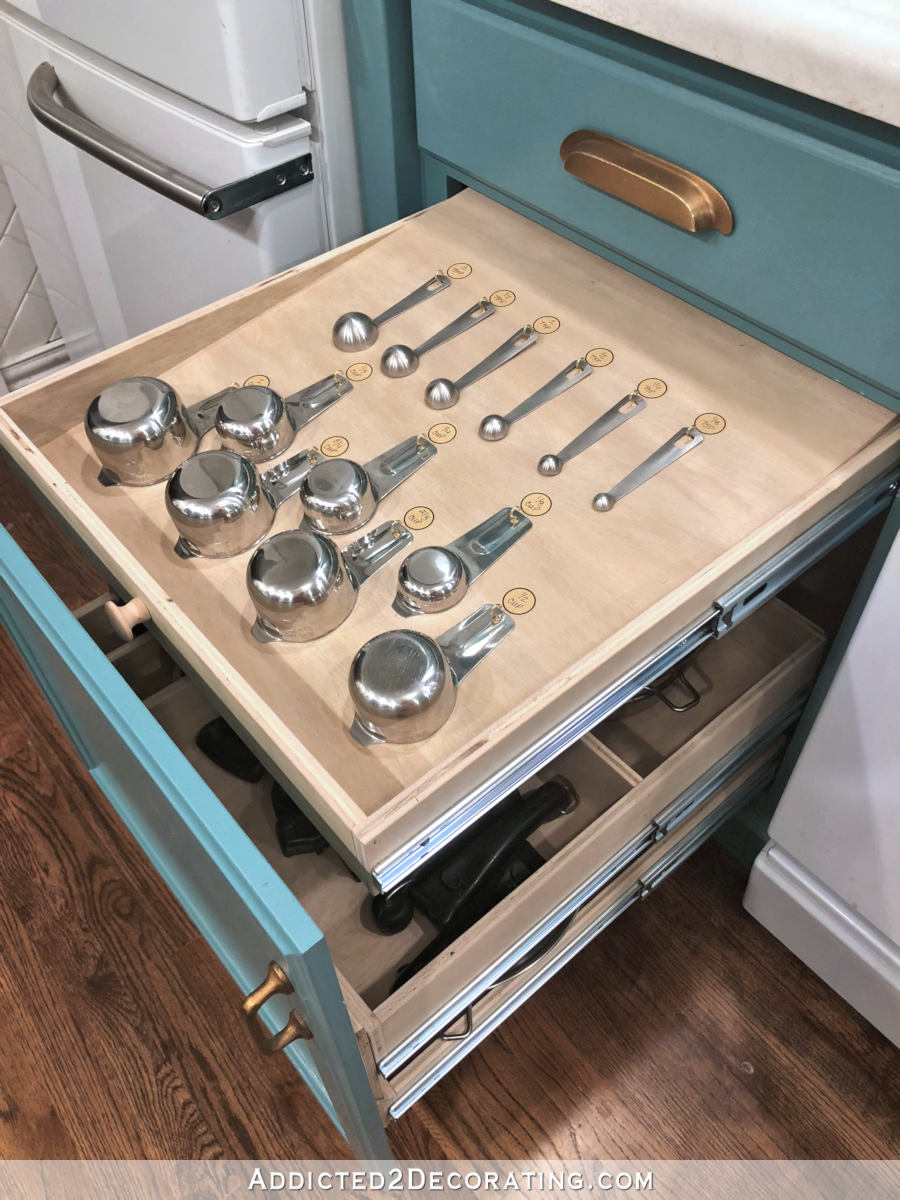 Now I know some of you are wondering, "Is that all the cookware you have?"
No, it's not. The cabinet to the right of the stove will house my four skillets and their lids. I also have an electric skillet, and electric pot (similar to a crock pot…kinda), a seven-quart pot, and an eight-quart pot, all of which were part of my Saladmaster cookware set. Since I don't use those pieces on a daily basis, they'll all find homes in the pantry. My goal was to just keep the cookware that I use on a daily basis in the kitchen cabinets and eliminate clutter and improve efficiency by moving the rest to the pantry.
This whole organization thing is addictive. I'm finally understanding why there are whole blogs dedicated to the topic. 😀