My Kitchen Organization Plan (I'm Becoming Addicted 2 Organization!)
I have a few more pull-out shelves to build and install in the pantry before I can call it finished, but I decided that before I make those, I really need to have a general idea of what's going in them so that I'll know how much height each one will need.
So that required that I go through all of my kitchen cabinets and decide exactly what will stay in the kitchen and what will be moved to the pantry. You know that saying "it has to be worse before it gets better"? Yeah. During this process, my kitchen looked like the cabinets exploded. I dragged almost everything out of the cabinets and drawers, put everything on the kitchen floor and countertops, and then decided just how I wanted my new organized and efficient kitchen to be arranged.
And as of this morning, it's still a huge mess. I still have stuff strewn on the floor and piled on the countertops…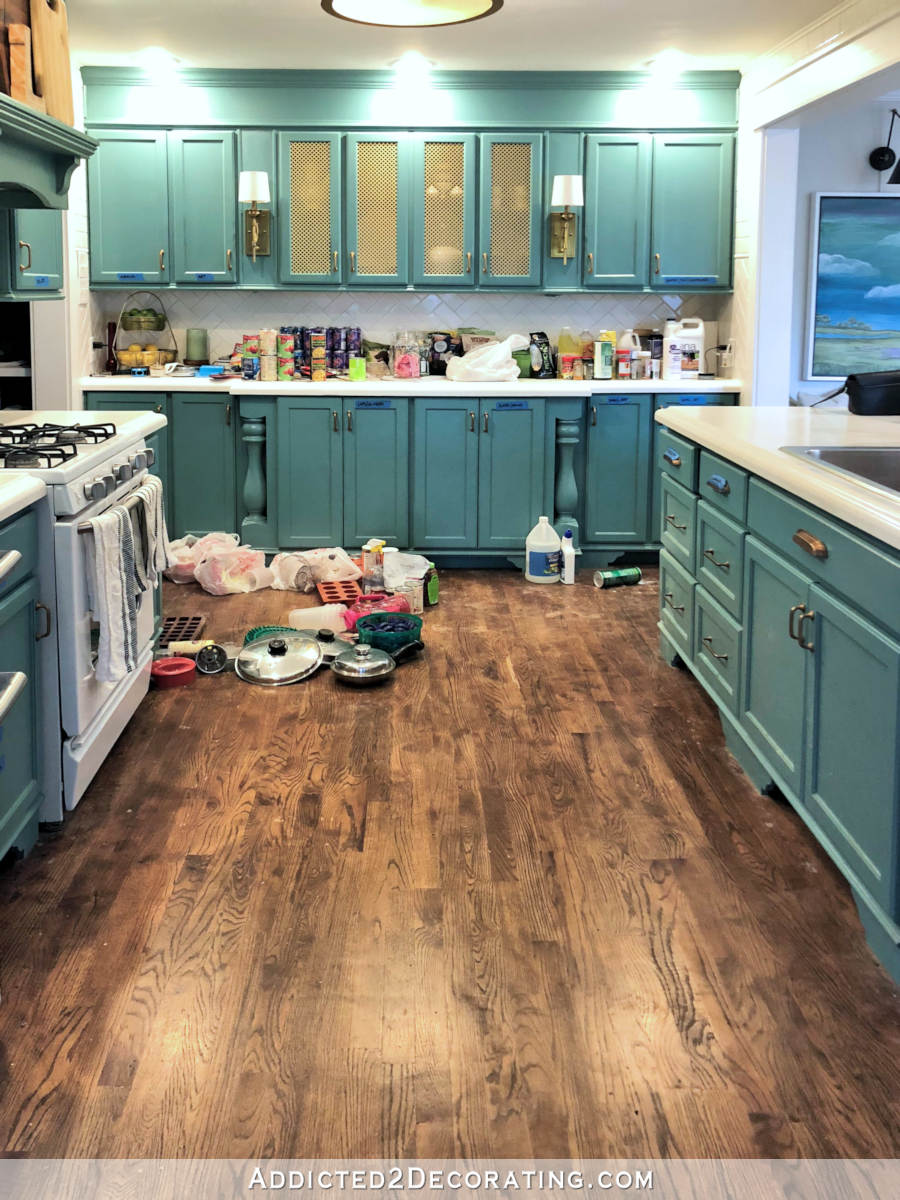 …but I'm so excited about where things are headed. When this project is finished, there will be a place for everything, and everything will be in its place. And I'm going to have a super organized and efficient kitchen like I've never had before.
So after emptying the drawers and cabinets, it was time to decide just what I wanted to keep in the kitchen, and exactly where those things will go. This process surprised me. It was much more challenging than I had anticipated.
Obviously, I knew that cookware needed to be by the stove. Shortly after Matt and I got married in 2002, we bought a set of Saladmaster cookware. It's the only thing I use, and I don't see myself ever using anything else. So in my set of cookware, there are four pieces that I use on an almost-daily basis. So those will go in this cabinet to the left of the stove, along with the lids and then handles. (Saladmaster cookware has removable and interchangeable handles.)
That door also has the "skillets" label on it, but I think those will be moved to the other side.
So in order to create my efficient and easy-to-access storage for my most-used pans, I need to build three pull-out shelves — a bottom shelf for the four pans, a middle shelf for the four lids, and a top shelf for the handles. Then I'll remove the cabinet drawer and attach it as a drawer front on the lower pull-out shelf. That way I can access the bottom pull-out shelf with one pull rather than having to open a door and then pull out a shelf.
The idea will be similar to this design except that mine will have a cabinet door front instead of a drawer front, and I'll essentially have a drawer and two pull-out shelves instead of a drawer and one pull out shelf.
Above that cabinet will be the cooking utensil drawer. I want to create some dividers to go in that drawer so that it'll stay organized and look something like this organized drawer. So while that will require a bit of time to cut and glue some pieces of thin wood inside the drawer, it's not a big project like the drawer-building will be for the lower cabinet.
The upper cabinet on that side is where I used to store all of my cooking oils and spices. It was a mess.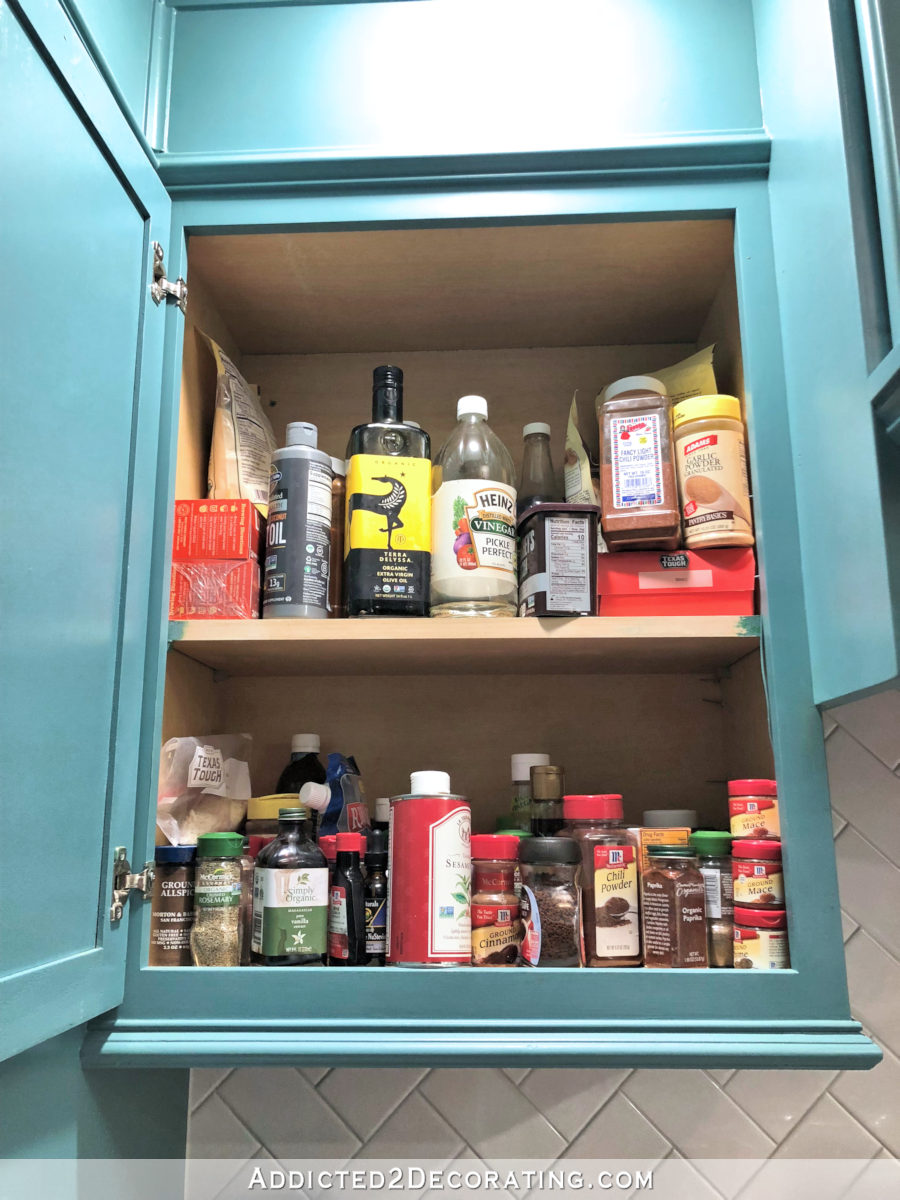 But now that cabinet will now house my mixing bowls, collander, strainer, and salad spinner — basically all of my food prep bowls. I'm also hoping to organize my measuring cups and measuring spoons on the inside of the cabinet door, with a separate hook for each one. I want it to look like this one.
In the lower cabinet on the other side of the stove is where I will store my large pots with their lids…
And I'm also thinking that my skillets will need to go in there as well. That cabinet will also require a couple of pull-out shelves with the cabinet door reattached to the front of the lower pull-out drawer, just like I plan to do on the other side.
Above that is my new spice drawer, which is the only part of my kitchen that's completely organized at the moment, and yes, I did put them in alphabetical order. 🙂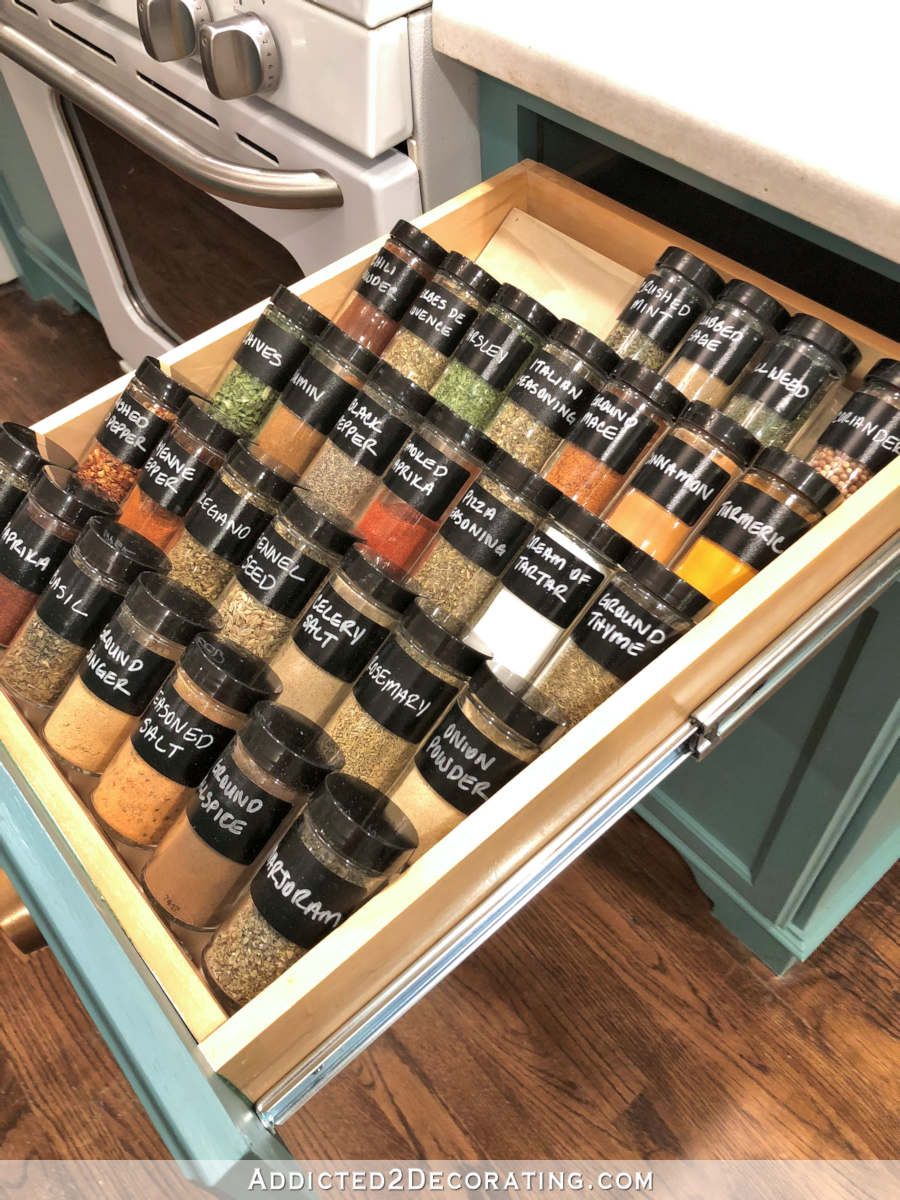 I love how handy and organized my spices are now! You can click here to see how I made the tiered spice drawer insert.
The upper cabinet on this side of the stove will be my new cooking oil/spice/extract cabinet. I don't think this cabinet will require any customization/building projects. I might need to adjust the height of the shelf, and possibly add an additional shelf, but that's about it.
The only spices I'll keep in there are the ones I use in very large quantities, like cayenne pepper, salt, Johnny's seasoned salt, etc. If I have extras of other spices that are already in my spice drawer, I'll keep those in the pantry.
The back wall of cabinets is getting completely reorganized. Almost nothing is staying where it was. But thankfully, I don't think any of these cabinets will require any building projects. At most, I might have to add an additional shelf here and there.
The one cabinet that is staying the same is my coffee and tea cabinet.
Matt loves coffee, so on days when I make it for him, I'll also enjoy a cup. But unsweet tea from Sonic is my drink of choice. I think one cabinet will be enough to store our Sweet N Low, stevia, lemon packets, coffee, French press, etc., but if not, I've left the small cabinet to the left without an assignment so I can spread those thing out to two cabinets if needed.
Other than possibly needing to add an additional shelf inside the cabinet(s), these won't require any major projects to get them organized.
The cabinets below that used to house cleaning products, but I don't want those in the kitchen anymore, other than a couple of spray bottles that will go under the kitchen sink. Stuff like that will eventually reside in the laundry/utility room (which has yet to be built), so until then, I'll probably have enough room in the pantry for them. That frees up that space to now house my four most-used small appliances — the coffee maker, my hand mixer, my new ice cream maker that Matt bought me (he got me this one, and I love it, though I'm still trying to perfect my keto full fat/no sugar ice cream recipe), and my food processor.
Those cabinets won't need any special projects, and they don't even need any additional shelves. I do need to adjust the height of one shelf, but that will take all of two minutes.
These middle lower cabinets used to be my "pantry." The two on the right are where I'd store all of my flours, sweeteners, and other baking ingredients. The two on the left are where I'd keep broths and canned goods. Those will all be moved to the actual pantry now, and this will be our new home for plates, bowls, glasses, cups, etc. I love the idea of having these stored low so that Matt can easily access them.
These might require the addition of an extra shelf, but other than that, there are no building projects required to get those ready.
The lower cabinets to the left don't yet have an assignment. I still need a place for plastic storage containers and lids, so these cabinets might work for that. But I also have two drawers that don't yet have an assignment. I haven't decided yet if cabinets or drawer are better for plastic storage containers.
The good thing is that those cabinets are only 12 inches deep, so there's not a lot of room for plastic containers and lids to get lost in there. I might need to add one or two new shelves, and then come up with a way to keep the lids tidy (a basket, perhaps?), but I think these might be perfect for container storage.
And then above that will will be our vitamin cabinet and then the cabinet for vitamins and treats for our furbies.
So basically, this entire back wall of cabinets will require nothing more than the addition of a few extra shelves inside some of the cabinets to be ready for my new efficient and organized lifestyle. 😀 That's a relief, because the other two banks of lower cabinets will require much more work.
Moving on to the peninsula, I plan to convert this outer column of drawers into one large pull-out trash can.
I plan to do it in such a way that it'll look exactly as it does now once it's finished, but the drawer fronts will simply be a facade for one big pull-out trash can rather than three individual drawers.
Right now, I have a small pull-out trash can under the sink, and I.HATE.IT. It's so small that I can throw two things away and fill up the trash can. It's ridiculous and frustrating, so as the week goes on, I find myself pulling out a big black contractor bag and wrapping the top edge around the end drawer. So then I've got a big black trash bag visible in my kitchen. I'm so done with tiny inefficient trash cans and big black contractor bags visible in my kitchen. I'm ready to solve my garbage can problem, but that will be quite a project. I hope I can pull it off!
Next to that will be the flatware drawer, which I hope to organize with dividers in a similar way to the cooking utensil drawer.
The two drawers below that don't have an assignment just yet. One of them used to be my paper towel drawer (you can click here if you missed that), so I might keep it like that, or I can use it for something else if I find a better use for it.
And I'll finish off with what I'm sure will be a controversial decision. 😀 I've decided for sure to get rid of my dishwasher. I proposed this idea before, but after reading comments urging me not to do it, I backed away from the idea. But I'm back on the "get rid of it" train.
The fact of the matter is that this thing hasn't been turned on in probably two years. In the time since I did my original kitchen remodel (which I finished in October 2014) and installed this dishwasher, I've probably used it a total of four or five times. That's it. That's an average of about once a year. I wash all of my dishes by hand, and have for years now, so this thing is nothing but a big, bulky drying rack.
And I've decided that I need that space for other things. The main thing I want/need is storage for veggies that don't require refrigeration — avocados, onions, tomatoes, etc. We eat mostly fresh and frozen foods (nothing out of boxes, and rarely out of cans), so I need as much fresh food storage as possible. Since I hate having things clutter up my countertops, I always end up putting those types of fruits and veggies in my fridge, and then I run out of space in there for things that actually do need refrigeration.
So I don't need or want a dishwasher. I do need and want pull-out basket storage for fresh fruits and veggies that don't need refrigeration. I want it to look something like this. So that will be quite a big project. I don't foresee myself needing all three baskets for fruits and veggies, though, so I can use two of them for for my plastic wraps, plastic storage bags, parchment paper, pot holders, oven mitts, etc.
This was a fun exercise, and I'm so excited about having an actual efficient, usable kitchen that I can cook in every day and not waste time looking for lost items. Anything that can make cooking a little more tolerable to me is well worth the effort.
And now that I know exactly what will stay in the kitchen, I also know what needs to go to the pantry. I have a much better idea now of how the remaining cabinets needs to be arranged.
Addicted 2 Decorating is where I share my DIY and decorating journey as I remodel and decorate the 1948 fixer upper that my husband, Matt, and I bought in 2013. Matt has M.S. and is unable to do physical work, so I do the majority of the work on the house by myself. You can learn more about me here.