Well, y'all, I'm feeling stalled on my dining room. I have so many repetitive projects still to do in there — four more Roman shades, one more built-from-scratch wingback chair, six side chairs to upholster — and it's feeling a bit overwhelming, especially since I've kind of convinced myself that I HAVE TO get these things done before I can move on to something else. I don't work well when I put those limitations on myself.
So for now, I'm going to start spending my days working on the big projects in the hallway, while spending any "free" time catching up on those repetitive dining room projects until they're finished. In the meantime, Matt and I are going to get the floor leveled in the breakfast room/pantry and have the room drywalled so that that room will be ready for me to start on as soon as I'm finished in the hallway and dining room.
I've already done quite a bit of work in the hallway, but it still looks like a construction zone.
When we bought the house, the hallway had two closets opposite each other right at the doorway into the hallway. The bigger closet was obviously an add-on, and was probably built sometime in the 70's, if the door hardware is any indication. I ripped that closet out before we even moved in, and before I refinished the hardwood floors.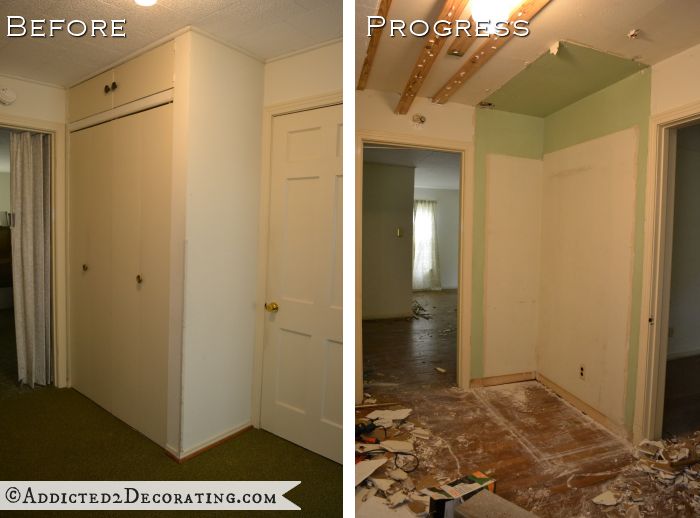 The other closet that was opposite that one was original to the house. It was the original coat closet.
But then when the furnace was added, that closet was used to house the huge intake duct. I tore out that closet, and the duct, when I remodeled the hallway bathroom.
Getting that massive duct out of there by myself was no easy feat, I can assure you. But I finally got it all out of there, and was able to move and widen the bathroom door. The bathroom now has double doors on it that open out into the hallway. It's a bit unconventional, but it made the bathroom feel so much more spacious without a big door swinging into the bathroom.
And also during that remodel, I added new drywall in the hallway on the wall between the hallway and bathroom.
So while that's quite a bit of work that I've done so far, it's still no where near finished. One room (my office) doesn't have a door on it at all. It was only one of two original 30-inch (or was it 32-inch?) doors in the house, and I needed both of those doors to make my sliding doors in the music room.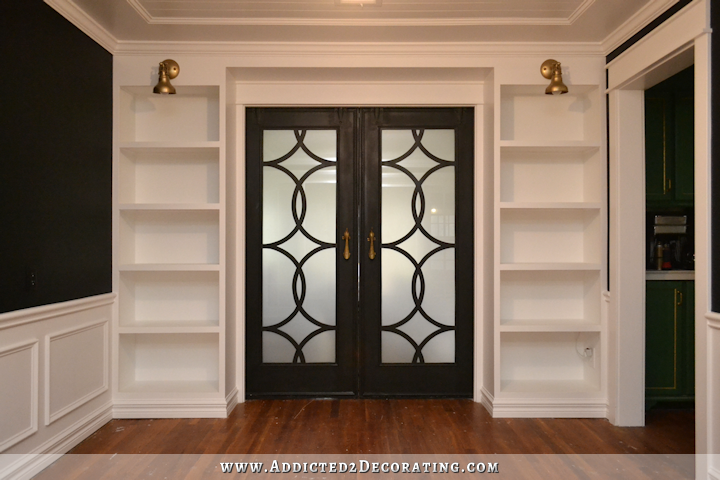 So my office hasn't had a door on it quite some time. The other two rooms still have the original doors on them, and they're still covered in random paint samples and stain from way back when I thought I might keep the original doors and even strip and stain them. This is an old picture (from before I removed my office door on the far left, and even before the bathroom remodel), and yet these two doors still look like this.
So that looks like a complete mess.
Here's the plan:
1. Finish installing the rest of the drywall, and tape/float the seams. (Fortunately, it's a small hallway, and there's not much drywall that needs to be done.)
2. Install new doors on the rooms.
3. Install new trim — door casings, crown moulding, baseboards.
4. Find an awesome ceiling light.
5. Sand and re-Waterlox the floor (just like I did in the entryway and dining room recently).
6. Build a hall tree.
That last one is going to be the fun project for the hallway. I no longer have a coat closet, and I really don't want one. Any closet added to this hallway will make it start feeling cramped and small again. I like the open feeling. So a built-in hall tree will give people a place to hang coats and scarves (during those two months of cold-ish weather we might possibly get each year 😀 ) and purses, etc., without making the hallway feel cramped.
I shared several ideas for a hall tree a while back, but I'm leaning towards some variation of this…
via Kohler
I like the painted finish with the stained wood seat and the upholstered cushion. I think I would like cabinets on the top, though. So we'll see what I can come up with. I'll have plenty of time to come up with just the right design while I'm working on the drywall, doors, and trim that have to be done first.
So I'll be circling back around to the dining room at some point, as I can find time (and motivation) to get all of those redundant projects finished. In the meantime, hopefully I can start making progress elsewhere. I feel like I've been spinning my wheels for a while now, and this year will be over before we know it. There are just over five months left, and I really want to end this year feeling like I've made a great deal of progress. Right now, I'm feeling like this year so far has been a wash. I don't like that feeling at all, so I need to get busy wherever I feel motivated to work. And right now, I feel like I can find motivation in the hallway.
Addicted 2 Decorating is where I share my DIY and decorating journey as I remodel and decorate the 1948 fixer upper that my husband, Matt, and I bought in 2013. Matt has M.S. and is unable to do physical work, so I do the majority of the work on the house by myself. You can learn more about me here.