My plan for my pantry includes four L-shaped open shelves, and I got the first one built yesterday. To be honest, I was a little uncertain about this project. As much as I wanted them to be floating shelves (i.e., no brackets or supports showing), I was mentally preparing myself to have to use brackets since the shelf would have one non-supported end. That would mean drilling holes into my new tile backsplash for the brackets, which I was dreading. I really didn't want to do that, but I was certain that a true floating shelf just wouldn't support enough weight.
Well, I was wrong. This shelf is so incredibly sturdy, and there will be no brackets needed at all. I'm pretty dang excited about that! Here's how the first shelf turned out…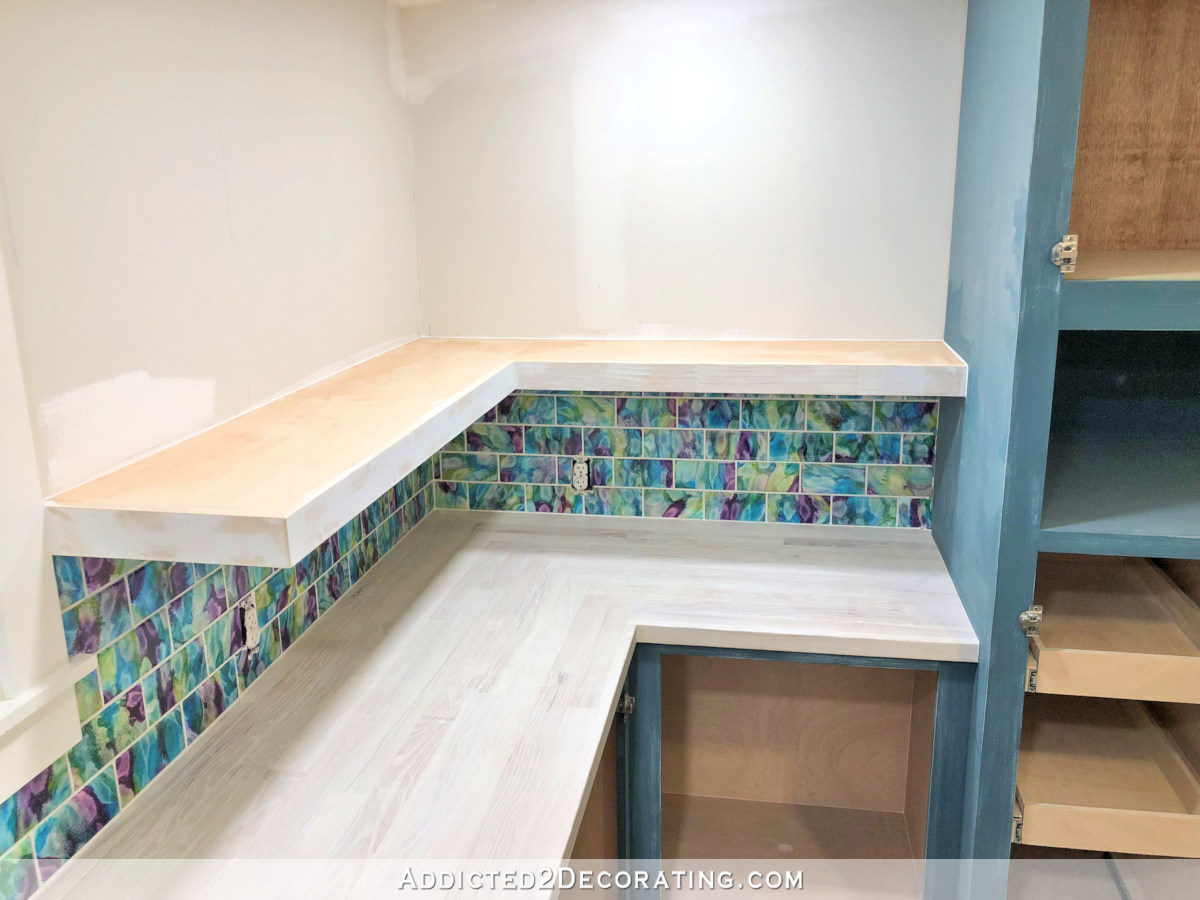 Obviously, it still needs to be primed and painted, but I'll wait and do that after all four shelves are built. The shelves and upper wall will all be painted the same white, so I'll just do it all at the same time.
So let me show you how I built it.
I started on the side wall since it has support on each end (i.e., the cabinet and the wall) and would be the easiest to build. I measured the width for the shelf…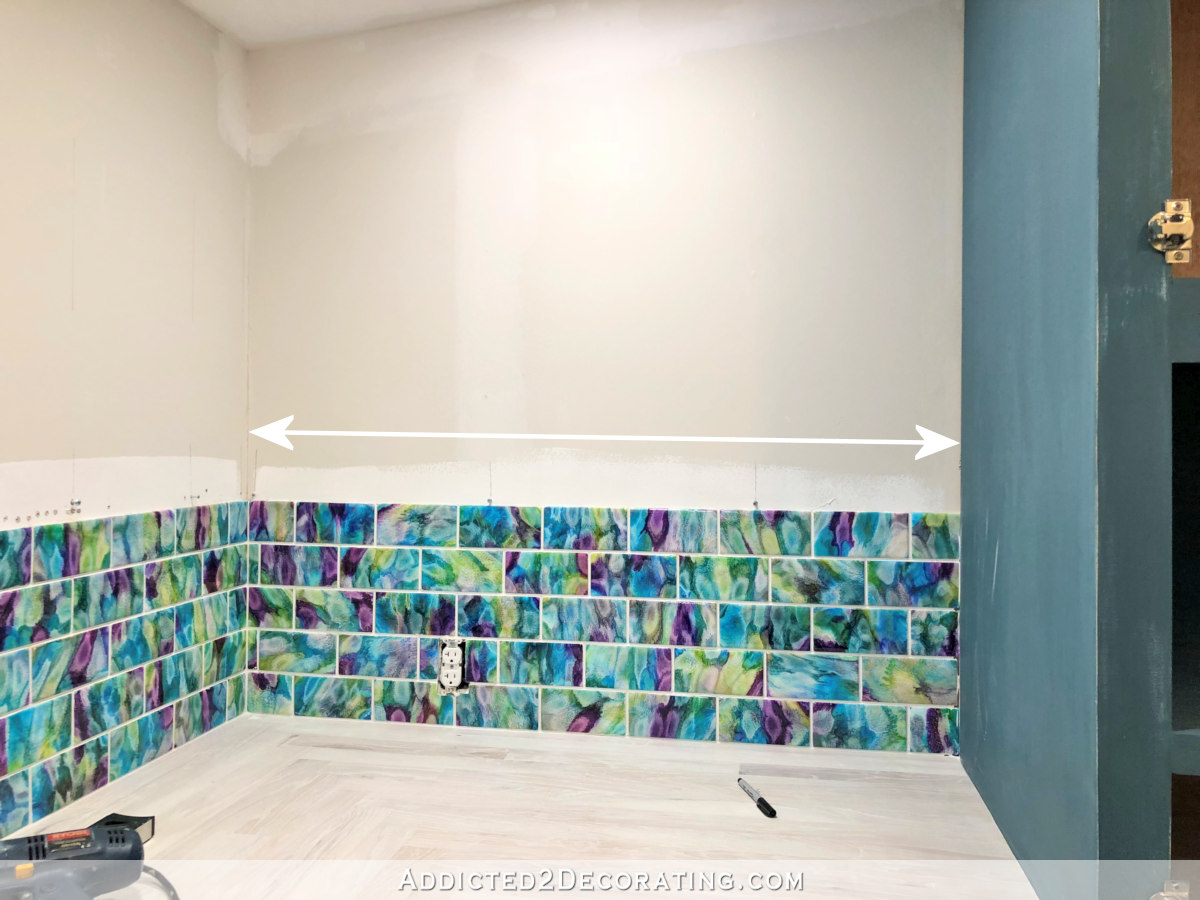 …and then I cut a piece of 1″ x 2″ lumber that same width. I had marked the location of the studs on the wall, so I transferred those same marks to this piece of lumber.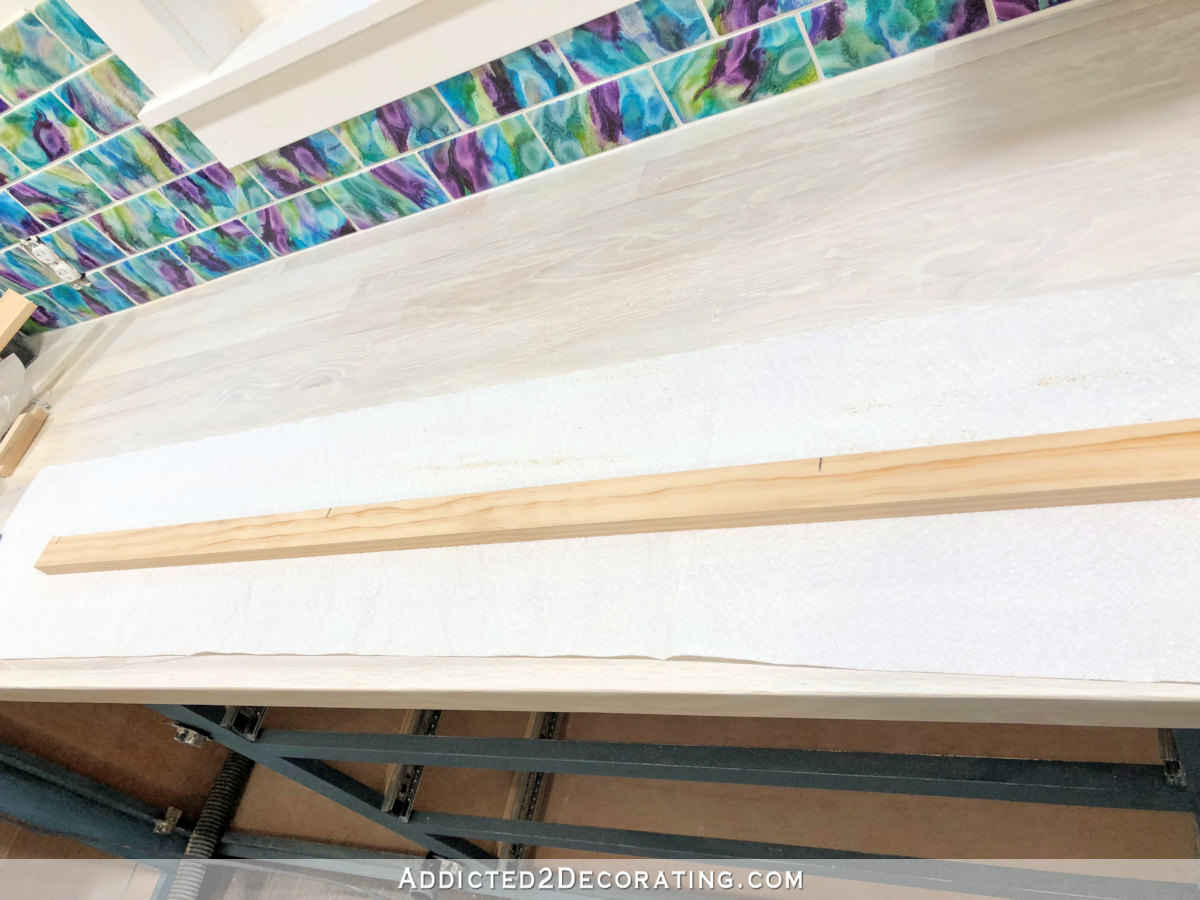 Next I cut three pieces of 2″ x 2″ lumber, cut to 10.5 inches, and spaced them relatively evenly on the 1″ x 2″ board, avoiding the areas were I marked for studs. Then I attached these to the 1″ x 2″ board using wood glue and two 2.5-inch screws per piece screwed through the 1″ x 2″ board and into the ends of the 2″ x 2″ pieces.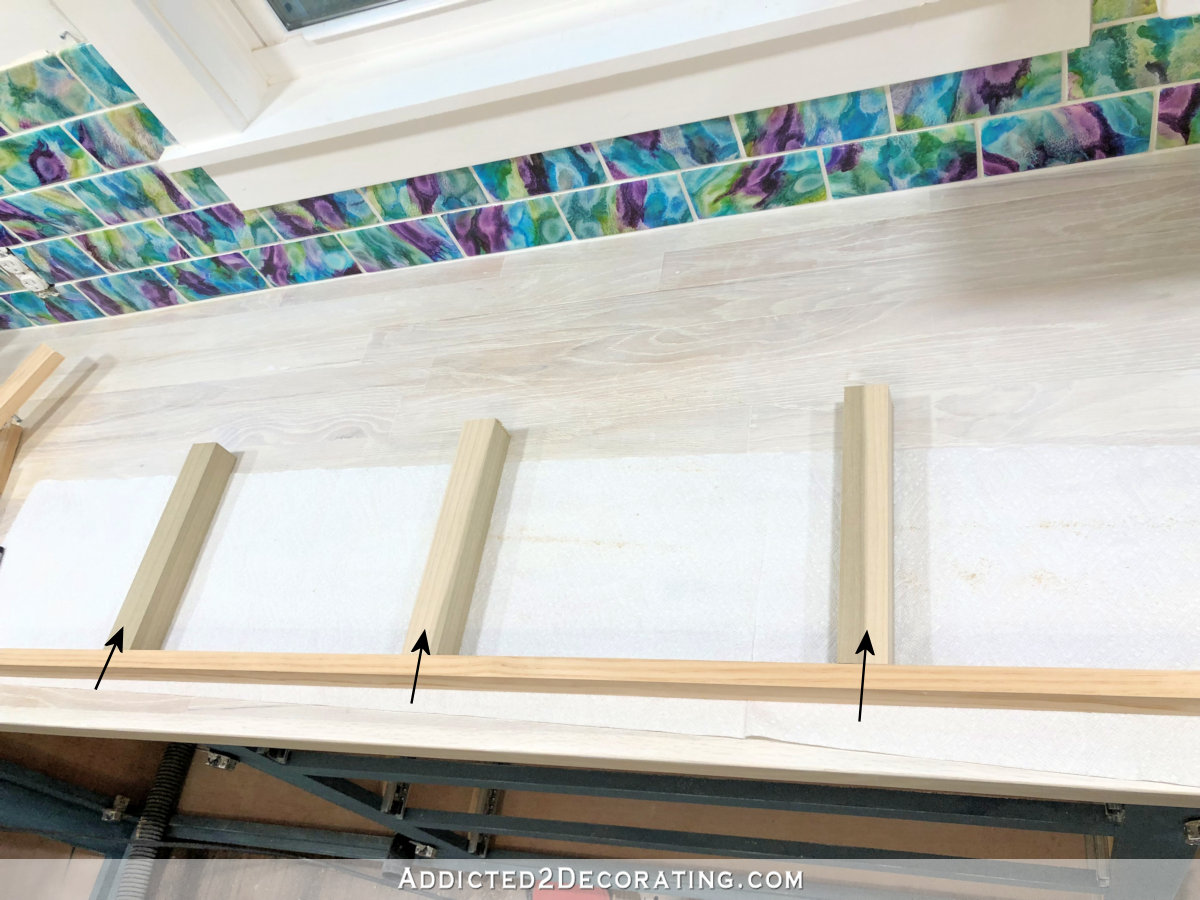 With that assembled, I attached it to the wall using 3-inch screws where I had marked for studs. I used little scraps of 1/2-inch plywood as spacers between the tile and the 1 x 2 to allow room for the plywood that would be attached in a later step. I also cut two additional pieces of 1″ x 2″ lumber, cut to 10.5 inches, and attached one directly to the wall on the left side and the other directly to the cabinet on the right side.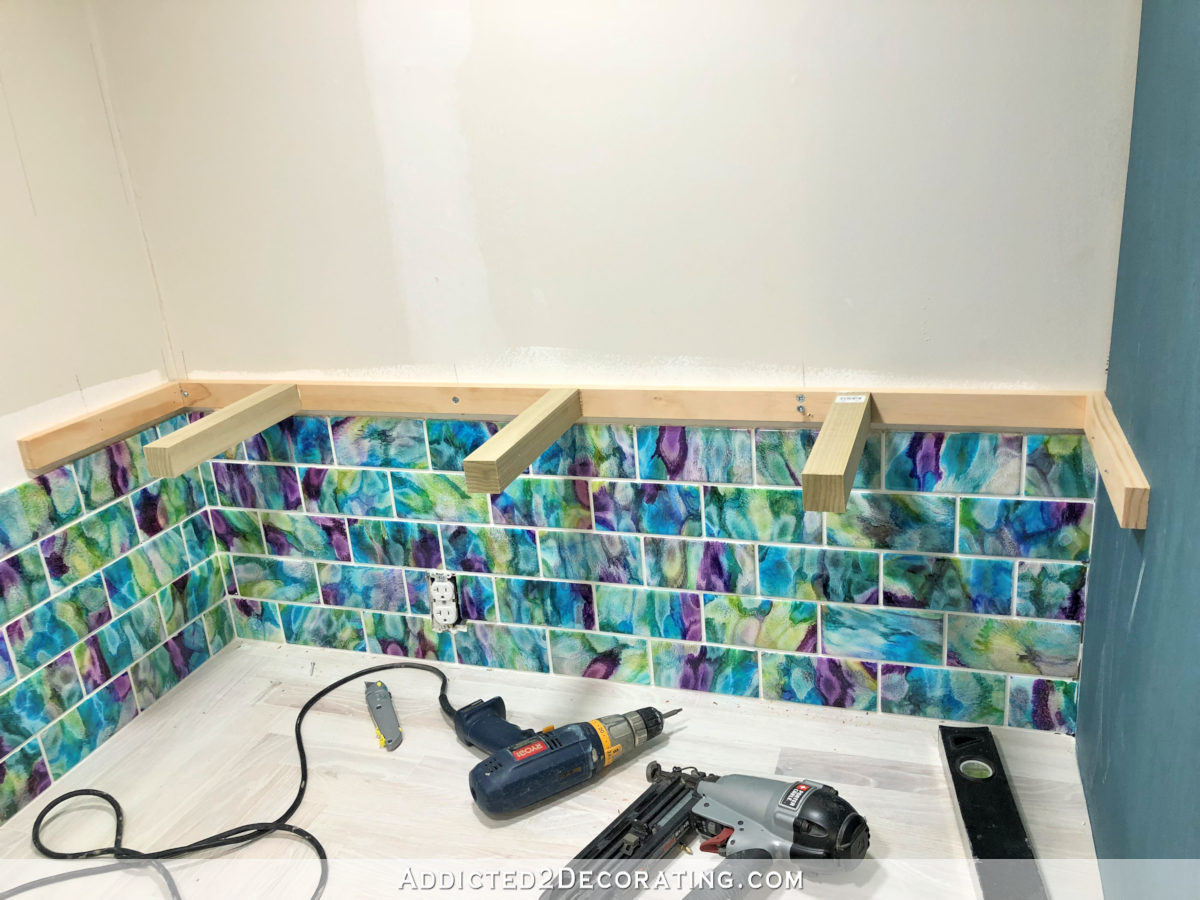 Then I cut another piece of 1″ x 2″ lumber to the width of the shelf and attached it to the front of the framework using wood glue and 1.5-inch 16-gauge nails.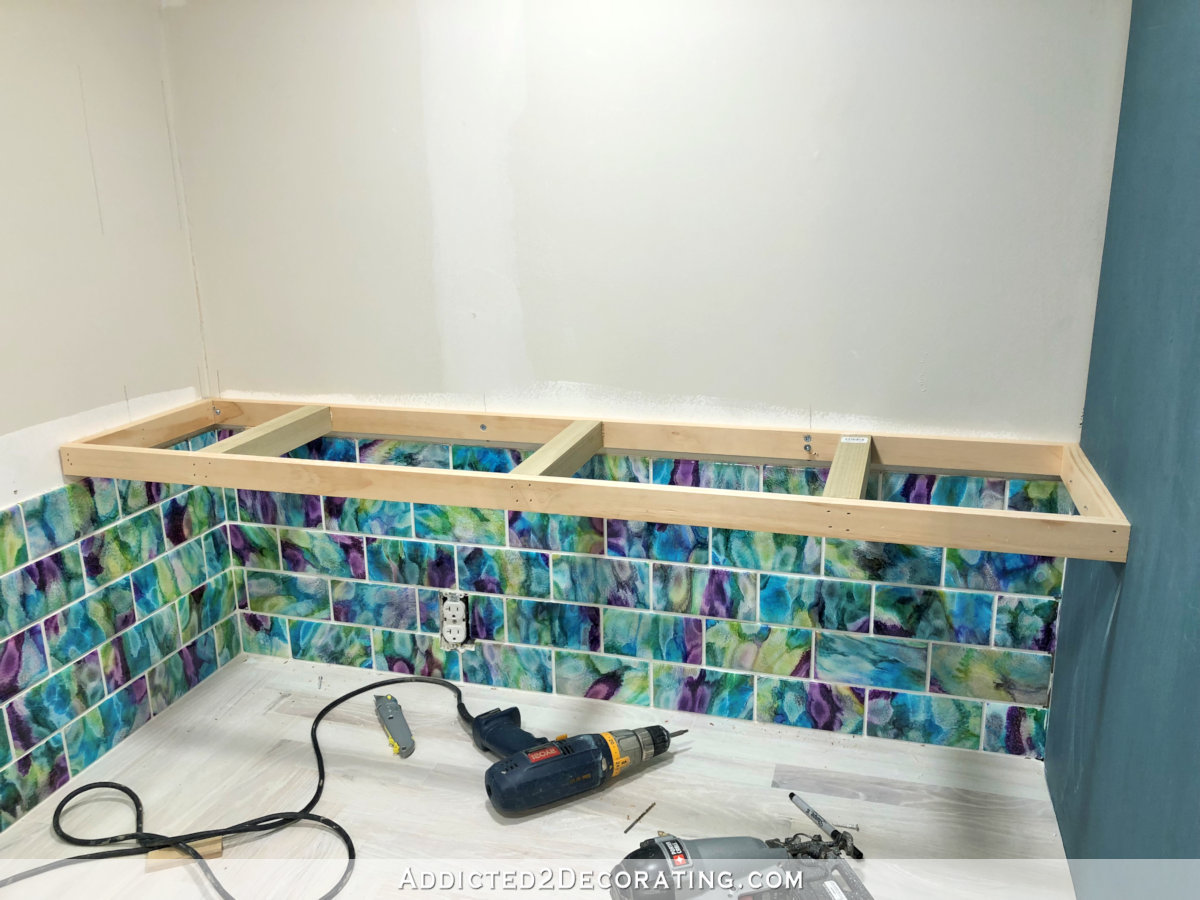 Next, I built the framework for the other wall in the same way and attached it to the wall where I had marked for studs…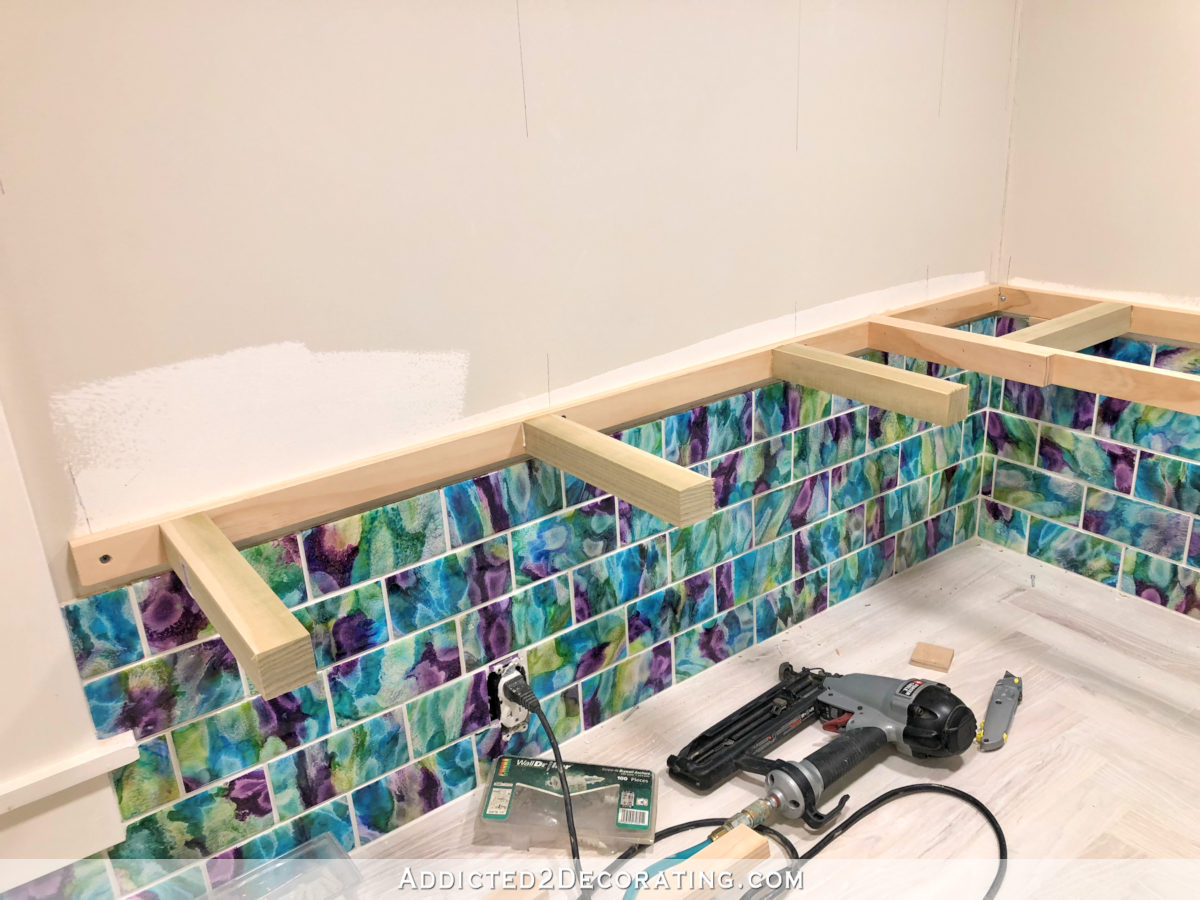 And just as I had added the end 1″ x 2″ pieces on the first shelf, I added an end 1″ x 2″ piece for this shelf as well, attaching it directly to the front of that side shelf framework.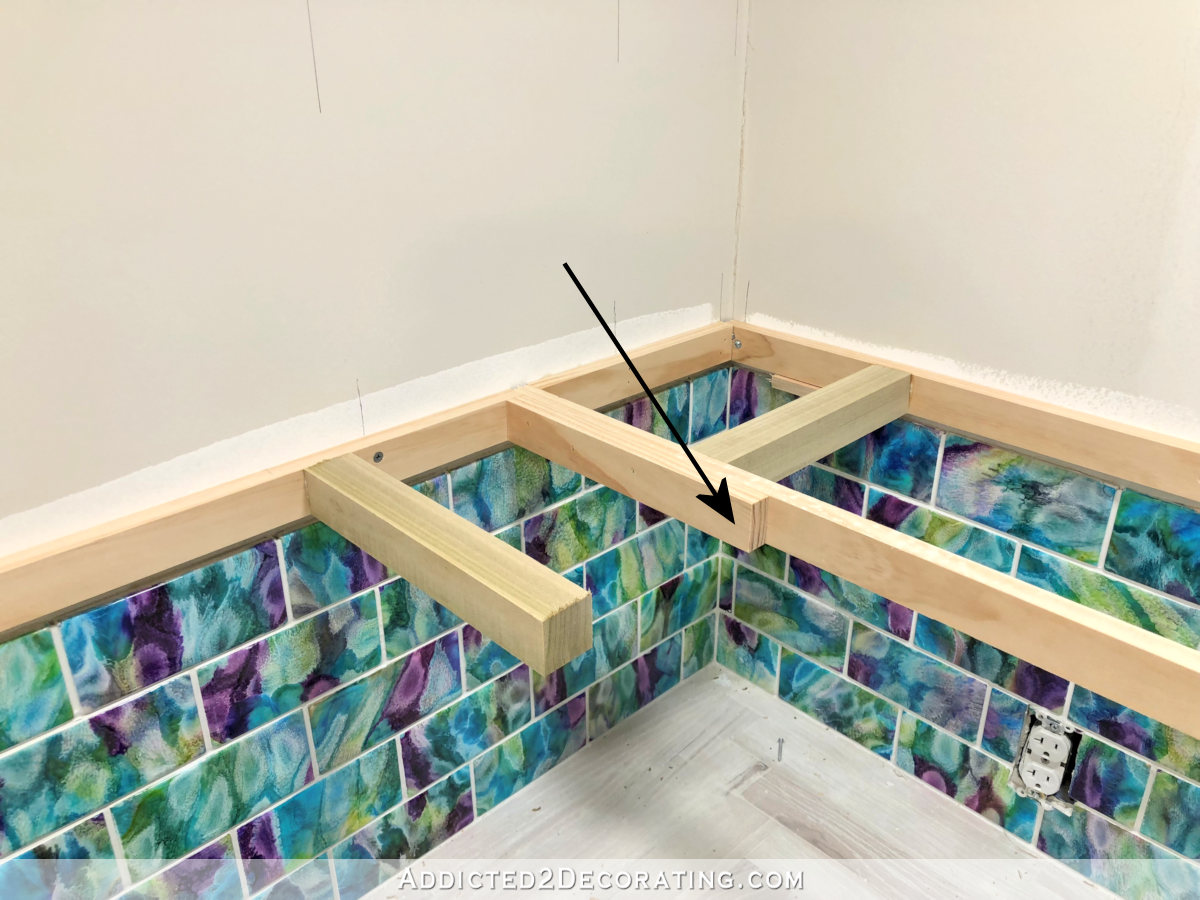 Next, I cut and attached the front 1″ x 2″ piece in the same way as I did for the side shelf.
In the picture above, you'll notice two things. First, I don't have a framework piece on the very end by the window. I couldn't place one there because of the location of the stud, but I wasn't worried about that because the trim piece that I'd be attaching later would act as the end support piece as well. And second, you'll notice that I also beefed up the support on this end. Not only did I add two additional screws into that end stud, but I also added two additional pocket screws holding that end 2″ x 2″ piece firmly to the back 1″ x 2″ piece. So that end 2″ x 2″ piece not only has the two original screws holding it on, but it also has two pocket screws that I attached after the bracket had been attached to the wall. I just wanted this end to have as much support as possible.
Next, I used my amazingly handy Kreg circular saw rip cut guide to rip some 1/2-inch plywood to fit on top and on bottom of the shelf, which I attached with wood glue and 1.5-inch 16-gauge nails.
And then I repeated that process on the side shelf.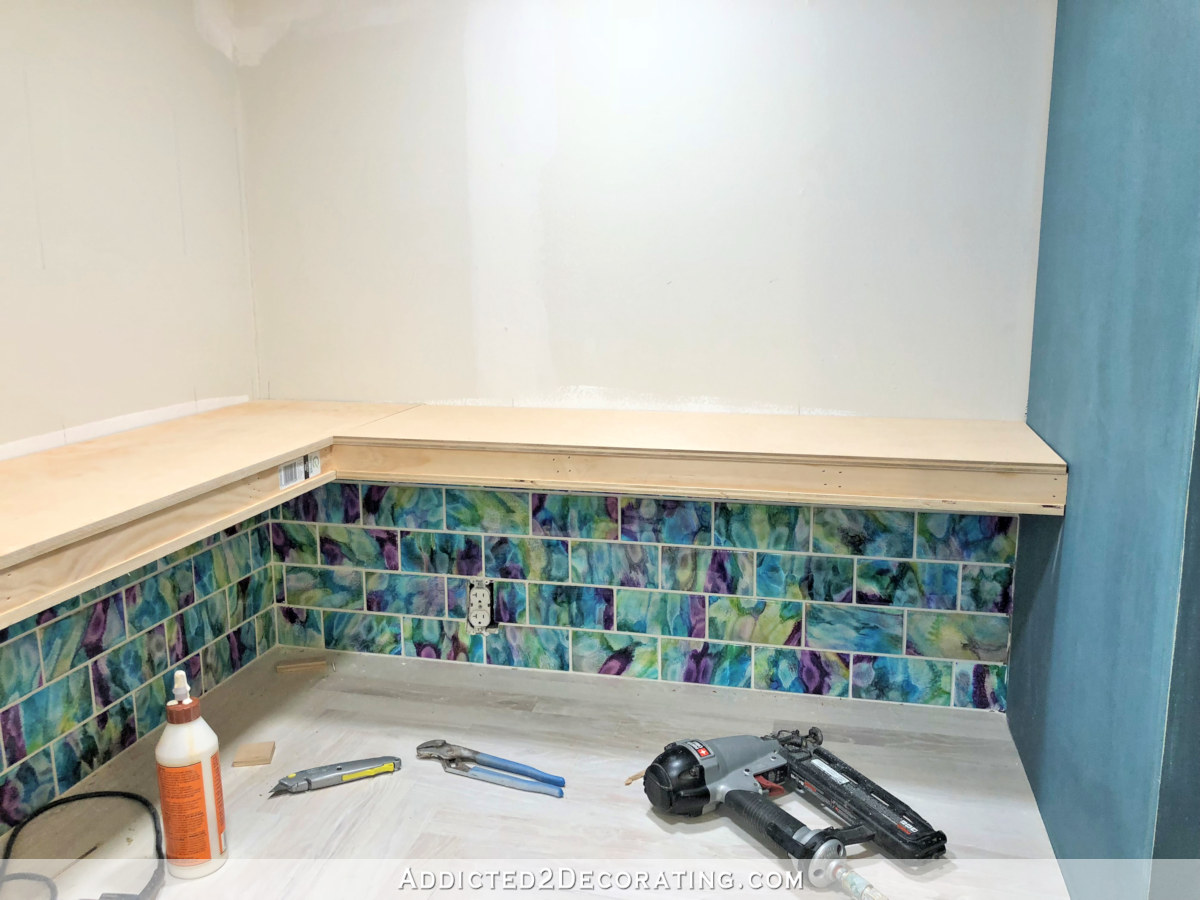 Here's a peek at the underside of the shelf. I had mentioned earlier that I used little scrap pieces of 1/2-inch plywood as spacers above the tile, and now you can see why. This plywood fit perfectly between the tile and the bottom of the shelf bracket.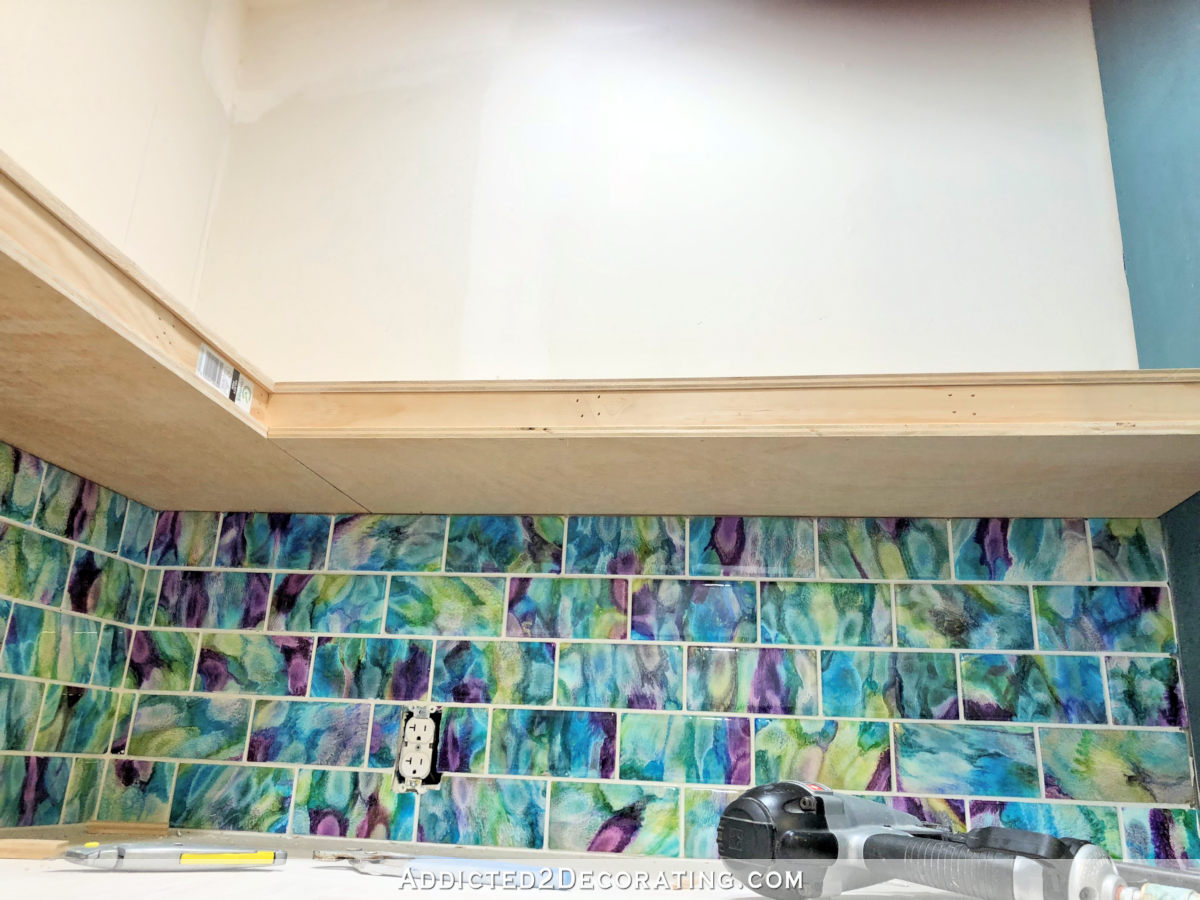 And the last step of this build was to add trim pieces around the side and front edges of the shelf. I mitered the outside corner, which you can see below, but I didn't bother mitering that inside corner where the shelves meet. No one will notice on the finished shelf that that's a butt joint. 🙂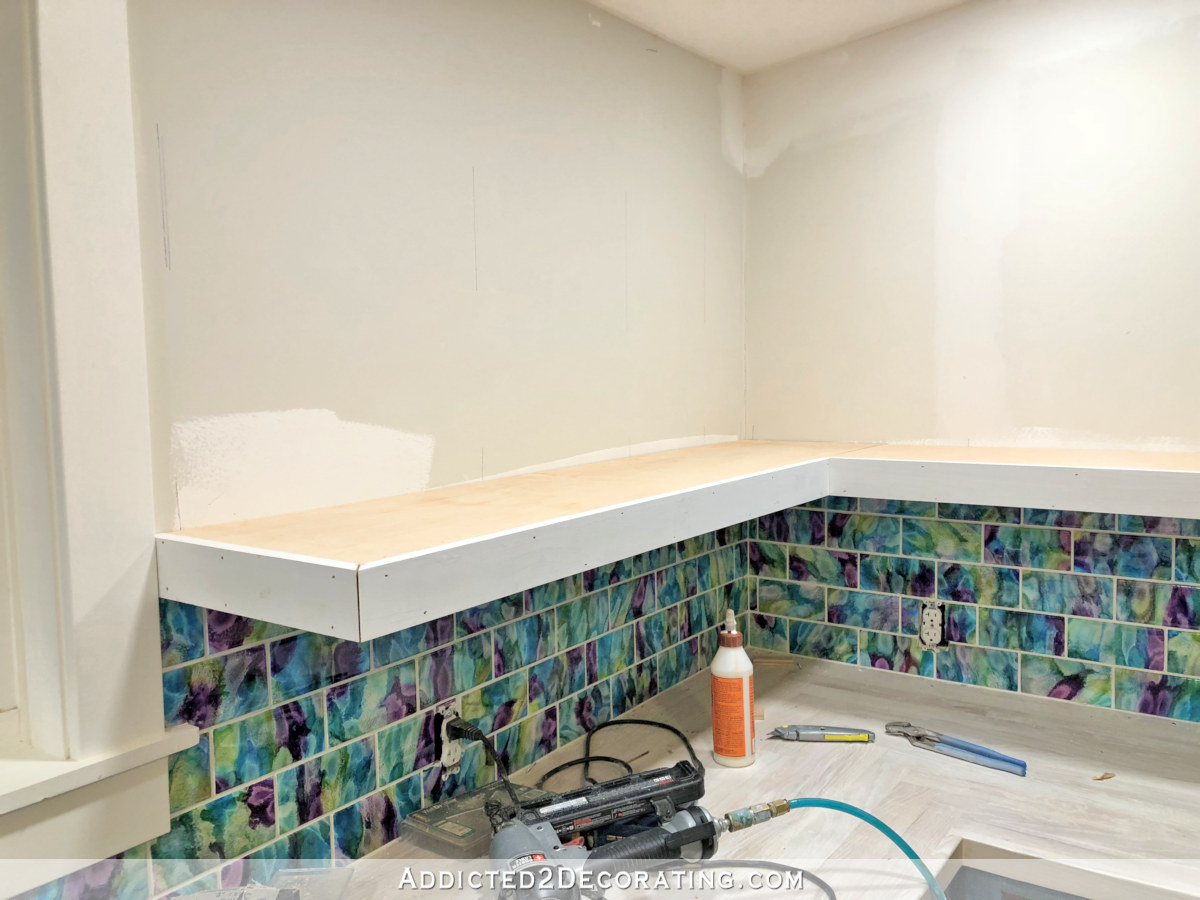 With the build done, I started loading up all of the nail holes and cracks with wood filler. And if you're wondering, this is the wood filler I use now…
I discovered this when I was working on my front porch steps and I needed something really durable to fill nail and screw holes. My experience with using regular wood filler outside hadn't been good (even though it was labeled interior/exterior), so I went searching for something new. This one isn't water-soluble, and it smells strongly of acetone (think nail polish remover), but it's incredibly durable and just as easy to use as the regular water-soluble kind. It's the only kind I'll use outside from now on, and I've also started using it on my indoor projects. The label is upside down, and you're supposed to store it upside down, which seems strange, but every time I've forgotten to do that, the wood filler is dried out the next time I open it up to use it.
Anyway, I use wood filler very liberally, and I really loaded up that crack where the two pieces of plywood meet on the top and bottom of the shelf. I wanted those to pretty much disappear after it was sanded.
So after a lot of wood filling, sanding, and then caulking where the shelf meets the wall, cabinet and window trim, it was finished and ready for primer and paint.
I still can't get over how sturdy this thing is! I'll be able to confidently put just about anything I want up there with no issues at all…and no brackets needed.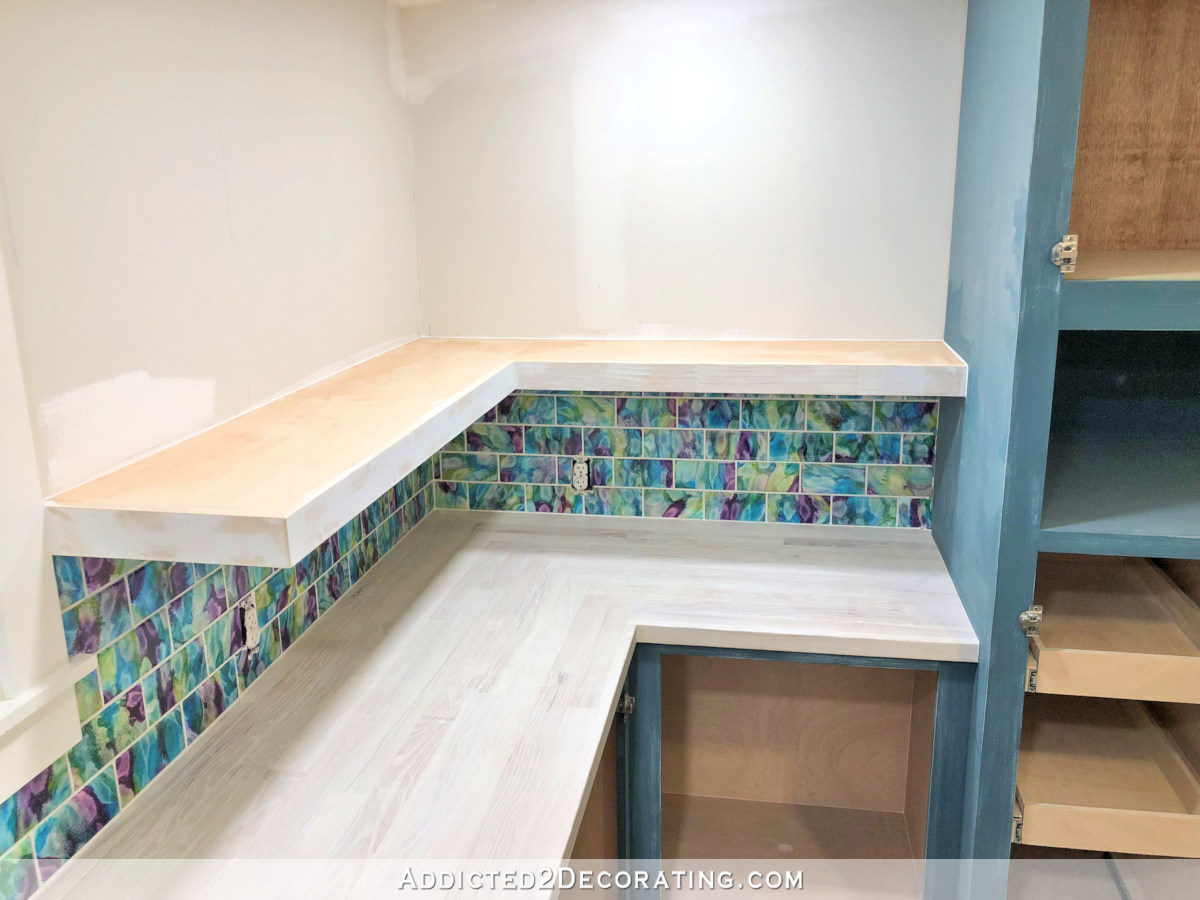 So that's one down, and just three more to go. 🙂
More Pantry DIY Projects:
Want to see all more of the DIY projects that went into this pantry remodel? You can find them here:
UPDATE:
The pantry remodel is finished! You can see the whole before and after post here:
Here's a preview: