My hallway cabinet are still under construction. If you missed Part 1 of this project, you can click here to see it…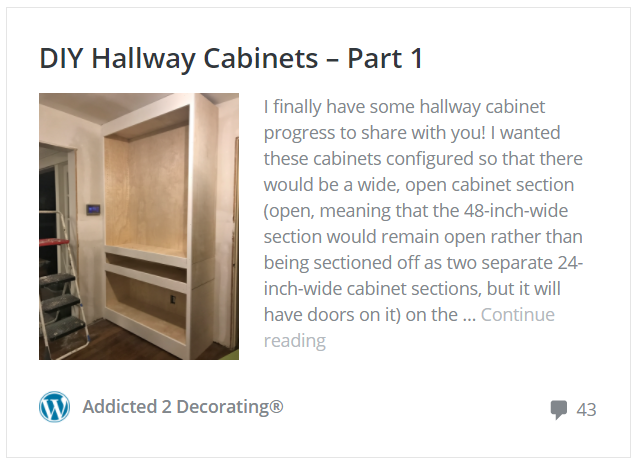 I contemplated purchasing custom cabinet doors for my hallway cabinets, just like the replacement doors I purchased for my kitchen. But the last order I placed took about six weeks to get here, and I didn't want to wait that long. So I decided to make my own DIY cabinet doors this time.
After watching several "how to make cabinet doors" videos on YouTube, I started feeling overwhelmed. They all used tools that I don't have, and tools that I didn't feel like purchasing and learning how to use just for four cabinet doors. So I decided to bring back one of my old DIY projects from the condo days, and improve upon it just a bit.
When we lived in the condo, I did a makeover in the hallway bathroom that included some new cabinet doors and drawer fronts for the vanity. I found a way to make them with just the basic tools (miter saw, nail gun) that I already owned. Here's how those doors turned out…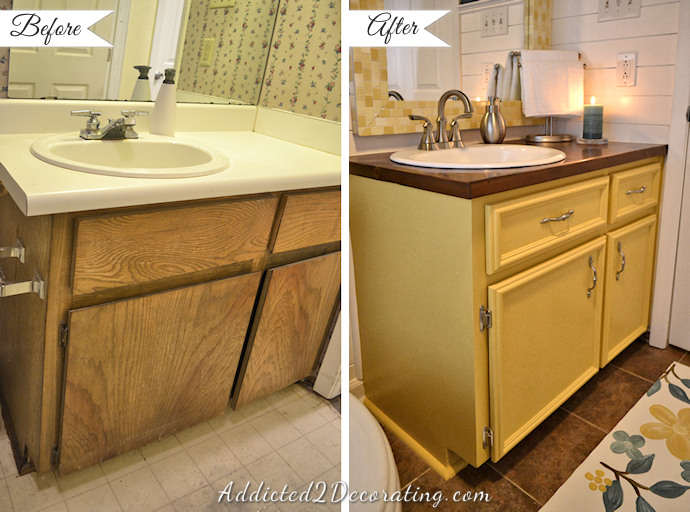 You can click here for more on that cabinet door project, and you can click here to see that whole bathroom before and after.
I was very proud of those doors and drawer fronts, but I thought they could be improved upon just a bit. First, I used 1/2″ plywood for those, and and they felt a bit too lightweight. And then I used exposed hinges, which look a bit dated to me.
So I improved upon that idea for my hallway cabinets by using 3/4″ plywood for more substantial doors, and I also used a Kreg concealed hinge jig (which I purchased here) to drill the holes for the concealed hinges…
Granted, that's not a basic DIY tool that all DIYers have, but at just over $20, it's not going to break the bank. And if I had ordered custom doors, they would have charged me $20 ($5 per door) extra to drill the hinge holes.
Here's how my (currently unsanded and unpainted) cabinet doors turned out.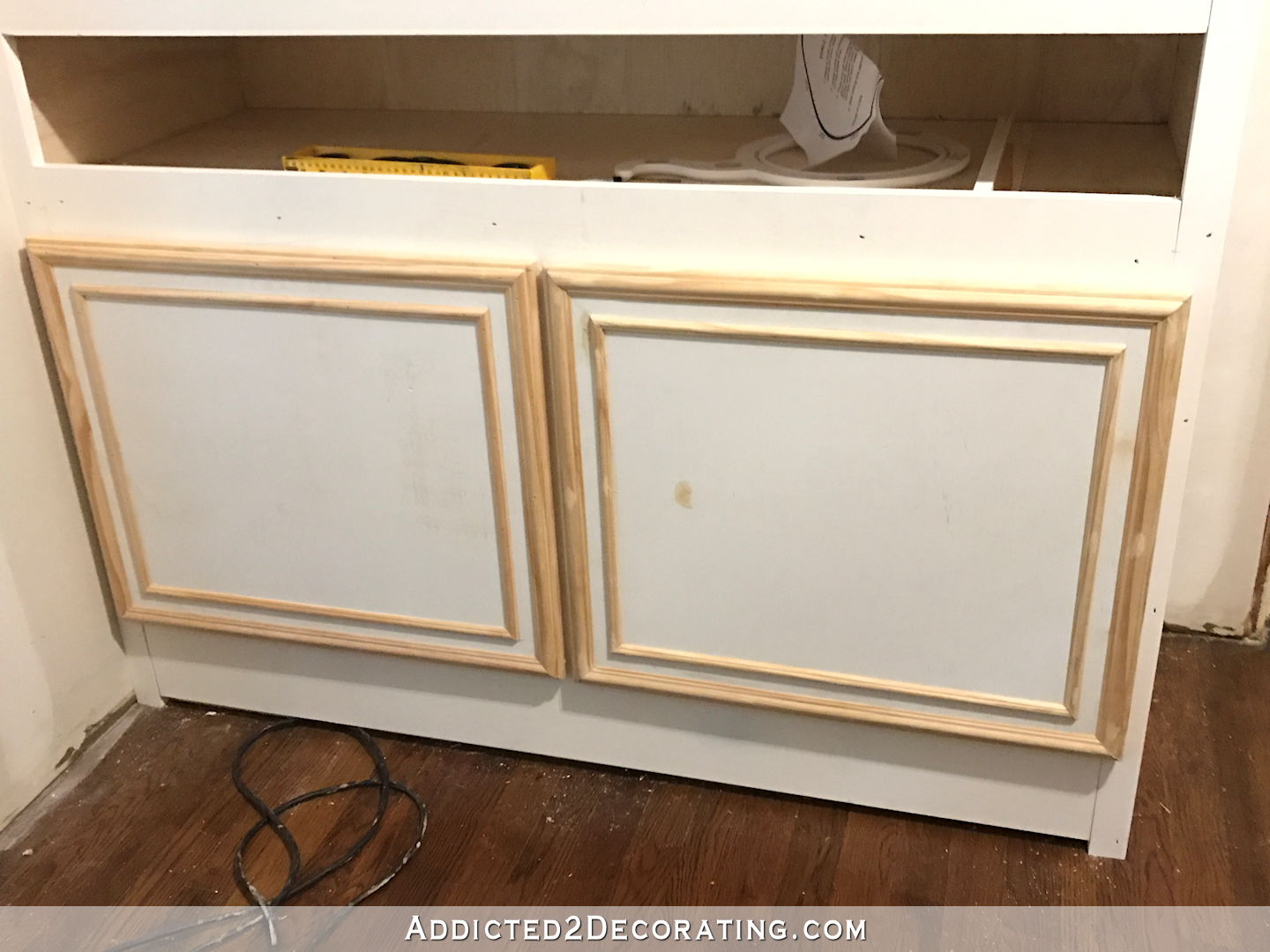 I'm still working on the drawer front and the upper doors, but let me show you how I made these doors.
I started by cutting my 3/4″ plywood to the desired size (door opening plus 1/2″ inch, since I'm using 1/2″ overlay hinges, and the trim I added in the next step adds another 1/2″ inch to the width and height). Then I put two coats of primer on the front, let it dry completely, and sanded it smooth.
Next, I used screen moulding, purchased from Home Depot and sold by the foot. It looks like this…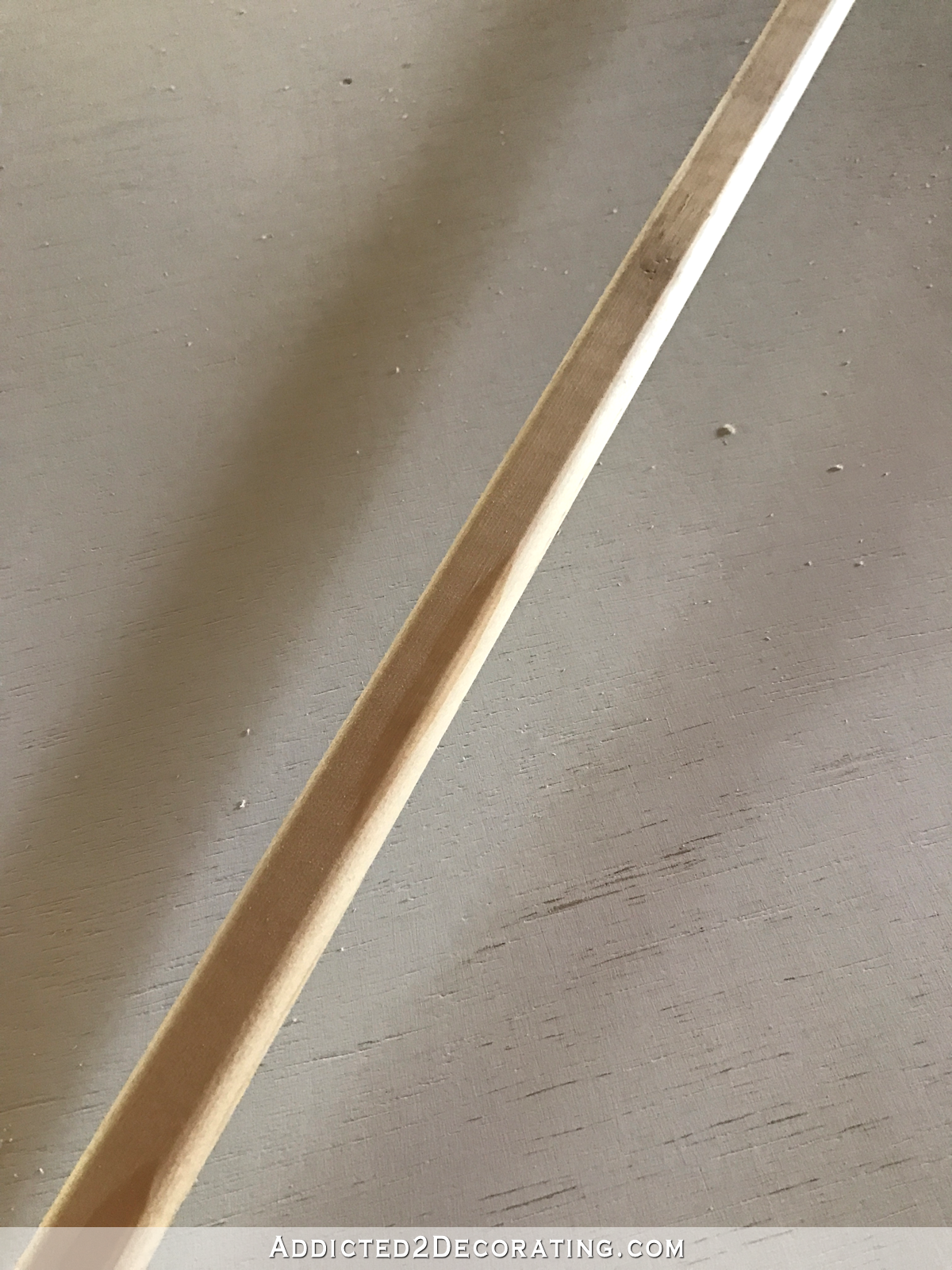 Here's the image from the Home Depot website…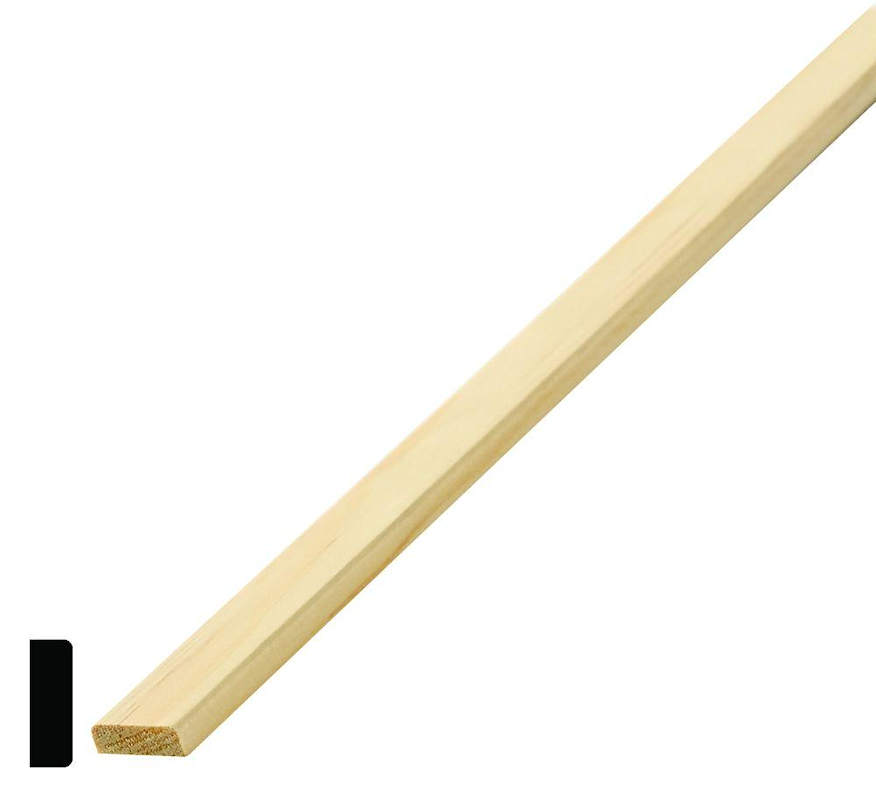 I cut that using my miter saw, mitered on the corners, and attached it to the edge of the plywood using 5/8″ 18-gauge nails and wood glue.
Here's how it looked with all four edges covered with screen moulding.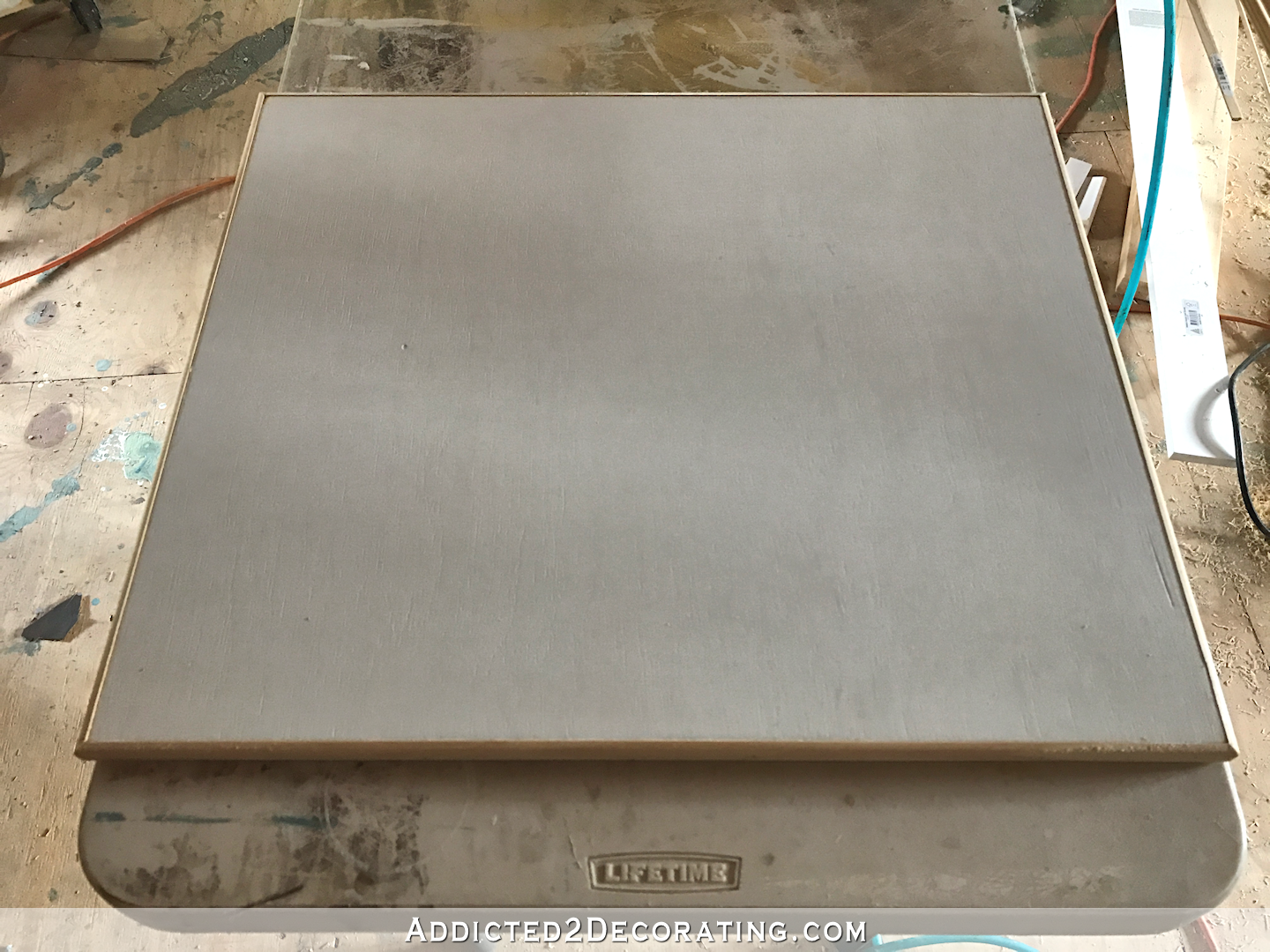 At this point (before attaching any moulding to the face of the door) I used my Kreg concealed hinge jig to drill the hinge holes on back.
This jig is incredibly easy to use, and drills perfect hinge holes.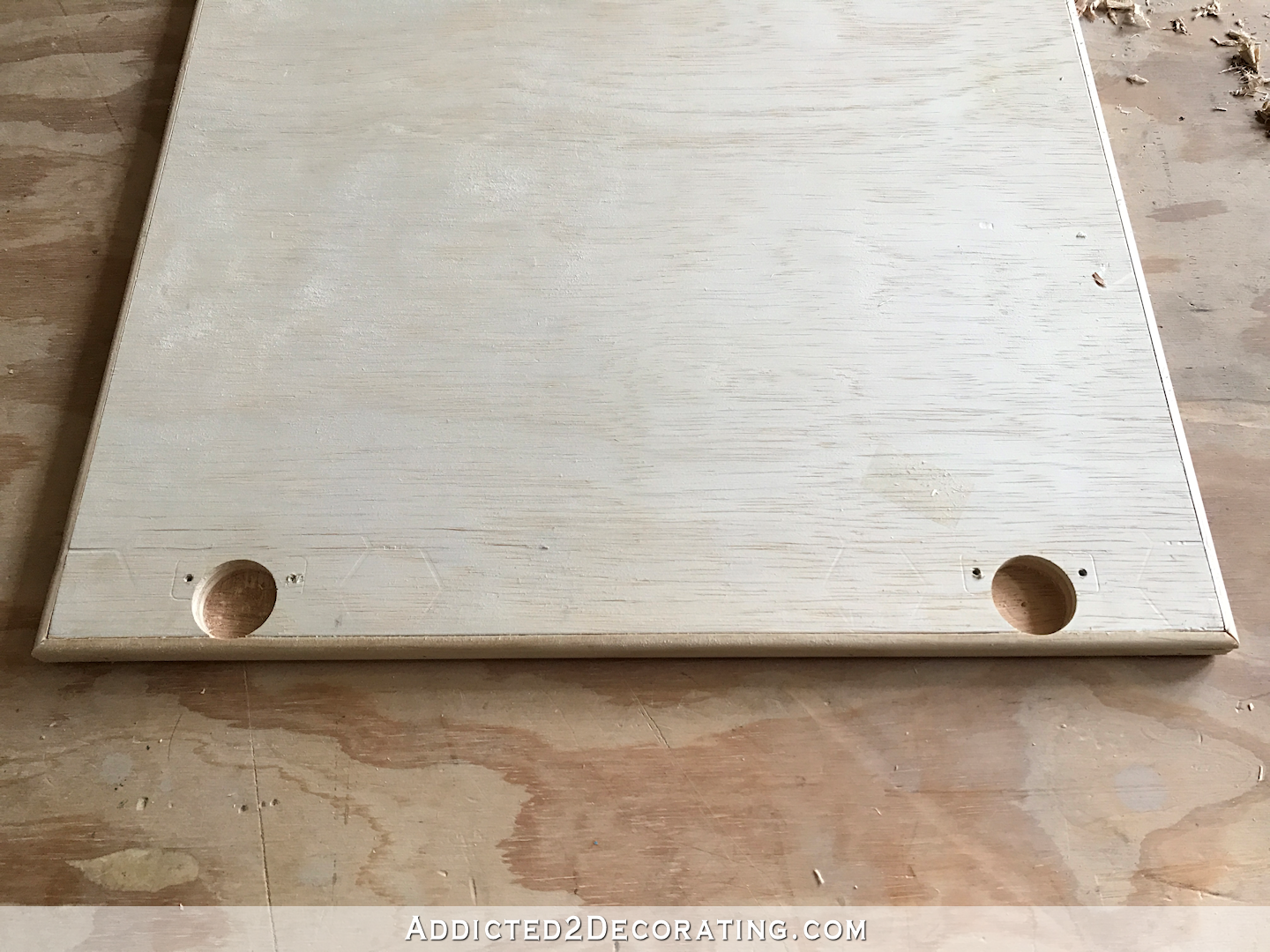 I tested the fit of the hinges, and then removed them before moving on with the next step.
Next I used this medium sized cabinet trim moulding (from Home Depot, sold by the 8-foot piece)…
Here's a better look at the profile…
And I cut it to fit along the edge of the face of the door, mitered on the corners, and attached with 5/8″ nails and wood glue.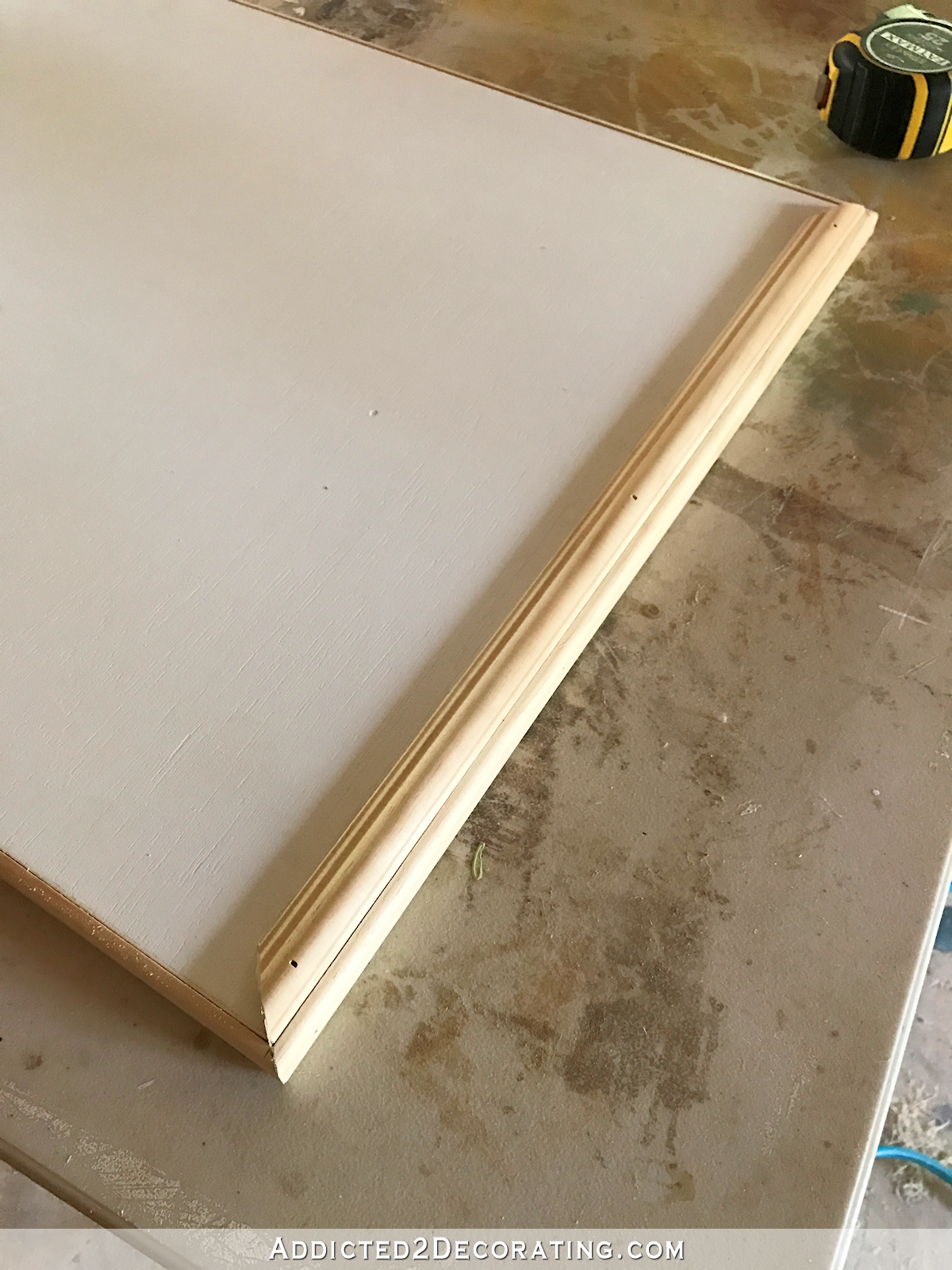 With all four pieces attached, here's how the door looked…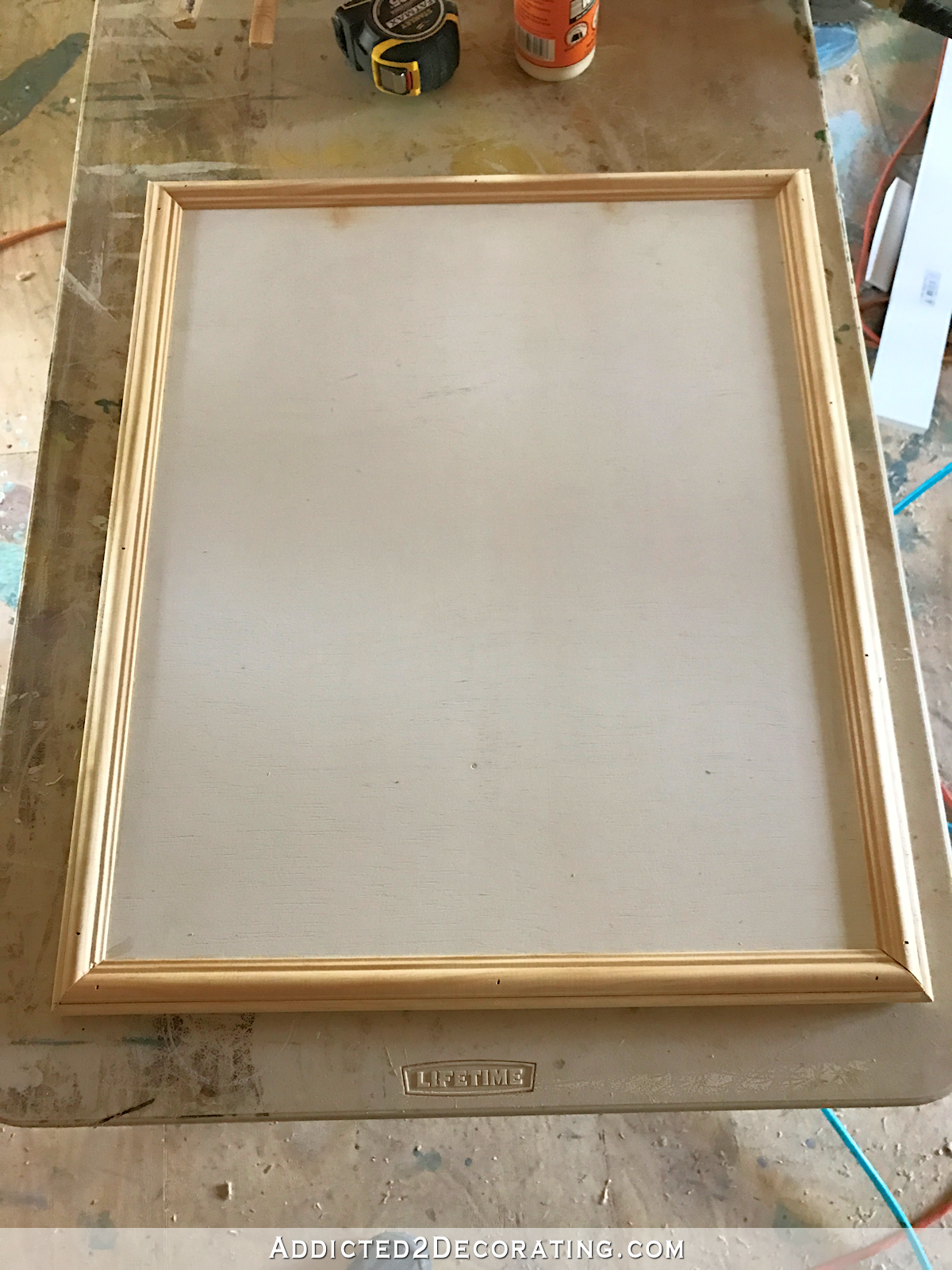 I could have just kept it like that, but I wanted to add one more piece of moulding. I used the edge of a scrap piece of 1″ x 2″ lumber (1″ lumber is actually 3/4″ thick), and marked a guide line 3/4″ inside the moulding I just attached.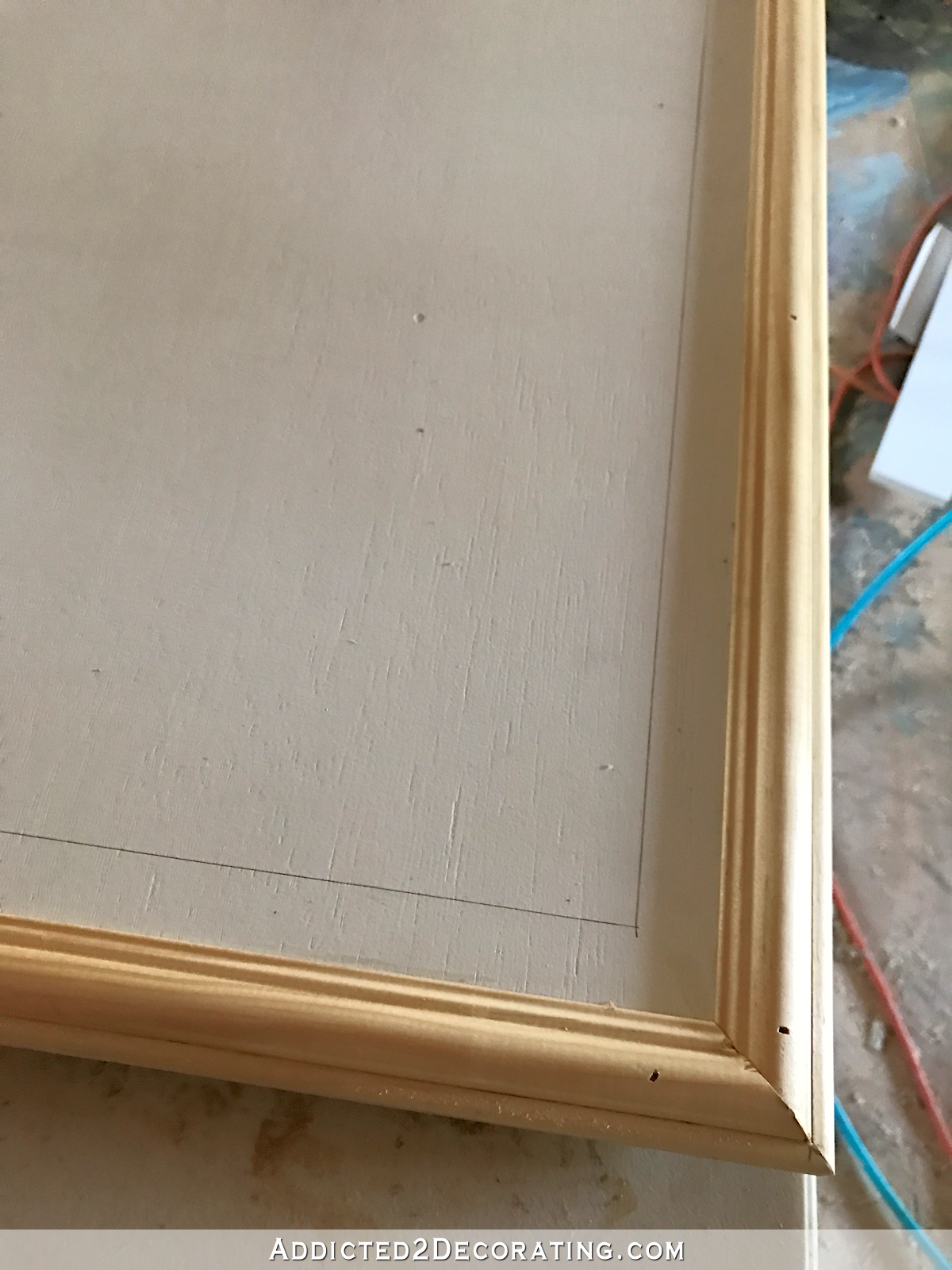 Then I used this tiny cabinet trim moulding…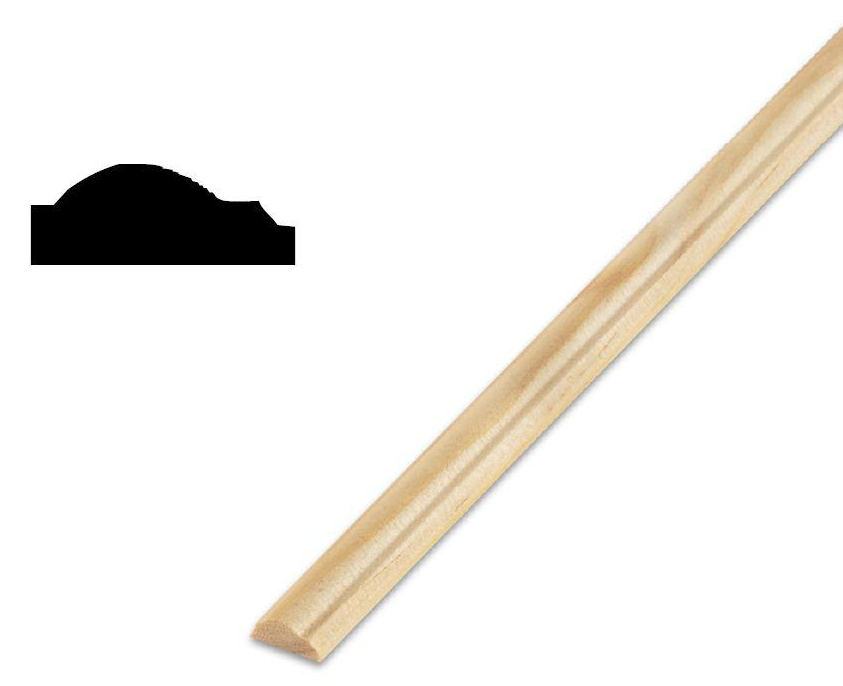 And I cut it to fit along the lines, mitered on the corners, and attached with 5/8″ nails and wood glue.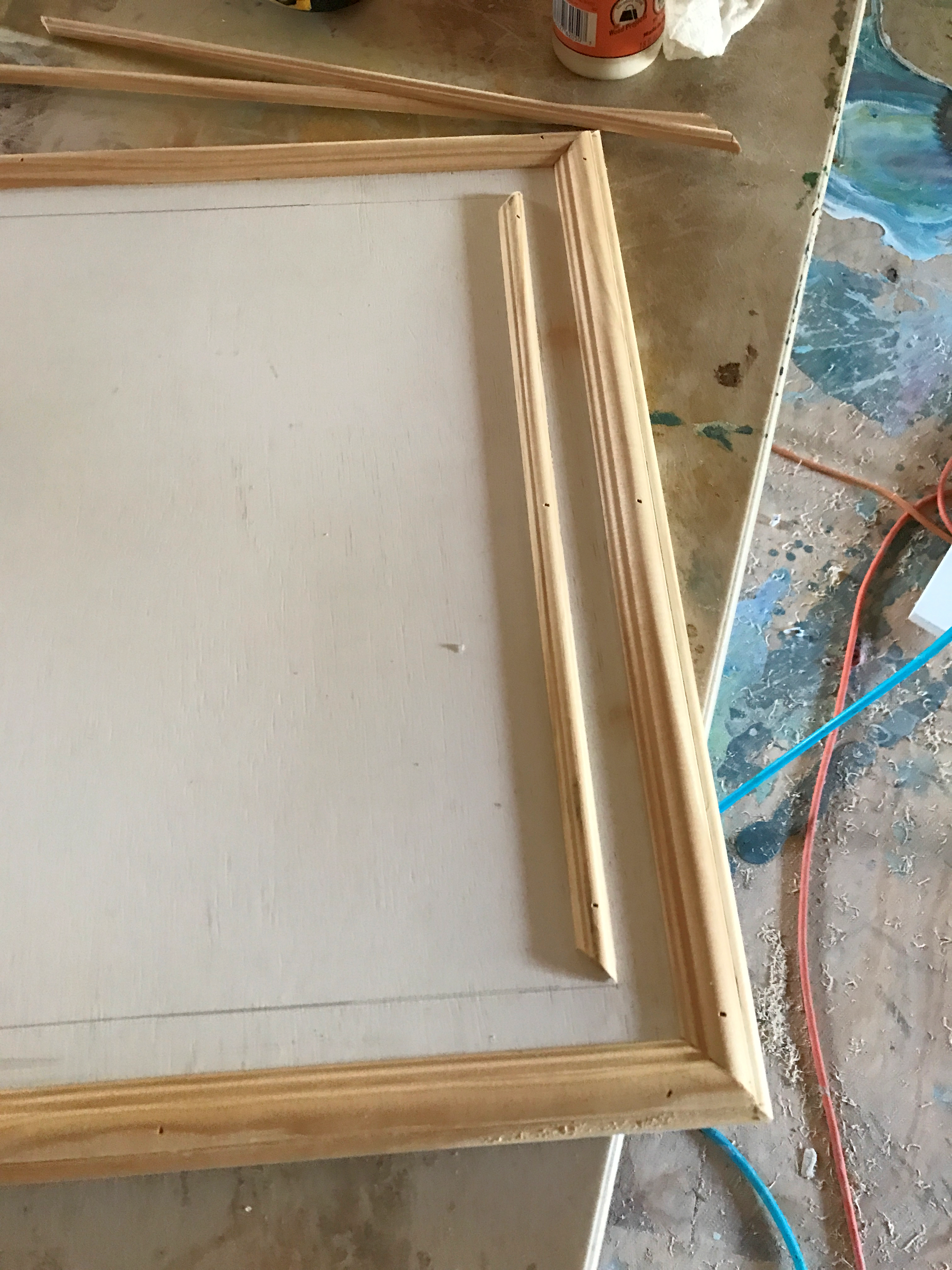 And here's how that looked with all four pieces attached…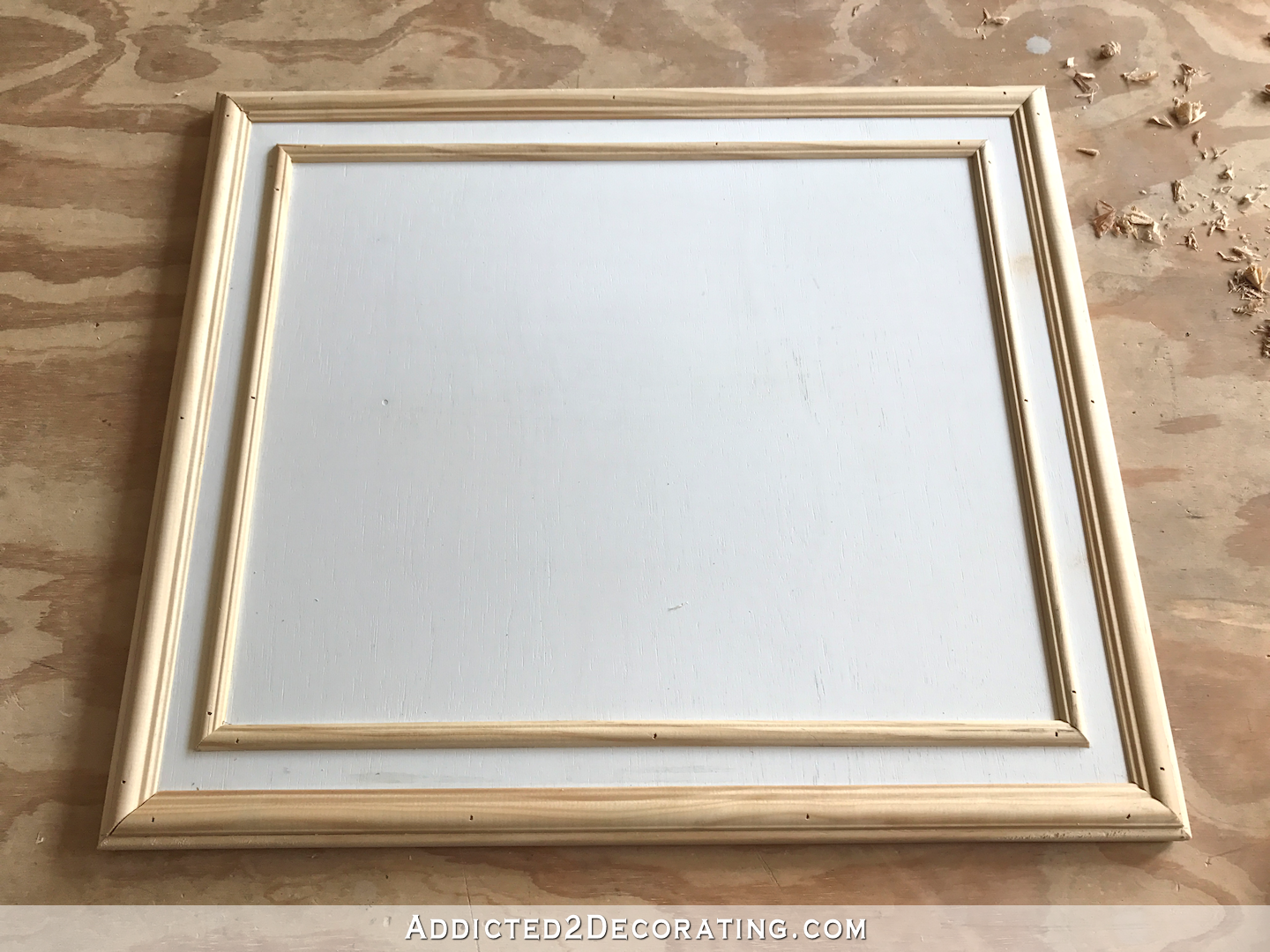 Then it was time for wood filler. I filled the area where the edge trim met the plywood on the back of the door…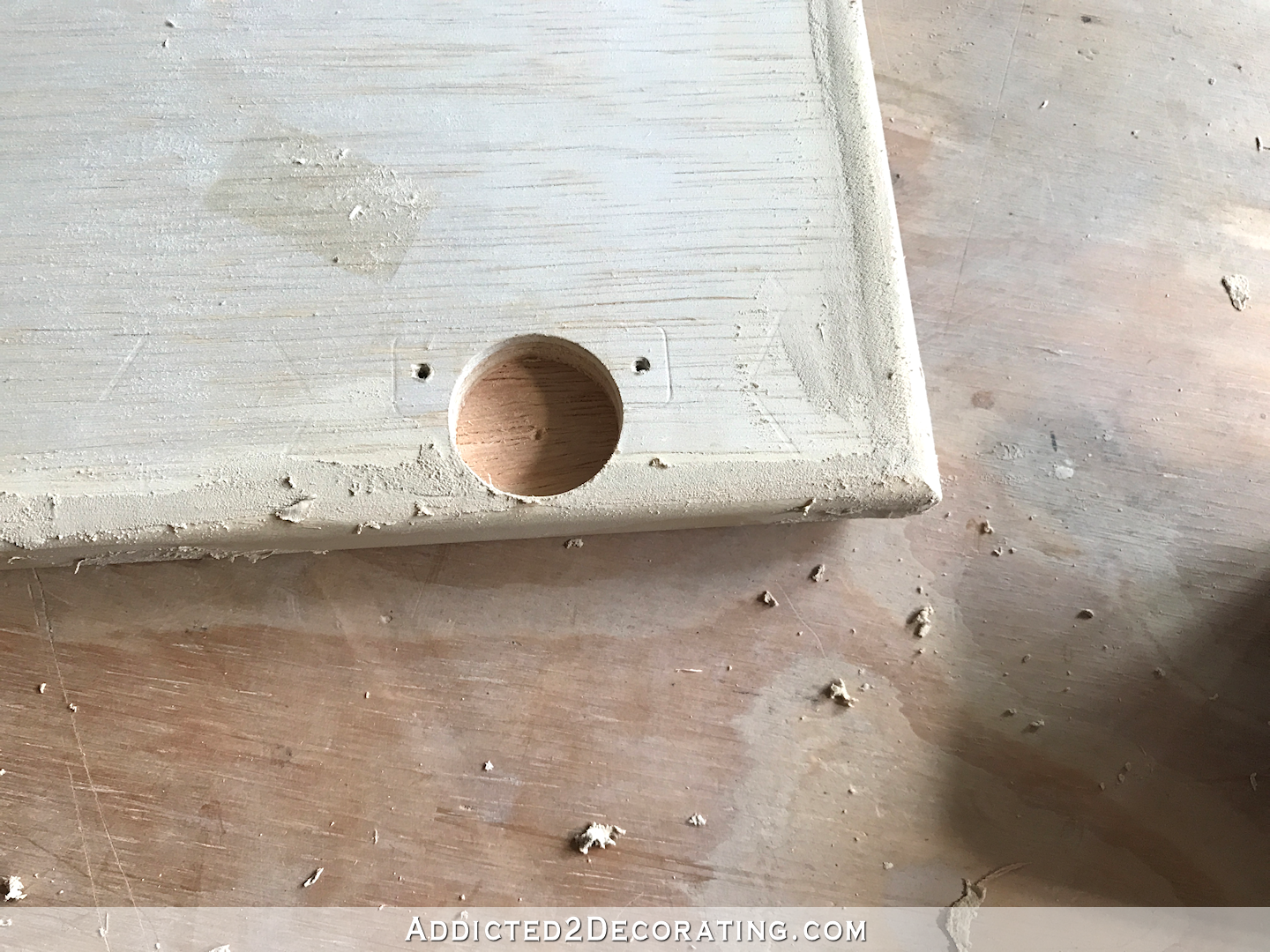 I filled the nail holes and corners on the edges…
And I filled the nail holes on the front of the moulding, as well as the corners and one little hole on the face of the plywood.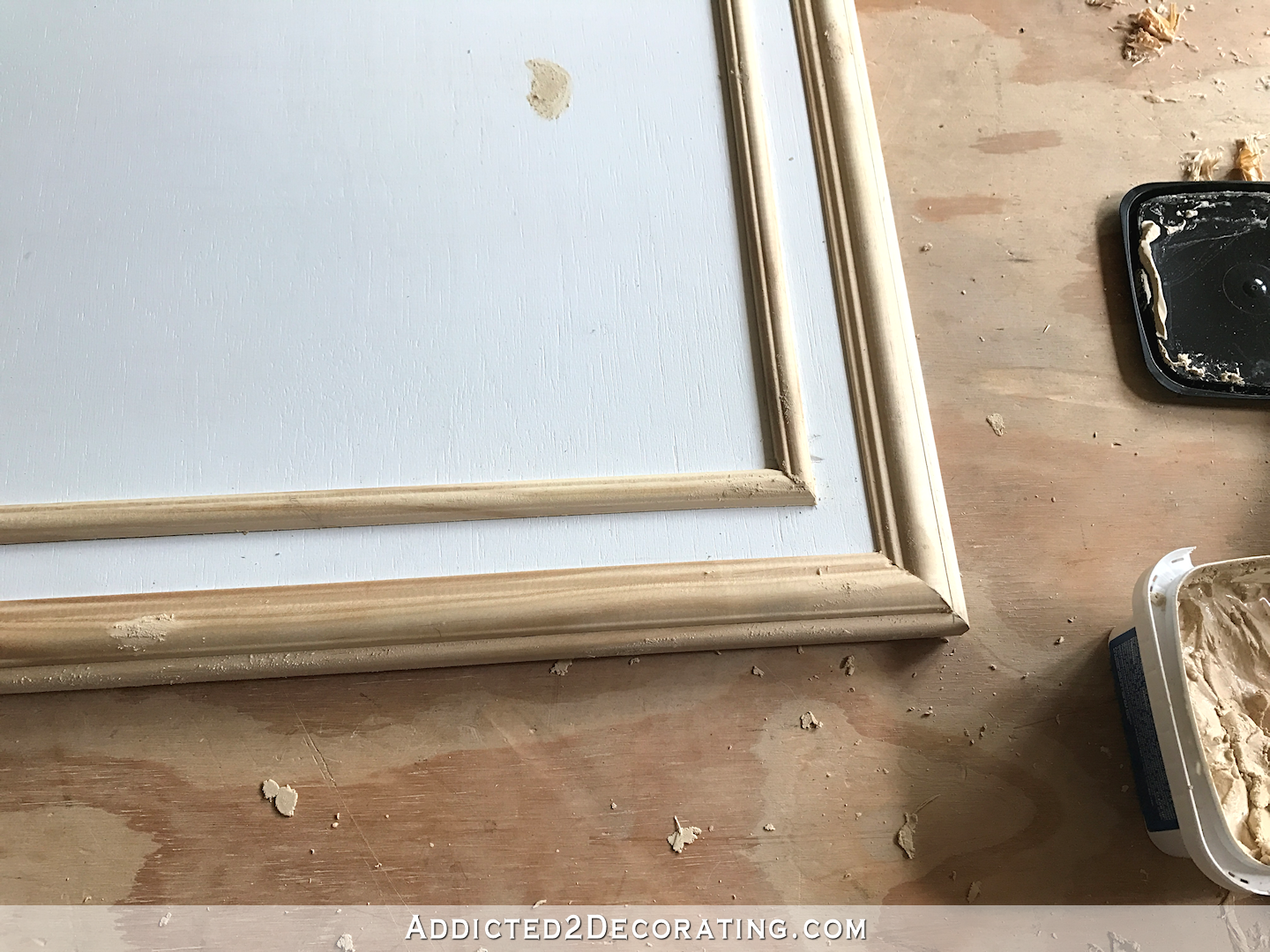 I haven't sanded, primed, or painted the doors yet, but I installed them to test the fit.
They worked out perfectly!
I'm hoping to get the other doors and drawer front made today. I'm anxious to get paint on this cabinet!
I haven't taken time yet to figure out how much these doors cost, but I can guarantee you they're a heck of a lot cheaper than the ones I custom ordered (which were actually reasonably priced for custom doors). And of course, the possibilities are endless as far as how you can configure the trim to customize these doors.
If you prefer the look of shaker or recessed panel doors, you can forgo the decorative trim and just use flat, thin pieces of wood (like a wide, thin lattice) and attach it around the edges of the face of the door to look like shaker doors. Or, of course, you can get as creative as you want. The possibilities really are endless, and no special cabinet door-making tools required! (Well, except for that $20 jig. 🙂 )
UPDATE:
The cabinets are finished (mostly). Click here to see the finished cabinets…