One Closet Finished, One To Go
*This post contains affiliate links.
I finally started tackling the single remaining project I was dreading the most — finishing the interiors of the closets. I got one of them finished, and still have one to go. And while the project itself wasn't that exciting, there's something about finally being able to move my stuff into the room that takes it from being just a fun room to decorate to being an actual bedroom.
If you're new around here, let me explain. This bedroom is actually the guest bedroom. But for now, Matt and I will move in there and use it as our main bedroom until we are able to do the addition on the back of our house that will include a master suite, laundry/utility room, and family room.
After closing off the original closet in this room and adding that space to the adjoining room (which will be our home gym eventually), I needed to carve out some space from the bedroom for new closets. I built two closets flanking the window. To save space, I used sliding doors instead of hinged doors.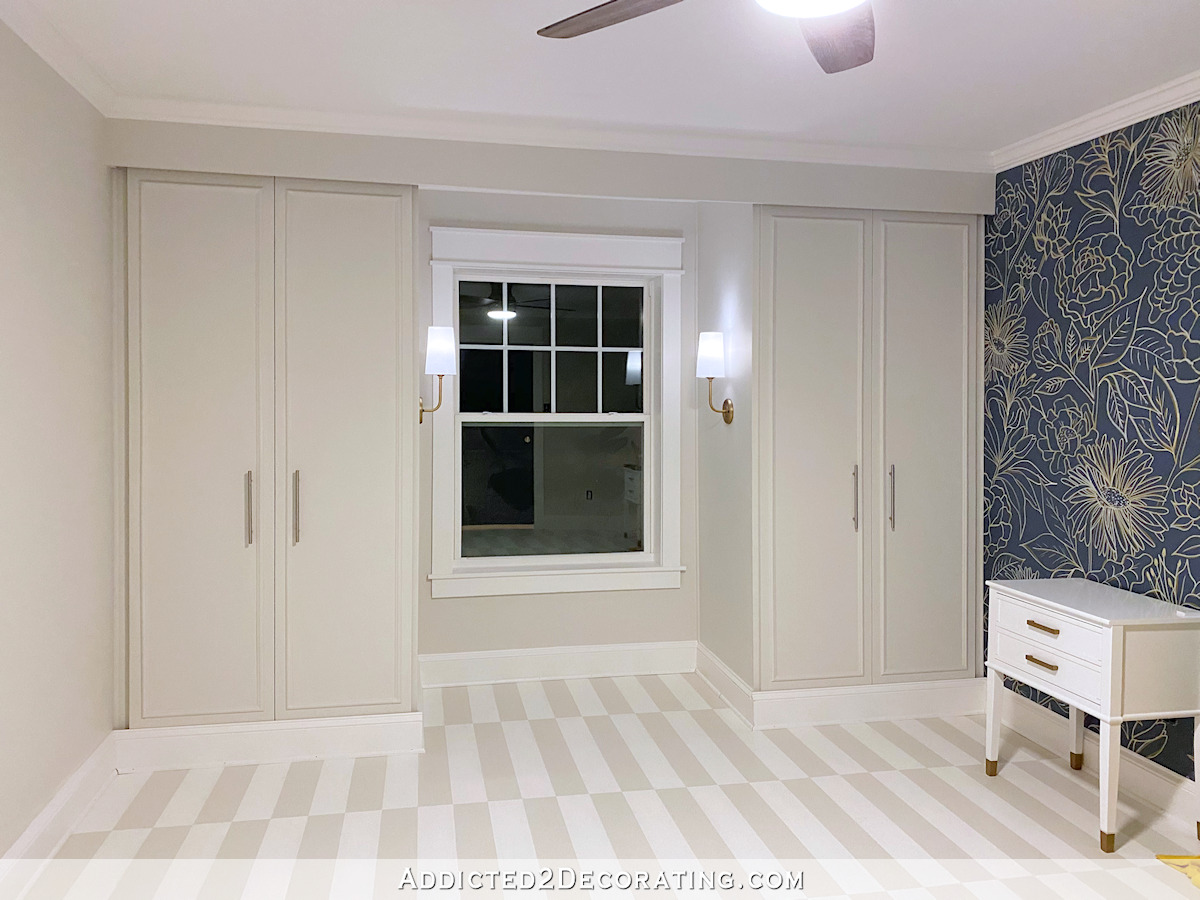 So the exteriors of the closets have been finished for a while, but the insides still needed attention. Here's how this left closet looked on Monday…
And here it is all finished…
I kept it very simple — white paint (Behr Polar Bear to match the trim in the room), and then one shelf on top, and one hanging bar. I originally had a shelf up there, and then removed it because I made the mistake of making the shelf the entire depth of the closet (30 inches). That made the space between the shelf and the header in front of the closet (that covers up the track hardware) very short, so it made the shelf virtually useless. I cut the shelf down to 20 inches deep and reinstalled it, so now I there's plenty of room to fit things up there.
And the reason this closet only has one hanging bar is because I needed a place to put my shoes. I've been a bit concerned about where I was going to store my shoes, so I spent an hour at Home Depot yesterday considering various options. I came very close to making built-in shoe shelves, but I realized that once we move out of this room and into our master suite, having permanent built-in shoe shelves in this closet would be less than useless.
So once again, I opted for a super simple solution and went with these stackable shoe organizers. I bought two boxes, and each one comes with two shelves. They were $19 each (on clearance), so this option cost a fraction of what built-in adjustable shelves were going to cost.
I just love how white and bright and clean that looks! It's so much better than drab unpainted MDF.
I was so excited to have a usable closet in this room that I worked until 11:30 last night unboxing my shoes and getting them in the closet. 😀 I still don't have clothes in there yet, but I can do without clothes. I'm a shoe girl. 😀
It's a good thing I'm short and my clothes are short. I think there's plenty of room there for one row of my hanging clothes on a 40-inch bar. I'll install two hanging bars in the other closet for another 80 inches of hanging space, and we also have a nine-drawer dresser. It'll be a tight fit for a while, but we can make it work.
I utilized almost every bit of the floor space in the closet, and because of the way the closet is built, I can put things right up to the front of the closet floor, and they still won't get in the way of the door closing. You can see the track that the door slides in here…
So every bit of that closet floor space can be used, and the door will still close perfectly…
So that's one closet finished, and one to go.
Addicted 2 Decorating is where I share my DIY and decorating journey as I remodel and decorate the 1948 fixer upper that my husband, Matt, and I bought in 2013. Matt has M.S. and is unable to do physical work, so I do the majority of the work on the house by myself. You can learn more about me here.