Studio Wallpaper Is Up! (Plus, Tips For Installing Spoonflower Wallpaper)
Y'all, my Spoonflower wallpaper is installed in my studio, and I couldn't be more excited about how it looks! Now if you're new around here, let me get you caught up. This is wallpaper that I designed myself specifically to go in my studio (i.e., my combo home office/sewing room/craft room/art studio). If you want to see how I designed the wallpaper, you can see that here…
So anyway, my plan for the weekend was to finish the studio floors. As of Friday, they still needed three more coats of polyurethane. Well, as of this morning, they still need three more coats of polyurethane. 😀
You see, my plans completely changed when I looked out the front door right before lunch on Saturday and spotted a package that looked like it could hold about eight rolls of wallpaper. I was so surprised, because FedEx tracking said it would be here today (Monday) by 9:00pm. But I tore that box open, and sure enough. There were eight rolls of gloriously bold, beautiful and colorful floral Spoonflower wallpaper inside.
Needless to say, the floors got put on hold (the two coats of poly that were already on them were enough to protect them during this somewhat easy project), and right after lunch, I got busy installing wallpaper.
But I couldn't stop there, so yesterday, I installed the casing around the windows. I didn't get it wood-filled, sanded, caulked or painted, but even in its unfinished form, I could see this wall start coming together. Here's how it looks as of this morning…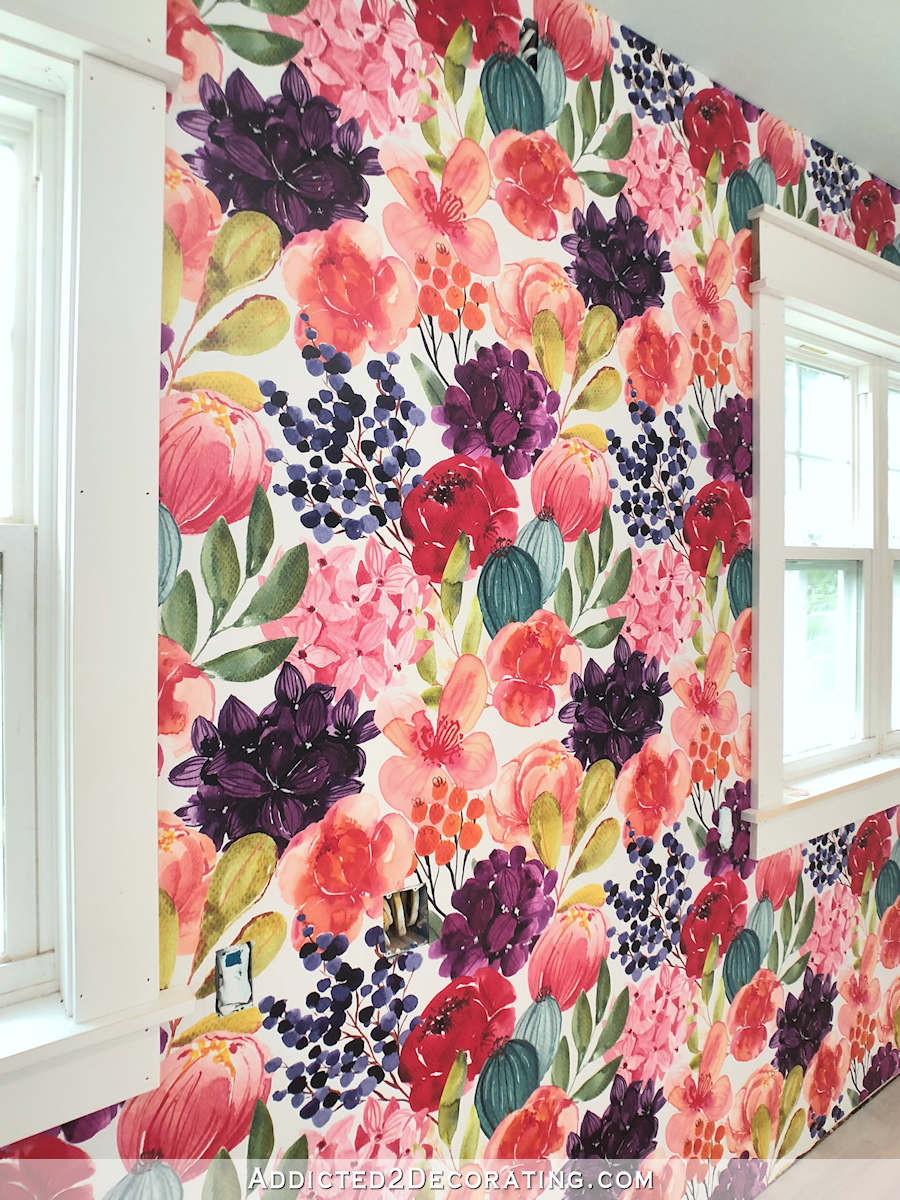 I said I wanted that wall to look like an explosion of flowers, and I think I got it! 😀 And oh my gosh, I'M SO EXCITED!!! I can't stop staring at it.
Let me just say that I KNOW this isn't everyone's cup of tea. Not everyone likes things as colorful, bold, and busy as I do. (And really, if you don't like it, I don't really need to hear about it. Just let me be excited about it, okay?) But y'all, I absolutely love it. I just want to sit and stare at that wall.
Of course, a lot of it will be covered up. This wall is going to have a floor-to-ceiling cabinet on each end, a desk-height cabinet in the middle, a desktop stretching across the entire wall, ,and probably a piece of artwork or a corkboard in the middle of the wall underneath the wall sconce. So the wall is far from finished right now.
And right now, here's the whole view of the wall…
There was no need in putting wallpaper on the ends that will be covered completely with floor-to-ceiling cabinets.
It's been a very long time since I last installed patterned wallpaper, but this process was surprisingly easy. I was also very pleasantly surprised with the quality of the Spoonflower wallpaper. I've been hesitant in the past to purchase wallpaper from there, but I'll have no hesitation to do so in the future.
But along the way, I did learn a couple of tricks, so I want to share those with you.
My tips for installing Spoonflower wallpaper
I used the water activated wallpaper instead of the peel-and-stick since the peel-and-stick costs more.
The first tip I learned is to unroll the wallpaper, printed side up, and let it sit for about 15 minutes. If you unroll a roll of wallpaper, and immediately place it printed side down on your work surface to begin activating the adhesive, the paper will start to curl up, and it will be very frustrating to work with. So just unroll it, give it about 15 minutes, and then it will be very easy to work with.
You can see the difference here in the one that has been unrolled for 15 minutes, and the ones that have just been unrolled…
The directions on the package say to place the wallpaper on your work surface (I used some extra blackout drapery lining so that the plastic layer would protect my newly finished floors), and then use a roller to spread water on the back to activate the adhesive. Then fold the paper over on itself and let it sit for 3-5 minutes.
I followed the directions precisely on the first piece, even waiting the 3-5 minutes, and it didn't work so well. By the time I got the paper to the wall, some of the adhesive had already started to dry.
So on subsequent rolls, I placed the roll face down on my work surface, and using a 6-inch roller soaked with water, I started in the middle of the paper and worked towards the top half of the paper, rolling a generous amount of water on the paper. As soon as that half was covered, I did it again, and then immediately folded that paper over on itself.
Then I did the other half in the same way — rolled water from the center to the end to cover the entire bottom half, and then repeat. Then fold the paper over on itself.
I didn't get pictures of each of those steps because I was having to work very fast, but here's how it looked with both halves activated and folded over on itself.
As soon as I got the bottom half activated and folded over on itself, I picked the piece up and headed towards the wall. There was no need to wait any longer. The amount of time it took to roll, re-roll, and fold the bottom half was plenty of time for the top half to activate. And the amount of time it took to line up and smooth out the top half on the wall was plenty of time for the bottom half to activate.
The directions also say to start on one end of the wall and work from one side to the other. Because I wasn't covering the entire wall, I didn't do that. Instead, I started in the middle.
Using a level, framing square and pencil, I marked a line in the center of the wall, offset by 3/8-inch. (Spoonflower prints their wallpaper so that the edges overlap 3/4 inch.)
And I used that plumb line as a guide to hang the first piece.
And then I worked out from there…
I was very impressed with the quality of the adhesive on the wallpaper. It was a strong adhesive (not one single time did I have an area that hadn't been smoothed out really well yet start to peel away and fall off the wall like I've experienced with other wallpapers in the past), but it also allowed for easy adjustment.
My wall required eight widths of wallpaper, and what I love about Spoonflower is that you can have them print custom length. So I specifically ordered eight pieces of 8-foot-long wallpaper, and they were all printed exactly the same so that the pattern lined up perfectly.
That's a HUGE bonus with Spoonflower wallpaper, because with most companies' printed wallpaper, you're left with a lot of wasted paper at the end from having to match patterns. With Spoonflower, there's no waste. (And even though this is sounding like a commercial, I promise that this isn't sponsored. 🙂 I paid for my wallpaper just like anyone else has to, and they have no idea who I am.)
I mentioned earlier that Spoonflower prints their wallpaper so that it overlaps 3/4-inch. I was aware of this before I ordered it, and I assumed that it had to be trimmed once it was installed. Lots of wallpapers (especially grasscloths) are installed that way to ensure perfect seams. But the directions specifically said that trimming wasn't necessary.
I was dubious about that claim, and was fully prepared to trim the seams if need be. But as it turns out, the overlap was just fine. It may be because my wallpaper is so busy, but I have to run my hand over the surface in order to find the seams, and even then, I can't see the overlaps. That was a pleasant surprise, because I was NOT looking forward to trimming seams.
I loved the wallpaper on the wall just by itself, but of course, trim and casings make everything better. It was so fun seeing the progress as I installed the thick white trim against the bold wallpaper yesterday. And what a difference it made!
And it's not even finished! Although I got the casings installed, none of the finishing steps have been done yet. Those casings will look even sharper when they're painted.
So it was an exciting weekend! 🙂 But now I need to double back and get the rest of the polyurethane on the floor. I might be pressing my luck if I try to do more in this room before the floors are fully protected.
Helpful sources and products:
Want to purchase the wallpaper I designed? You can find it here…
I've also made the design available in a fabric print, which you can find here…
And if you want a step-by-step tutorial for how I install window casings, you can find that here…
Addicted 2 Decorating is where I share my DIY and decorating journey as I remodel and decorate the 1948 fixer upper that my husband, Matt, and I bought in 2013. Matt has M.S. and is unable to do physical work, so I do the majority of the work on the house by myself. You can learn more about me here.