Do You Know How EASY That Would Be To Make?!
Those ten words brought me so much frustration when I was growing up.  My mom and I would go shopping for school clothes, and inevitably I would find some off-the-rack something that I absolutely loved.  Then my amazingly talented, seamstress wizard of a mother would take one look at the price tag, then study the detail of the construction for less than a minute, and turn to me and say, "Do you know how easy that would be to make?!"
Those were the words I dreaded, but they were inevitable.  And before I could even finish one complete dramatic eyeroll, she had whipped out a tiny little notepad from her purse, and she was sketching away like a fashion designer (long before the days of camera phones), and we would head to the fabric store.
And then I would end up with a homemade article of clothing.  Yes, it would look just like that thing that I had wanted.  (Actually, better, most of the time, because it was customized just for me, according to my taste.)  But it was homemade.  And that's not what I had wanted.
As a kid, I had no appreciation whatsoever for the time, effort, skill, and craftsmanship that went into homemade custom items like that. I just wanted the inferior quality off-the-rack stuff.
My, how times have changed!  🙂
Little did I know that I would not only become my mom, but I would become her to the extreme.
And now, I am so incredibly thankful that my mom instilled in me not only a desire to spend money wisely and not throw money at things simply because of a brand name on the label, but she also created in me a love for creating things with my own hands, and a creative eye that can spot things that I love but that I can create myself for less (and often — but not always — with better craftsmanship than the original).
Anyway, that all brings me to the point of this post.  I often have people ask me, "Where in the world did you get that idea?"  Or, "How did you come up with that?"
So I thought I'd give you a glimpse into how my mind works when it comes to DIY.  And one of my favorite games to play is called I Could TOTALLY Make That!  I like to peruse online stores (my favorites being Pottery Barn, Restoration Hardware, Anthropologie, Ballard Designs, West Elm, Layla Grayce, One Kings Lane, and Joss & Main), and challenge myself to come up with ways to make as many of the things I like as possible.
I have an entire file on my computer of I Could TOTALLY Make That! items that I hope to try out one day.  So here are a few, and I'll show you how the process works in my mind.
Let's start with this light from One King's Lane.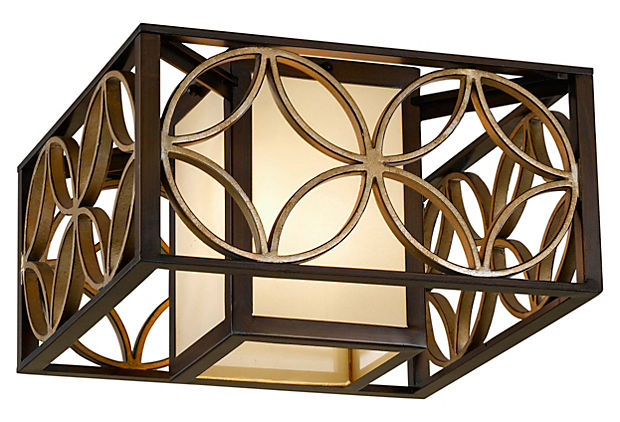 I don't like the inside part, but I do like the outside "cage", and I would love to adapt this idea for my house.  Perhaps a light for my kitchen?
Now obviously this light is made from metal.  First and foremost, I know my limitations, and I don't have any skills whatsoever with cutting, forming, and welding metal.  But I can work with wood.  So I ask myself, "What's made of wood and looks like the parts required for this light?"  The answer?
Square dowel rods and embroidery hoops.  Square dowel rods (available at Home Depot) to make the basic frame, and embroidery hoops (available at a Hobby Lobby) to make the circle design.  Use a miter saw to cut all the pieces, attach them with tiny finishing nails, or perhaps even just wood glue or a quick-setting epoxy, spray paint the whole thing black, use gold leaf on the circle design, and done!
See how fun this game is?! 😀
I could seriously spend hours doing this!
Okay, next.  These Xavier Hurricanes from Pottery Barn.
These are so easy!  The potentially expensive part of this would be the glass.  So what has glass that I could use?  Super cheap clearance frames!  I'd grab four of them just for the glass.  Then I'd make the hurricanes to fit the glass I found.  Make the basic frame out of square dowel rods, bottom out of MDF, decorative base out of square dowels, and the "X" design out of small trim from Home Depot.  Paint it black, adhere the glass to the inside, plop in an battery-powered candle, and done!
Next, this teak end table from Joss & Main.
Making round items an be a challenge, but for something like this, Home Depot just happens to have the perfect thing!  I would start with a round cardboard concrete form (the kind used to pour round concrete footings or pillars.)  Cut a round piece of MDF for the top, and then start cutting and adhering short pieces of 1″ x 2″ lumber to the top to give the appearance of a solid bundle of wood.  Once the top is covered, cut longer pieces to completely cover the sides.  Cut some little feet and attach those (or come up with something that looks better than those).  With the whole thing assembled, give it a vinegar and steel wood treatment to age the wood, seal with water-based poly, and done!
I seriously love this game!  And I'm not lying when I say that I do this quite often.  It keeps my mind thinking creatively, and challenges me to think outside the box.
Next, this Piana Mirror from Joss & Main.
It's very similar to my chrysanthemum mirror, but has pointy petals, and there are a lot more of them!  Plus, it's made of metal.
This would be incredibly time-consuming, but I'm not one to shy away from a project just because it's time consuming.  🙂
Metal items can also be a challenge, so I have to think through what's already available out there, and easy to use.  I'd grab a roll of metal flashing from Home Depot, along with a pair of tin snips and thick gloves, and start cutting petals!  Crease each petal down the middle to give some dimension, glue them around a round piece of MDF, give the whole thing a coat of gray spray paint, followed by a very light dusting of various other colors (white, metallics, etc.), glue a mirror the the center, and done!
Now this Boone Hall Bench from Joss & Main…
Something like this is obviously more challenging, as it's more than just a pretty accessory, but an actual piece of furniture.
Since I don't own a lathe (and even if I did, wood turning is a craft that takes years of practice), I'd purchase some ready made legs from a place like TableLegs.com.  Then I'd build the base similar to the one I built for the upholstered ottoman coffee table.  Building projects are made much easier for DIYers if you have a Kreg Jig.
The top would be the most challenging, but after studying it, I don't think it would be difficult.  Time-consuming, yes.  Difficult, no.  I'd build a frame, and then buy several spools of a natural twine (like a jute twine) from Home Depot.  I'd wind it around the frame, pulling very tightly, and completely covering the frame from side to side going in one direction.  Then I'd start winding it the other direction to cover the other two sides, and weaving in and out of the twine that goes in the opposite direction to create the design.  Again, very time-consuming, but not difficult.
Make sure all of the twine is secure (I'd probably reinforce them with lots of staples and/or a strong adhesive on the inside edges of the frame), and then drop the frame into place and secure it to the base.
And one more…this Sibley Floor Lamp from Anthropologie.
I've wanted to make something like this in a table lamp version for quite some time.  Obviously I don't have a way of making something from metal, so what could I form into a shape like this?  Clay!
I would start with a long threaded lamp rod and build a very basic table lamp with the threaded rod as the base of the lamp so that a cord could be threaded up through it.  Then I would use some medium-gauge wire and wrap around the threaded rod base to form the very basic leaf designs.  (It wouldn't actually look like leaves, but it would form a rigid "spine" for my leaves.
And then I would use air-dry clay to sculpt the branch and leaves over the threaded rod and the wire form.  Let it dry, add a bird or two (probably something purchased from Hobby Lobby or somewhere like that) and attach with adhesive.  Spray the whole thing in one solid color, add a shade a bulb, and done!
So there's a glimpse into my creative process.  Do you do something similar?  I could spend hours thinking, planning, and dreaming.  The hardest part is often making myself step away from the computer and actually doing something.  🙂
I have this idea that once my house is finished (ha!  as if that's going to happen!) then I'll turn my blog into a "How would you make this?" blog, where people can send me pictures of thing they've seen in stores or magazines, and I'll recreate them on a budget.  That would be so much fun!!
Addicted 2 Decorating is where I share my DIY and decorating journey as I remodel and decorate the 1948 fixer upper that my husband, Matt, and I bought in 2013. Matt has M.S. and is unable to do physical work, so I do the majority of the work on the house by myself. You can learn more about me here.