It's Concrete Countertop Weekend!
I have a pretty good start at prepping my countertops for pouring the concrete this weekend. If you missed how I prepped the countertop on the wall of cabinets, you can go back and see it here…
In all honesty, if you were standing in my kitchen or breakfast room right this minute, at 8:27 on Friday morning, you'd probably look around and tell me, "Kristi, there's absolutely no way that you can be ready to pour these countertops tomorrow!"
I have just a tiny twinge of doubt in the back of my mind as well, but I'm determined to do everything in my power to make it happen, even if that means working until 2:00am to get everything ready.
But right now, my fridge/stove wall looks like this…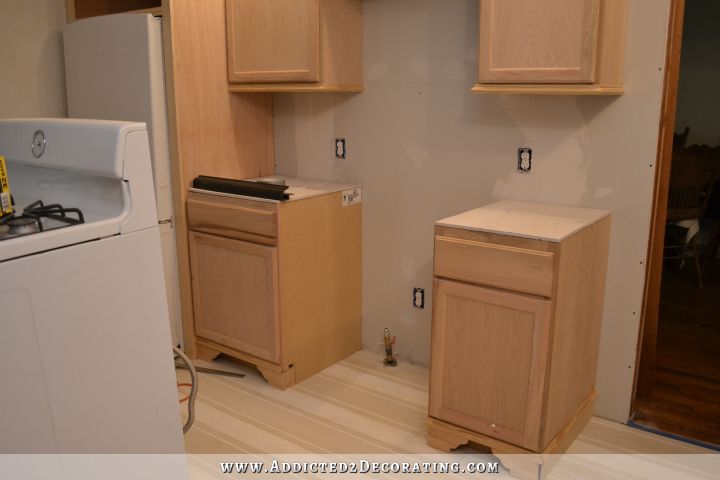 Yep, that's all I got done on that wall yesterday. I cut the concrete board and one piece of the edge form. I still have to finish cutting and installing the forms around the edges and add the fiberglass mesh. That should be quick, though, since those are so small.
And then on the peninsula, I actually took a few steps backwards yesterday. I was trying to get the cabinet installation finished, and something about the design just wasn't sitting well with me. I finally realized that I was trying to force the whole wood column idea into this peninsula, and not only did they not add anything to the peninsula, but they kind of distracted from the one main focal wall that already has the wood columns.
See what I mean? I think it's just too much, and it detracts from the one main wall. And that's the last thing I want. I designed my whole kitchen with the idea that the one wall of cabinets would be the main focus and everything else would just quietly complement that wall, so the last thing I want is for something else to try to steal the focus.
I love those wood columns though (all four columns were generously provided to me by tablelegs.com for my kitchen remodel), so I have another idea for them, but I'll keep that to myself for now.
In the meantime, I needed to do some rearranging of the cabinets on that side since I won't need the extra space for columns. I sent my brother to Home Depot to grab two more 30-inch cabinets and I'll use those in place of the 12″ and 15″ cabinets I was going to use.
That gave me a few additional inches of usable cabinet space, so I'll still need to add some spacers to square everything up on the peninsula. I'll have to figure all of that out today. That's the kind of math and figurin' that makes my brain hurt. 🙂
So after all of my backtracking yesterday, the peninsula looks like this this morning…
Yep, like I said, there's still much to do. 🙂
In addition to finishing up the installation and getting all of the concrete forms ready, I need to do some cleaning up. Right now, my breakfast room looks like a tornado went through.
Everything is covered with sawdust, and now also with black shreds of plastic from the countertop edge forms, and all of that needs to be cleaned up. We'll be mixing the buckets of concrete in here, and I'd cry if any of that sawdust or black plastic shreds accidentally got mixed in with my white concrete.
So I've got a busy day ahead of me. And tomorrow, the concrete will be poured. Mark my words.
I can't wait to show you the progress on Monday! 🙂
Update:
You can see the next step in this DIY pour-in-place concrete countertop project here…
Helpful sources and products:
Want to see how I ended up using those extra wood columns? You can see that here…
Addicted 2 Decorating is where I share my DIY and decorating journey as I remodel and decorate the 1948 fixer upper that my husband, Matt, and I bought in 2013. Matt has M.S. and is unable to do physical work, so I do the majority of the work on the house by myself. You can learn more about me here.