Finished Guest Bedroom Bedding (Plus, What's Left To Do To Finish This Room)
*This post contains affiliate links.
The bedding for the guest bedroom is finished! I read through all of your comments, and got inspiration from some of the suggestions. Many people suggested that I use both of the blue fabrics, and there were several different suggestions on how I could do that. A couple of people suggested that I try the strie fabric with the pattern going horizontally. And then someone linked this pretty blue, yellow and white pillow. I loved it, but I really wanted to use what I had on hand, so I used it as inspiration for how to piece together the fabric I had. This is how it turned out…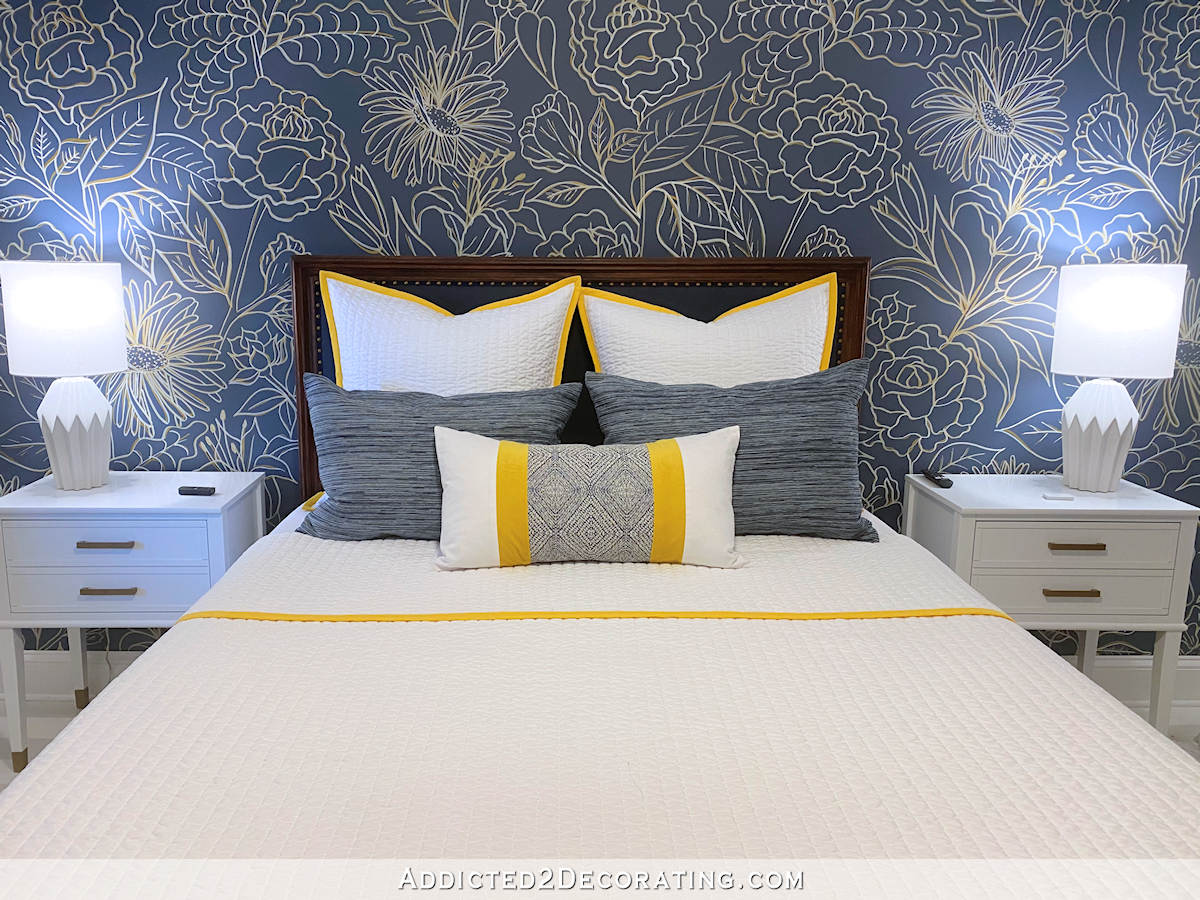 Now that the bedding is finished, I have a few more projects to wrap up, some touchups to do, and then I need to bring in all of the finishing touches.
The biggest project still left undone is the finishing of the closet interiors. It's not an exciting project at all (which is why I've been dragging my feet on it), but obviously it needs to be done for these closets to be useful.
And then the other big project is sewing the draperies. But now that I've been sewing for a few days and thoroughly enjoying it, I'm looking forward to this project.
I also need to paint the ceiling in that little area. Somehow I completely overlooked that when I was painting the room. That drywall isn't even primed! And then the new legs on the bed need stain. Matt needed the space under the bed to be higher, so the original legs I had on there had to be replaced.
I want to put a full-length mirror in this room, and this wall seems like a good spot for it.
I really love this full length mirror with the thin gold metal frame, but I was sure hoping to find one locally. Purchasing a large mirror online and hoping it gets here in one piece seems like a roll of the dice. But so far, I've struck out on finding a similar one locally.
And then I need to finished the TV frame, and then find or make some artwork to add some color and interest to this wall.
And then, of course, the room needs some accessories and fun stuff to add personality and warmth.
I've set a goal for myself to have this room finished by the end of this next weekend. I think I can do it if I stay focused! So we'll see if I can stay focused. 😀
Addicted 2 Decorating is where I share my DIY and decorating journey as I remodel and decorate the 1948 fixer upper that my husband, Matt, and I bought in 2013. Matt has M.S. and is unable to do physical work, so I do the majority of the work on the house by myself. You can learn more about me here.