Last Updated on December 24, 2015 by Kristi Linauer
Well, y'all.  After over a month-and-a-half of looking at a peninsula that looked like this…
It's finally finished.  And when I say finished, I mean the kitchen side of the peninsula only.  In my mind, the other side is officially part of the breakfast room, so I'll tackle that when I tackle the breakfast room.
But the kitchen side now looks like this…
And I absolutely love it!!!
Remember what it looked like just after I installed the stock oak cabinets?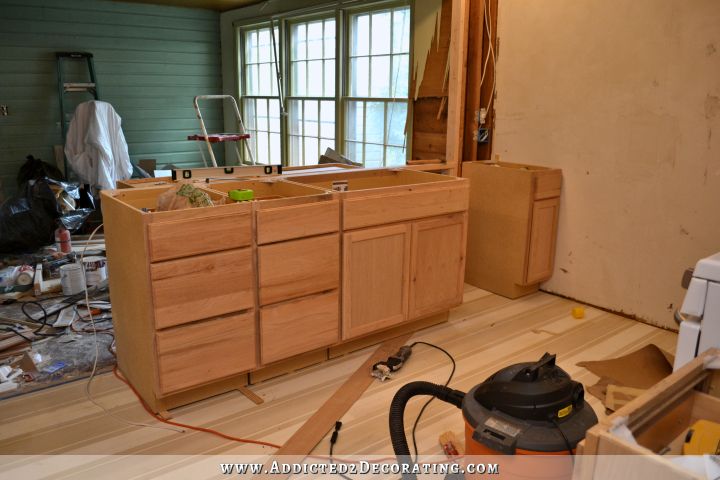 It's come a long way!!  😀
The funny thing is that Wednesday night when I was installing all of the doors and drawer fronts and started installing a couple of the pulls, I was working late at night, and getting so frustrated.  Things weren't going smoothly, doors weren't lining up like they should, getting the drawer fronts all lined up perfectly proved to be much more challenging that I had expected, etc.  I actually started hating this peninsula and was so disappointed in how it was turning out.  So I decided to call it quits for the night and go to bed.  The next morning I got up, walked into the kitchen, saw it with fresh eyes, and just loved it.  And then when I added the rest of the pulls, it just took it up another notch or two in my eyes.  What an amazing difference cabinet hardware makes!  It's like the perfect jewelry for an outfit.
My favorite thing about the peninsula is this section of drawers.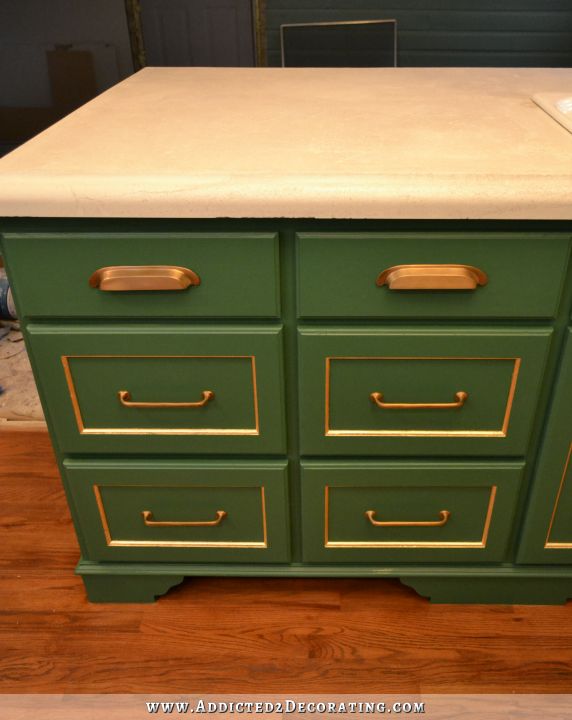 It turned out just as I had envisioned.  I've never had a kitchen with two different styles of drawers, and I've never used different types of pulls on the drawers in a kitchen before.  But when I saw a picture on Houzz with a similar arrangement that had different styles of pulls for the different styles of drawers, it looked just perfect to me.  So I decided to go for it.  I'm so glad I did!!  It's my favorite thing!  And I'm so glad I left the gold leaf off of the top drawers.  I love the variation.  It keeps things interesting.
It's been a long time in the making, but these cabinets are finally finished.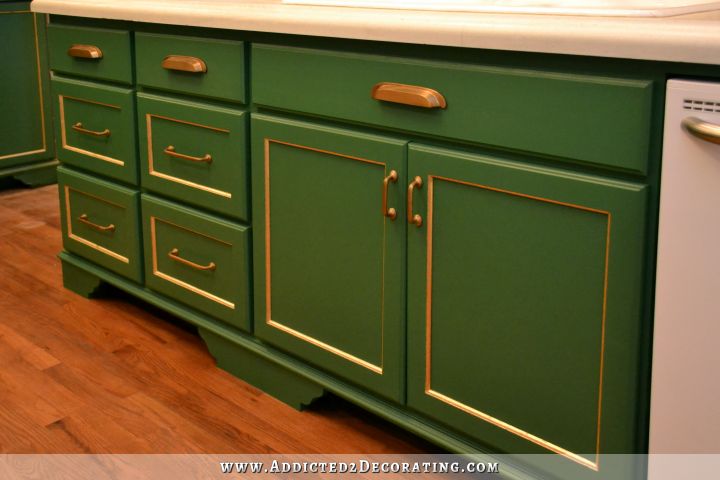 But that doesn't mean my kitchen is finished.  After my cabinet doors, drawer fronts, and corbels got ruined in the rain, I was so frustrated and…well, depressed…that I literally just quit everything in the kitchen and moved on to other non-kitchen-related projects.  I was so upset about it that I just really didn't even want to step foot in the kitchen.  I know, that sounds extreme and very silly.  It sounds silly even to me.  I've never reacted like that to a failed DIY project before, but then again, this is the biggest and longest project I've ever attempted.  So seeing it so completely derailed like that after thinking I was just days away from the finish line really threw me into a funk.
All of that to say that during the month that I was waiting for my replacement doors and drawers, I didn't tackle much of anything else on my to do list.  And I've still got quite a to do list filled with small finishing details.
So the kitchen really is almost done, but I highly doubt that it'll be finished on Monday.  Sometime next week, definitely.  But not on Monday.  🙂
Addicted 2 Decorating is where I share my DIY and decorating journey as I remodel and decorate the 1948 fixer upper that my husband, Matt, and I bought in 2013. Matt has M.S. and is unable to do physical work, so I do the majority of the work on the house by myself. You can learn more about me here.
I hope you'll join me on my DIY and decorating journey! If you want to follow my projects and progress, you can subscribe below and have each new post delivered to your email inbox. That way you'll never miss a thing!