Last Updated on December 24, 2015 by Kristi Linauer
I actually already showed you the start of my wainscoting the other day, but I'm still calling this "part 1" because I'm starting at the beginning.
At some point last week, I got the very start of the wainscoting on the far wall in place, which was basically made up of 1 x 4's installed horizontally along the floor, and then again at about 37.5 inches high on the wall.  And then I created sections by adding more 1 x 4's vertically between those horizontal pieces.  I also added a piece of trim (called panel moulding at Home Depot, sold by the linear foot) along the top of the top 1 x 4.
Note: I'm using MDF boards for my wainscoting.  I've used MDF and eucaboard in bathrooms before with no problem.  Since everything will be caulked, primed in oil-based primer, and painted with at least two coats of paint, I don't forsee (and have never had) any problems with moisture damaging the MDF or eucaboard.  I prefer MDF over solid wood lumber for wainscoting because of how beautifully and perfectly smooth it sands.  However, if you want to do this project in a bathroom that is used very frequently by several people for hot steamy showers each day, and/or has moisture/ventilation issues, you might be better off using solid wood lumber for your wainscoting.  Again, just be sure all of the edges are caulked (anywhere where water/moisture could seep down between the boards and the wall), prime with a good oil-based primer (I use Zinsser Cover Stain), and follow up with at least two coats of paint.  If you follow that and don't cut corners, there should be no water/moisture damaging the wainscoting.  But only you know your own bathroom traffic/moisture/ventilation situation, so you'll have to be the judge of whether or not this wall treatment is right for your bathroom.
Anyway, I ended up removing the vertical pieces, shifting them over to the left, and adding one more vertical piece on the right side.  It just felt so unbalanced before, with me using the tall floor-to-ceiling piece as the final vertical piece on the wainscoting, and then having the horizontal trim end so short.  The horizontal trim ended right where it needed to, but I was clearly missing a short vertical piece to make things feel balanced.
So once I got everything shifted over,  and added that last short vertical piece, it looked so much better to me.
And as you've seen in other pictures, I based the height of the wainscoting on the vanity height, as I wanted this panel moulding to go right along the top of the vanity countertop.
So that's where I had left off with the wainscoting last week, and where I picked up working on it yesterday.  The first thing I did was fill all of the joints with wood filler.  And as I've said before, I use a very liberal amount of wood filler when I do projects like this.  It shrinks as it dries, and I do NOT like having to go back and add a second coat and wait for that to dry.
While the wood filler was drying, I added the moulding on the inside edges of all of the sections.  I used base cap moulding for this, mitering the corners, and attaching the pieces with Loctite construction adhesive and 1.5-inch 18-gauge finishing nails.
Then I used wood filler to cover all of those nail holes. When I use wood filler on nail holes on this type of moulding, I only use the bare minimum amount needed to fill the hole.  That's because any wood filler on that curvy moulding has to be sanded by hand (as opposed to the flat 1 x 4's, which can be sanded with my electric sander), so I don't want to create more work for myself than is necessary.
I also added the moulding to the section that will be behind the toilet.  The section to the left of that didn't get any moulding because it will be completely hidden behind the vanity.  Adding moulding there would be a complete waste of time and money.
And I also did this section on the end.
This section really isn't visible for the most part when the vanity is in place.  But I did notice last week, before I moved the vanity out to paint it, that at one certain angle, you can see all the way to the back wall between this wall and the side of the vanity.  So it needed to be finished.  Probably no one else would ever notice it, but if I ever caught a glimpse of an unfinished wall at the side of the vanity, it would drive me crazy.
After all of the wood filler was completely dry, I used my sander and 150-grit sanding discs to sand the joints and nail holes on the 1 x 4's completely smooth.  I also used 150-grit sandpaper to sand the nail holes on the moulding by hand.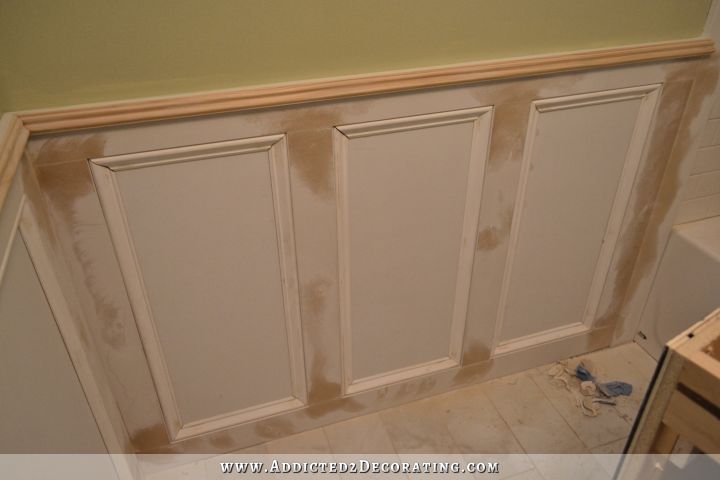 Things always look a bit rough at this point because the primer is sanded off in so many areas, but it's nothing that a coat of primer and paint won't fix!
And then it was time to caulk.  Caulking is my absolute least favorite part of this process, but it's so important because it really gives everything a clean, finished look.  Also, since this is a bathroom, it'll keep water/moisture from getting between and behind the boards.
The three main places where I caulk the wainscoting are (1) the mitered corners of the moulding, (2) where the moulding meets the 1 x 4's, and (3) where the moulding meets the drywall on the inside of the "frame." And of course, I caulk anywhere else I see that needs it, like where trim meets in the corners of the walls.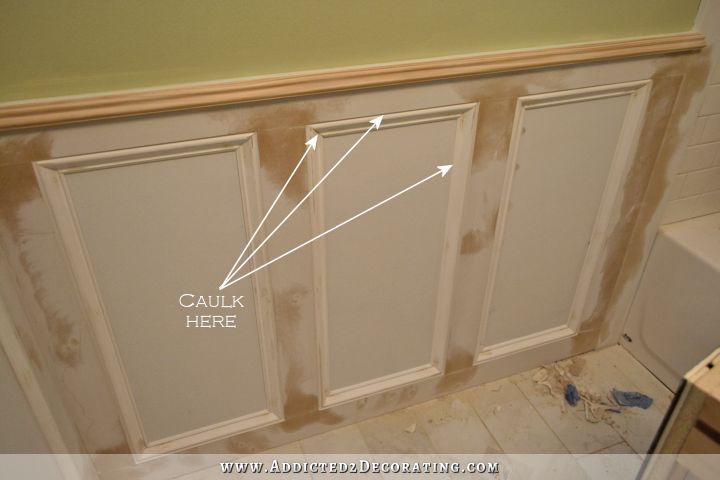 Next I needed to build out the area where the accent tile would be installed.  The moulding below where the tile will be placed sticks out from the wall almost an inch, so if I put the tile (which is about 1/4-inch thick) directly on the wall, it would be recessed too far and look ridiculous and poorly planned.
So to add some needed thickness to that area, I cut strips of 1/2-inch drywall and attached it to the wall with construction adhesive and nails.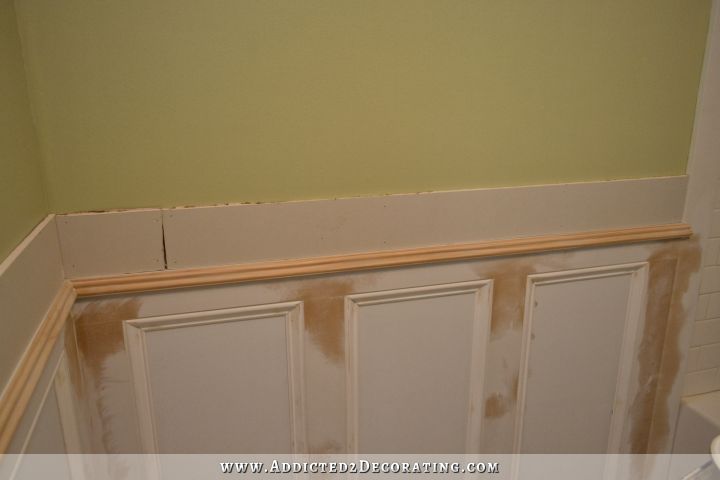 And then I topped the drywall with more trim.  I used the same panel moulding attached to a 1 x 2.  The 1 x 2 was a little taller than the panel moulding, so I ran it through my table saw to remove about 1/8 inch and make the 1 x 2 and the panel moulding the same height.  So when it's finished, that 1 x 2 won't show at all.  Its only purpose was to give the appropriate thickness to the panel moulding.
I didn't have enough trim to finish the other two walls,so called it quits for the day.  But this section between the moulding, where I installed the strips of drywall, is where the tile accent border will be installed, and that is what will act as a backsplash behind the vanity.
I'm hoping to be able to finish it today!  I still need to find some sort of small ledge-type trim as a cap on the very top (probably some sort of lattice) and then I need something to finish it off along the floor.  Then priming, painting, and tiling.  That's doable in a day, right?  🙂  I guess we'll see tomorrow!
UPDATE:  Click here to see the finished wainscoting!
Addicted 2 Decorating is where I share my DIY and decorating journey as I remodel and decorate the 1948 fixer upper that my husband, Matt, and I bought in 2013. Matt has M.S. and is unable to do physical work, so I do the majority of the work on the house by myself. You can learn more about me here.
I hope you'll join me on my DIY and decorating journey! If you want to follow my projects and progress, you can subscribe below and have each new post delivered to your email inbox. That way you'll never miss a thing!