I'm hoping to have the full hallway before and after post this week (I'm still working on that cabinet drawer), but I kept thinking that no matter how finished my hallway is, that bathroom vanity was going to muck up my pictures with its clashing teal color and random color patches where I tested various paint colors. I couldn't let that happen. 😀
So yesterday I made a quick color decision and just went for it. I tried out Benjamin Moore Classic Gray, which is what I have on my walls in the breakfast room, living room, music room (as the darker areas of the stencil) and hallway (as the darker stripes), but it looked so completely washed out (almost off-white) in the bathroom. Then I tried Benjamin Moore Kendall Charcoal, which is what I have on the console table in the hallway, but it was way too dark and dreary.
Then I had the brilliant idea of mixing those colors in a 1:1 ratio. It was just the gray I was hoping for.
After rejecting the gray trend for so long, this whole gray thing is still quite new to me. It does seem a bit shocking to walk by that bathroom and see so much gray after seeing a dark teal vanity for so long…
But I do really like the gray with the mosaic tile accent and the floor tile. And I think it looks cohesive with everything going on in the hallway.
I'll keep the light green wall color for now, but I might rethink that in the future. And by that, I mean next year. I've got more than enough to focus on this year. 🙂 At least for now, the bathroom isn't clashing with the hallway, so I'm pleased with it. And now I can finish that drawer (or rather drawers — I made a bit of a design change) on the hallway cabinets and get this hallway completely finished.
By the way, if you're new to my blog, you probably missed this bathroom remodel! This bathroom used to look like this…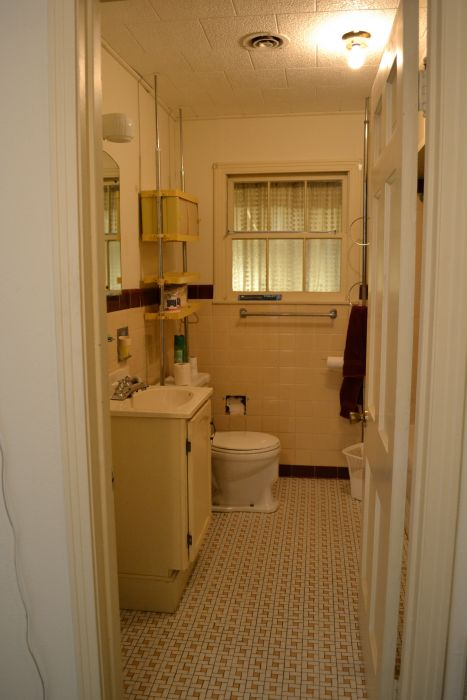 So I tore it down to the floor joists, wall studs, and ceiling joists…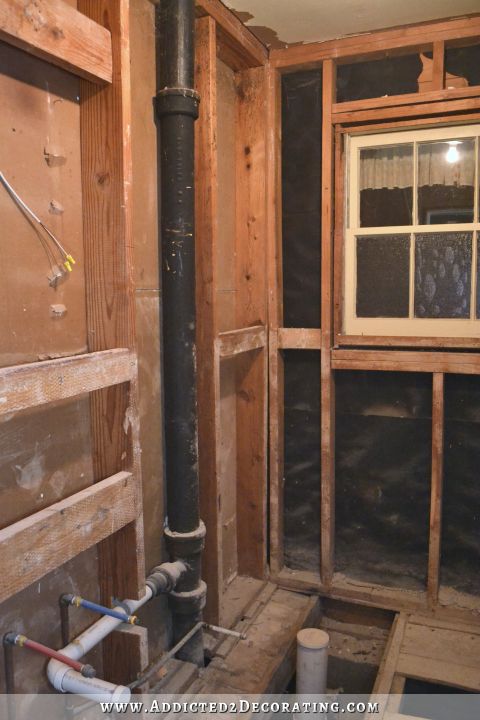 …and then completely rebuilt it so that it looked like this…
You can click here if you want to see the whole before and after post for this bathroom remodel.
Addicted 2 Decorating is where I share my DIY and decorating journey as I remodel and decorate the 1948 fixer upper that my husband, Matt, and I bought in 2013. Matt has M.S. and is unable to do physical work, so I do the majority of the work on the house by myself. You can learn more about me here.
I hope you'll join me on my DIY and decorating journey! If you want to follow my projects and progress, you can subscribe below and have each new post delivered to your email inbox. That way you'll never miss a thing!