Last Updated on December 24, 2015 by Kristi Linauer
Just to warn you upfront, my mind is kind of all over the place this morning. So while I'll try to make this post as coherent as possible, I make no promises. 🙂
When we had our house inspected before we bought it, the inspector mentioned that the plumbing was a problem. He said the house had galvanized pipes, and I'm sure he explained to me why that was a problem, but to be honest I was in such a complete haze that day just from receiving one piece of bad news after another from him.
(Have I mentioned that I almost backed out of buying the house after having it inspected? No? It's true. I went home that day and spent HOURS on Realtor.com looking for another house. To say that I was a overwhelmed and freaked out by the inspection would be an understatement.)
So while I knew that galvanized pipes were a bad thing, and they'd need to be replaced eventually, I don't think I knew just how serious the problem was.
One of the things that the inspection revealed was that the hot water heater not only had some of the worst corrosion that the inspector had ever seen, but it was out of code. (Code states that the hot water heater has to be raised up 18 inches off of the floor — I think that's if it's in a garage.)
So obviously we needed to get a new hot water heater ASAP (the sellers actually gave us an allowance for a new hot water heater), and have it raised off the floor of the garage so that it would be in code.
Now the strange thing about our hot water heater is the location. It's located in the garage, but on the far side of the garage. See it in the right back corner? And see the door into the den on the left side? Yeah…it's weird.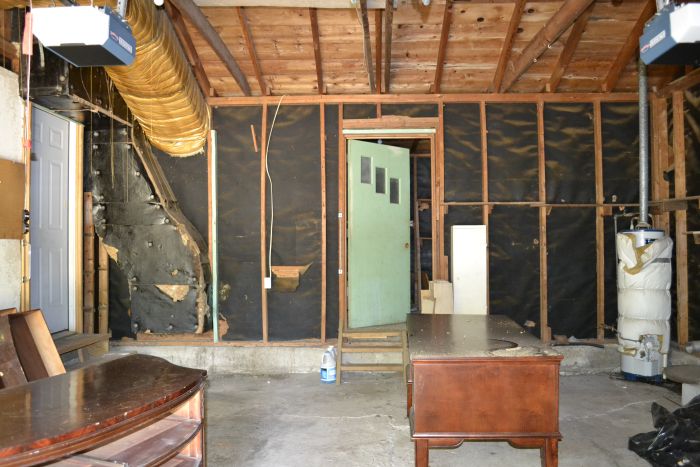 In other words, it's on the farthest side from the house. And the master bathroom is located waaaaaay on the complete opposite end of the house. That's a long way for hot water to travel!! (This will make more sense when I get the floor plan drawn, which I'm working on! I promise!)
So our plan all along was to just go ahead and have the hot water heater replaced in its current position, and then at a later date, create a utility room somewhere inside the house (more details on that soon!), and have the hot water heater moved to the utility room at that time.
That was the plan. Until Monday.
The plumber and his assistant came on Monday to get everything hooked up for me, and I was fully expecting to have hot water by the end of the day.
Well, I'm still without hot water.
I wish I could have recorded my conversation with the plumber just so each of you could get a feel for the way he talks. He's one of these people who doesn't sugar-coat anything. He says everything in as few words as possible — very direct, very matter-of-fact, kind of loud and forceful, quick, and short. If his speaking were written musically, it would be played in staccato.
So he and his assistant were out in the garage getting ready to hook up the hot water heater (I was tearing out the hall closet at this time), when I heard the door open and he yells out in his staccato manner, "Kristi! I need you in here!"
As soon as I got into the garage, he says, "You know you're not gonna have hot water much longer, right?"
I shook my head "yes", thinking that he meant that they were going to have to turn the water off to the house to do their work.
He looked at me and asked again, "You know that, right? You're not gonna have hot water!"
Then I'm sure I had a puzzled look on my face. Clearly he was trying to tell me something, but I wasn't getting it. Then with his next sentence, I got it.
"You've got galvanized pipes here, and they're almost completely corroded. Before too long, water won't be able to get through there at all. You're not gonna have hot water."
Naturally, I was frustrated by the news, but still a bit confused as to why it seemed to be such a big issue.
I said, "Well? Okay? You can replace those, right?"
In his quick, matter-of-fact manner, he said, "Well, no. Not without doing the whole house."
*Sigh* Okay, obviously that would mean more money. But if it had to be done (and I knew it did because the inspector had warned me), then it had to be done. We'd just have to bite the bullet and get it done sooner rather than later as planned.
So I said, "Well, how much will that cost? Can we just go ahead and do that?"
He said, "Well, I don't know! I mean, nobody can get under the house to get to the pipes!"
Oooookay, so let me back up here.
I forgot to mention that while we do have a pier and beam house, it was evidently built by tree-dwelling elves of the Keebler variety who clearly forgot that one day, actual humans would have to get under the house.
The inspector wouldn't go under the house because he simply wouldn't fit. The bug guy (i.e., the termite inspector) wouldn't go under the house, because he wouldn't fit either. And same with the plumber. Up to that point, there simply hadn't been anyone who would actually fit under the house.
So back to the conversation with the plumber.
He said, "Well, nobody can fit under the house!  I sure can't fit under there!"
I started getting incredibly irritated at that point, and I said, "So are you telling me that I'm just out of luck??!!!"
He shrugged his shoulders, and said, "Well, we can get at the pipes another way."
And then he said the words that caused red, hot, fiery, flaming darts from the deepest pit of hell to shoot from my eyes…
He said, "Just don't do anything to your floors, because we'll have to cut holes in each room to get to the pipes.  We've had to do it before, and we'll have to do it here."
I swear to you, I thought I was going to explode.  I wanted to punch him in the face as hard as I could for being so flippant about it.  I could feel my face getting hot, and tears start to well up in my eyes.
And then buyer's remorse rushed in like a tsunami.  It was all I could do to hold my tongue.
Then he turned to his assistant (who happened to be a man of smaller stature) and said, "Go grab your flashlight and come see if you can fit into this scuttle hole."
So after waiting a few minutes (that actually felt like an eternity) as they searched for a flashlight, and then walked around the outside of the house looking through the vents into the crawl space, they finally came inside and into the bedroom closet where the scuttle hole is located.
His assistant looked in, and said those six words that made the clouds part, and angels sing, and hope return to my heart.
"Yeah, I think I can fit."
I stood there and watched him twist and turn and contort his body to get into that small scuttle hole, and then into the very shallow crawl space, and just about had a panic attack watching it.  In fact, I had to leave the room.  I couldn't watch it any longer.
But the good news….he fit!  And he was able to get underneath the house everywhere he needed to go in order to do the work that needs to get done.
And the best news of all?
My hardwood floors are safe!!  Their lives have been spared!
😀
And I wanted to throw my arms around that assistant and give him the biggest hug and kiss he's ever gotten in his life.
But I didn't.
That would have been awkward.
So since they're going to have to do all of this work (which will be done next week), I decided to go ahead and have the hot water heater moved, and have new washer and dryer hookups installed, in the place that will eventually be the utility room.  (Again, more on that soon.)
So what should have cost around $1000 is now going to cost $2500.  But that's okay.  I'll have all new, updated plumbing, my hot water heater and washer/dryer hookups will be in the correct place, and I'll still end up with beautifully refinished hardwood floors.
And that's the story of why I almost killed the plumber.  🙂
While they were there, they did go ahead and remove the gas valves that were in each room.
So now I'm left with just holes in the walls.  That means I can now easily remove the baseboards that I'll be replacing.
And I'm also the proud owner of five vintage gas valves.
I told the plumber, "Please don't throw those away! I want to keep those. I have no idea what I'm going to do with them, but I definitely want to keep them."
He said, "I can tell you exactly what you'll do with 'em. You'll put 'em in a junk drawer somewhere and forget about 'em."
😀
Oh, and remember how I had water pipes sticking up from the floor in the kitchen (presumably where a washer or portable dishwasher once stood)?
They removed those also.
And just as soon as I took that picture, I said to myself, "Kristi, you know at least one person will ask you why you haven't taken two minutes and removed that cabinet yet."
So I put down my camera, got my drill, and took two minutes to remove that cabinet. So to that person who would have asked me that, here you go. 🙂
Now I'm left with four holes in my kitchen floor, one of which is the perfect size for a rattlesnake (or any other kind of snake, for that matter) to crawl through. Yeah. That freaks me out a bit.
But at least there's progress, so that's good.
And one other bit of news. I started taking up the carpet in the den yesterday, and I found more asbestos tiles….plus, a big crack in the concrete.
The crack wasn't a surprise. I knew it was there. The asbestos tiles were a surprise.
How do I know they're asbestos? Because they're 9″ x 9″ tiles. Those are definitely asbestos. Having these tested would be a waste of time and money.
The good thing is that I don't plan on removing these. I'll just put plywood down (i.e., encapsulate them), and then put new flooring on top.
At least, that's the plan.
And wow…if you've read to this point, I feel like I should reward you in some way. I would have stopped about two paragraphs in and said, "Too many words, not enough pictures. I'll come back tomorrow." 😀
Addicted 2 Decorating is where I share my DIY and decorating journey as I remodel and decorate the 1948 fixer upper that my husband, Matt, and I bought in 2013. Matt has M.S. and is unable to do physical work, so I do the majority of the work on the house by myself. You can learn more about me here.
I hope you'll join me on my DIY and decorating journey! If you want to follow my projects and progress, you can subscribe below and have each new post delivered to your email inbox. That way you'll never miss a thing!