Three Past Projects Revisited — How Have They Held Up Over Time? (Concrete Kitchen Countertops, Wood Bathroom Countertop & Wood Bathtub Skirt)
I have a handful of projects on my blog that I get questioned about the most. The big question is, "How has this held up over time?" Unfortunately, the most asked about project (and the most popular and most visited project for the last five years) is the refinished bathtub that I painted in the condo bathroom. Obviously, I don't know how it has held up over time. But the other three most-asked-about projects — the concrete kitchen countertops, the wood bathroom countertop, and the wood bathtub skirt — are ones that I did in the house, so I can show you just how well they've stood the test of time. So here we go..
Concrete Kitchen Countertops
My brother and I poured the concrete kitchen countertops during the big kitchen remodel back in 2014. And while I loved them initially, it didn't take long for them to get completely stained and ugly, even though I had sealed the concrete.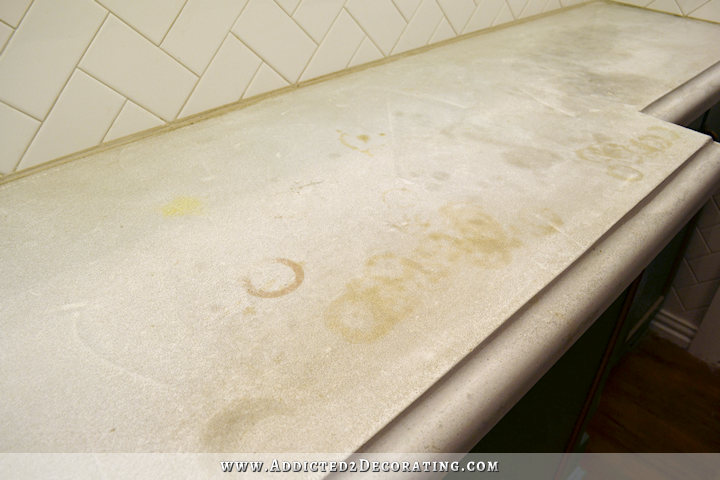 So almost exactly one year ago, I had the countertops refinished by a company that uses a product called polyurea to seal concrete garage floors. That was a combination of a hired out and DIY process that resulted in countertops that looked brand new. You can click here to read about the concrete countertop refinishing process.
And how has it held up over the last year? Amazingly well! Here are some pictures that I took just last night…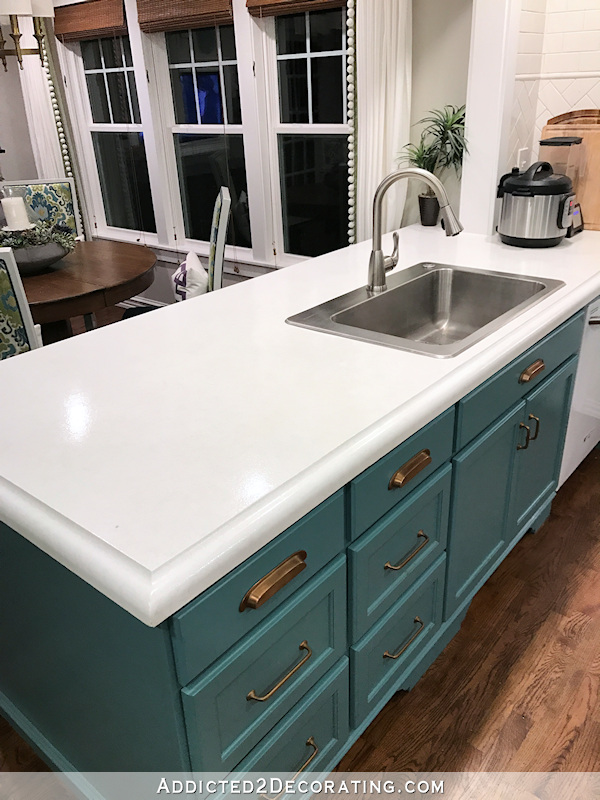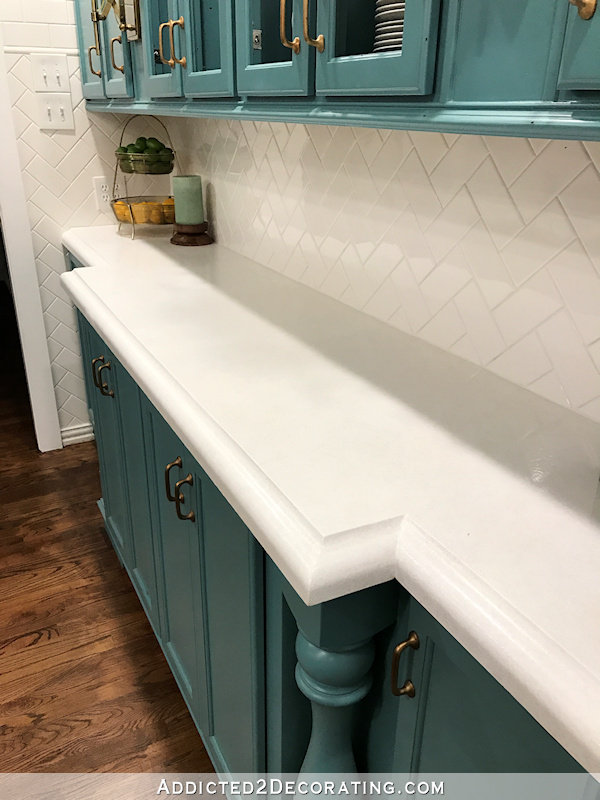 The polyurea coating is incredibly durable. On a continuum that rates durability, with laminate countertops at one end and granite on the other, this would probably be somewhere in the middle. Things like mustard will stain it if allowed to sit on the countertop for a while…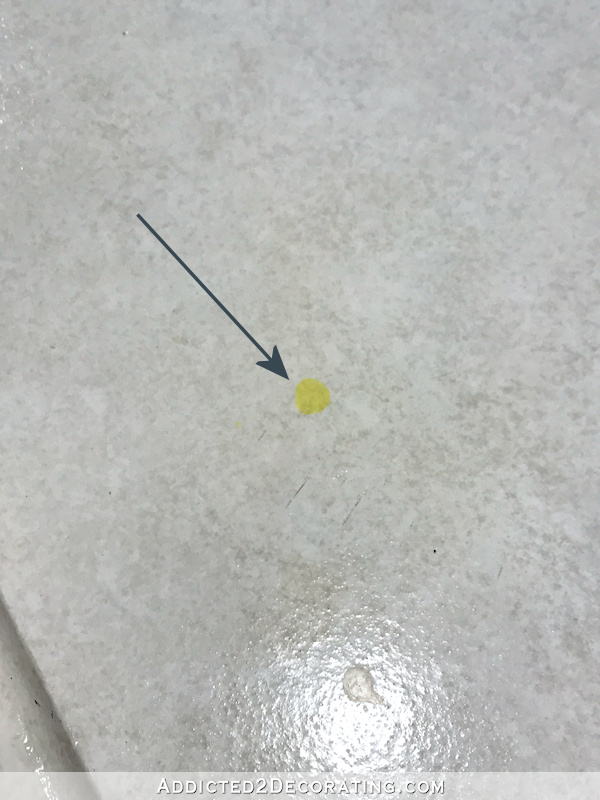 But what I absolutely LOVE about this is that the stains will bleach out. I use a liberal amount of Clorox Clinging Bleach Gel on a piece of paper towel, and leave it until the stain is gone. On really tough stains (and mustard is pretty tough), I sometimes just leave the little piece of paper towel with Clorox on it overnight, and in the morning, the stain is gone.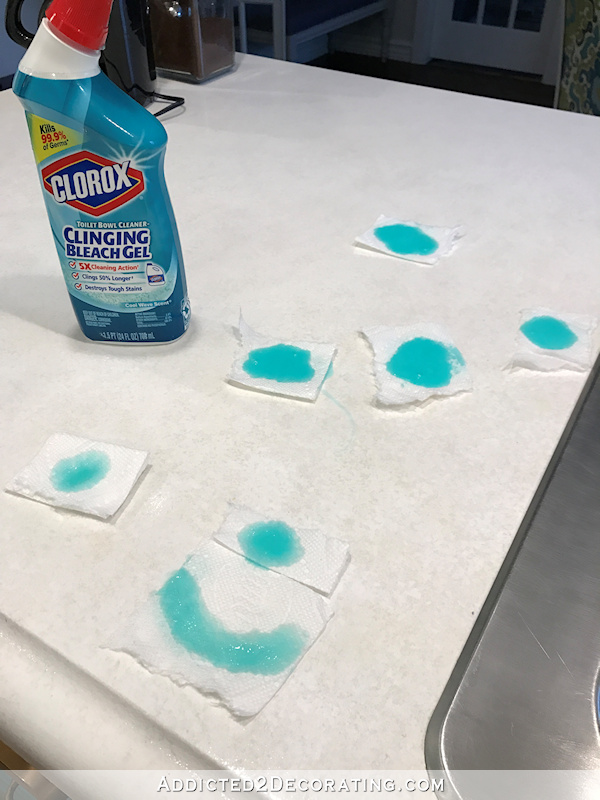 So far, I haven't had any stains that won't come out, including the time I put a plastic grocery bag filled with fruit on the countertop for a week, not realizing that there was moisture under the bag. When I moved the bag a few days later, the red label from the bag had imprinted into the countertop, and no matter how much I scrubbed, it wouldn't budge. That was my very first try with the gel bleach, and it took all day long (and possibly all night), but it came out.
So stains come out, and things wipe off of the countertop easily as well, including dried paint. The only issue I've had is a mystery clear substance that dripped onto the countertop in three places — two pea-sized drips to the left of the sink (i.e. the area of countertop that I use the most) and one quarter-sized puddle just behind the back right corner of the sink. I scrubbed and scrubbed, and it wouldn't come off. On the two small drips, I carefully used a razor blade to at least remove the raised part, and while it's smooth again, it's a different sheen from the rest of the countertop, which drives me crazy. But on the big quarter-sized puddle, I got a little careless with the razor blade and accidentally cut down to the gray primer. So now it always looks like there's an inch-long charcoal-colored thread on the countertop.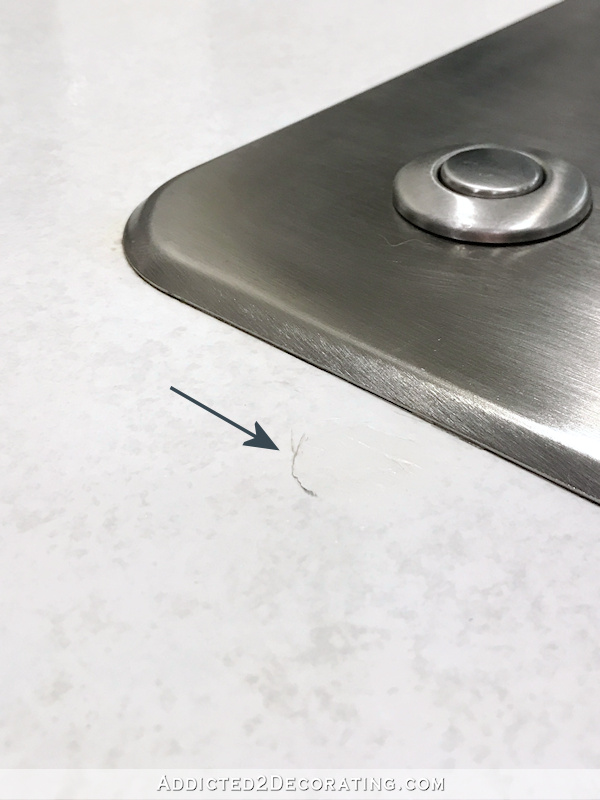 I doubt anyone else would notice it, but I notice it. And it frustrates me that I didn't notice this mystery substance when it was wet and would have come up easily.
So what is this mystery substance? Well, I'm calling it a mystery because I don't know for sure. But after reviewing the types of projects I was working on when the drips appeared, I'm almost sure that it's General Finishes High Performance Top Coat. So if nothing else, that speaks to the durability of General Finishes! Nothing else has been a threat to my polyurea-coated countertops except for the General Finishes clear topcoat.
Just to be clear, I don't put hot pots and pans directly onto my countertops. I'm not sure if I could, but I don't even want to try. I just don't find it a big issue to make sure there's a wood cutting board in place before removing a hot pan from the stove. And while I don't make it a habit to cut on my countertops (as a general practice, that's just gross to me), I have done it on a few occasions when I'm certain that the countertop has been freshly cleaned and I'm not cutting something that requires sawing back and forth with a serrated knife. In other words, I'll cut something like a slice of cheddar cheese with no issues.
I'm so glad I had the countertops refinished, and I find the polyurea-coated countertops very easy to live with and keep clean and stain-free.
Wood Bathroom Countertop
During the bathroom remodel in March 2015, I built a bathroom countertop using 2″ x 3″ pine studs. You can click here to see how I made the wood countertop. So after three years, how does the wood countertop look? Well, here it is today…
It has held up incredibly well over the years. The light spots to the left of the sink in the picture above are the knots in the wood — the very ones that gave me such trouble when I was trying to get the finish right three years ago, which is why the countertop ended up so dark. If I had to do it over again, I would have chosen clearer wood so that I didn't have to fight with knots and stain it so dark to try to camouflage them.
But the wood and the finish has held up very well. If you look at it from the other direction, you can see some scratches in the surface, which show up as white specks. And there's another inch-long scratch near the sink.
Those are from my cat. She likes to jump on the countertop, and she uses her claws. The inch-long scratch by the sink is from when I had to give Peeve a bath (she got into some paint), and she tried to claw her way out of my grip and out of the sink. (Cats aren't really big on baths, as a general rule. 😀 )
But aside from kitty claw marks, the countertop has stood the test of regular use. The main question that people have is whether the boards have warped or separated over time, but as you can see, neither of those things has happened.
In the future, I'd love to replace this DIY version with a walnut wood countertop, but for now, this countertop is going strong.
Wood Bathtub Skirt
During that same bathroom remodel in 2015, I also built a decorative wood skirt on the side of my standard bathtub. You can click here to see how I built the bathtub skirt.
I get comments and emails quite regularly telling me that there's no way this skirt will stand the test of time, and how it'll basically fall apart, harbor all kinds of mold, and on, and on. So how does it look today? Exactly the same as it did three years ago, with the exception of the four-inch-long scratch in the paint on the trim around the middle panel that happened when Matt's wheelchair scraped against it.
Other than that, it's the exact same. And this is the only bathroom that I use…ever. I've taken all of my showers in here for the last three years, and the tub skirt isn't disintegrating. People always ask, "How does it hold up when you get water all over it?" Questions like that always make me wonder what the heck people are doing in their bathroom. 😀 Other than a few drips here and there, which I wipe away after I shower, this tub skirt isn't getting drenched with water. Why would it?
First of all, I use a shower curtain, so it's not like water is ever spraying on the edge of the tub or over the side. When I step out, I may drip some on the ledge, but I wipe it up. And on those occasions where I get distracted and forget, a few drops of water isn't going to ruin a painted surface. As far as the actual face of the skirt, my experience is that you'd actually have to try pretty hard to get water all over that. One or two drops of water at the most will get on it, if even at all, but that's about it.
I'll reiterate what I said in the original post, though. This bathroom is used by adults only. I don't think I would ever do this in a bathroom that's used by children or even teenagers. And if you do choose to take that chance and put it in a bathroom used by kids/teens, there are some extra steps I'd suggest taking, which I described in the original post. But for regular reasonably responsible adults who aren't complete slobs and who are generally responsible to clean up their messes, this tub skirt should hold up just fine for the long haul.
So those are my top three most visited and most asked about projects. If you've tried any of these in your own home, feel free to share your experiences!
Addicted 2 Decorating is where I share my DIY and decorating journey as I remodel and decorate the 1948 fixer upper that my husband, Matt, and I bought in 2013. Matt has M.S. and is unable to do physical work, so I do the majority of the work on the house by myself. You can learn more about me here.