Beautiful Dark Gray & Black Fireplaces
Sometimes I have to wonder why white is our default color on so many things in homes — trim, kitchen cabinets, fireplaces, doors. All of that white gets so boring to me…obviously…which is why I have a green kitchen and black interior doors. And yet, when it comes to my fireplace, I painted it white without even giving it much of a thought. That's just my default setting (paint it white!) when it comes to fireplaces.
I still may paint my fireplace white if I'm convinced, after getting more of the room finished, that white really is the best color for the room. But I hadn't even considered any other color for my fireplace. I mean, it's like it hadn't even dawned on me that another color was a possiblility…until last night. I had spent some time yesterday afternoon working on my fireplace overmantel (which I hope to show you tomorrow), and I was almost ready to start on the trim when I decided to stop for the day. Then last night I decided to take one more look at fireplaces on Pinterest before I made my final final decision about the style of my overmantel, and that's when I saw this gorgeous fireplace from M. E. Beck Designs.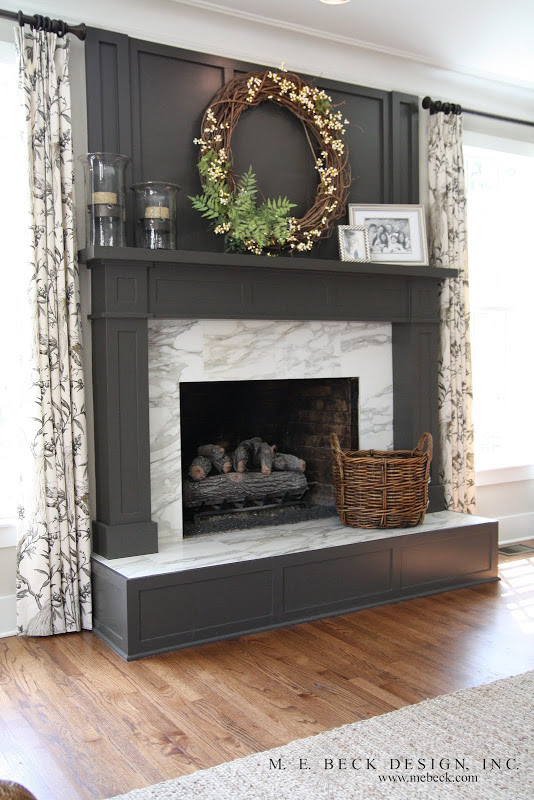 via M. E. Beck Design
Isn't that beautiful?! A dark, other-than-white color gives the fireplace such a presence in the room. So, as is my M.O. when I want to see how something will look in my room, I did a quick copy and paste of that fireplace into my terribly messy and far-from-finished dining room.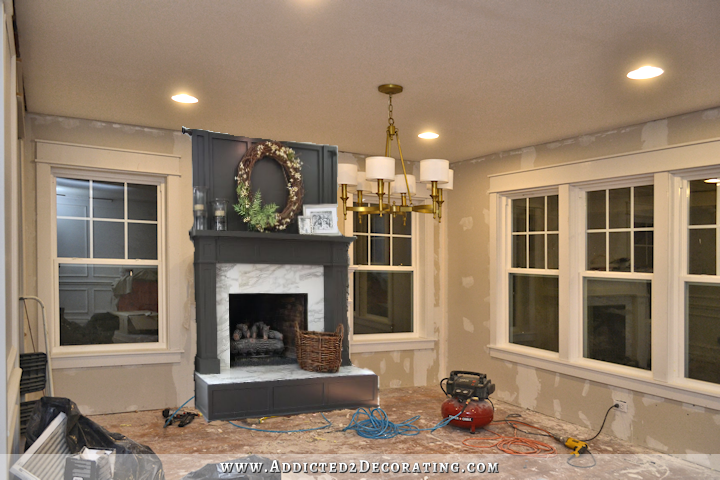 I think that's absolutely gorgeous. The problem with my particular room is that I think the idea of a dark gray fireplace starts to break down a bit when I add the black and white draperies.
I think it might look great with a black fireplace rather than dark gray, but then I worry about the fireplace just looking like a black hole on that side of the room. What I do love is that the dark color keeps the fireplace as the focal point, and the draperies as backup players, where the white fireplace kind of disappears and brings more attention to the draperies.
So I really don't know what I'll end up with. I could always try the dark (black) and see if I like it. It's just paint! If I don't like it, it'll just take a gallon of paint and an afternoon to correct.
After seeing that M. E. Beck fireplace, I started searching for more dark gray and black fireplaces. And now I'm convinced that white is way overused on fireplaces, and in so many cases, it really just washes out the fireplace and makes it disappear into the room, when that's the exact opposite effect that should be happening in most cases when it comes to fireplaces. Just take a look at how beautiful dark gray and black can be.
Eclectic Living Room by Tiburon Interior Designers & Decorators Jerry Jacobs Design, Inc.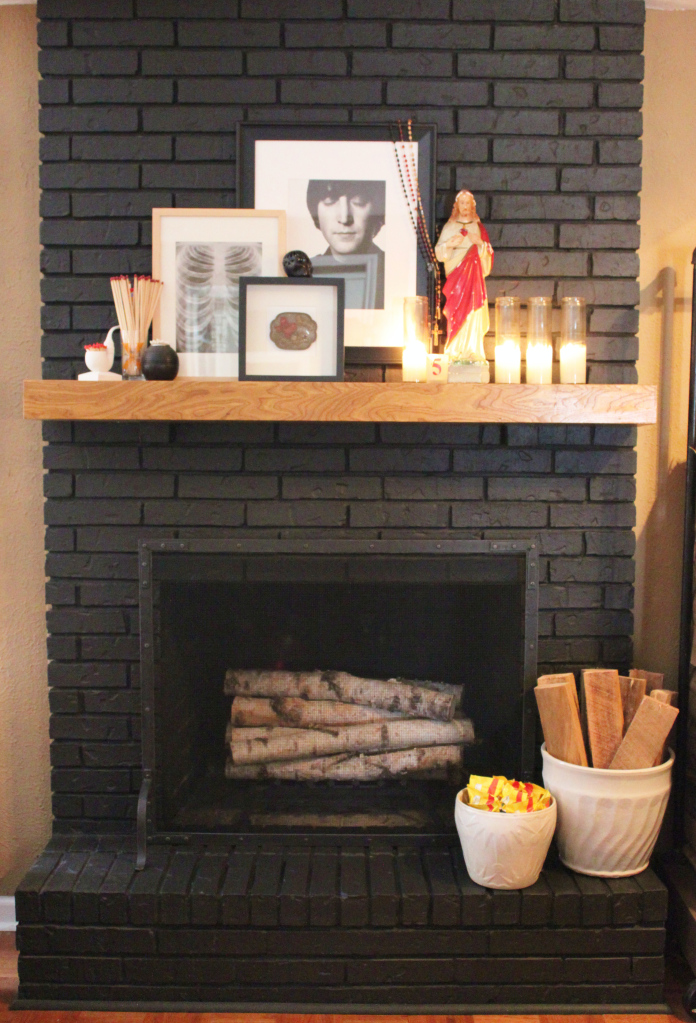 via The Cavender Diary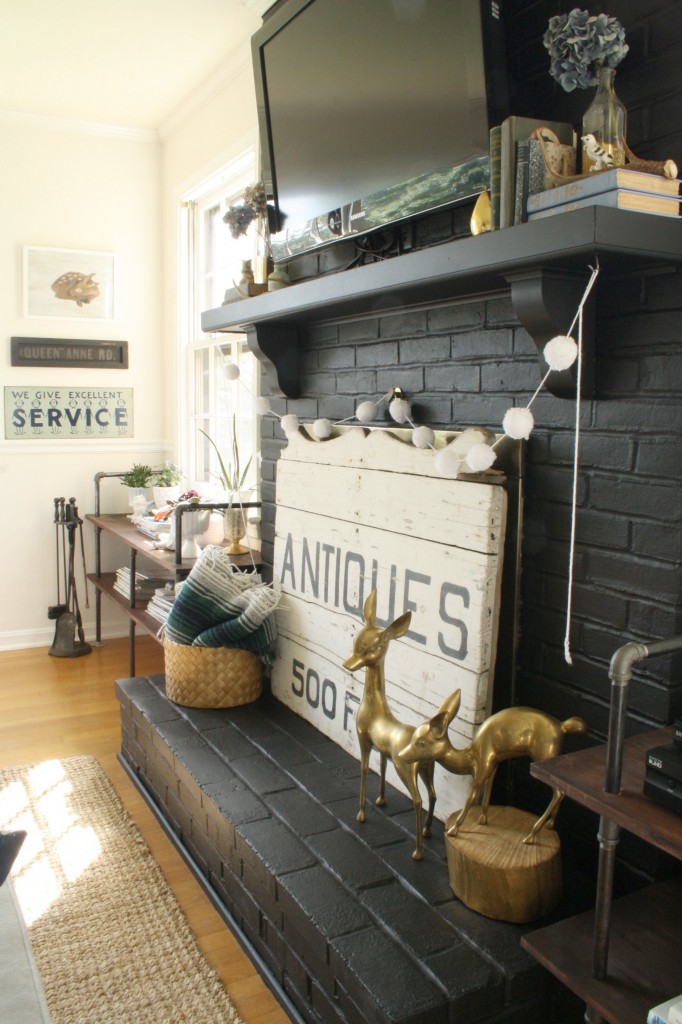 via Primitive & Proper
via Thrifty Decor Chick
Yep, I'm convinced that fewer fireplaces need to be white, and more need to be painted dark or even black. And the more I look, the more I think that mine might be one of them. It's only paint, right?
EDIT: My mom, who is far superior at Photoshop than I, did two mock ups for me — one with a black fireplace, and the other with green. Yes, green. 🙂 The same green that's on my kitchen cabinets. She also "painted" the walls and made everything look much cleaner. Here's the black…
I don't know. I think that looks pretty amazing. And hold onto your hats, because here's green.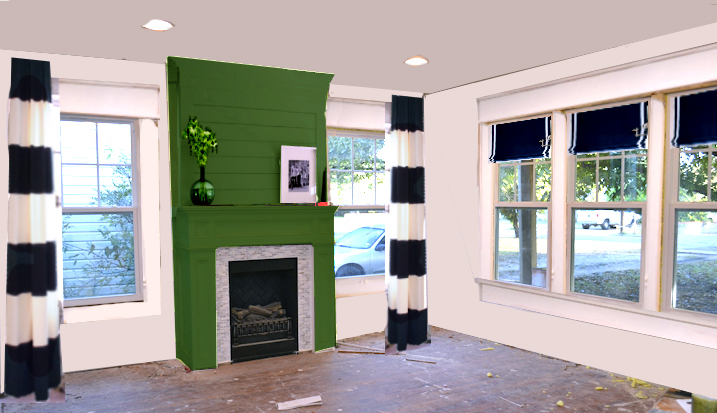 Ha! Talk about a statement!! 😀 For the record, my mom hates the green. Also for the record, I kinda love it. I love that it's bold and different. I also love that it wont' even let bold black and white striped draperies steal the focus from it. A green fireplace will always get the attention before anything else in the room, don't you think? 🙂
I still haven't decided, and probably won't until more of the room is finished. But I love tossing around ideas.
Addicted 2 Decorating is where I share my DIY and decorating journey as I remodel and decorate the 1948 fixer upper that my husband, Matt, and I bought in 2013. Matt has M.S. and is unable to do physical work, so I do the majority of the work on the house by myself. You can learn more about me here.