Last Updated on December 24, 2015 by Kristi Linauer
When Matt and I bought our house in August 2013, I knew what I was getting myself into.  And by that, I mean that I knew in my head that I would be DIYing the remodeling and decorating of an entire house in desperate need of overall updating.  I knew it would be difficult work.  I knew it would take years since I would be doing most of it by myself.  And I knew that it would cost tens of thousands of dollars (I guessed about $150,000 to $170,000) to take it from its original state and turn it into our forever home.
Buying and DIYing the remodel of a fixer-upper is something that I had dreamed of doing for over a decade before we bought our house, but the fact is that I had never actually done that kind of thing myself.  And what I've realized over the last two years is that having head knowledge of those things (the time, the money, the physical demand, etc.), and actually living out those things, are two vastly different things.
Lately I've just felt like I'm living in a money pit.  It kind of hit me the other day when I went to Home Depot to purchase the decorative trim for the walls in the entryway and dining room.  I didn't even buy all of the trim I needed for the whole room (the entryway wall was my priority that day, and my small car can only hold so much), and I was so shocked when the guy at the register totaled my purchase and it came to around $320.  For trim and a few other supplies. Yesterday I went back for the rest of it (including door jambs and casings, etc.) and paid another $150.
And while those aren't huge amounts of money, I find myself going to Home Depot at least four times each week, and spending about that much money every time I go.  Those not-so-big purchases add up quickly.  And those not-so-big purchases are mixed in with our big, very big, and HUGE purchases, like the $2200 for new dining room windows, and almost $19,000 for our new HVAC system.
So it got me to wondering about just how much we've spent on this house so far.  And is it worth it?
I'm going by memory on these things, but if I remember correctly, my kitchen remodel cost right at $10,000.  I think that's a great bargain for a kitchen remodel, considering that I took this…
…stripped it down to the studs, and completely rebuilt it into this…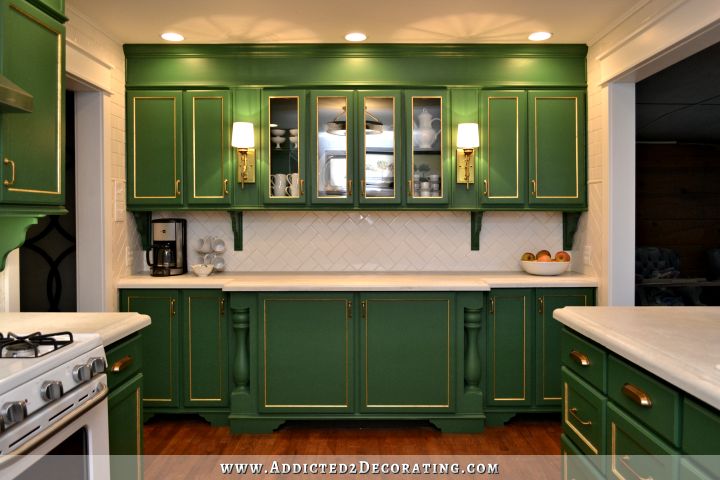 A $10,000 down-to-the-studs kitchen remodel is cheap, comparatively speaking.  But monetarily speaking, $10,000 is a nice sized chunk of change.
The hallway bathroom remodel came in just around $4500.
Again, that's a bargain basement price for a down-to-the-studs bathroom remodel, but it's still $4500.
Those smaller projects add up, too.  I think my DIY fireplace came to about $400.
The pony walls and columns cost around $450, and the rolling doors and hardware came in at around $400.
Those are just the big projects that I've tackled.  There have been 100 different small projects that I've done (not all of which have panned out), and most of those have cost money as well.
We've also spent about $3000 on updating all of the plumbing, around $1000 on drywall and drywall materials (not all of which has been installed yet, and is still stacked in the sunroom), about $800 on refinishing the floors, $2500 to level the house, somewhere around $1500 to trim the trees, and $2500 on a new roof (the cost of which we split with the sellers when we bought the house).
Those are only the things I can think of right off the top of my head, without scouring the archives of my blog.  I'm sure there are things I've forgotten.  So what's our running total so far?
Well, we bought our house for $80,000.  Adding in the things I've listed above, that gives us a running total of $127,920.  When it comes to house prices, that's still pretty darn cheap.  But we've only just scratched the surface.
That whole remodel/addition that I want to do on the back of the house will probably cost somewhere around $50,000, and that's with me saving money by DIYing what I can.  And before all is said and done, the entire front of our house will get a facelift as well.  Right now, it looks pretty neglected…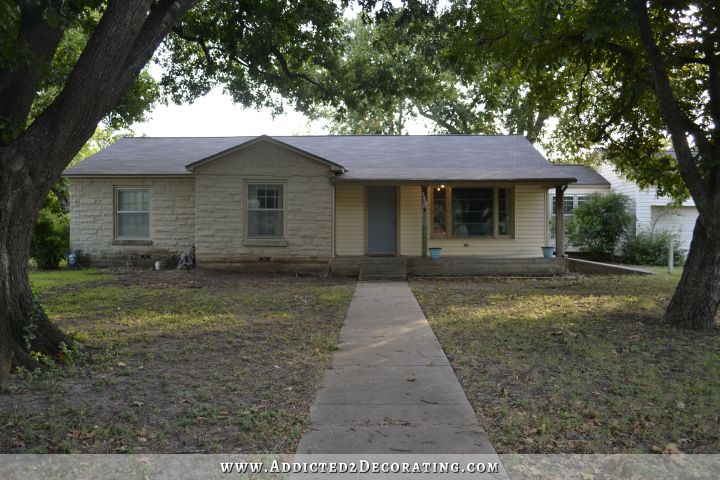 And I want to make some pretty drastic changes…
That's not exactly how I want it to look, but it's the general idea.  I'd estimate that to cost around $25,000 or so.
If I add those big projects, which I estimate will cost around $75,000, to the amount that we've already spent, that brings us to just over $200,000.  That's still a good price for a house, but of course, that won't be all.  We still have an entire acre of land that I want landscaped (including a big, nice chicken coop and gorgeous veggie gardens!), plus I want to eventually build an awesome workshop in the garage.  I can't see this whole project coming in any less than $275,000 once it's all said and done.
So the big question is…is it worth it?  For me, the answer to that question is "yes."  For me, it's worth it.  (I fully realize that for some, this would be their nightmare, but I love it.) Although I will admit that spending $22,000 on upgrades in the span of a week kind of sends me into panic mode.  It's when I start to feel that panicky feeling that it really helps me to sit down, look at the numbers, and think through all of this rationally and calmly.  🙂
If this were not our forever home, obviously I'd be doing things drastically different, and I wouldn't be customizing things to fit us specifically.  And if we were going to sell quickly, or if this were a house I was flipping, I would simply work within the current footprint and just update finishes and fixtures, spending the least amount of money possible, to update everything and turn it around quickly.  But that's not our situation, and I feel very comfortable going above and beyond the basics, and spending as much money as we need to spend in order to turn this house into our forever home.  Once this house is finished, I don't think we'd ever be able to sell it and make our money back.  Although, who knows?  Houses at the other end of our street, just two block away, are valued between $150,000 and $340,000.
But again, we're not really concerned about resale. Just within the last couple of weeks, Matt has stressed to me three or four times that he doesn't ever want to move again.  He wants to get this house completely customized for us, and then he wants to stay here forever.  I'm completely okay with that.
I think the bottom line is that buying fixer-uppers isn't for the faint of heart, and if you're DIYing most of the upgrades and remodels, then you need to be even more prepared for what you're biting off.  🙂  Not only is it a whole heck of a lot of work, and it's tiring living in a construction area for an extended period of time, but it's also mentally taxing to see a constant stream of money being paid out for projects and upgrades.  I just have to keep reminding myself that in the end, it'll be worth it.  And even if we spend $220,000 turning this house into something we love, that's still just $300,000 for our forever home.  That sounds quite reasonable to me.  Now I just need keep reminding myself of that during my future trips to Home Depot.  🙂
EDIT:  After hitting "publish" on this post, this dawned on me…
If you buy an $80,000 house (and pay it off in five years, as we're doing), and then spend $210,000 for upgrades (paid in cash), you'd end up spending right at $300,000 for that house.  If you buy a house valued at $175,000, and have a standard 30-year mortgage at 4% interest, you'd end up paying right at $300,000 for that house over the life of that mortgage.  The difference?  In the first scenario, all of that money is going towards upgrades in the house.  In the second scenario, $125,000 of that money is going towards interest on the loan.
Are fixer-uppers worth it?  I guess it's all a matter of perspective.  🙂
Addicted 2 Decorating is where I share my DIY and decorating journey as I remodel and decorate the 1948 fixer upper that my husband, Matt, and I bought in 2013. Matt has M.S. and is unable to do physical work, so I do the majority of the work on the house by myself. You can learn more about me here.
I hope you'll join me on my DIY and decorating journey! If you want to follow my projects and progress, you can subscribe below and have each new post delivered to your email inbox. That way you'll never miss a thing!