Last Updated on September 1, 2016 by Kristi Linauer
I'm sorry it's been so slow in the blog this week! But behind the scenes, it's actually been a very exciting week here at the house, and if things go as planned, I should start having more frequent updates for y'all in the coming weeks.
I've already shared that we finally got our attic insulated with spray foam insulation after living here almost three years (!!) without insulation. But in that post, I told you that I had other good news of progress to share, so here it is…
It looks like things are about to really get going on the breakfast room. Do y'all remember what this room looked like when we moved in? Let me refresh your memory…
Here was the view towards the back of the room…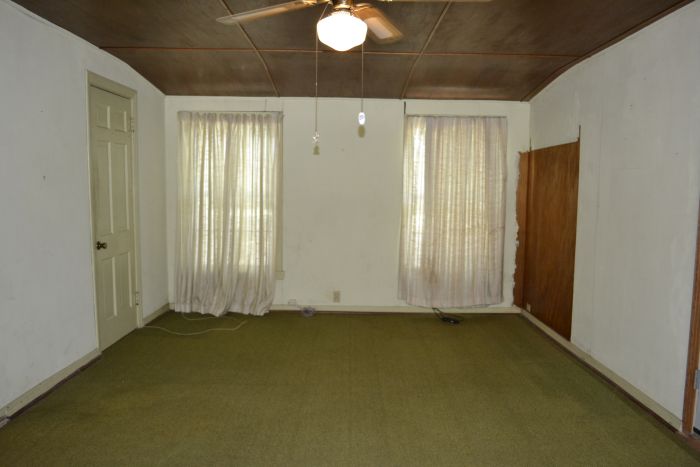 Those two windows look out into the back yard. Those are the windows that will be removed, and this back area will be walled off with a large door, and will serve as a pantry. The door on the left, which goes into the sunroom, will also be closed off.
And then here was the view going the other direction…
Those windows are being replaced with new windows to match the ones I now have in the dining room. Remember when I had that wall between the breakfast room and the kitchen (on the right side in the picture above)?
Now that wall is gone, and that's where my peninsula sits. This is the view from the kitchen towards the back of the breakfast room and the area that will soon be the pantry.
And here's the view from the kitchen towards the front windows (the windows that are being replaced with new ones) in the breakfast room.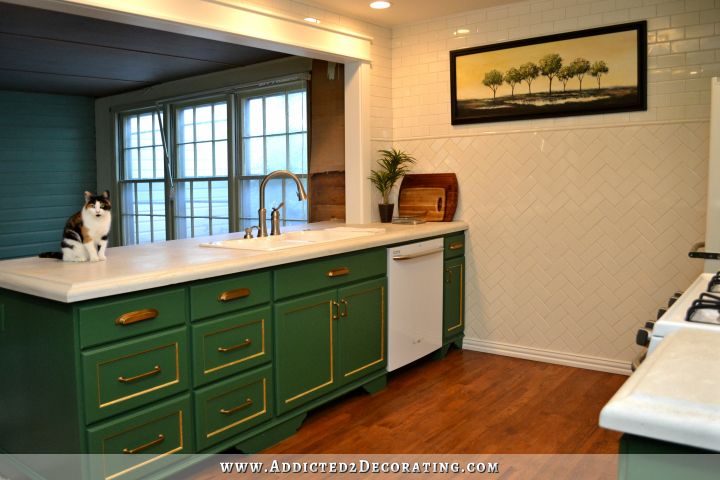 I can't believe I've never taken updated pictures of the kitchen with the new opening from the kitchen to the dining room! Or if I did, I can't find them. But that painting that my mom did for me is no longer there, and there's a cased opening in that wall now that let's in a lot of amazing sunlight from the front room (dining room) windows. I really need to get some updated pictures!
Anyway…
That was just a reminder of what I had to work with . It doesn't look like that now. That breakfast room actually looks worse now, if that can be believed. I'll try to get some updated pictures today to share at the beginning of next week, but things are about to start happening in this room.
Remember the floor leveling guy who stood me up? Not the one with pneumonia (he was great, but his company doesn't do the work I needed done), but the one whose contact info I was waiting to get from the one with pneumonia. Anyway, I called him, he came out and looked at the floor, and said he was going to have to bring someone else (I think it was his uncle) to look at the floor the next day. Then he never showed.
Well, he and his uncle (I think) showed up out of the blue at my house on Monday. They both looked at the floor, and then decided it was a job for a concrete person, so they were going to have their concrete guys come look at it.
I didn't expect anything, to be quite honest. I just went about my business, planning how I was going to level my floor all by myself. But the next day (this past Tuesday), the concrete guys actually called, scheduled a time, and came by that very afternoon! I was impressed with that!
Not only did they come by, offer great information, listen closely to exactly what it was that I wanted, but they scheduled a time to do the work. They're supposed to be here tomorrow morning between 7:30 and 8:00 to get started!!
Tomorrow morning!!! I'll have a level, non-cracked breakfast room floor by the end of the day tomorrow!!
Now don't misunderstand. A level floor doesn't mean a finished floor. I'll still have to add the plywood on top of the newly leveled concrete, and then install the hardwood floor on top of the plywood. But it's the concrete that has had me concerned and feeling a bit over my head. I know I could do it myself if I had to, but I'm perfectly happy to have someone else do it for me.
So they came on Tuesday, at the same time the insulation guys were here. When they left, I mentioned to the insulation guys what I was having done, and what still needed to be done in that room, and asked them if they knew anyone reliable who could do any of the work I still needed done (e.g., drywall, installing windows, etc.). One of them gave me a name and number, so I called and they came that evening!!
I was really impressed with them. There were two men, a father and son team, and only the son spoke English. My experience in the past has been that when pairs or teams of workers show up, and only one speaks English, then the non-English-speaking person kind of stays over to the side, quiet, not really participating much at all, like they're more the labor person, and the English-speaking person is the decision maker.
Well, that wasn't the case with these two at all. They were both very involved in the discussion of the project, the possible issues (like that awkward sloping ceiling), the different options, etc. And while I couldn't understand him, the father seemed incredibly knowledgeable, which makes sense, of course. His son probably learned everything he knows about construction from his father. But the point is they both seemed very knowledgable, and they seemed to work really well together as a team, and I was equally impressed with both of them. As they would be talking with each other, I kept finding myself thinking, "I think I found my people!!"
You know what I mean? My people! The ones I can count on and trust. The ones that I can call for a wide range of jobs, from framing to drywall and loads of things in between. The ones who actually know what they're doing, and will always have a good solution to any problem that arises. The ones that charge a reasonable price and don't see the word "SUCKER" on my forehead just because they're dealing with a woman. The ones I can develop a long-lasting work relationship with that will see me through the completion of this fixer upper. My people!
Oh, how I want them to be my people. I have a really good feeling about them, and I'm so tired of being let down by subcontractors. But these men have already set themselves apart from the others because before they left, the son said that he would get me an estimate the next afternoon. And you know what? He actually did it!
He actually called me the following afternoon, just like he said he would do. He asked a couple more question, and had me text him a couple of pictures of things that he had overlooked. And within 15 minutes, he called me back with an estimate and discussed other various options with me that might affect the final price.
My people!! I'm so hopeful.
Anyway, I have lots to do today to get the breakfast room floor ready for concrete tomorrow. Things are getting exciting!
Addicted 2 Decorating is where I share my DIY and decorating journey as I remodel and decorate the 1948 fixer upper that my husband, Matt, and I bought in 2013. Matt has M.S. and is unable to do physical work, so I do the majority of the work on the house by myself. You can learn more about me here.
I hope you'll join me on my DIY and decorating journey! If you want to follow my projects and progress, you can subscribe below and have each new post delivered to your email inbox. That way you'll never miss a thing!