I have one more main project to do before the guest bedroom is finished. I still have to sew the draperies. Other than that, it's just a few touch ups, some accessorizing, and then it's done!
But this past weekend, I was at the point of the project where I was starting to feel like it'll never be done. Honestly, I've been at that point for a couple of weeks now. And when I reach that point in a project, I start to question if I'm ever going to get this house done. And then I start to question what the heck I've even accomplished in the first place since we bought this house. Since I live in this house day after day, and I only experience the gradual changes each day, sometimes it's hard to remember exactly what I started out with.
So last night, I took a trip down memory lane to encourage myself, and remember exactly what this house looked like when we signed the papers and were handed the key.
I'll never forget walking through the house the first time with my mom. She looked at me with the most concerned look on her face and asked, "Kristi, are you sure you can do this?" I responded, "Yes! I really want to do this!" My brother simply looked at me like I had lost my mind and said, "Well, I'm glad it's you and not me."
They were concerned that I was biting off way more than I could chew. And they had every reason to be concerned! Frankly, I had no reason at all to be so confident that I could tackle this house on my own. I was ignorant and naive, and I had no experience with the majority of the things that I'd face when remodeling this house. And yet, for some strange reason, I just knew I could do it. Or I knew, at least, that I wanted to try.
And nothing, not even a kitchen that looked like this, was going to put a damper on my excitement, enthusiasm, and unjustified confidence.
It's hard to believe that the kitchen was the first room remodel that I tackled in this house. Talk about diving into the deep end of the pool! I just went for it and figured things out as I went along. And I think it paid off! Because that old kitchen seems like such a distant memory, and the transformation is so much sweeter knowing that I did this with my own hands.
There was so much that went into that kitchen, and it was such a confidence-booster challenging myself to figure out solutions as I was met with problems. And getting that room completely finished made me feel like I was unstoppable. And I needed that confidence because I went on to tackle the hallway bathroom, which started out looking like this…
That was quite a project, too! But it was well worth the effort. I love my pretty little hallway bathroom now.
All of these before pictures seem like a distant memory to me. Each time I open up the folder on my computer (which I do every few months just to encourage myself), I'm shocked each time. I'm shocked that seven years ago, I somehow, and for some inexplicable reason, felt like I could tackle this house largely by myself. I've definitely had some great help along the way, but I had no idea what I was getting myself into when I walked through the house the first time. That didn't stop me, though! It only made me more determined.
I remember seeing this big room next to the kitchen and having absolutely no idea what I was going to do with it. The previous owners called it a den, so initially that was my plan as well. But somehow that plan evolved into turning this into a breakfast room with a walled off section at the back for a walk-in pantry.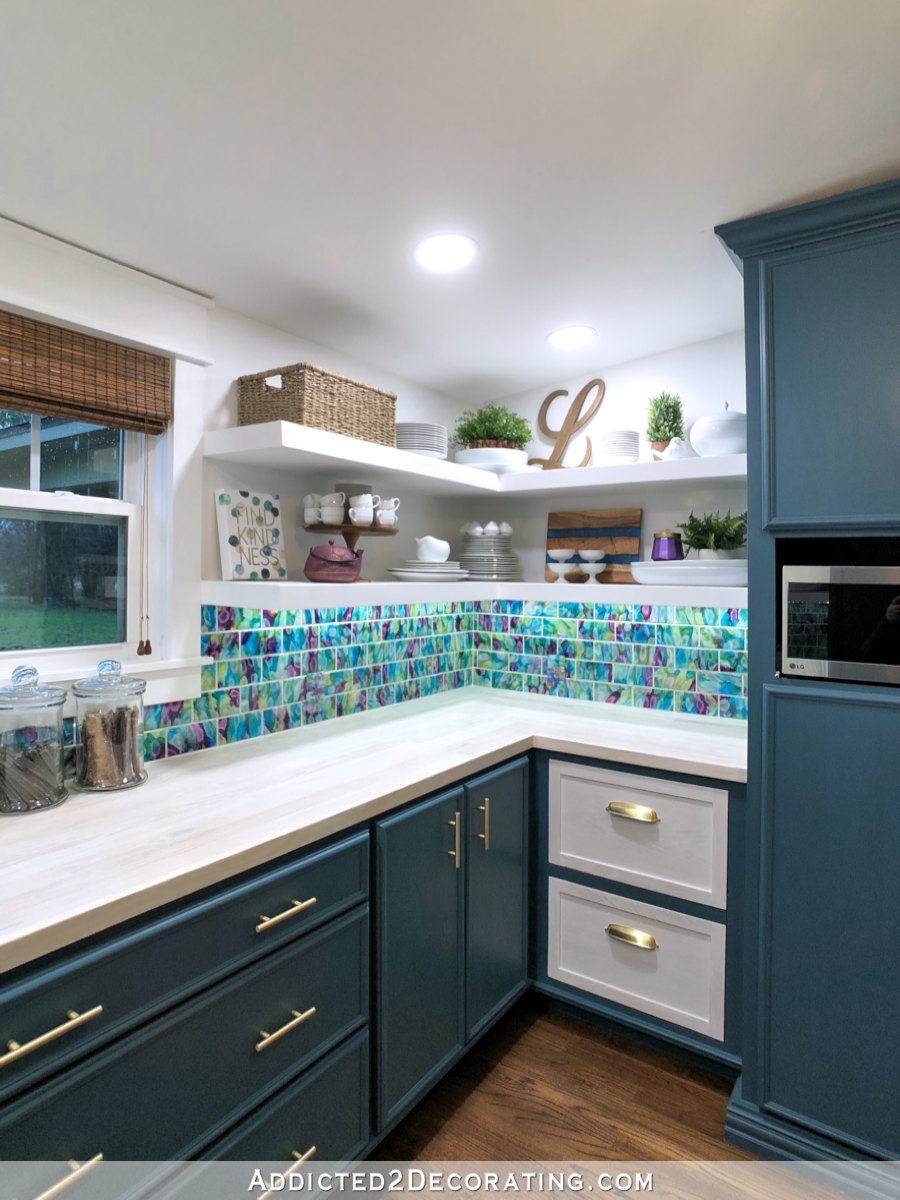 And of course, there's so much more that's been done since we bought this house. But I just needed a little pick-me-up, and flipping through some of these before pictures was just the boost I needed to tackle the very last project that remains on the guest bedroom.
Speaking of the guest bedroom, remember what it looked like originally?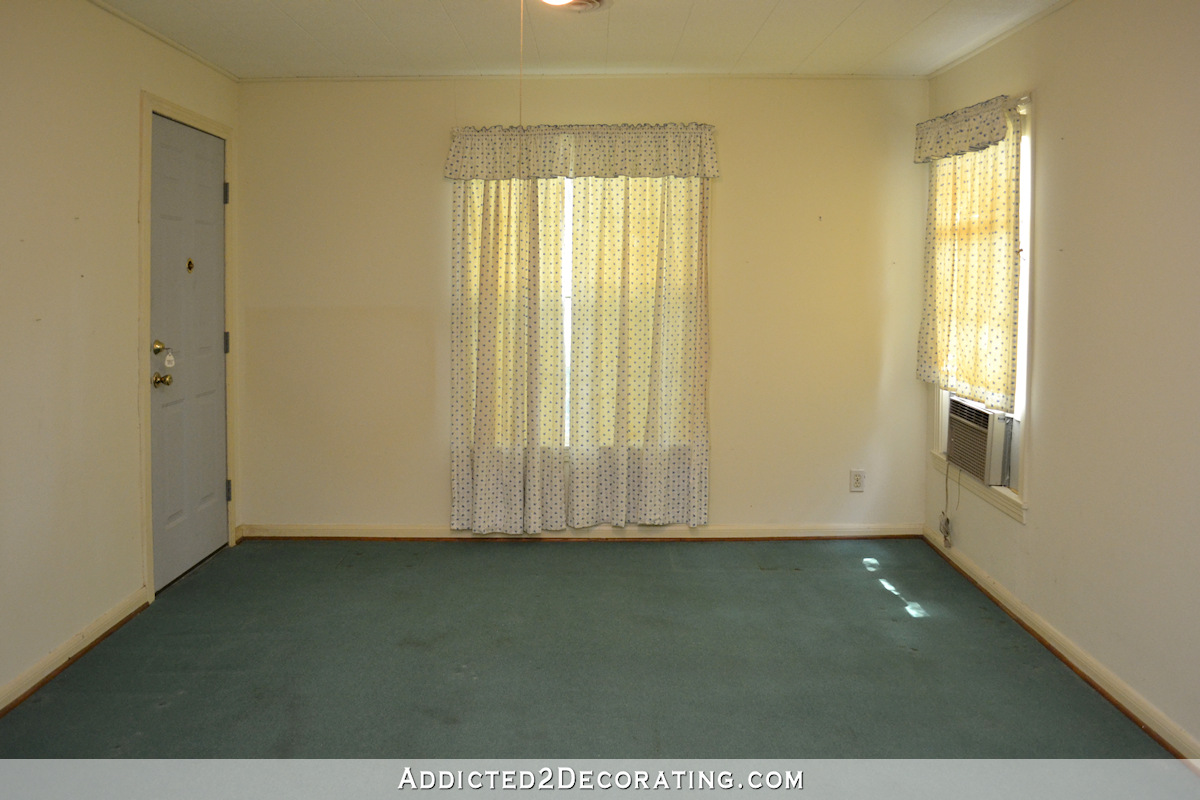 I can't wait to get this done so I can show you the full before and after! Just one more project!!
If you're remodeling your house, or thinking about buying a fixer upper, please be sure to take loads and loads of before pictures!!! Trust me, you'll need them. And especially if you're DIYing the remodel, which naturally takes way longer than hiring out the whole thing, you'll be so glad to have those pictures to look back on when it feels like the project will never end. Being able to see the progression through pictures is sometimes just the boost of encouragement I need to push me over that finish line.
By the way, if you want to see more pictures of the our house on the day we bought it, you can see those here:
Addicted 2 Decorating is where I share my DIY and decorating journey as I remodel and decorate the 1948 fixer upper that my husband, Matt, and I bought in 2013. Matt has M.S. and is unable to do physical work, so I do the majority of the work on the house by myself. You can learn more about me here.
I hope you'll join me on my DIY and decorating journey! If you want to follow my projects and progress, you can subscribe below and have each new post delivered to your email inbox. That way you'll never miss a thing!