Last Updated on December 24, 2015 by Kristi Linauer
Hey, everyone! I know it's rare for me to post on Saturday, but I just wanted to pop in and share some thoughts with you.
As you can probably tell, I'm so excited about our house!! My mind is going about 90 miles a minute, continually jumping from one idea to another to another, and I just wish I could tackle everything at once! But obviously, I'm just one person, so turning this house into my vision of home will take quite some time.
As I look around and dream and plan, I've been thinking about how things may change — how I might change, how my decorating may change, how my fiercely independent personality might need to be tempered a bit, and how the blog may change.
I know it frustrates blog readers when they get used to a blog being one way, and then all of a sudden things change. I don't want to do that, but I also know that realistically, some things will have to change. So here's what you can expect as we get moved into our house, and I finish up the condo and get it on the market, and then turn my attention completely to the house.
1. There will be plenty of DIY!
I think the main reason that most of you visit me is because you enjoy low cost DIY ideas.  And if that's the case, then you've got nothing to fear.  I'll be doing loads and loads of DIY in this house, as you've already seen by me ripping out all of the carpet last Monday.
Anything and everything that I'm capable of doing on my own, I will absolutely do on my own.  I love doing DIY projects, and I certainly have no intention of giving that up.
2.  There will be professionals involved.
This is where the house will differ from the condo.
In the condo, I think I hired professionals three times– once to install a faucet (and that was because Blogher and Moen picked up the tab), once to cut out the sink hole in my butcherblock countertop for my undermount sink (which I quickly realized I could have easily done myself), and once to help me open up the closet and the walls in the hallway to create the cabinet nook opposite the washer and dryer closet.
Other than those things, and then the handful of projects I've had friends and family help out with over the years, I've done the overwhelming majority of the work myself.  But of course, the condo didn't require any actual structural changes.  (Or rather, I wasn't allowed to do any structural changes, because believe me, I sure did want to knock out a wall or two!)
The house, on the other hand, will need structural changes to turn it into what I want.  For example, I want the kitchen bumped out into the next room (what the previous owners called the den), and then I want the kitchen sink to go under the long window that looks out to the front yard…I think.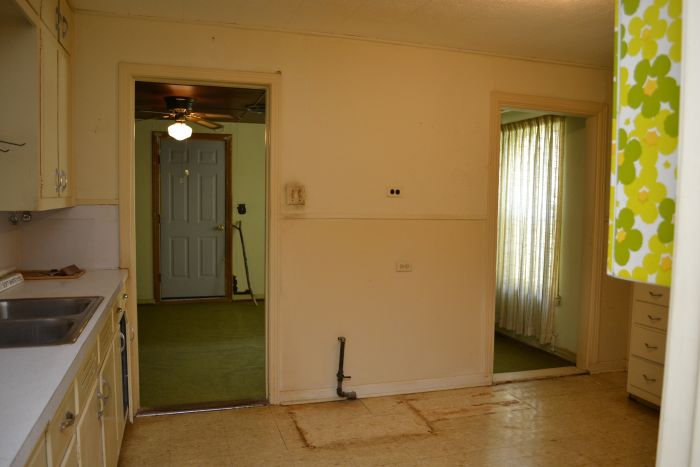 That will require moving the original exterior wall (obviously load-bearing), as well as some other structural changes.
Clearly, that won't be a one-woman DIY project, regardless of how fiercely independent that woman is.  While I want to do as much of the work myself as possible, there's no doubt that there will be professionals involved.
I might even hire an interior designer.  I know that might sound strange considering what I used to do prior to becoming a blogger, but I'll have one shot at this.  One shot to get it right.  So while I don't need (or want) any help whatsoever picking out colors, finishes, hardware, accessories, etc., I very well may want another set of eyes looking at the floor plan before any walls come down and any new floor plans are set in stone just to make sure that I'm making the most of the space that we have in my remodel plans.
And then there's the yard.  The massive yard that this landscaping novice will have to tackle.
Somehow I want to turn this big lot filled with dead grass, random trees surrounded by dead vines, and this massive expanse of flatness into something that's beautiful and park-like.
But I know absolutely nothing about plants.  I don't know the names of plants, I don't know what "region" I live in, I have no idea what kinds of plants need sun and which ones can survive in the shade.  I don't know how to take all of this open space and turn it into something with highs and lows, layers, textures, interesting mixes of colors, etc.
So for that, I'll be relying on a professional landscape designer to help me come up with a master plan to turn this into something beautiful.
I think you get the point, right?
I want to do as much as I possibly can myself.  But I also want to be realistic about my limitations.  I want to understand that there are some areas where I simply don't possess the knowledge necessary to make informed decisions.  I need to get it through my head that when it comes to major remodels, some things are simply better left in the hands of professional for safety reasons.  So I'll rely on others when I need to, and be content doing the stuff that I feel capable of doing (things that won't risk the safety of the people who live in and visit our home, and won't damage the structural integrity of the house).
3.  We will be spending considerably more money than we have in the past.
If you've been visiting my blog for a while now, then you know I'm cheap.  I really don't enjoy spending a lot of money, and I love making pretty things out of humble materials.  It's almost a challenge for me to see just how little money I can spend to do projects.
But that has been an easy mindset to have while living in the condo.  The fact is that this isn't really the kind of place that one would want to sink a bunch of money into.  That would be a foolish use of money since there would be little (if any) return on the investment.  We're right near a college campus, and the condos in this building are often purchased as rental property and rented out to college students.
So yeah…it just made sense to try to make things look as nice as possible while spending as little money as possible.
But Matt and I both agree that this house could very well be our home for a very long time.  With that in mind, I don't want to skimp and be cheap just for the sake of being cheap.  I want to save money where possible, use humble materials to create beautiful things where appropriate, and then spend money where it's needed (and wanted).
And really, one of the reasons that we wanted to purchase a house for around $80,000 was for this very reason — so that we would feel okay spending $20,000 to remove the current sunroom and build a new family room, or to spend $8,000 to extend the front porch and make some changes to the front of the house.
This way, we can end up with exactly what we want, spend money and tackle these major projects as we save up for them, and go at our own pace, while enjoying the benefit of a tiny mortgage.  (Seriously, a college student could handle our mortgage because it's less than half of what apartments rent for around here!  When the bank told us how much our monthly payments were going to be, we laughed.  It's about $115 less than the mortgage on our condo.)  😀
4.  My decorating style will be different in the house.
I'm still not exactly sure what that means, or what my style in the house will be.  I just know that when I look at inspiration online, I'm drawn to things that are more traditional and classic.  For example, I want these chairs for my living room (or something like these)…
I picture those chairs used with a beautiful diamond tufted ottoman covered in some rich-colored velvety fabric with turned wood legs.  And then I want a traditionally-styled fireplace.
As far as colors, I still love color.  I think I'll always love color.  But I find myself being drawn more towards lighter, more subdued colors.  And lots of white.  Always lots of white.
So I'm not really sure exactly where I'll end up as far as style and color, but I do know that I don't just want to replicate ideas and colors that I used in the condo.  I want to stretch myself, and challenge myself, to try new things.
That's about it.  Those are the thoughts that have been bouncing around in my head these last few days.
What do you say?  Are you still going to hang out with me even if I hire people to do some of the hard stuff, start using different colors in my house, and change my decorating style just a bit?
Please say yes!!  🙂
Addicted 2 Decorating is where I share my DIY and decorating journey as I remodel and decorate the 1948 fixer upper that my husband, Matt, and I bought in 2013. Matt has M.S. and is unable to do physical work, so I do the majority of the work on the house by myself. You can learn more about me here.
I hope you'll join me on my DIY and decorating journey! If you want to follow my projects and progress, you can subscribe below and have each new post delivered to your email inbox. That way you'll never miss a thing!