Last Updated on December 24, 2015 by Kristi Linauer
Now that I've finished my hallway/laundry room makeover, it's time to move on to the bathroom. I have to admit, I have mixed emotions about this one. On one hand, I'm so incredibly excited to see what I can do with this ugly, disgusting little room. On the other hand, I'm dreading having to spend any time at all in there. Seriously. That room is just yuck. I try to get in there, do my business, and get out as soon as possible.
But it's time to tackle it, and turn it into something that's worthy of being in the same home as my kitchen, my breakfast room, and my hallway/laundry room.
So let me share a secret. You know how the picture of my hallway that I showed you last week looks like this?
The secret is that when you walk into the hallway and turn to the right, the floor looks like this…
The nice tile stops abruptly, some of the painted concrete floor is still exposed, and then there's the ugly original vinyl floor that I've been dreading having to remove. So I've just ignored it and pretended that it wasn't there. But it's time to stop ignoring it.
You might also notice the door frame. We actually had "professionals" widen the door and install a new prehung door for us. They did an awful job. Just awful. Can you see how the door is raised off of the floor at least an inch? On the left is the door that I installed, and on the right is the door that the "professionals" installed…
How in the heck am I supposed to hide that massive gap?! I'm pretty sure the only option is to re-install the door myself. And in addition to leaving that huge gap, they also installed the door with screws instead of nails that could be countersunk into door frame. So I've got screw heads showing on the door frame. Yep, I'm pretty sure I just need to take it out and re-install it myself.
Now I've been really struggling with my decision over what to do with the vanity. (Brace yourself. It's so gross. But I'm right here with you in case you get scared!) 😀
I thought about removing the cabinet completely and replacing it with one of those special deals that they have at Home Depot periodically. Then I thought about using a stock unfinished cabinet.
In the end, I've decided to keep the original cabinet. I know, you probably think I'm insane. But I've seen paint and trim do amazing things, and I'm confident that I can turn this into something nice.
Remember my closet makeover? I took these plain, cheap little drawer units from Home Depot…
And added a little trim to make them look like this…
So I'm going to do something similar with the bathroom vanity. I think once it's painted, it'll look completely different and updated. We'll see! 🙂
An speaking of paint, I think I'm going to paint it yellow. Or maybe a yellowish cream. But it won't be white.
I promise, this will all make sense in the end. 🙂
The countertop definitely needs to be replaced.
And it needs to be done cheaply. So I'm planning on making a wood countertop, similar to this wood countertop from Our Vintage Home Love…
It'll be thoroughly sealed to protect it from water, but I'm really set on wood because I just love how a wood countertop warms up a space (like my butcherblock in the kitchen, and the wood countertop I made for my hallway/laundry room).
And then the mirror and the light will definitely need to be replaced.
I don't want to do just a simple frame around the mirror, although that would be the easiest solution. I'd like to do something a little more interesting, so we'll see what I can come up with.
And this cabinet above the toilet absolutely MUST come down.
Not only is it ugly, but it's way too bulky for such a small room. I haven't decided yet if I'll replace it with a thinner, more streamlined cabinet (that I'd make myself), or if I'll replace it with open shelves. I'm torn. On the one hand, closed storage space is always a bonus in such a small home. On the other hand, open shelves would certainly open up this small room and make it appear bigger.
Hmmmm….decisions, decisions! 🙂
The last time I shared my plans for the walls, I mentioned doing a herringbone tile design.
Well, as I thought about that more, I realized that I like herringbone tile way too much to go to the trouble of putting it in a condo that we'll be selling very soon. So I'm going to save that idea for our house, and do something much more simple and inexpensive (but hopefully just as beautiful) in the condo. Remember the wood slat ceiling I did in my kitchen?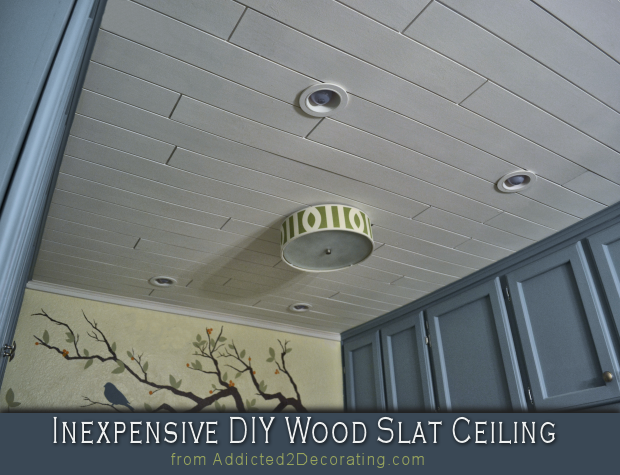 I'm basically going to do a wainscoting in the bathroom using that same technique. I think it'll be kind of tall…much higher than a standard chair rail.
And then above the chair rail, I'm going to paint the walls Mythic Forest by Behr, which is the last color on this card…
See the color just above Mythic Forest called Hallowed Hush? That's the color on the cabinets in my kitchen and breakfast room.
Then I'm going to make a shower curtain out of this awesome striped yellow and cream fabric that was provided to me by Fabric Warehouse Direct for my bathroom makeover.
I think that yellow will look so good against the dark Mythic Forest paint color!
Oh, and did I mention that I'll also be painting my bathtub?
If we were going to stay here in the condo, I'd definitely replace it and then install a pretty tile tub surround. But with us planning on moving, I just don't want to go to that much trouble (or spend that much money), so the good folks at Rust-Oleum provided me with enough Tub & Tile refinisher to do my bathtub and the fiberglass tub surround. I think getting rid of the current dingy off white color and making the tub a bright white will go a long way in making the room feel bright and clean.
So I think that just about wraps up the plans for turning this dark, disgusting, dingy, outdated bathroom into a tiny little gem of a room.
What are your thoughts? Any suggestions? Anything you'd do differently?
I'm excited about getting it done, but I'm not excited about the first project that needs to be tackled…removing the old vinyl floor.
Who wants to come help me?! 🙂
Addicted 2 Decorating is where I share my DIY and decorating journey as I remodel and decorate the 1948 fixer upper that my husband, Matt, and I bought in 2013. Matt has M.S. and is unable to do physical work, so I do the majority of the work on the house by myself. You can learn more about me here.
I hope you'll join me on my DIY and decorating journey! If you want to follow my projects and progress, you can subscribe below and have each new post delivered to your email inbox. That way you'll never miss a thing!