Bathroom Makeover Progress – From Dark and Disgusting To Light and Bright
Anyone else getting as tired of this bathroom makeover as I am? 😀
Gah! It was supposed to be quick and easy, and here I am a month later, still not finished. Granted, I haven't been working on it every single day. There's been quite a bit of procrastinating in there, which I'm sure I'll regret as this month progresses.  (Suffice it to say that this makeover has been one of my least favorites to work on.)  But still. I'm ready to be finished.
I do have all of the painting finished in the room…finally. Those walls were a bear to paint!! I chose a light buttery yellow for the walls (Rich Cream from Behr), and white for the cabinets (Polar Bear from Behr). Here's how it's shaping up.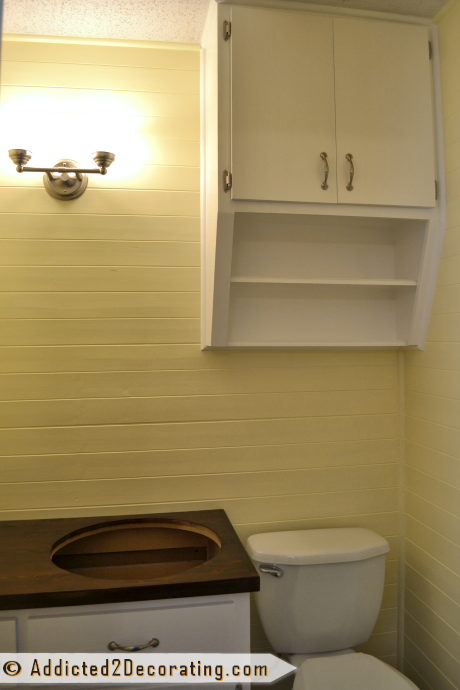 It's so difficult to get an accurate picture of the wall color, but it's the same color that I have on the walls in the hallway, living room, kitchen, and breakfast room.
So, I think it's coming together nicely.  I do wish I had taken then time to actually make new cabinet doors and drawer fronts like I did in the other bathroom rather than trying to salvage the existing ones.  These are fine, I suppose.  There's nothing really wrong with them.  It's just that in such a small space, where there's very little opportunity for designer touches, I think it's important to take every opportunity to add those touches to the room.  So my decision to simply paint over plain 40-year-old cabinet doors with dinged corners is kind of bothering me.
I'm also regretting not taking the time to scrape the ceiling.
Oh well.  I must move on.  I think I'm just running out of steam, and I'm losing interest in the condo pretty quickly.  My mind is consumed with ideas and projects that I want to tackle in the house, so trying to stay focused on the condo is proving to be quite a challenge.  I really need to get my head in the game and just get it finished, because this month will fly by!
But anyway, the current bathroom is still a vast improvement over the "before" bathroom!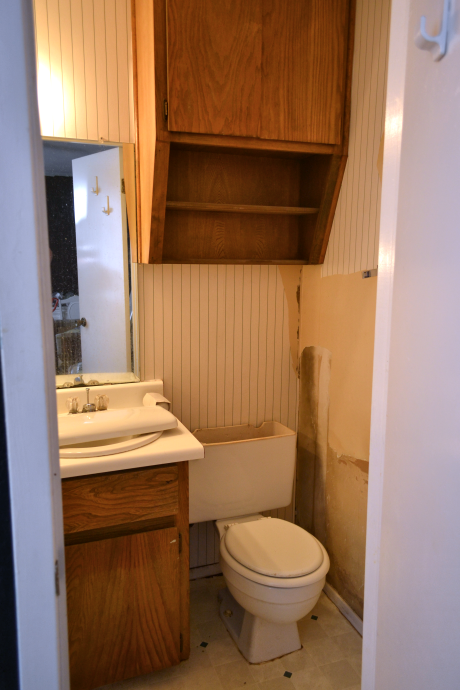 I still have two projects that I want to do in here to give this tiny closet of a bathroom a bit of an upgraded look.  One is a custom mirror that I'd like to make (though not nearly as fancy as the mosaic mirror I made for the other bathroom), and the second is a little something I'd like to do to the shower.  I'm still mulling over that one, so I'll keep it under wraps for now.
So that's the progress.  Now that all of the really time-consuming things are done (installing the wall planks and trim, and then priming and painting), I think I can get this bathroom makeover finished pretty quickly.  I have high hopes that it'll be finished this weekend, so we'll see!  I really think I can do it as long as I can stay away from Pinterest and stop daydreaming about the house.
Focus, Kristi!!  FOCUS!!  🙂
Addicted 2 Decorating is where I share my DIY and decorating journey as I remodel and decorate the 1948 fixer upper that my husband, Matt, and I bought in 2013. Matt has M.S. and is unable to do physical work, so I do the majority of the work on the house by myself. You can learn more about me here.