2019 Master List Of Home Goals
Happy 2019, y'all! Wow…2019. I hope all of you had a wonderful ending to 2018.
I personally sat on my butt on my bed, snuggled under my comfy blanket and glued to Netflix, for the entire last week. It was glorious. I didn't do one single home-related project over the last eight days. I didn't cook. I didn't clean. If it couldn't be done from a seating position on my bed in front of the TV, it didn't get done. That's why you'll notice that the blog has a new look (which could be done on my laptop while I sat in bed), but I don't yet have pictures of the pantry to show you. It's kind of difficult to take pictures of the pantry from my bed. 😀 Those are coming very soon, and I'll probably even show a preview on Instagram.
But today, it's back to reality, and back to work. I'm shedding my comfy blanket, returning custody of the TV remote to Matt, and gearing up for what I believe will be an exciting and very productive year. My week off was amazing and just what I needed to get rested and refreshed, but I'm excited to hit the ground running today and get started on my new, fresh "to do" list for 2019.
These lists are something I started at the beginning of 2017, after my terrible, awful 2016 where I spent the year spinning my wheels with busy work and ended with almost nothing to show for my efforts. So at the beginning of 2017, I decided that I needed a change, and I needed accountability. So the "master list of home goals" was born. And you know what? It worked!
Those lists over the last two years have really helped me to keep on track. I'm not so married to the lists that I don't allow a little rabbit chasing. After all, at the beginning of 2018, building a carport wasn't even on our radar, so there's flexibility. But it's motivating to be able to mark things off of the list and show real, tangible progress over the course of 12 months.
If you missed those last two lists, you can can check them out. Here's my list for 2017…
And here's my lists for 2018…
It's fun and encouraging to look back on them and see just how far I've come. And I try to keep the lists up to date throughout the year, crossing off items that are finished, and linking to the corresponding blog posts showing the completed project. It's very motivating!
But even more motivating is the big post I write at the end of the year showing everything that I accomplished from the list. You can see my list of house goal accomplishments in 2017 right here:
And if you missed my wrap up of 2018 that I posted just this past Monday, you can see it here:
I have to admit that I'm rather proud of my progress last year. It felt like a way more productive year than 2017.
But now it's time for new goals. And while I wish I had new photos to show y'all of the various room and areas of my house that I want to concentrate on this year, I think y'all know why I'm recycling old photos. The view of my living room and music room from my bed isn't very good. 😀
So here we go. My goals for 2019 are…
Exterior & Yard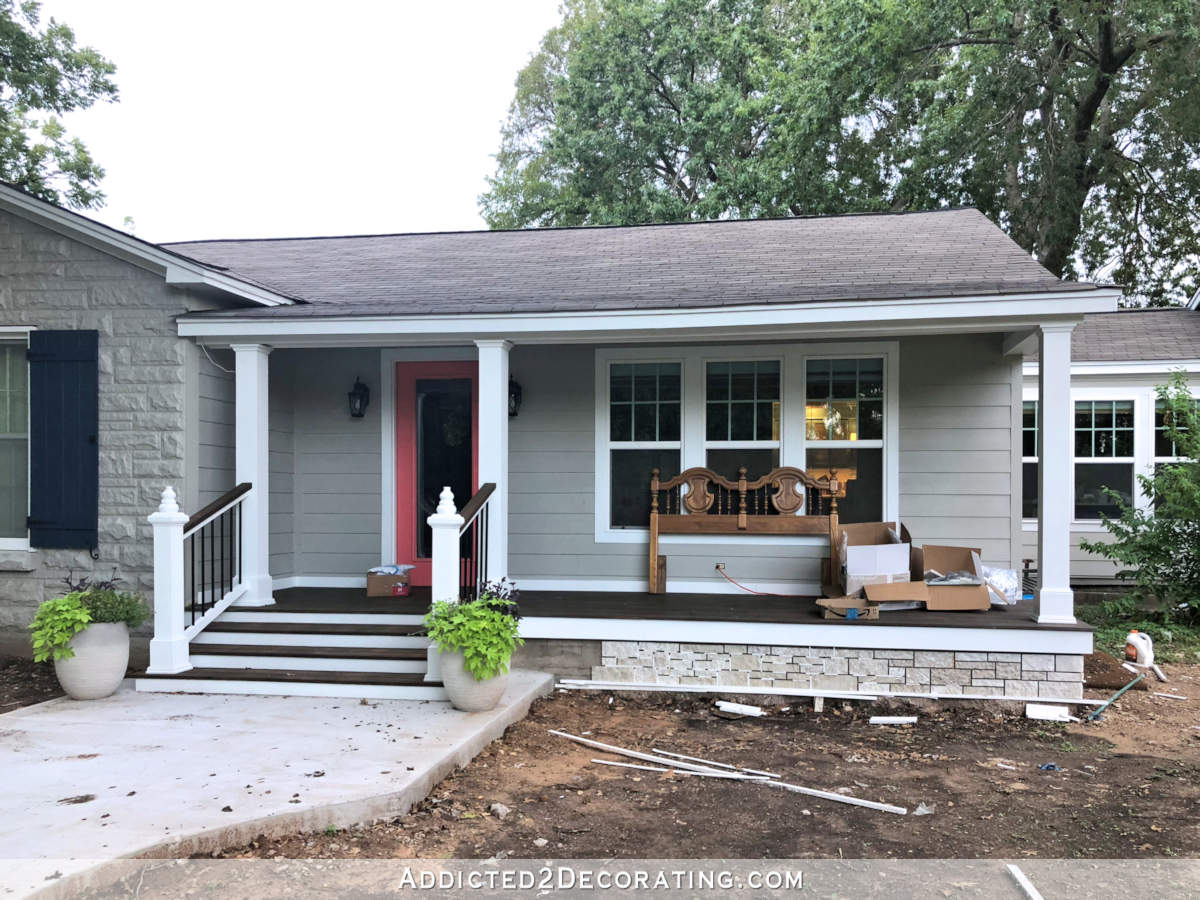 I got a ton of work done on the exterior of the house last year, and while things are looking so much better, there's still so much to do! So this year, I'd like to…
Build and install five window boxes
Add a watering system on a timer for the window boxes
Finish installing the stone around the porch and paint it
Add some chairs, small table, and possibly a swing to the front porch
Mark where planter beds will go, and at least add mulch and a few plants
Get rid of that huge plant in front of the breakfast room (it needs to be pulled up by the roots or it'll come back faster and bigger than before)
Add a water feature in the courtyard (my grand term for that tiny inset area in front of the breakfast room windows)
Lay sod, or at the very least, throw out some grass seed
Have the new driveway poured
Install lights, speakers, and outlets in carport area
Install the ceiling on carport
Paint the carport and the areas around it that have new siding
Add some landscape lighting in the front yard
Living Room
You know, it's kind of ridiculous that this is the first room that people see when they enter my house, and yet I keep dragging my feet on getting it done. This room must be finished this year. No more excuses. And to do that, I need to:
Touch up the paint on the baseboards
Reupholster two chairs

Build and upholster a loveseat (yep, I really just wrote that, and I'm looking forward to the challenge)

Change of plans! I got a new sofa instead. Click here to see it.
Install the chandelier closer to the ceiling

Finish making the draperies

Done! Click here to see them.
Make a few throw pillows
Accessorize and finally finish this room!
Music Room
The music room is so ridiculously close to being finished. I think it would only take a couple of weeks to get it completely done and placed in the "finished rooms" column. For that to happen, I need to:
Reupholster two chairs
Re-install handles on the doors
Repair and refinish the piano bench
Decorate and accessorize to finish
Hallway Bathroom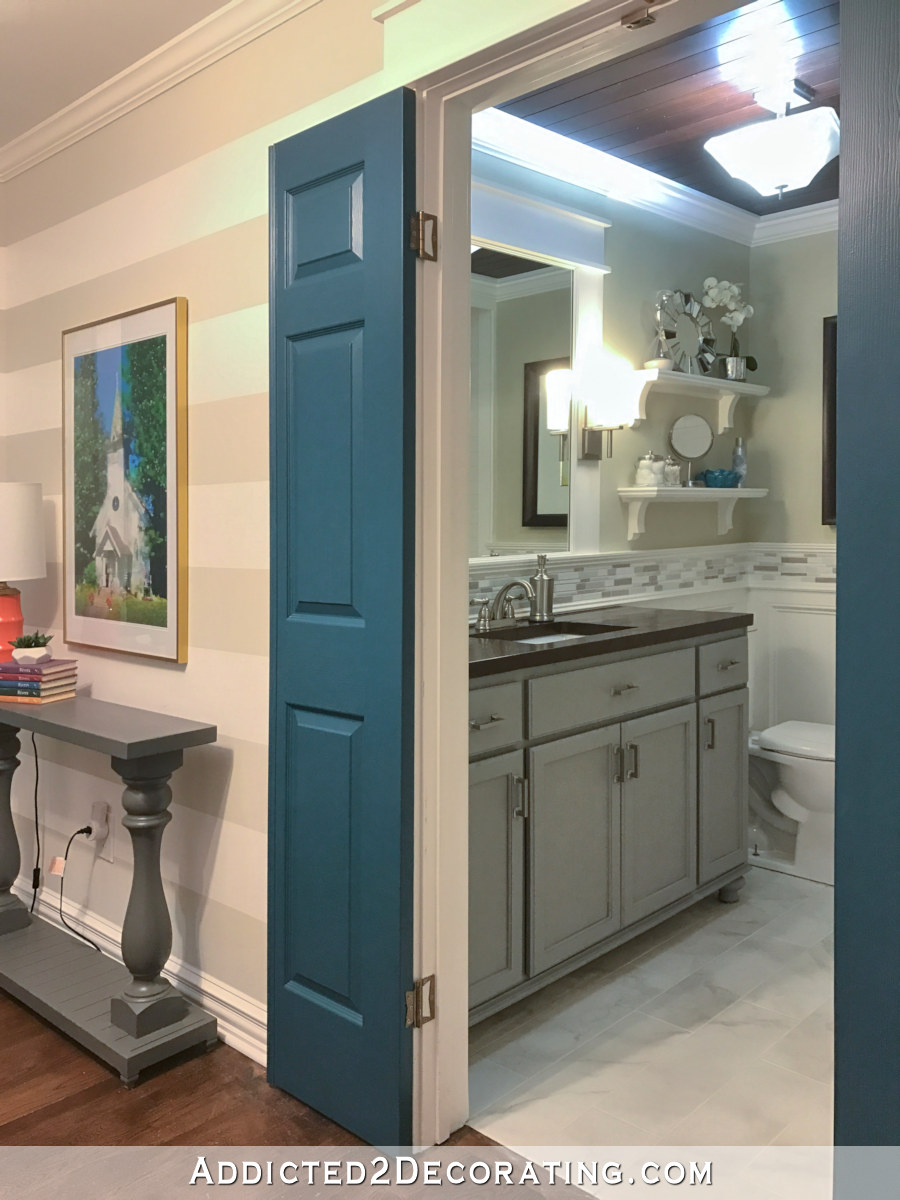 When I did the hallway remodel, I decided to go with teal for the doors. That mean that the bathroom vanity, which was teal, needed a new color. And for some strange reason that I can't explain, I decided on gray. To say it's underwhelming is an understatement, so I'd like to give this bathroom a colorful makeover to breathe some life back into it. So I want to:
Paint the vanity Done!
Find a new color for the walls and repaint Done!
Make a new shower curtain Done!
Refinish the really dark countertops Done!
Make new artwork Done!
Update:
The bathroom makeover is finished! Here's a peek at the new and improved room…
You can see more of the finished bathroom makeover here…
Kitchen
In the kitchen, I want to continue on my organization kick that I started at the end of last year (brought on by the pantry remodel), and get everything just like I want it. That means I need to:
Built a pull-out slotted drawer to the right of the stove for my pans and lids
Convert a column of drawers into a pull-out for a large trash can
Remove the dishwasher and add three pull-out baskets
Add shelves where needed and get the rest of the cabinets organized as planned
Breakfast Room
My breakfast room was finished in 2017, but there are a couple of things that need attention. I need/want to:
Re-wire the chandelier (which had to be disconnected when the pocket door was installed)

Done!
Buy a new ("new" being the operative word here) dining table (because sometimes I just want new furniture, and wobbly, used Craigslist finds that don't work properly start to get on my nerves)
Studio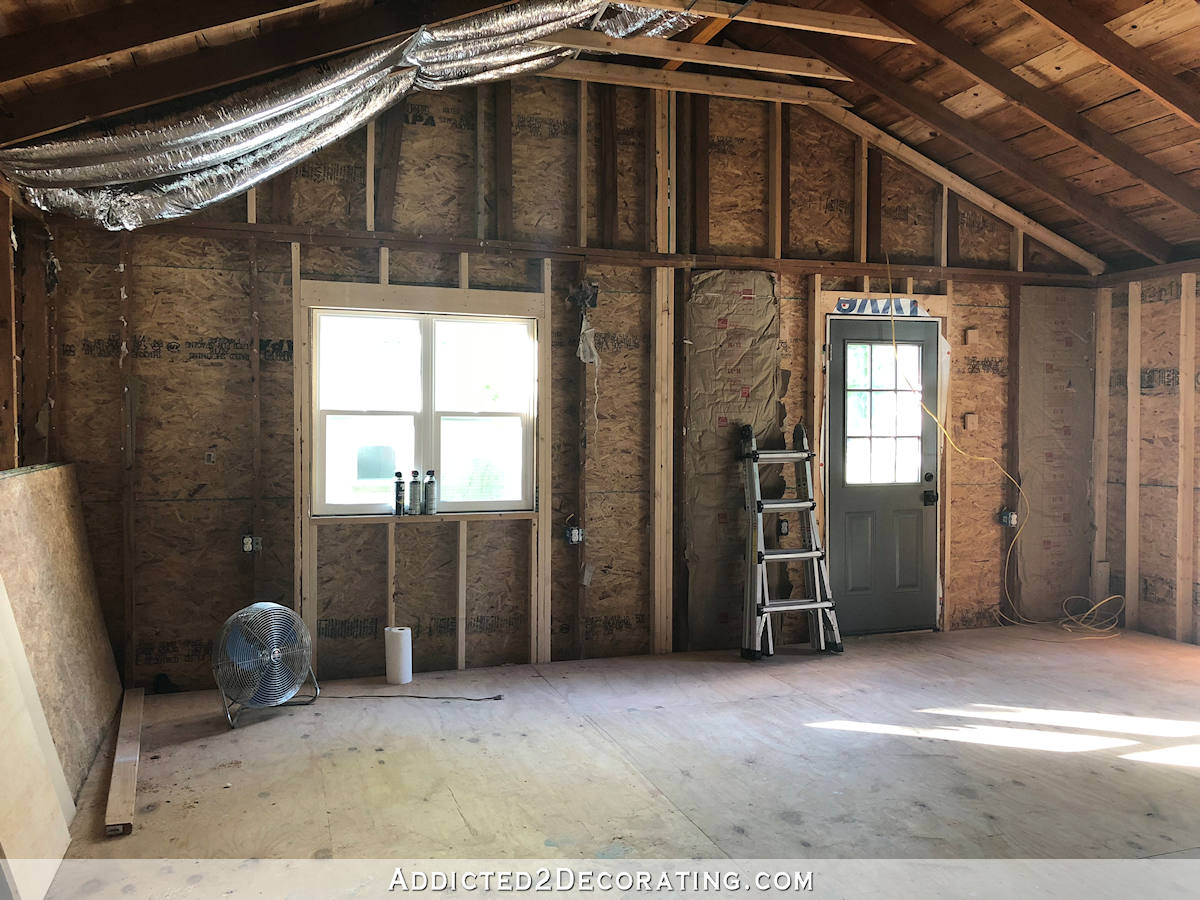 This is the big one. Even if nothing else gets done this year, this studio (along with the half bath, back entry, and storage closet) needs to be my main focus. If these areas are completely finished this year, I will consider it a very productive year. But it's a bit overwhelming because in order for this to be finished, I'll need to:
That doesn't seem too bad, right? I have a feeling it's going to be very similar to my four-item "to do" list for the pantry on my 2018 list that took me 10 1/2 weeks to finish. 😀
Half Bathroom, Back Entry, Storage Closet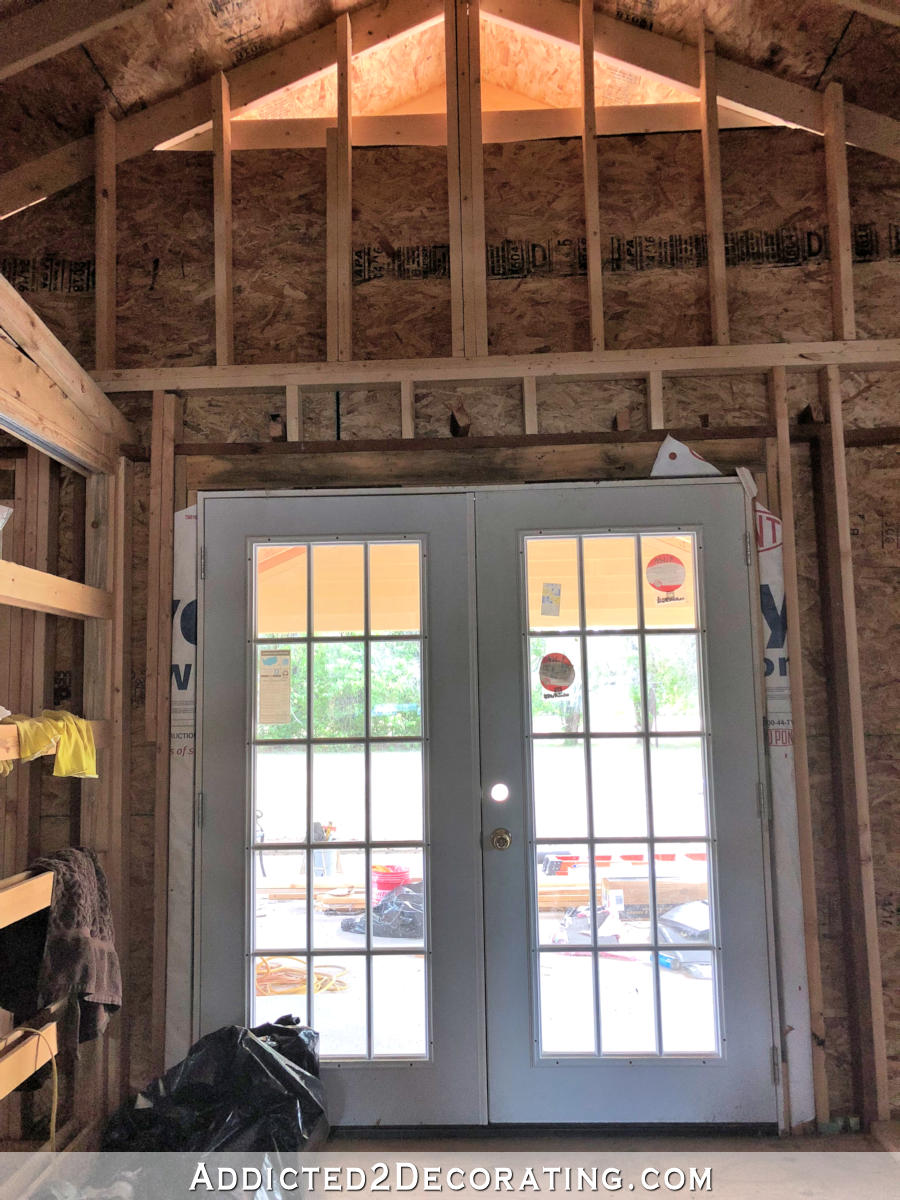 I'm wrapping all of this up into one category, even though it includes three very distinct areas. But I'll probably be working on all of these — the studio, the back entry, the half bath, and the closet — all at the same time. The studio is big enough to warrant its own section, but these back three areas can be rolled up together. So in these areas, I need to…
Finish the electrical work

Done!

Insulate and drywall

Done!

Install the flooring

Done!

Install window casings, door casings, baseboards and other trim

Done!

Install lighting

Done!

Install a utility sink

Done!

Install the toilet

Done!
Add shelves to the closet

Install two pocket doors

Done!

Tile the bathroom walls (I still don't have a specific design nailed down, but I think it will include tiled walls. Or maybe wallpaper. Or a stencil. But probably tile.)

Done!

Do something fabulous on the back entry walls and ceiling 🙂

Done!
Install new door handles and deadbolts
Update:
The back entry is finished! Here's a peek at how it turned out…
You can see more before and after pictures of the back entry here…
And the studio half bathroom is also finished! Here's a peek at how it turned out…
You can see the before and after pictures of the studio half bathroom here…
I'm sure I've left off some thing, and I'll be adding/removing/clarifying the list as the year goes on. But this gives me (and you) a general roadmap of where I'm heading for the year.
And of course, in addition to all of that, I plan to make time for some fun, artistic projects. There will definitely be more resin, alcohol inks, and acrylic paints in my future. And I also bought a set of oil paints that I'd like to try out. I anticipate an exciting year ahead filled with fun challenges and lots of creativity!
Addicted 2 Decorating is where I share my DIY and decorating journey as I remodel and decorate the 1948 fixer upper that my husband, Matt, and I bought in 2013. Matt has M.S. and is unable to do physical work, so I do the majority of the work on the house by myself. You can learn more about me here.