Last Updated on December 24, 2015 by Kristi Linauer
Well, the condo still isn't finished. It's close, but not quite. But since I can't be all about the condo all the time, I decided yesterday to get started on my decorative shower curtain for the bathroom. That bathroom is very close to being finished, so this week I'm going to make it more of a priority to work on it if and when I can't make it to the condo (instead of getting sidetracked with other projects like my dining table). Ever since Matt's dad left, I feel like I've really lost my momentum, so it's time to get that back and get the bathroom finished up.
Anyway, for the shower curtain, I'm using the same P. Kaufmann Florabunda Sea Glass fabric that I used on the window treatments (Roman shades and pinch pleated draperies) in the living room.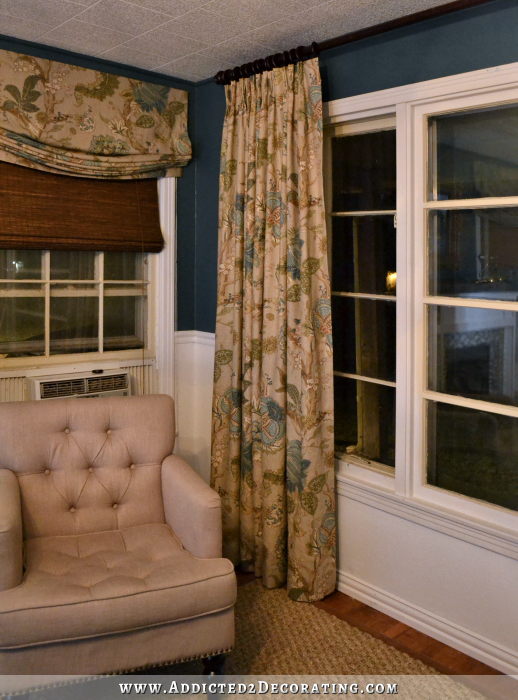 I love that fabric, but I felt like my shower curtain needed something else just to give it a bit of oomph. So the other day while I was at Hancock Fabrics, I saw some gorgeous teal linen that coordinated perfectly with my shower curtain fabric. I don't remember the price, but it was 40% off, and I only needed a yard of it.
I cut the yard of teal linen in half so that I had two strips that were 18″ high and 60″ wide, and I sewed them together to make a wide band.  I also used two widths of the floral fabric and sewed them together, matching the pattern as best as I could.  (I'm not very good at matching patterns, but it's good enough.)
Then I sewed the band of linen to the bottom of the floral fabric, aligning the center seams on both sections.  That solid linen accent definitely dressed it up a bit, and gave it that oomph I was hoping for, but it was still missing something.
So I picked up a spool of fabric ribbon to use as an accent.  The ribbon originally had wire in the edges, so I removed the wire and then pinned it to the shower curtain right along the seam where the floral meets the linen.  I sewed the ribbon on with the sewing machine by stitching as close as I could to the edge of the ribbon on the top and the bottom.
So this is a preview of what my decorative shower curtain will look like.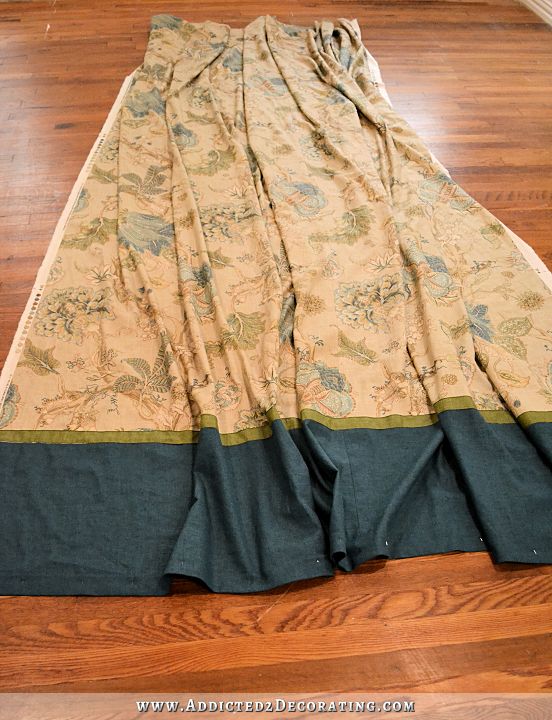 I pinned and ironed the hem into the bottom, and then realized that I didn't have the right color thread to finish up the shower curtain, so that's as far as I got.  I still need to hem all four sides, and then put pleats and grommets in the top.  I think this will make a beautiful shower curtain, and I can't wait to get it finished and in place!  I love decorative shower curtains that are hung high and hang to the floor.  They're like draperies for your bathtub, and y'all know how much I love draperies!  🙂
Remember this one that I made for the condo bathroom?
You can find those DIY instructions here.
Every time I post about shower curtains, I seem to have at least a few people who are confused by this "decorative shower curtain" concept.  So to be clear, these are only decorative.  These are made out of regular fabric, and are intended to stay outside of the tub.  You have to use a shower curtain liner with these, and since I always make my shower curtains tall like a drapery panel, this is my go-to shower curtain liner.  I do not use plastic liners.  Ever.  Plastic liners look and feel cheap, and since they can't breathe like fabric, they're a breeding ground for mold and mildew.  These fabric liners are the best.  They look and feel very nice, and since they can breathe and dry easily between showers, mold and mildew aren't an issue.  And unlike plastic liners, they can also be machine washed and dried, so they can last for years.
Addicted 2 Decorating is where I share my DIY and decorating journey as I remodel and decorate the 1948 fixer upper that my husband, Matt, and I bought in 2013. Matt has M.S. and is unable to do physical work, so I do the majority of the work on the house by myself. You can learn more about me here.
I hope you'll join me on my DIY and decorating journey! If you want to follow my projects and progress, you can subscribe below and have each new post delivered to your email inbox. That way you'll never miss a thing!