Last Updated on January 4, 2019 by Kristi Linauer
Well, hello there, y'all! I've been having such a great week off, binge watching all of the cheesy holiday romcoms I can find (with a little Bird Box thrown in) before the calendar rolls over to January 1st. I still have two more days of Netflix binging planned, but before we officially say goodbye to 2018, I wanted to review my home goals list for the year and see just how much I got done.
I didn't get everything on my list finished, but I didn't expect to. I'd have to actually be Wonder Woman to complete a list like that. But I am very pleased with the progress I made this year.
Let's take a look, shall we?
House Exterior:
At the beginning of the year, the exterior of our house looked like this…
I had test samples of paint on the stone, and I hadn't even started on the front porch makeover.
So here are the things that got done on the house exterior in 2018:
There was one item on my original list — building a balustrade on the front porch — that I changed my mind about. I decided that my front porch is too small (it's wide but shallow) for a balustrade, and since building code doesn't require me to have one, I decided to leave the porch open.
The two items on my original list that I didn't get to are:
Building and installing five window boxes, and
Building the steps and handrails to the side studio door.
So I did eleven out of thirteen. Not bad, right?
The front porch looks completely different now with the white columns, wood porch, and wide steps. And let's not forget my pinkish coral door painted in Bird of Paradise from Benjamin Moore!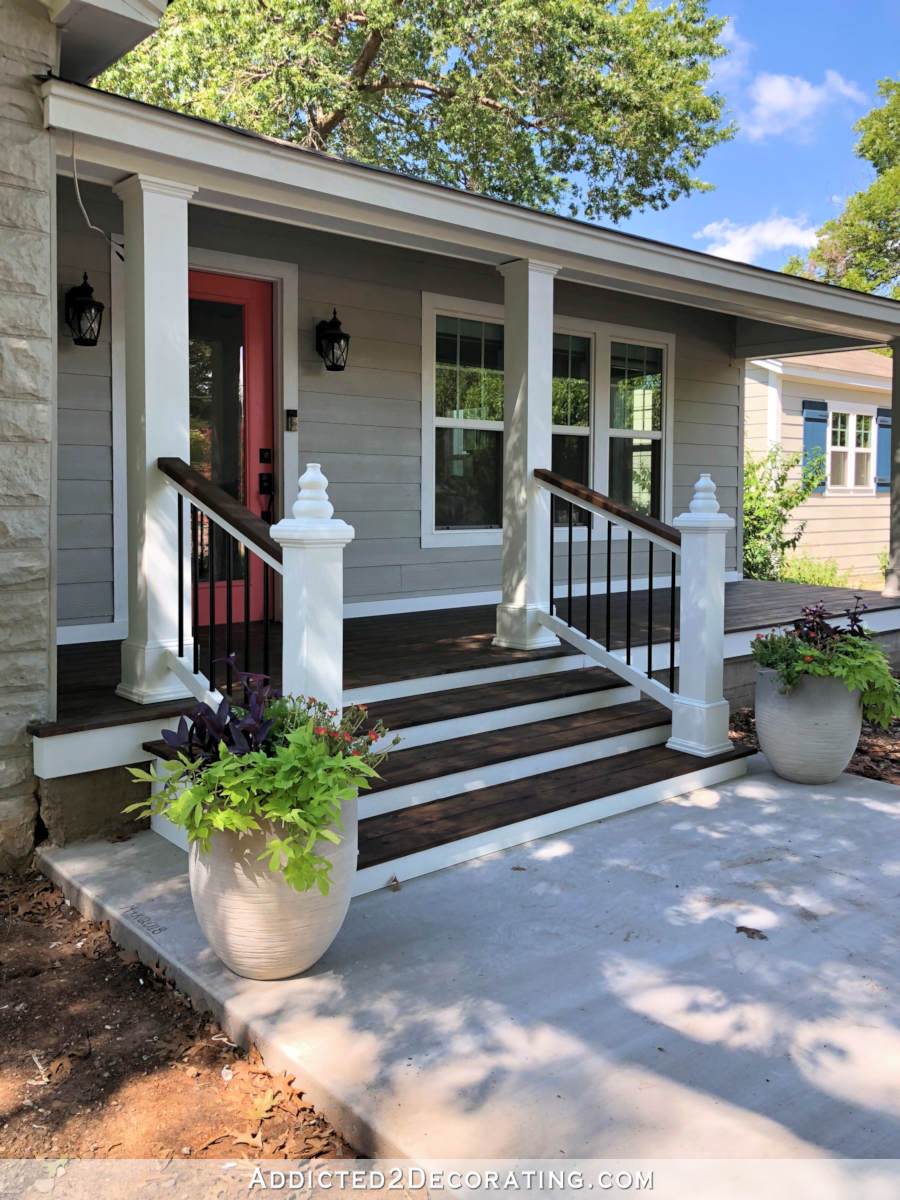 My DIY shutters, painted Gentleman's Gray from Benjamin Moore, also added quite a bit of curb appeal to the front of the house, and the portico is one of my favorite things I've ever built.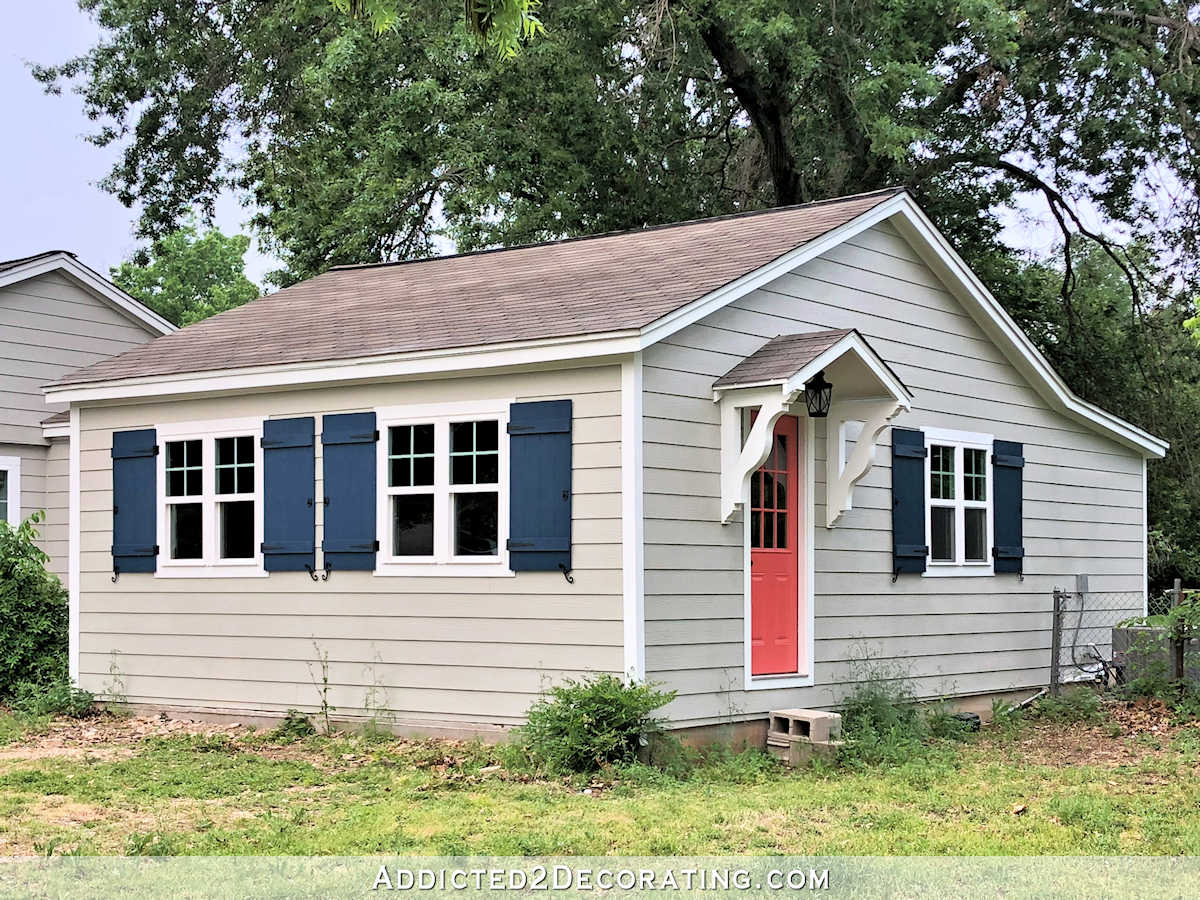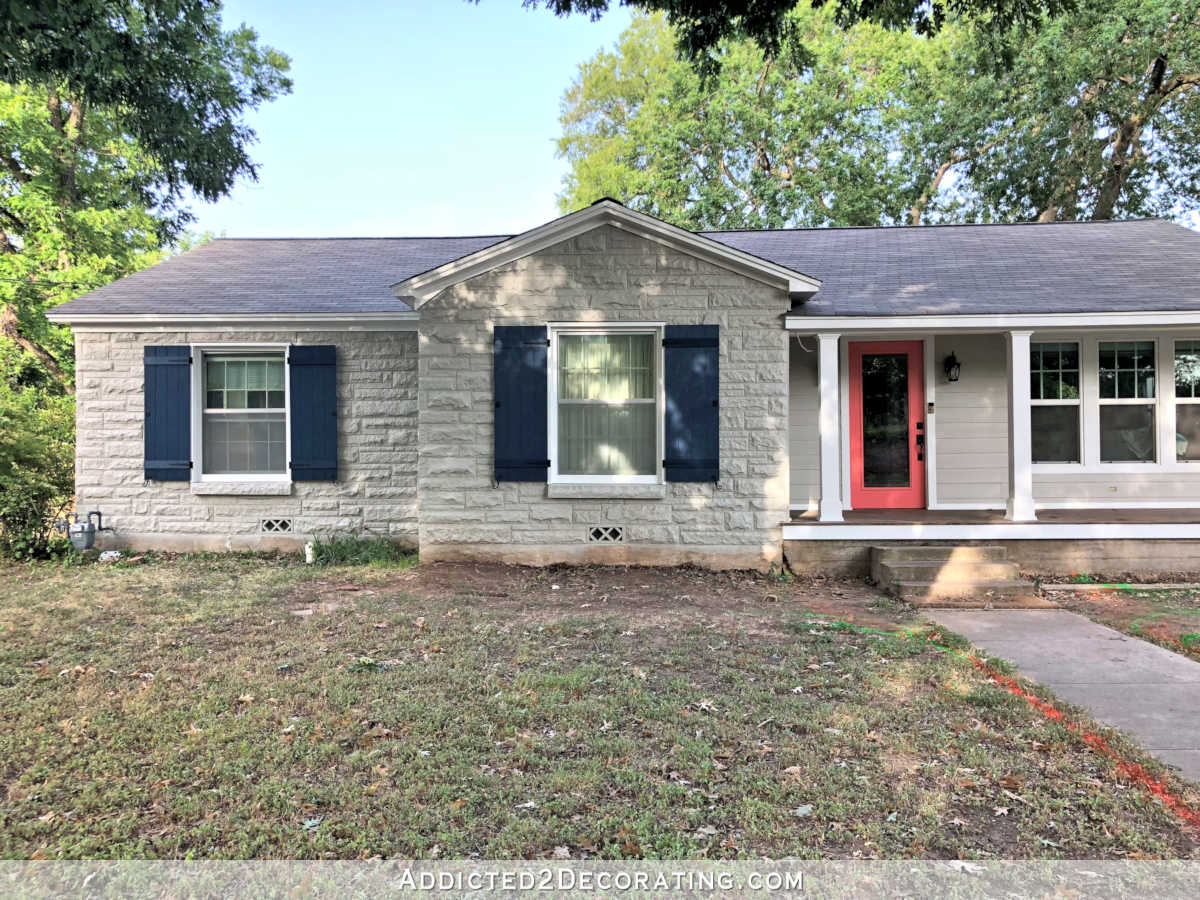 I think it's going to look so charming once I get the window boxes made and installed. And just maybe this will be the year we get some landscaping done in the front yard.
There were four exterior projects done (or at least started) that weren't on the original list at all. The first is the new front sidewalk, which is about two feet wider than the original. Here's a look at the original…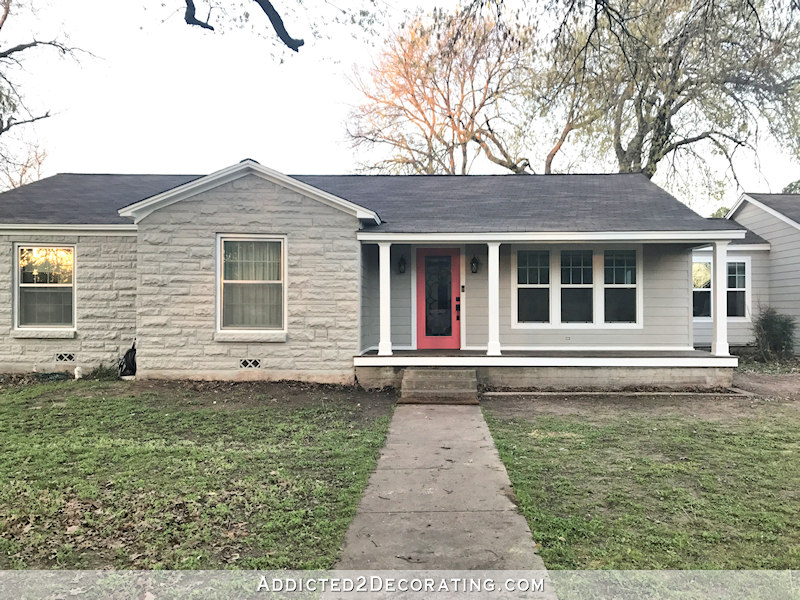 And the new, wider, nicer front walk looks like this…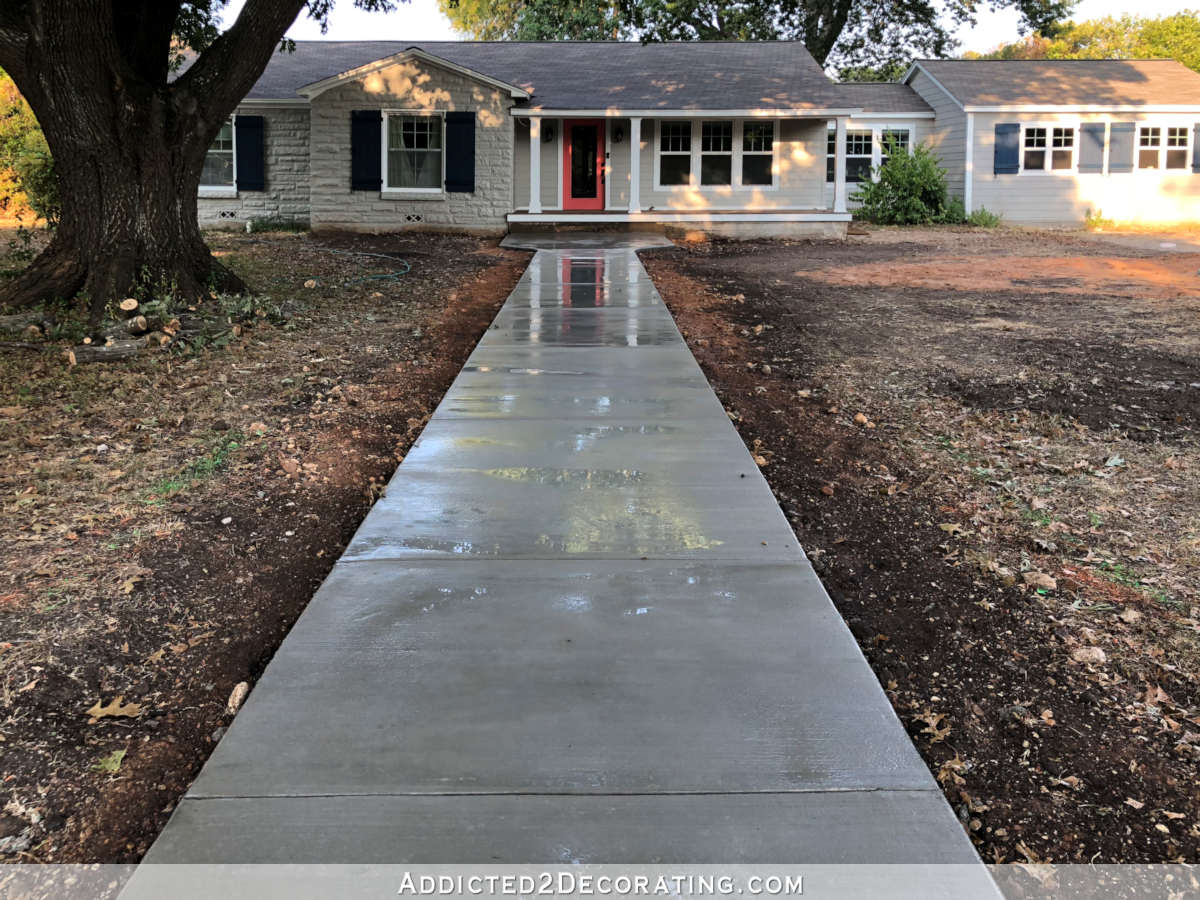 That wasn't a DIY project, obviously. I don't think I'd ever take on such a big concrete job myself. Concrete countertops in my kitchen were pretty much my limit. 🙂
The second project that wasn't planned was this front porch lighting that I installed behind the fascia board.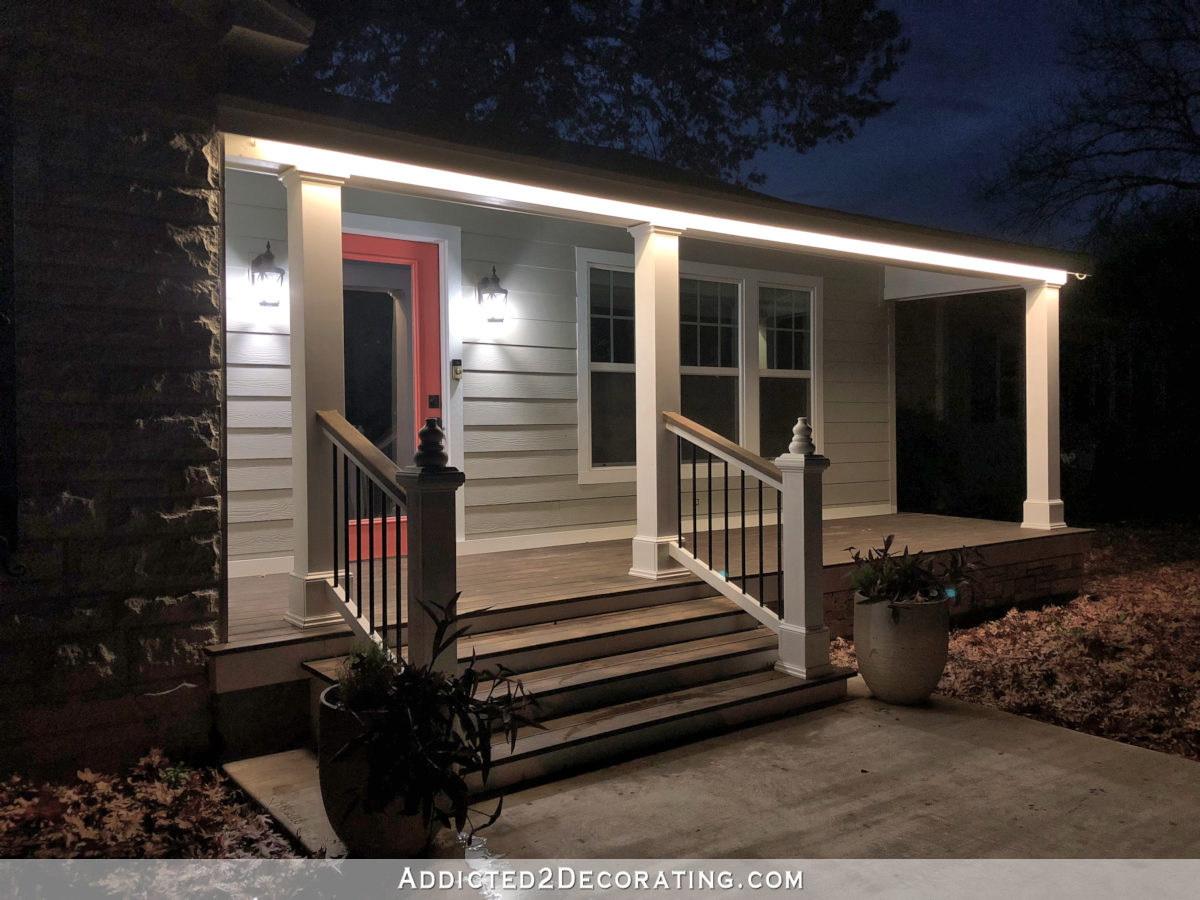 Just a warning that if you do this project, attach the clips to hold the lights up immediately. Don't count on the sticky adhesive to hold those lights up outside. I failed to get my clips on part of my lights in time, and now part of them are hanging down and require more work. *Sigh*
And then there's the faux stone skirting that I started adding to the concrete on the front porch…
I still haven't finished it (but the headboard that I was considering turning into a bench or swing is no longer sitting on my front porch 🙂 ). And now that the weather is getting colder, I'm not sure when I'll actually finish it. That might have to wait until spring.
And, of course, the biggest (and definitely the most expensive) outdoor project in 2018 was the addition of our carport behind the studio. Unfortunately, the best picture I have of it was taken when I was painting the shutters.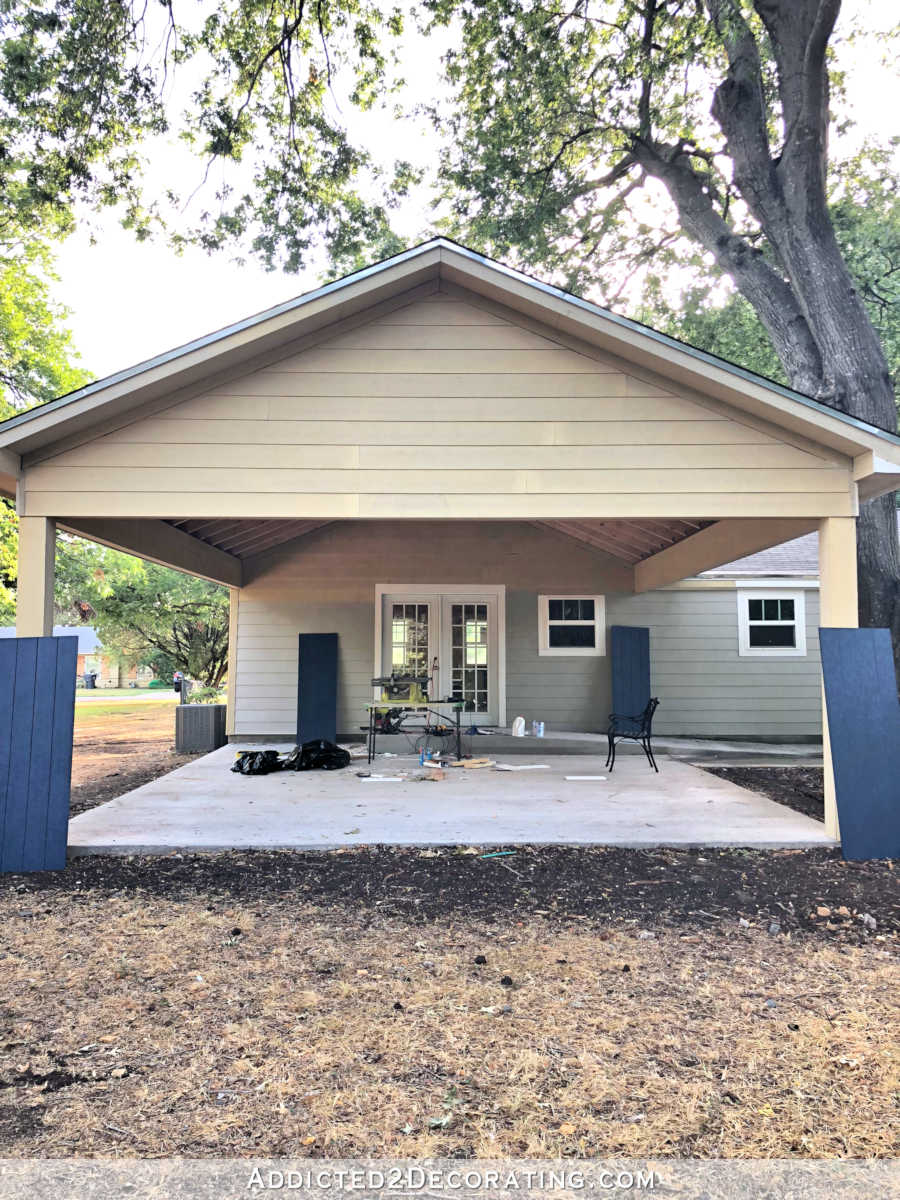 The carport still isn't finished. It has no lights, no outlets, no ceiling, and no trim on the columns. And none of it has been painted yet. So all of those will be projects I'll tackle (or hire out) during 2019.
So while there's so much more to do outside, the exterior of our house went through quite the transformation in 2018. I'll try to get new full-view pictures soon so we can get a good comparison of the before view and the current view.
Entryway:
At the beginning of the year, the entryway looked much different than it does now. It had the grasscloth wallpaper, liquid acrylic triptych, and gray and white credenza.
I had three things on my original list, and I got two of them done.
There was one item on my original list — painting the front door — that I still haven't gotten to. It's such a small project, and yet it continues to linger on my to do list.
But along the way, I decided to change the entire look of the entryway to better suit my taste, and here's how it looks now…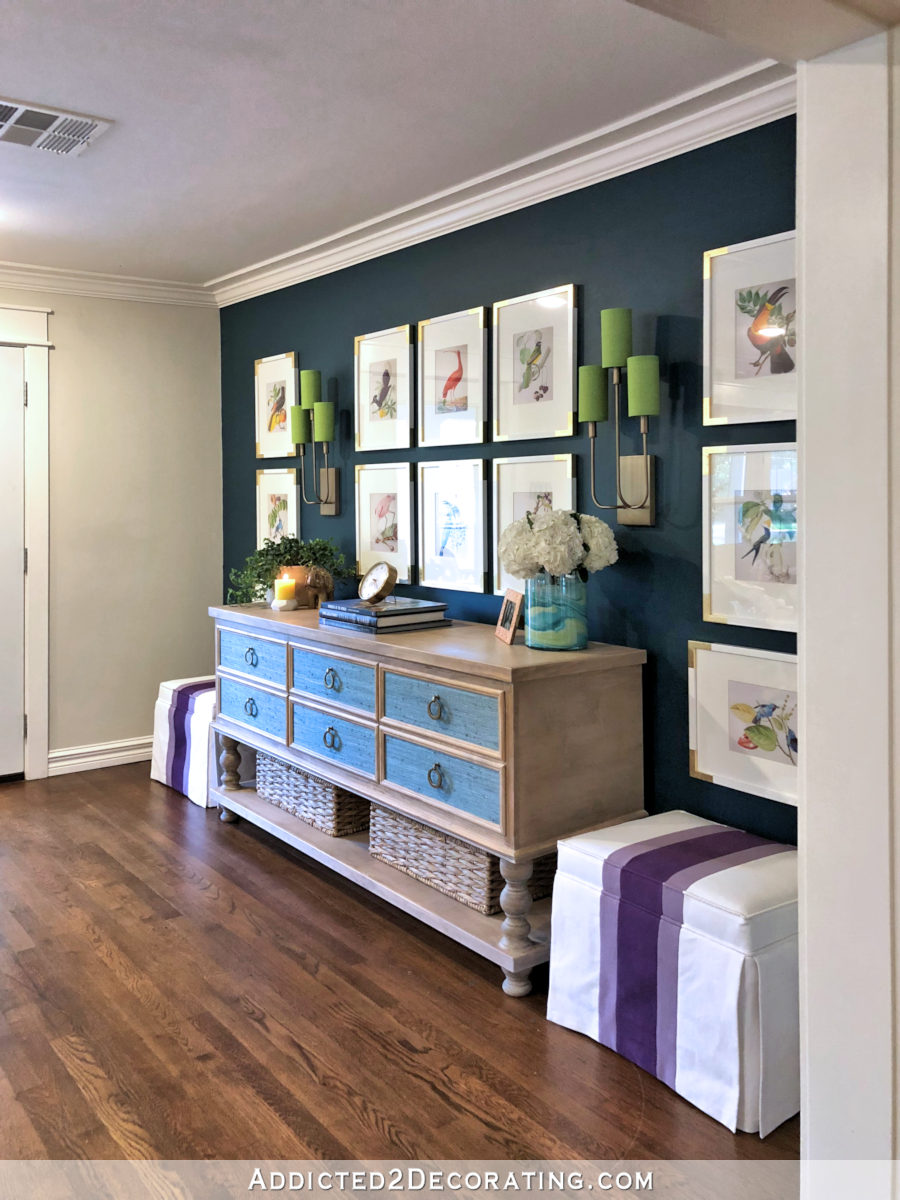 To arrive at that final look, I decided to add a few DIY projects that I hadn't originally planned at the beginning of the year.
Living Room:
At the beginning of the year, the living room looked like this…
Unfortunately, I didn't get much done in here at all. The one project I finished is…
Now the fireplace is a beautiful custom shade of teal — the same teal I used on the entryway wall which is directly opposite the fireplace.
The items on my list that I didn't get to are:
Touching up the paint on the baseboards,
Reupholstering two chairs,
Make draperies (although I did get one panel finished, which you can see here),
Installing chandelier closer to the ceiling,
Making throw pillows, and
Decorating and accessorizing to finish.
While I didn't get any of those things finished, I did take some time to make a piece of artwork to go above the mantel.
It's a pinwheel made of 800 wood tasting spoons. You can click here to see how I made it, and click here to see how I framed it.
Music Room:
Moving on to the music room, here's how things looked at the beginning of the year…
And while the room still isn't finished, I got quite a few projects done.
As far as the artwork/wall decor goes, I made two items for this room. The first piece I made was this layered scalloped mirror…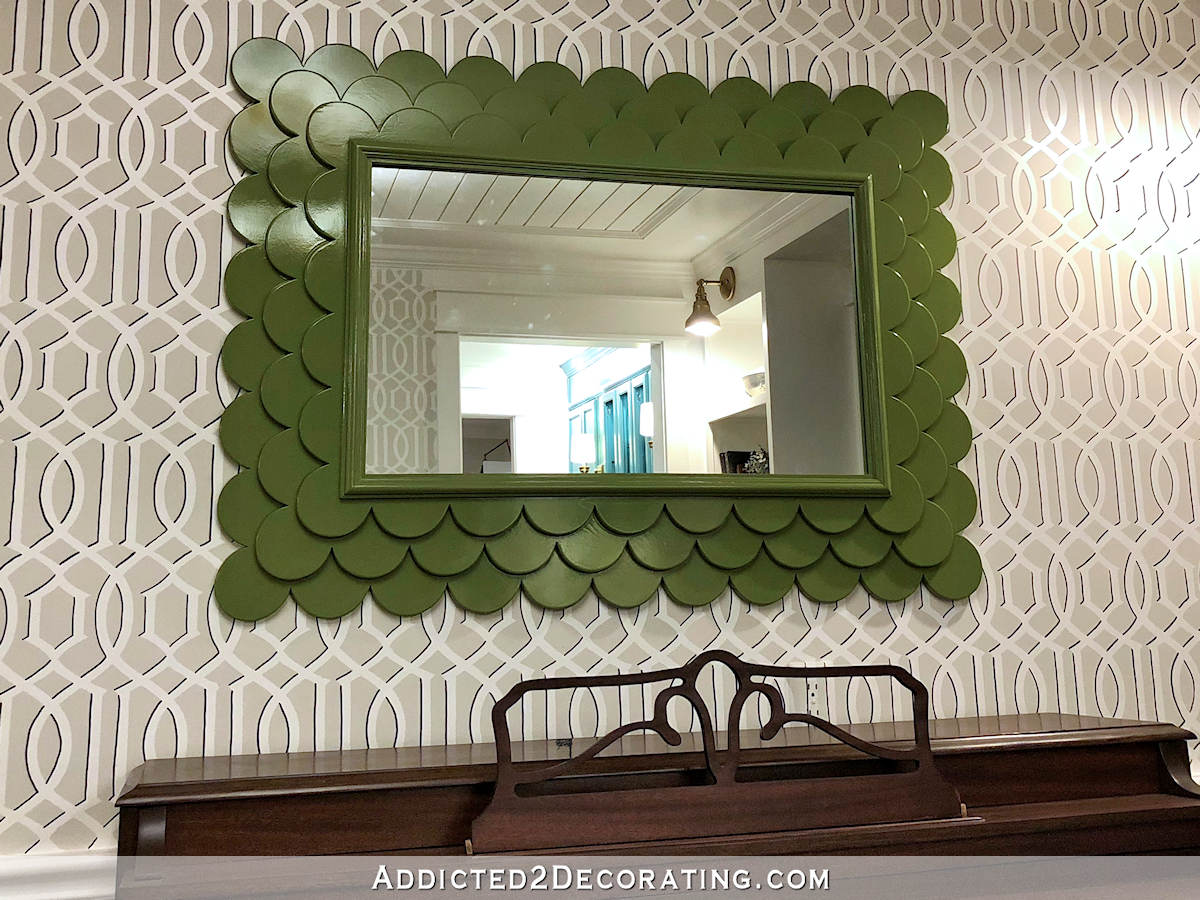 I made it specifically to go over the piano, but when I redid the entryway, I moved some things around. This mirror is now in the living room…
…and the acrylic triptych (to which I added a resin coating) is now hanging above the piano.
For the opposite wall, I made the biggest and most intricate art piece I've ever done. It's a pixel image made with 6400 small round wood pieces (i.e., the mushroom top wood plugs that you use to cover screw holes in furniture), each individually hand painted, and then framed and coated with four layers of resin and sanded it to a matte finish.
You can click here to see how I made the picture and framed it, and here to see how I got a matte finish on the resin.
The music room projects I didn't get to during 2018 are:
Painting and reupholstering the blue chairs
Refinishing the piano bench
Decorating and accessorizing to finish
And there was one project — building cabinet doors for the lower shelves on the bookcases — that I changed my mind about. Instead, I decided to paint the insides of the shelves the same custom teal that I used on the fireplace and the entryway wall.
And one other project I hadn't planned but decided to do on a whim was enhancing the stenciled wall design with a black Sharpie marker. Here's a picture I took during the project that shows the difference a black Sharpie can make. See how much more depth and dimension that middle section appears to have with the simple addition of some black accent lines?
You can see more of that project here.
Hallway:
At the beginning of 2018, I had made a pretty good start on the hallway. In fact, it was almost finished. It just needed a few more touches.
In order to finish it, I tackled the following…
I still need to find the one lost handle for the bathroom door and install it, but I'm still calling the hallway finished. I mean, technically the bathroom handle installation is a bathroom project, right? 🙂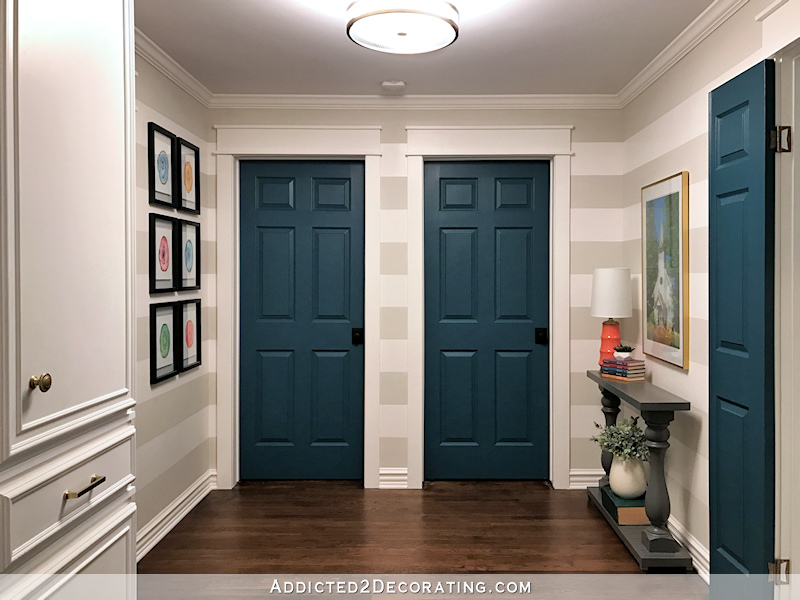 You can click here to see the whole before and after post on the hallway remodel.
Hallway Bathroom:
The hallway bathroom was remodeled in 2014 (you can click here to see the before and after), but when I started working on the hallway and decided to paint the hallway doors teal, the teal vanity in the bathroom needed a new color.
I tested out several colors, and finally decided on gray.
I can't say I'm thrilled about it, but it'll do. At least I was able to get rid of the test paint colors and have one solid color.
Kitchen:
My kitchen remodel was done in 2014 (you can see the original before and after here), and then in 2017, I went from green cabinets to teal. You can see that before and after here.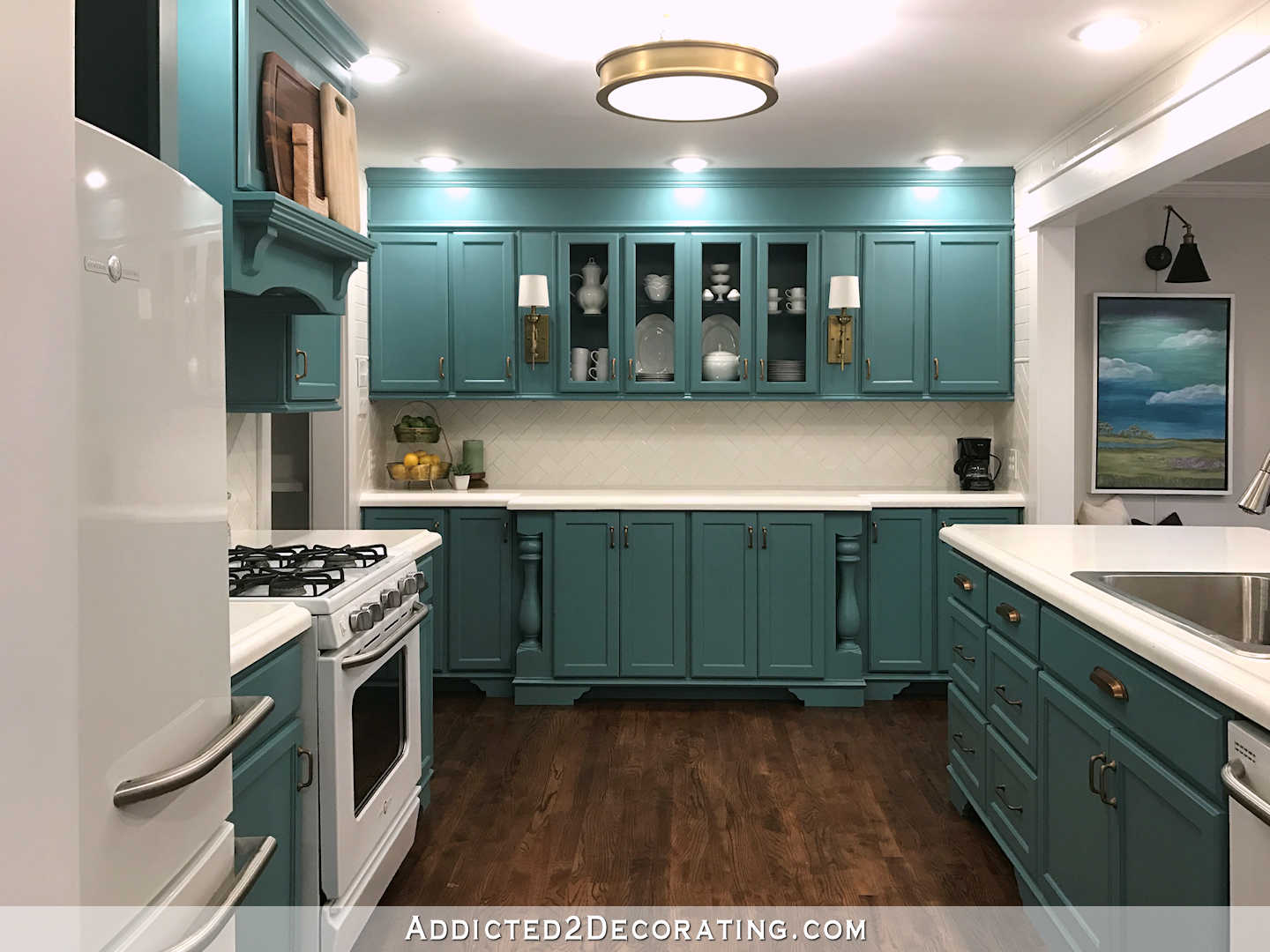 So there really wasn't much to do in the kitchen. In fact, I only had two items on my list for that room, and I only got one of them done…kind of.
My original plan was to replace the glass in the upper cabinet doors. I had broken two pieces when I removed them and painted the cabinets teal. But instead of adding glass black in those doors, I decided to do a decorative metal mesh instead.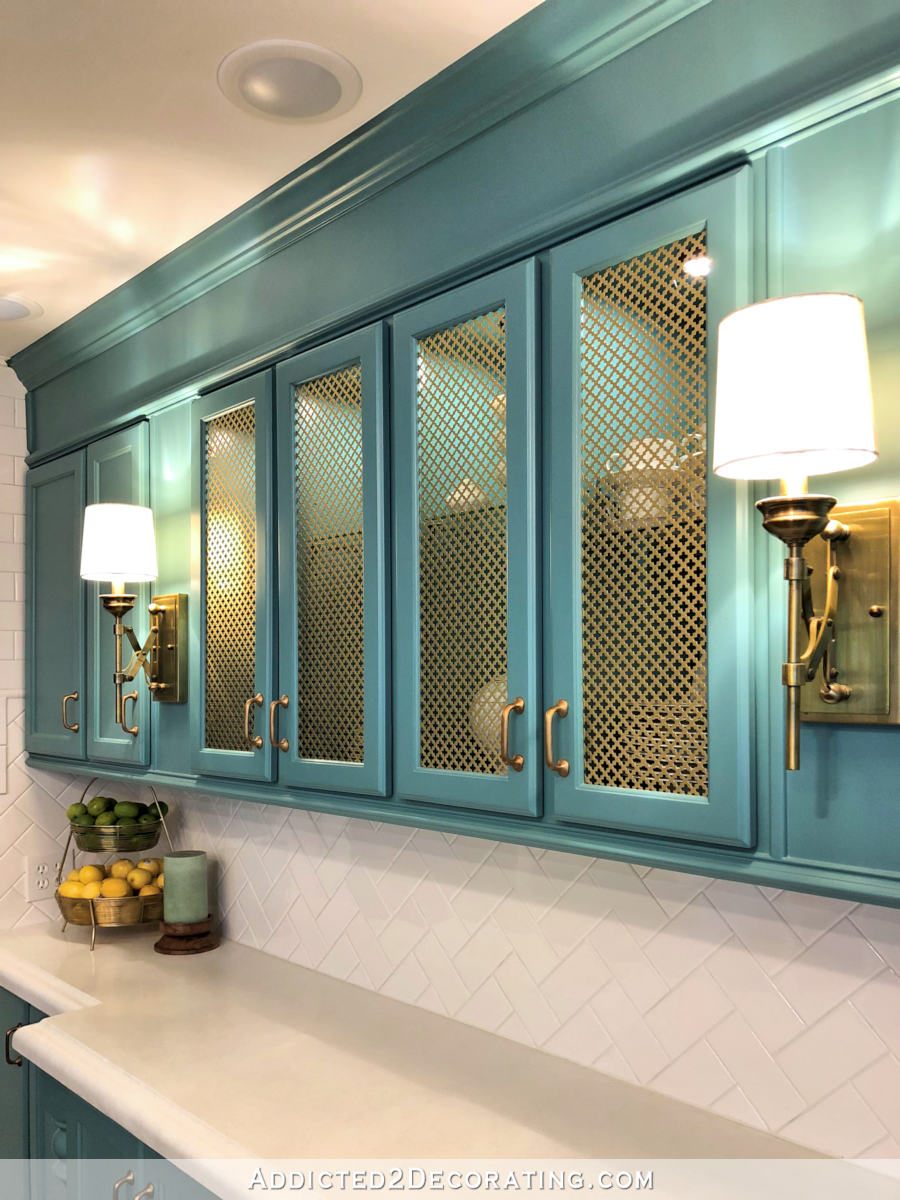 You can read more about that here.
The only other thing on my list for the kitchen was to get new appliances. I'm still on the hunt for an all-refrigerator that opens the right way (i.e., handle on the right side) and fits into the 30-inch-wide refrigerator space in my kitchen. So far, I've had zero success in finding such a refrigerator. I'm doubting that one even exists.
In addition to my original list items for the kitchen, I also decided to tackle a couple of organization projects in here that were spawned by my pantry build. I started off easy with a tiered spice drawer organizer, which you can read about here.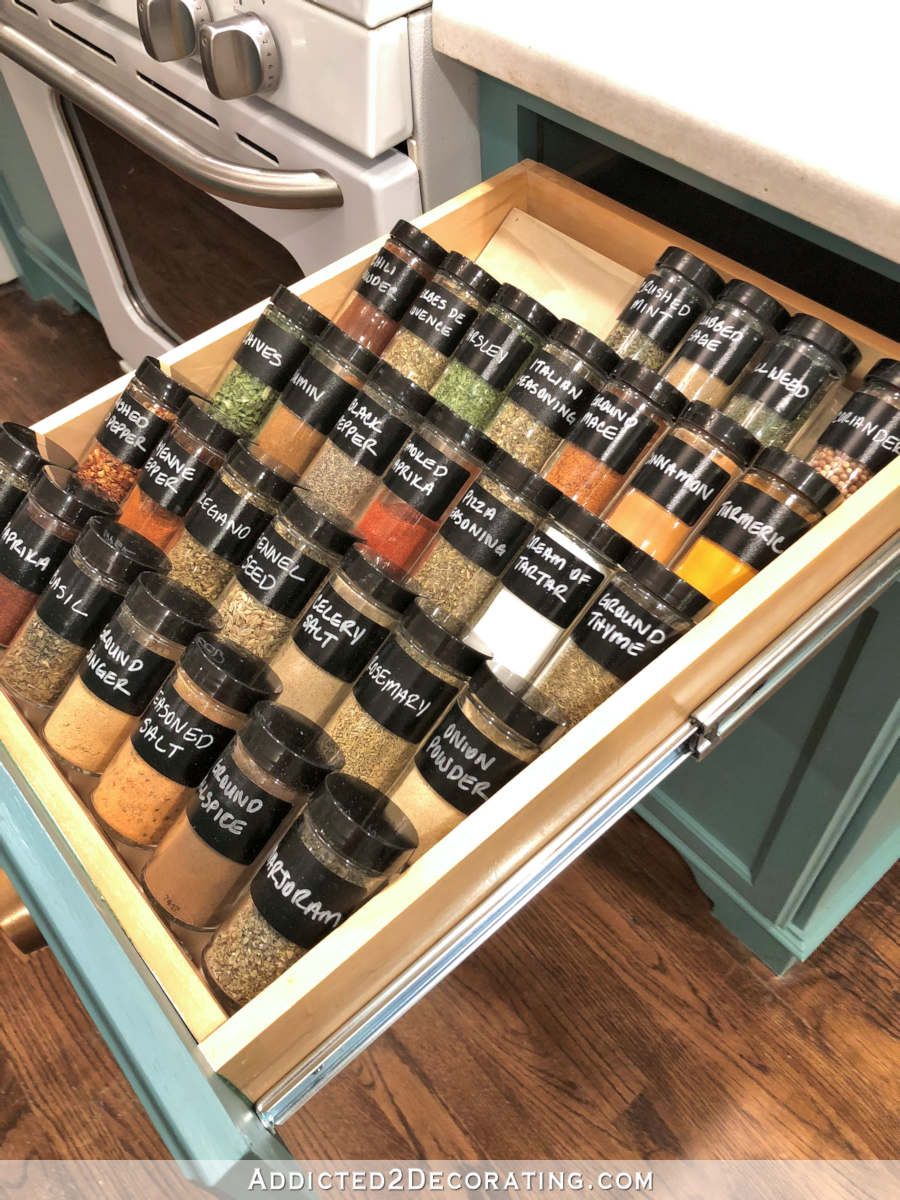 And then I turned a regular cabinet into customized storage with three pull-out shelves. Click here to see how I did it.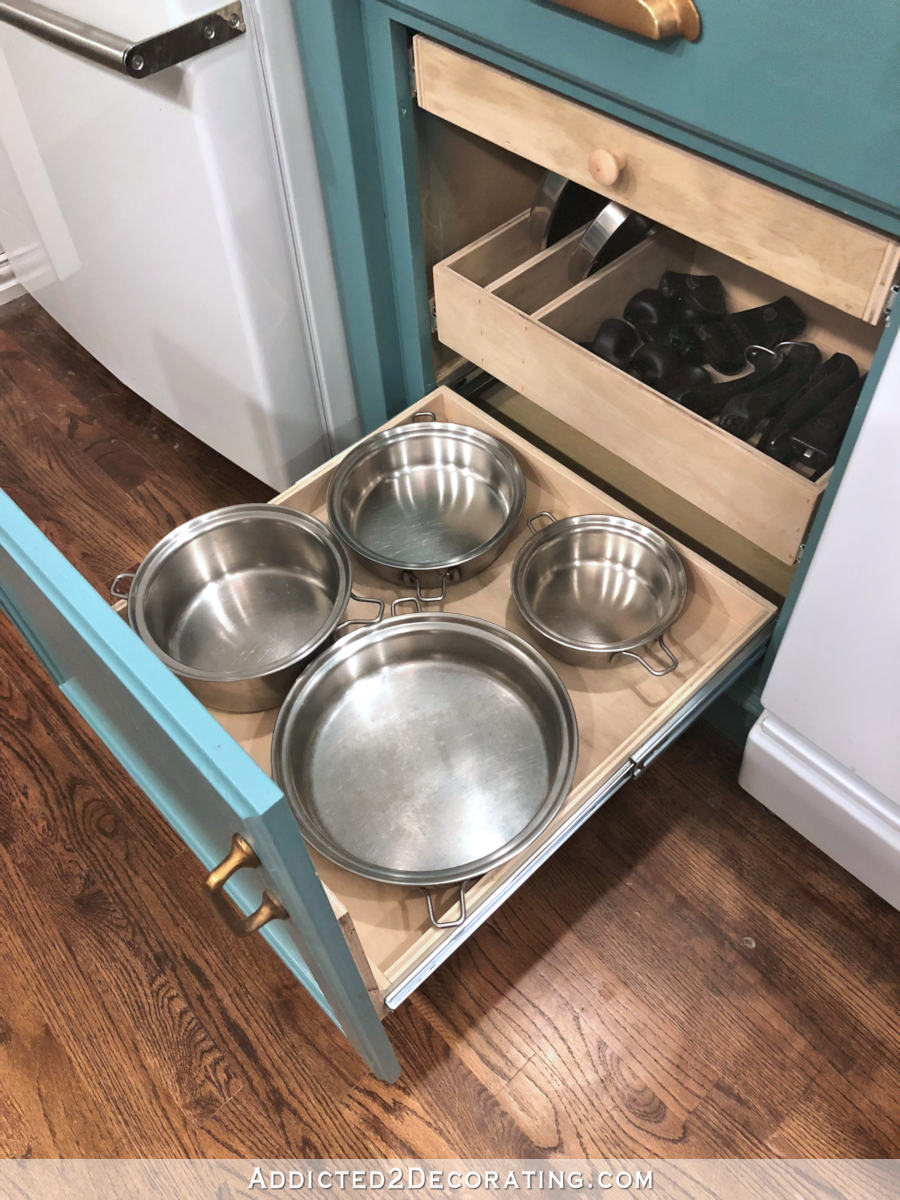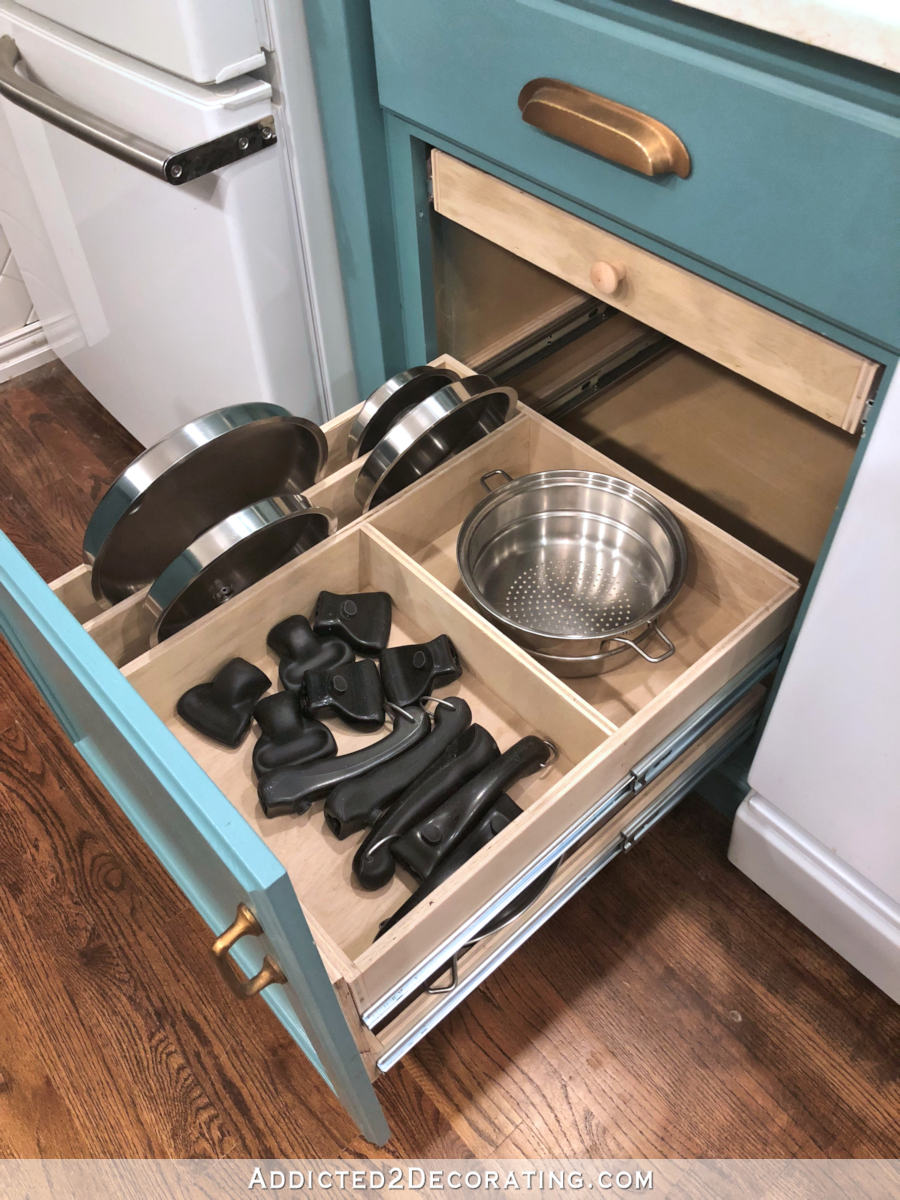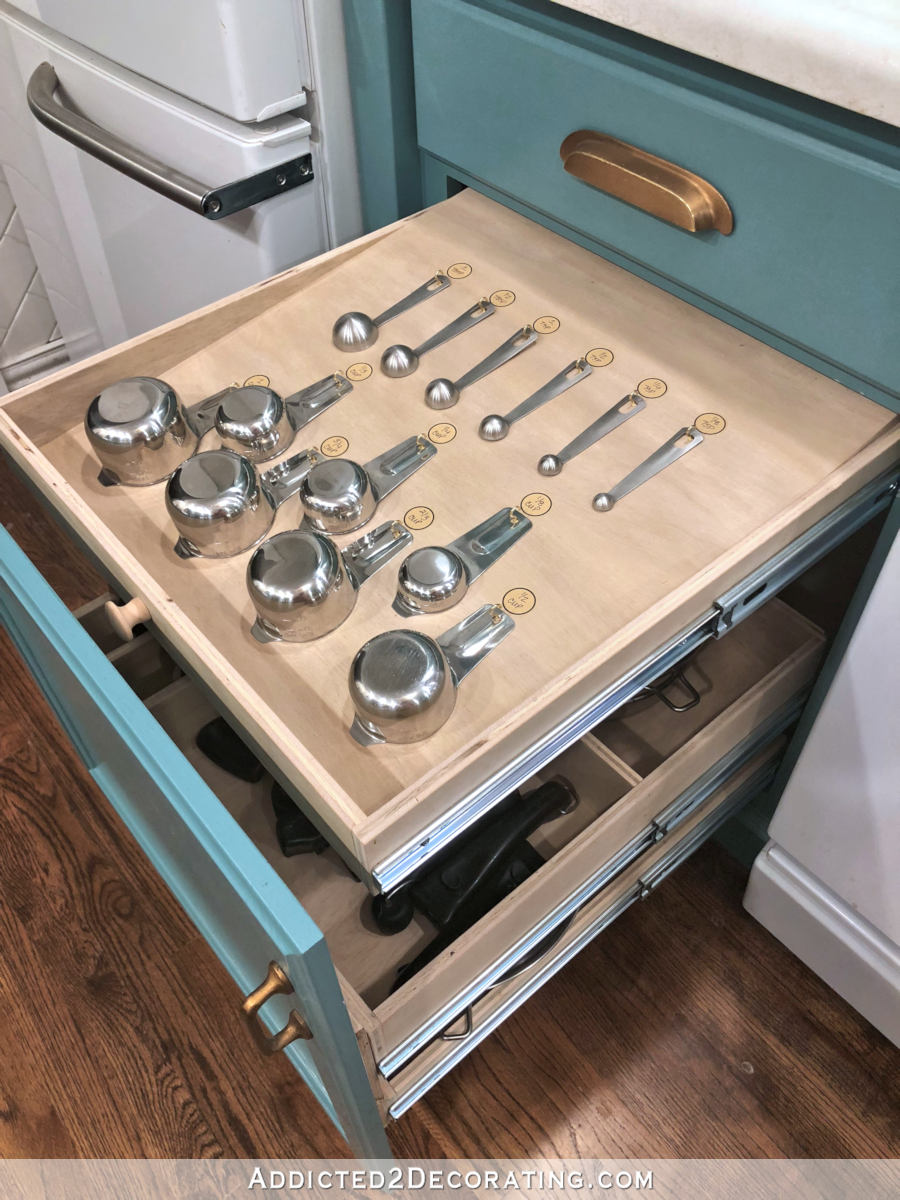 I'm not quite done with the organizational projects in the kitchen, but the rest will have to wait until 2019.
Breakfast Room:
Our breakfast room originally had a door that led into the garage. But during 2017, we had the garage converted into a studio for me. So the metal exterior door that separated the breakfast room from the garage was swapped out for a wood interior 15-lite pocket door that now separates the breakfast room from my studio. But at the beginning of the year, it was still looking kind of rough with the lack of trim and a hole in the drywall where a two-gang switch box had been removed.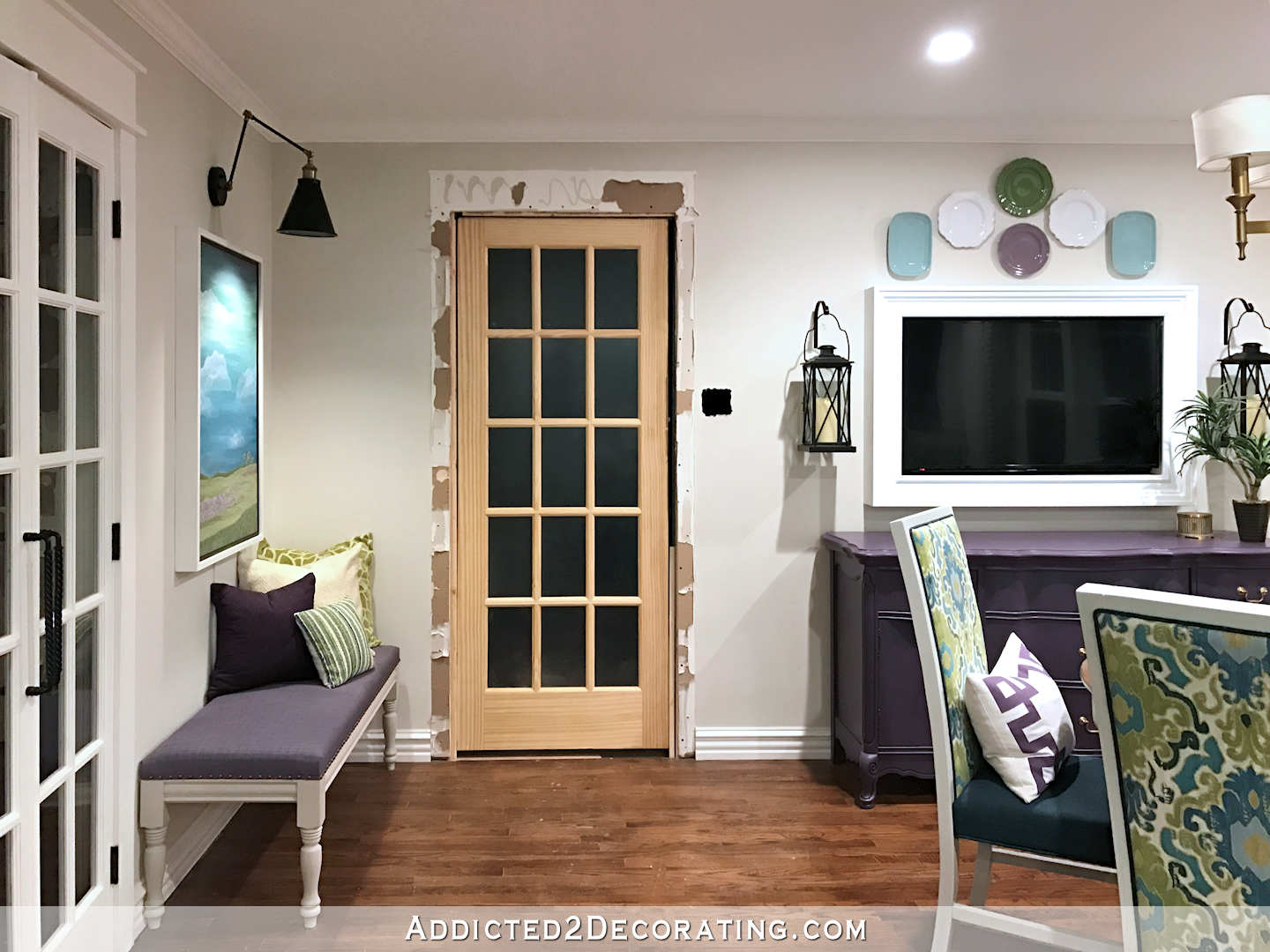 So the items on my list for the breakfast room included:
Painting the new pocket door
Installing the trim around the door
Repairing the drywall where switches were removed
I got all three of those done, which you can see here.
Pantry:
At the beginning of the year, my pantry was nothing more than a storage closet where I piled miscellaneous junk.
I was determined to get it finished before the end of the year, and I'm pleased to tell you that I actually did it!
The pantry is finished!!
I finished it just over a week ago (at 11:00pm on the Saturday night before Christmas). Then I spent two days cleaning all of the construction dust and tools, one day with family, and then I've been on my one-week blogging break since then. (I like to take off during the week between Christmas and New Year's Day every year.) So I still don't have pictures to show you, but I'll post that before and after very soon!
It's funny to look back on my original "to do" list for the pantry. It seemed so simple, and included:
Adding a new electrical outlet for the chest freezer (which I ended up not doing because I decided against a chest freezer)
Building cabinets for storage (I made it sound so simple. After all, it's just one line item on a list! 😀
Making a wood countertop
Making or buying a shade for the window
So simple. Just four little "to do" items. Just four little check marks, and then it's done!
😀
Well, those four little line items (plus a few that I added) took ten-and-a-half weeks to finish, and I'm so proud of how it turned out. I love to go in there and just stare, and remember how it started out, and realize that I did all of that with my own two hands.
But I'll share the whole thing with you very soon. I promise. I'm aiming for Thursday or Friday.
UPDATE:
I posted the final before and after pictures for my pantry remodel! You can see them here:
Miscellaneous
While only tangentially related to the house, one big project I did during this year was build a rolling expandable miter saw cart.
You can click here to see the details of that project.
This has been invaluable, and has made my DIY life so much easier. I need to build a similar cart for my table saw so that I can quit lugging that thing around.
My original list of home goals for 2018 also included a bunch of stuff for the studio, half bathroom and mudroom. Of course, somewhere along the way, I decided to swap out that mudroom plan for a storage closet at the back of the studio. Anyway, you can click here to read all of those 2018 studio/half bath/mudroom goals, or you can just wait a couple of days and read the updated version on my 2019 home goals post, because I didn't get one single thing done on any of those areas during 2018.
But that's okay. I knew that there was no way I could get through my entire list in a year, but I wrote them down anyway to give myself options. Truth be told, I'm rather proud of the work I actually accomplished during 2018. It was a productive year, and I made quite a bit of headway on the house.
I'm ready to wrap up 2018, spend the next couple of days thinking about what I want to accomplish in 2019 (and doing a bit more Netflix binging), and then hit the ground running on January 2nd on a brand new list for 2019.
Happy New Year, y'all!
Addicted 2 Decorating is where I share my DIY and decorating journey as I remodel and decorate the 1948 fixer upper that my husband, Matt, and I bought in 2013. Matt has M.S. and is unable to do physical work, so I do the majority of the work on the house by myself. You can learn more about me here.
I hope you'll join me on my DIY and decorating journey! If you want to follow my projects and progress, you can subscribe below and have each new post delivered to your email inbox. That way you'll never miss a thing!