Last Updated on December 24, 2015 by Kristi Linauer
Now that my piano is refinished and repainted, I've been so anxious to work on the music room!  I will not be making it a priority over the entryway and dining room, but I will probably be doing some projects in there as I'm also working on the entry and dining room.  After all, these three areas are all open to each other, and all visible from the moment someone walks through my front door, so the music room really does need to be finished also in order for the entryway and dining room to look finished and presentable.
Since I went a completely different direction with my piano, and it looks a little more elegant than I had originally planned, I've been wondering if I might need something a little different on the walls.  One thing I'm almost 100% certain about is that I do…definitely…want some sort of bird and tree limb design in there.  I want it colorful, playful, and lighthearted.  When the plan was to have a yellow piano, the Schumacher Birds & Butterflies wallpaper (or rather, my DIY version of that wallpaper) seemed completely perfect.  But how would it work now with my more elegant piano?  I did a little photoshoppin' to see if I could get an idea of what it would look like.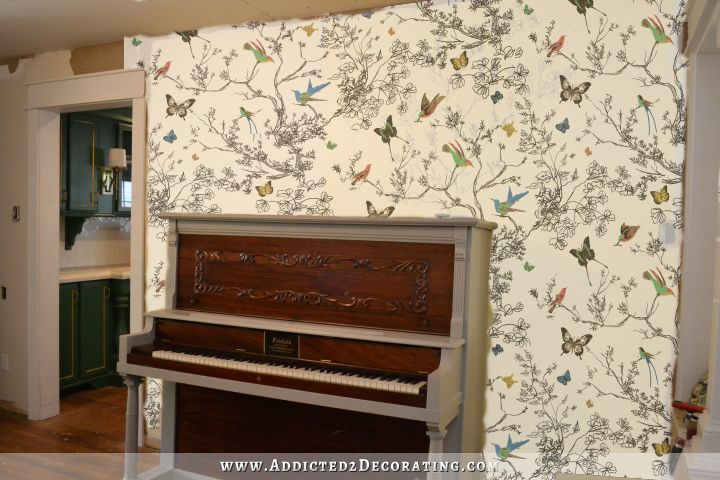 I actually do still really like it, even with the different colors on the piano than originally planned.  On my hand-drawn version, I would be a bit more intentional about the colors I use, and bring in some greens that coordinate with the kitchen, and coral that coordinates with my buffet, and some other colors from my dining room fabric.  And again, no butterflies.  Just birds.
One thing I really like about that wallpaper is that the actual limbs are drawn in black, which would coordinate nicely with all of the other black that I plan to use (and have already used on the doors) in these rooms.  But of course, since I plan to do my own version, I can make any changes I want.  And if I go with this design, I think I would make the limbs more like the style that my mom did on my niece's bedroom wall.  The Schumacher version seems so messy and scribbled, and I think I want mine a little more…well…not scribbled.  Here's a closeup of my mom's design…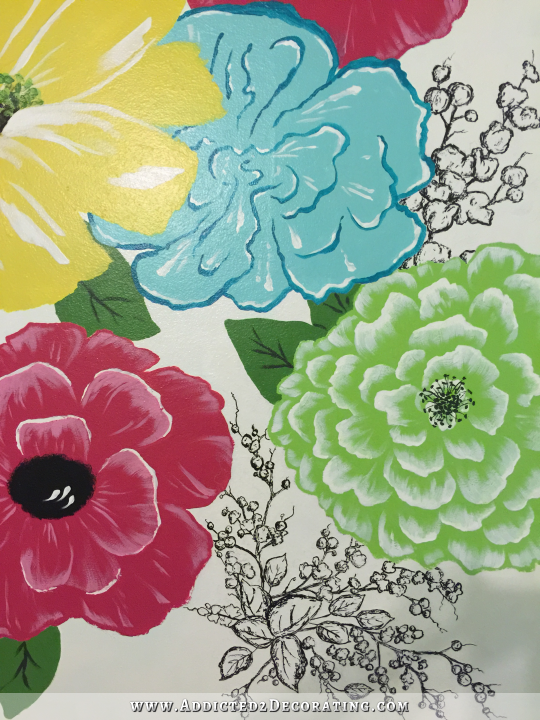 I also had this idea that maybe instead of doing the design on a white background, I could use a color as the background.  Yellow, perhaps?  I happened to have two yellows on hand, so I tried them out.  And after the paint was dry, I took about five minutes to scribble a design over the top just to get an idea of what it might look like.
That vine looks terrible, so you'll have to use your imagination.  🙂  When I do the actual, final design, of course I'll take more care to do a good job, and I'll also have a definite pattern and repeat in the design, since I do want it to look like wallpapaer.
Anyway, the yellow on the left is Behr Rich Cream.  That's what I used on the walls in the condo living room, breakfast room, and kitchen, which is why I happened to have some on hand.  I think it looks awful.  It's so strange that it actually looked very yellow in the condo, but here it just looks washed out.  That's the second time I've tried using a color at the house that I used at the condo, and it looked awful and washed out.
The yellow on the right is the custom color that I had mixed for the piano and then decided not to use.  I think it's a very pretty yellow, but I just wish I were better at Photoshop so that I could get a better idea of exactly how that design would look on a yellow background.  It's hard to tell from my scribble.  I do like the color, and I think it looks pretty with my kitchen, but I think I might prefer the white background.  The white background would really let the colorful birds stand out more.
And then just this morning, as I was going through my "inspiration file" that I have for the various rooms in my house, I came across this wallpaper design that someone gave me a link for in a comment on a post a while back.  (I have no idea what post, or who left the comment, and since I can't find the link anymore, I have no idea where this wallpaper is from or how much it costs.)
I really like this one, too.  It's also bright, and fun, and colorful.  It definitely looks good with my kitchen, in my opinion, but I would still need to do my own DIY version of this because the colors in this aren't right for what I've already done and still have planned in the adjoining areas.  I'd need to add my own color palette to this design.
But since these vines and birds are much more realistic and detailed, I do question if I have the artistic ability to pull this one off.  I'm quite certain that my mom does, but painting a pattern like that on all four walls of my music room, even if it is my mom, and even if it is a small room with lots of doors and relatively little wall space, is a heck of an imposition to place on another person.  So whatever design I choose, I'd need to be able to do it myself.  This one might require a lot of practice.
What I need to do is just come up with my own design.  I need to take the things I love from each of these two design, discard the things I don't like, and end up with the perfect design for my home.  I like the use of only black for the limbs, leaves, and flowers from the first wallpaper, but I like the more realistic and less scribbled design of the second one.  I also like how the vines are all curvy and intertwined and growing upwards on the second one.
Perhaps rather than getting my mom to paint a design on all four walls in the room, I could just get her to come up with one repeat of a design, inspired by these two wallpapers, that I can then transfer onto the walls myself using a projector.  That seems like a good compromise.  🙂
Addicted 2 Decorating is where I share my DIY and decorating journey as I remodel and decorate the 1948 fixer upper that my husband, Matt, and I bought in 2013. Matt has M.S. and is unable to do physical work, so I do the majority of the work on the house by myself. You can learn more about me here.
I hope you'll join me on my DIY and decorating journey! If you want to follow my projects and progress, you can subscribe below and have each new post delivered to your email inbox. That way you'll never miss a thing!